Dinner last night was everything I wished for: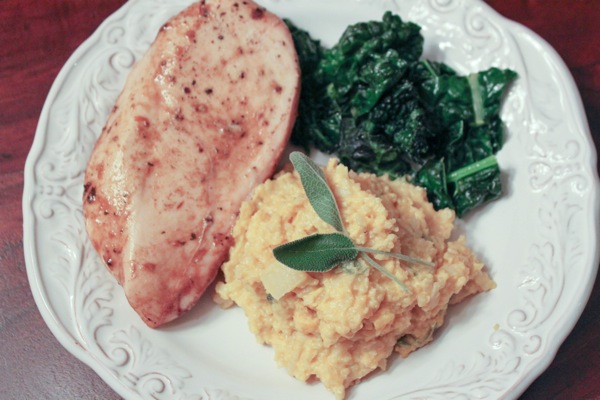 The star of the show: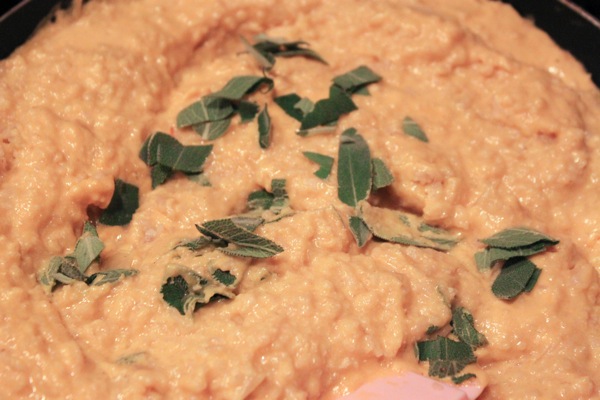 When I put the recipe on our meal plan this week, I hadn't really thought it through. And then today I was thinking:
"Risotto? There's no way I'm going to have time to stand over a pot and stir rice until it gets to a perfect texture." I can only orchestrate drum Tupperware solos for a limited amount of time.
I had visions of making the rice, plopping the sauce on said rice and saying a prayer.
When I actually looked at the recipe, I saw that's exactly what you do! BRILLIANT. The recipe calls for frozen rice- ours cooked with a press of a button in the rice cooker.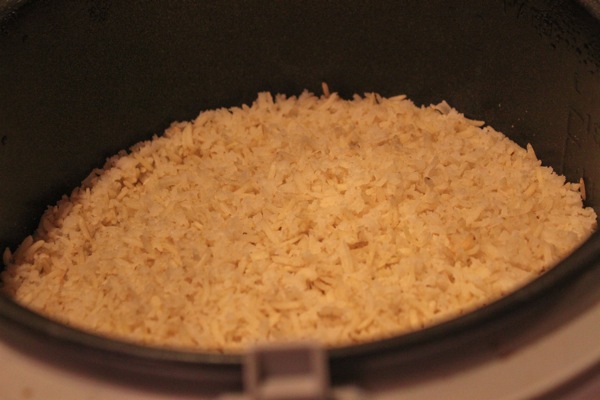 I made the sauce during naptime and prepped the chicken to marinate in the fridge: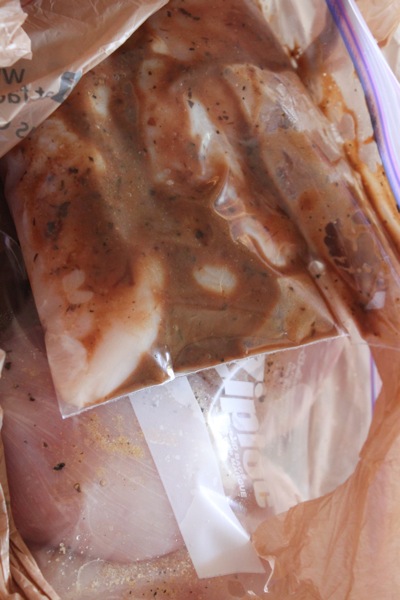 When we got home from the day's adventures, all I had to do was put the chicken in the oven, make the rest of the risotto (which actively took about 10 minutes to chop onion, garlic and pour some broth in) and wilt the kale in some lemon, olive oil and garlic. A delicious restaurant-quality meal 🙂
_________________________________________________________________________________________________________________
A few people have asked about how Caroline is adjusting to our little family, so how 'bout a little update?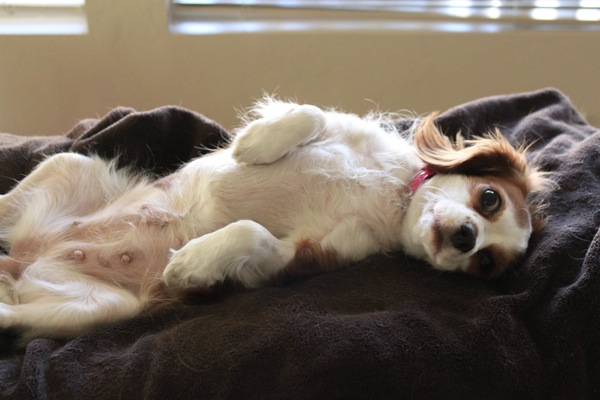 As you can see, she's settled right in 🙂
One of the big things I've noticed in the past couple of weeks is that Caroline finally trusts us (and the family when they come over). Initially, we'd always have to be the ones to approach her with a treat or scratch, and now, she'll walk right up to you when you call her, or even come to give a kiss while we're hanging out in the living room. She's also fallen in love with Livi, who has been so sweet and gentle with her. I'm glad Liv had practice learning gentle hands with Bell long before we adopted Caro.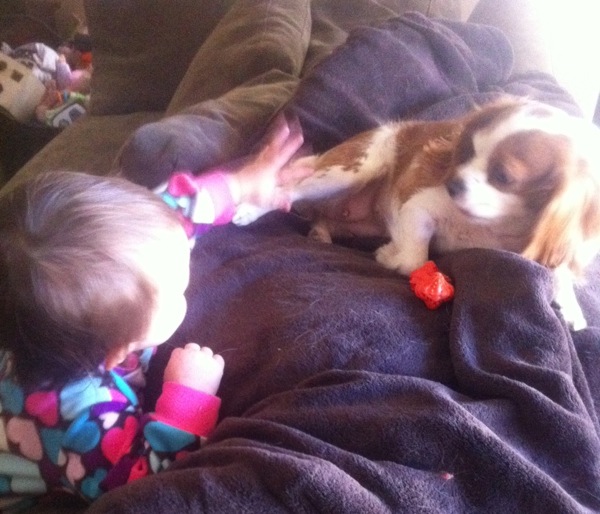 When Caroline isn't eating, playing tug of war and chasing with Bell, she snoozes on the blanket on top of the couch. This is actually very convenient since she sheds (a ton- you can see the superfluous Caro hairs in the pic above) and I can easily throw the blanket in the wash. Because of the shed factor, I also got a new vacuum (this one, which has an awesome pet hair attachment; it's also $50 less at Costco) and will just vacuum every other day (the floors and couch).
While everything for the most part has been really great, we've definitely had a few hurdles:
1. Learning to walk on a leash. We took Caro on one official walk, but it ended up being the Pilot pushing Livi in the stroller and holding Bell's leash, while I carried Caroline like a baby for 1.25 miles (our neighborhood loop). I loved your awesome suggestions on getting her to walk on a leash, but we're still at step 1.
I picked up a mesh harness for Caro, but after I put it on her and tell her what a good girl she is, she tucks her tail and turns into a Cavalier statue. She won't.move. Lately, I'll leave it on her for about 5 minutes and then give her another treat before I take it off. It's a slow and steady process.
2. Chewing on things. I think that this will go away once we can take her on regular walks with Bella, but I think she gets bored when we leave the house and finds something to chew on- usually papers. As long as it isn't furniture (which is hasn't been, yet.. knock on wood), it's NBD. I'm thinking about getting her a Kong to chew on while we're not home, or another toy with hidden treats.
3. Correcting. We let the dogs out a lot during the day -they love to run sprints together- but Caro doesn't "go" each time she's outside. Sooooo… every blue moon, she'll come inside and do her business. Since we're only doing positive reinforcement with Caro, I make sure to give her tons of praise when she does her business outside. She definitely knows what a treat is 🙂
She hadn't had an accident in a while, and then when we got into bed last week, there was a wet spot. (In our BED. Gah. Washing sheets at 11pm is always a party.) A volunteer at the Humane Society said that we could kennel her at night and just make sure it's a happy, positive experience for her (lots of praise and treats). So we'll see how it goes for a couple more weeks and know that's an option.
So, even with the small bumps in the road, we know adopting Caroline was the right thing. She and Bell are BFFS, Livi adores her, and she fits in perfectly with our family. I knew that adopting a rescue would take more patience, and we were anticipating the fact that she would have extra needs, and also need a lot of love. She's been through so much, and as long as no one is in danger -I never have to worry about Bell and Caro fighting- that's all that matters.
xoxo