11/28: What I Ate Wednesday
I've done a couple of these before, and keep getting more requests for them, so I thought it would be a good day to do another since it was a fairly "normal" work day, even though I taught two more intense classes instead of one. It was also a normal life day, which can affect eating too (like being extremely busy and having to plan ahead, going out to eat, or being low on groceries).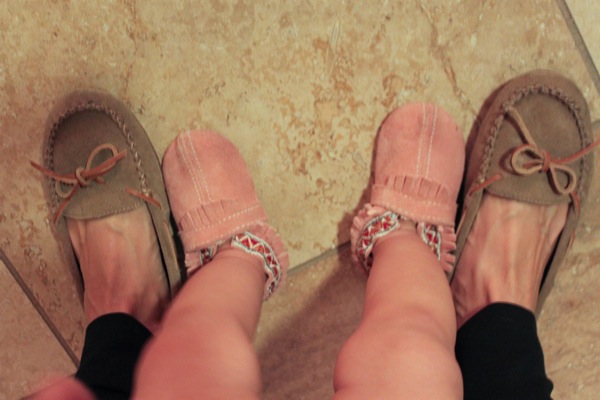 (one of my fave photos from the day)
These posts are kinda challenging for me since I'm a snacking machine, but here's another What I Ate Wednesday 🙂
Breakfast:
2 eggs, 1 egg white (Liv eats the yolk of the third), brown rice tortilla, salsa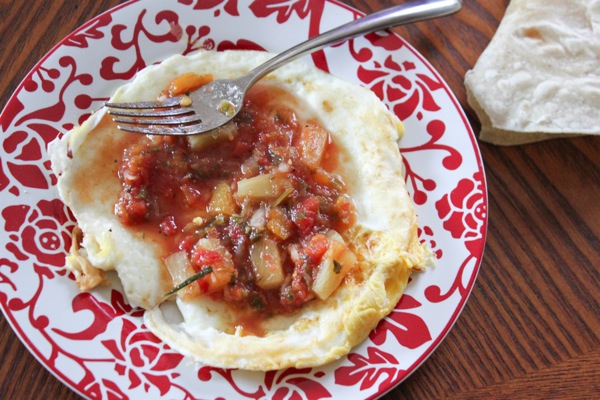 + coffee (unpictured because I drank it while driving and walking into work)
Snack: Popchips at work (the pepper flavor! SO good)
Lunch: Turkey lentil loaf and spinach salad with leftover dressing for madre and myself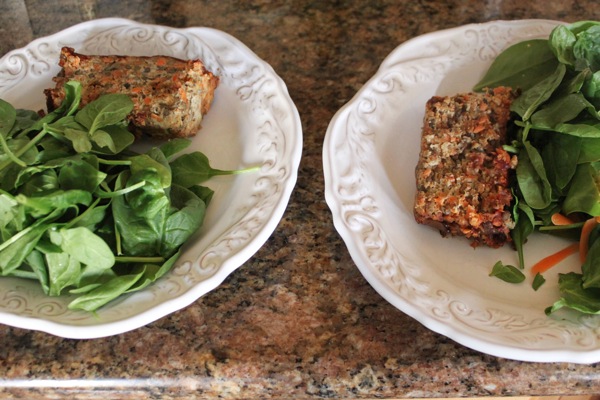 + 2 dark chocolate peppermint bites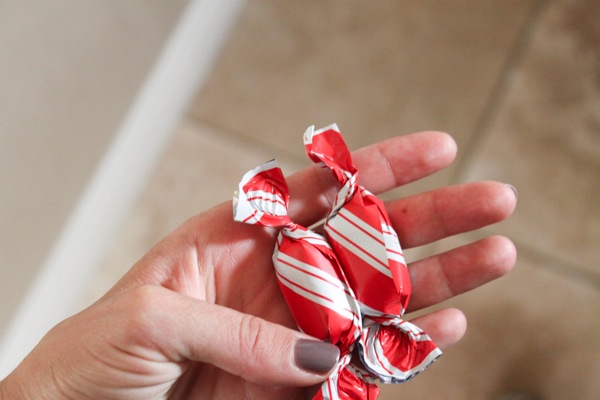 Snack: GF waffle with almond butter and jelly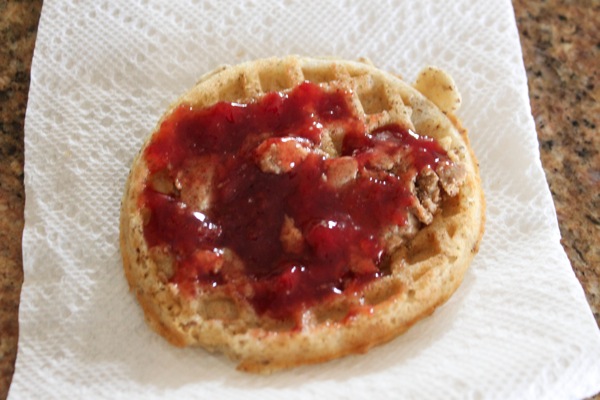 2 apples while driving to the bank (shared some with Liv)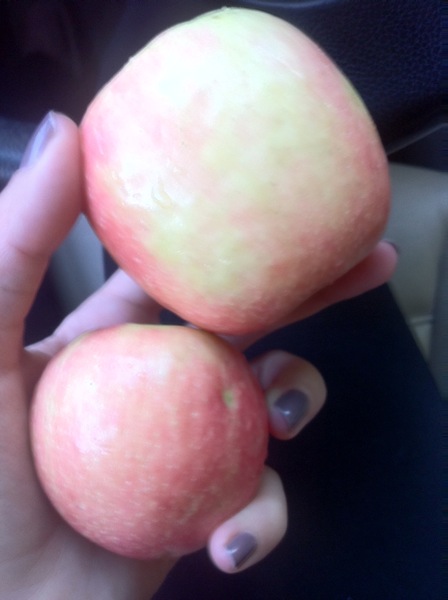 + another coffee (the crucial "afternoon jolt")
While cooking dinner:
Some sushi bites (I think I had 4?)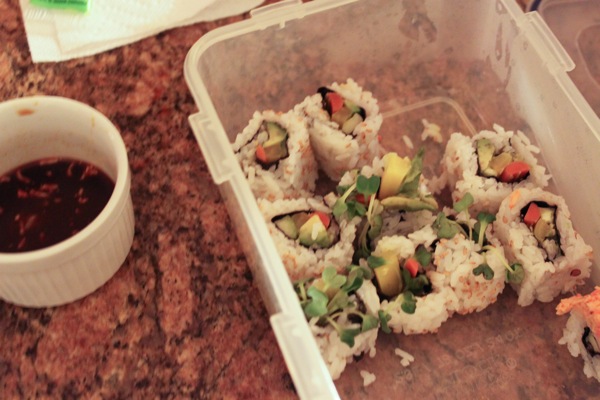 and some pecan pie innards: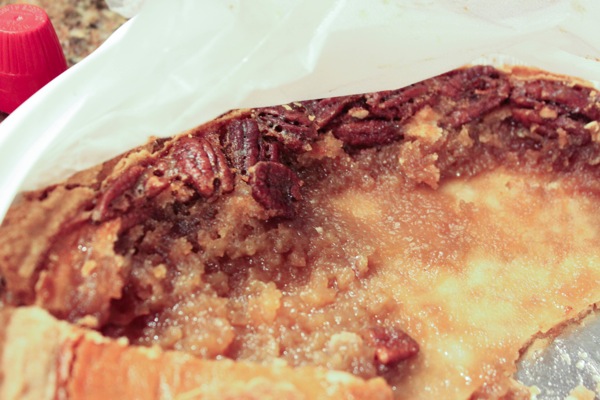 I usually wouldn't have thought to eat pie while cooking, but it was the Pilot's idea and I didn't want him to be lonely 😉
Dinner:
Tina's pizza recipe with 1.5 crust serving, 1.2 organic chicken sausages, marinara, goat cheese and micro parsely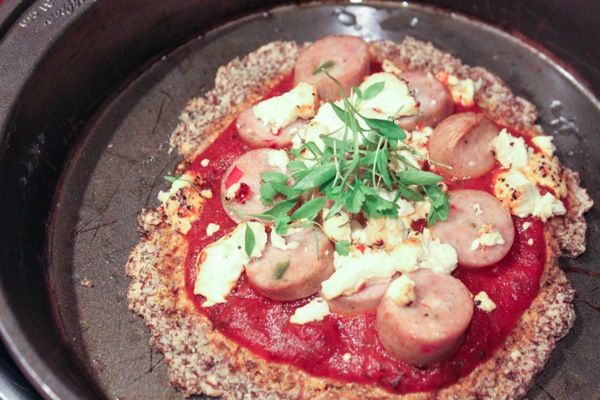 Good thing I took a pic in the pan, because I destroyed the crust trying to chisel it outta there.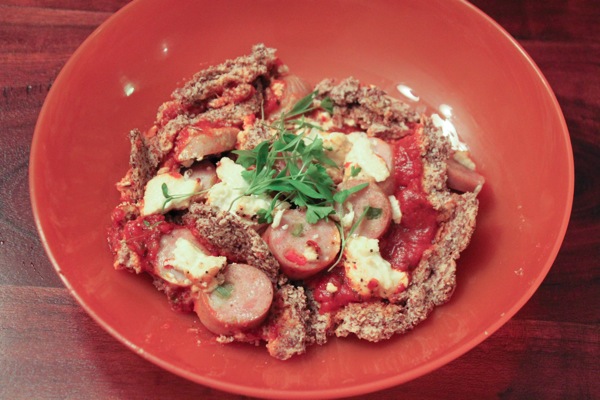 Activity:
-Teach 45-minute Zumba class
-Teach 45-minute Ballast ball class (not quite as crazy as Zumba, but still a workout)
-20-minute walk with Bell, which I don't count as exercise- it's a daily ritual dedicated to Bell's sanity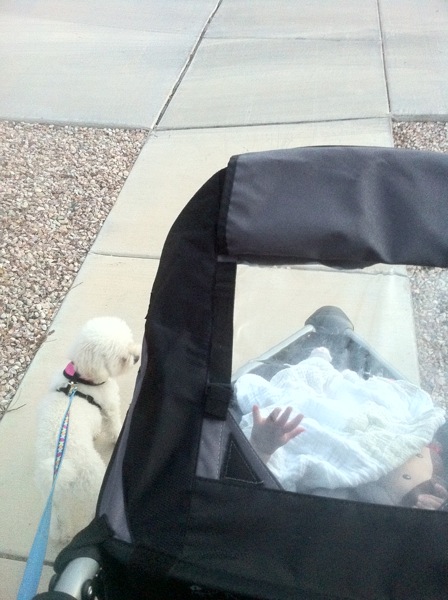 So there ya go: an entire day of eats! We're about to decorate the tree, so I think a little candy cane green tea is in the near future.
What'd you eat today? Feel free to link it up if you have a food blog 🙂
See ya in the am with that Zumba video.
xoxo
Gina