Happy Friday! Thank you so much for your awesome comments on the Pilot's marathon recap and my fitness predictions for 2014. I'm excited to write back to them during naptime today 🙂 
Some faves from the week: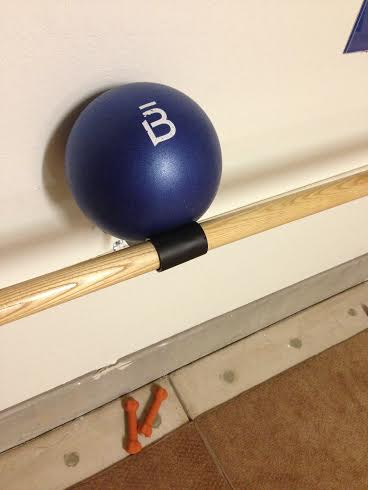 An underground Barre3 class! I've tried Pure Barre and Physique 57 -love them both!- and we have a Barre3 opening here in Tucson. Classes will begin in the spring, but in the meantime, the owner, Kate is hosting some underground and community classes. It was my first experience with this particular barre formula/style, and I absolutely loved it. Ok, so my thighs hated it– they were shaking like ccrraazzyyy. I especially enjoyed the yoga and Pilates-inspired movements.
Kate also surprised me with this cute goodie bag, cup and bracelet: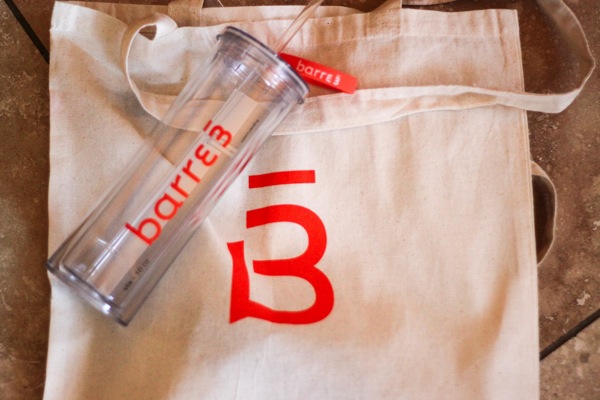 I'm so excited for the studio to open and take more classes from her in the meantime 🙂
-Fresh juices. I've been enjoying smoothies for the past month or so, but juices have also made a comeback in a big way. It's a bonus that Livi goes crazy for them, and it's much less expensive to juice here at home than to buy at Whole Foods.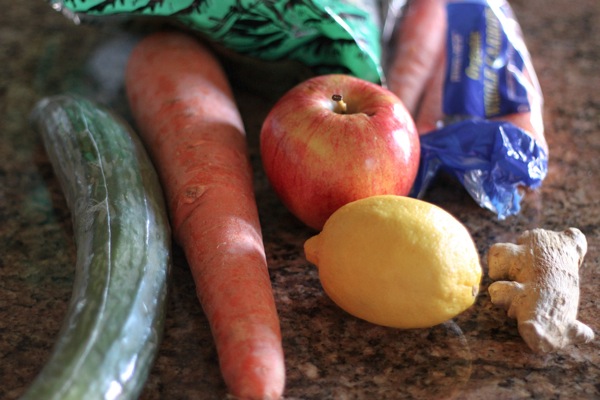 Latest combo: carrot, apple, cucumber, spinach, lemon, ginger
–Things to stop stressing about this year.
-New Years Indian takeout. I think it's good luck 🙂 Also, I'm pretty sure that it was the first time I've ordered "spicy" and it actually burned my face off. My ears were on fire, and I was sweating. Touche, Saffron.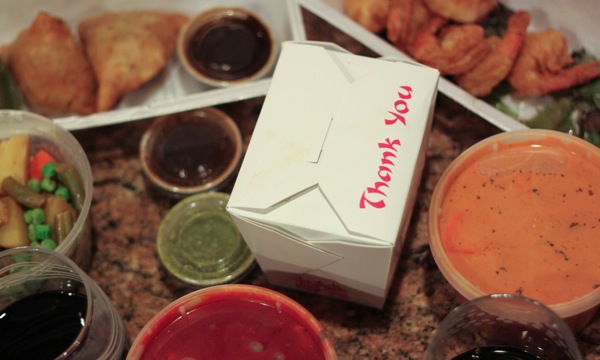 -Livi on her trike! We've had so much fun taking it around the neighborhood.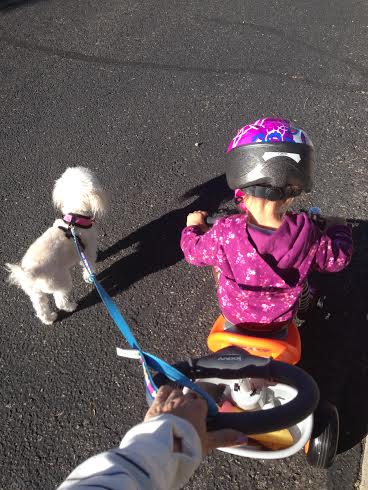 The tiny helmet kills me.
And just a note: I put my hand like that to snap a photo. Usually Bell's leash is in my left hand and I steer Livi with my right.
–Cleaning tips for the OCD person inside of you.
-2 (knock on wood) amazing runs. Fingers crossed the ol' knee is on the mends.
-Wellness trends to watch in 2014.
-Sea salt dark chocolate caramels. TJ's holiday collection, I'm already missing you.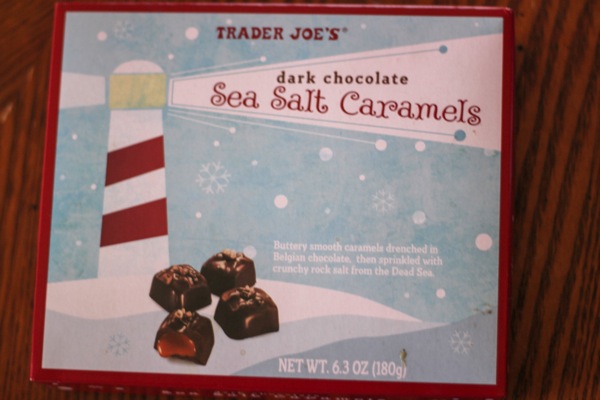 -Simple dinners. I made this chicken and veggie stir fry -with broccoli, carrots, garlic, ginger, Tamari, rice vinegar, sea salt and pepper- and then added cooked rice noodles + this spicy almond butter sauce. It was amazing, and the entire thing took less than 15 minutes.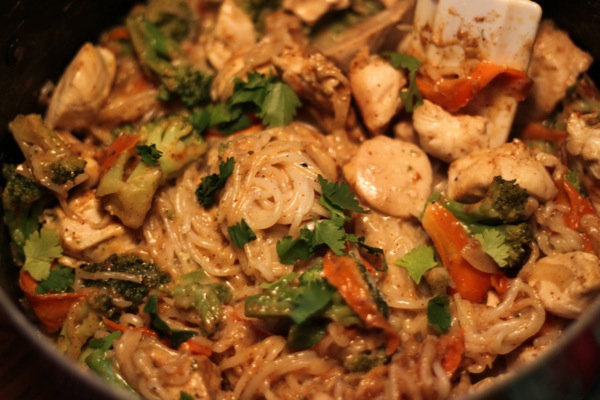 -Makeup basics! I have a few things on my everyday necessity list, and these three have been especially well-loved lately.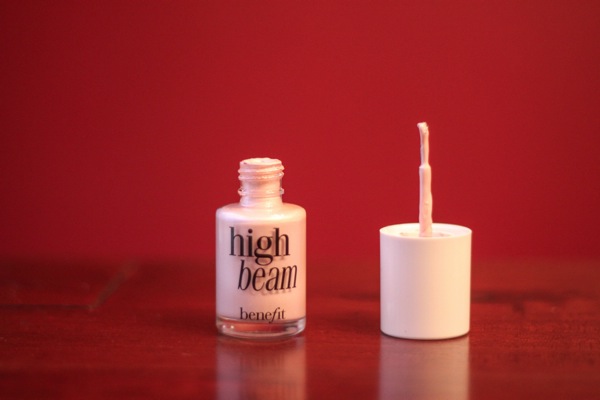 The colder, dry weather has taken its toll on my skin, and this adds the perfect amount of highlight and brightness. They call it "supermodel in a bottle"… I'm just happy to look like I do indeed have a pulse.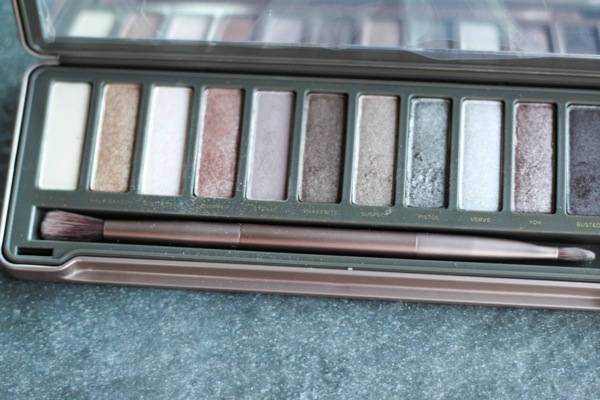 I love EVERY shade in this palette, and the colors complement my skin tone and dark eyes. I was really stoked when Naked 3 came out, but when I saw it in person, I didn't think it wouldn't work well with my skin tone. The colors are gorgeous pink and blush hues, but with my olive skin and eye color, I thought they'd look too costume-y. Maybe I'm totally wrong, but I'm still crazy for my Naked 2 palette. Random side note: I leave the mirror protectors on my compacts… I have no idea why. At the end, I have an empty, sad-looking palette and a bright, shiny new mirror. Hashtag things that don't make sense. 
–Tarte waterproof clay eyeliner. This is usually what happens when you mix Gina + liquid eyeliner: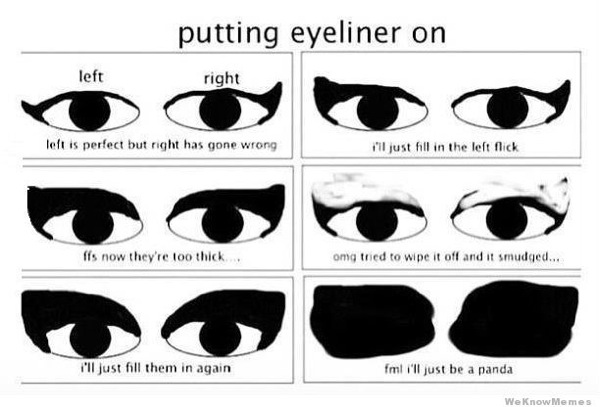 (source)
but I finally got the hang of it with this gel eyeliner. Tarte is my favorite brand since they use natural ingredients, don't test on animals, and create gentle formulas which don't irritate my contacts.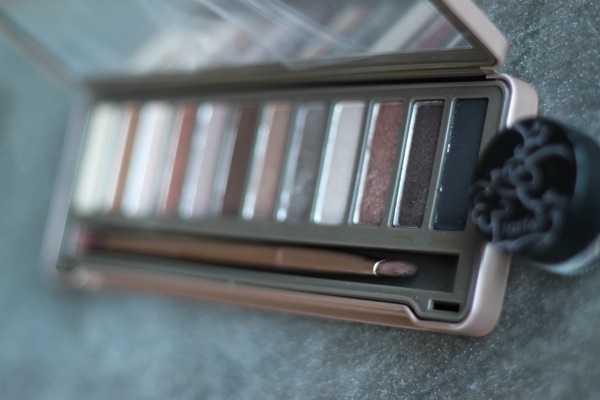 -Your amazing inspiration boards! I'm making a little college to put together– keep 'em coming 🙂
This morning, Livi and I are off on a little breakfast date, going to meet up with some friends, and run the usual Friday errands.
What are you up to this weekend?
Favorite everyday makeup product?
Awesome New Years feast?
Have a happy Friday!
See ya later today with a new workout video.
xoxo
Gina