3 of my favorite healthy homemade salad dressings
Hi friends! How's the day going? Hope you're having a wonderful one so far. Don't forget to check in with your workout today and enter the Vital Proteins giveaway!
Even though it's been a very busy time of year with the temporary move straight into the holidays, I love that we hit the ground running when we got here. Liv is in gymnastics and ballet/tap, P is doing music class and gymnastics, and I'm subbing here and there and LOVING all of the fitness classes. Since Valdosta has a little to be desired on the fitness front (womp womp), I'm living it up while I can. Give me all of the (re)volve, barre3, Session Yoga, Breakout, and Orangetheory.
I've been trying to get more produce in my life -it can be tricky when it's colder outside and all you want is a cozy carb blanket- and have brought back my beloved salad beasts.
Today, I'm so excited to share 3 amazing and super healthy salad dressing recipes with you.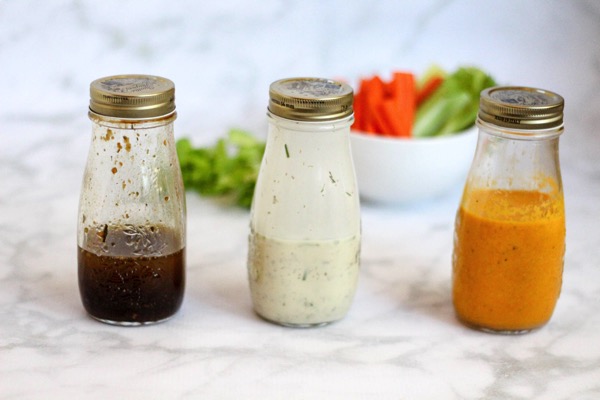 I loooooove to make salads at home, but tend to get bored with dressings.
Also, I don't necessarily love the taste or ingredients of store-bought stuff. They're either bland or too fake-tasting, or they have weird gums and stuff in them. It's been a long time since I've bought a dressing that blows my mind, and homemade is so easy and inexpensive.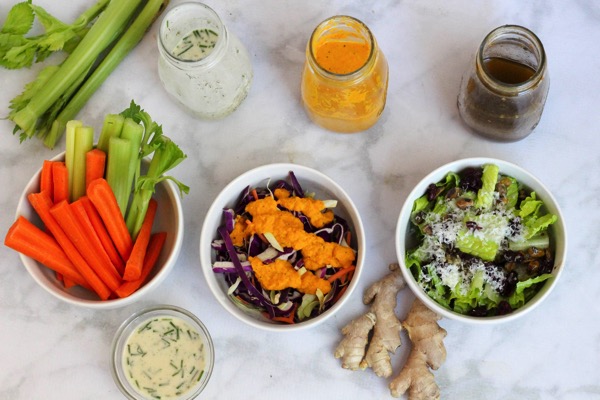 Here are my 3 favorite healthy homemade salad dressings.
These are all dairy-free, completely delicious, and a snap to put together.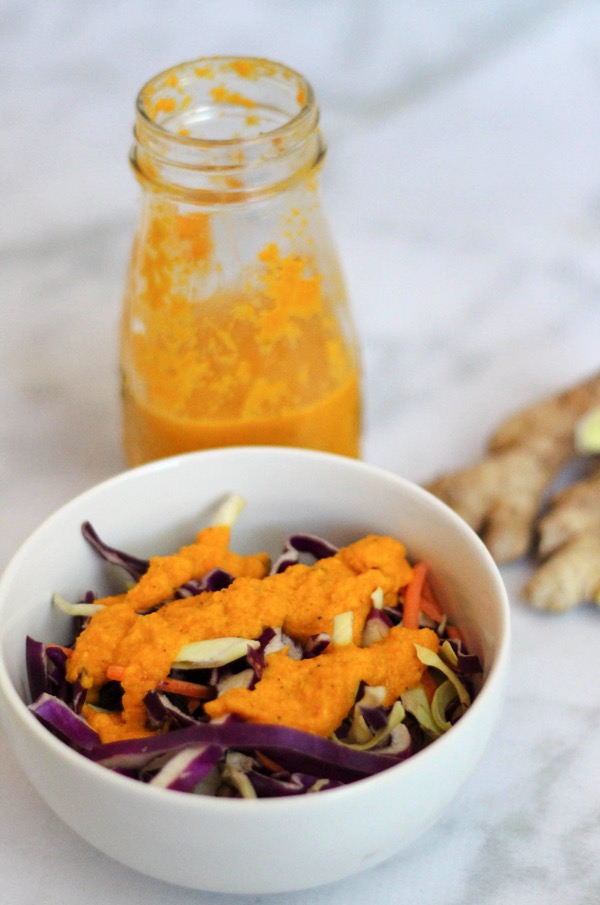 Carrot Ginger Goddess dressing
This recipe is from my Uncle Eric and combines whole carrots and ginger with water, olive oil, a dash of sesame oil and fresh herbs. The texture is thick, and it's bold in flavor, while also being extremely light. This is perfect for Asian-inspired salads, especially along with some homemade sushi or stir fry.
3 carrots, peeled and chopped
1 2-inch piece of ginger (more if you want it extra ginger-y!), peeled and chopped
1/4 cup water
1/2 cup olive oil (or any light oil you enjoy)
1 tablespoon sesame oil
1/2 teaspoon miso paste
2 heaping tablespoons each of chopped cilantro and scallions (can skip these if you'd like!)
Salt and pepper to taste
1. Blend all ingredients in a high-speed blender until smooth. Serve immediately, or store covered in the fridge.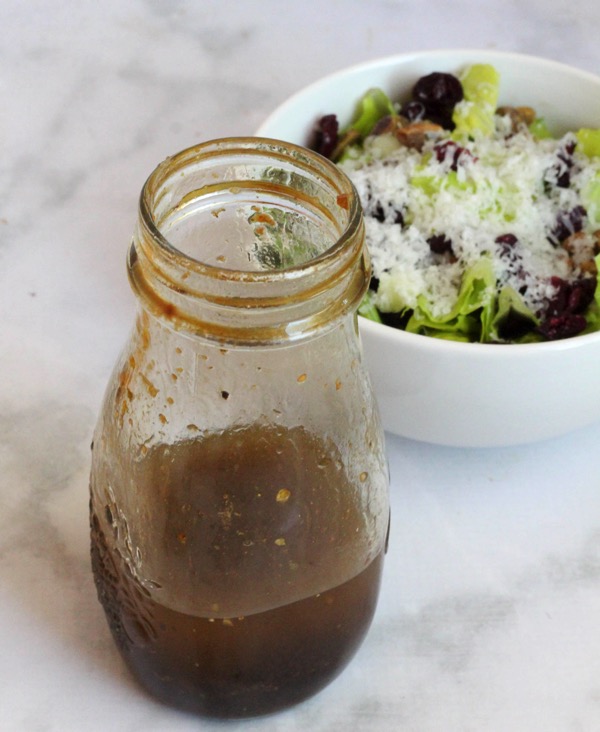 House dressing
This is the dressing I always make when we have dinner parties. It tastes better over time, so it's also fantastic for meal prep. I'll make a bottle and store it in the fridge for the week, and the savory flavors mix well with pretty much everything. This dressing is perfect on salads with spicy arugula, fresh berries, goat cheese, grilled chicken, and almonds.
1/3 cup balsamic vinegar or white wine vinegar
2/3 olive oil
1-2 cloves garlic, minced
1 teaspoon sugar or coconut sugar
1/2 teaspoon dried oregano
1/4 teaspoon dried basil
1/4 teaspoon dried rosemary
1 teaspoon Dijon mustard
1. Whisk all ingredients until smooth. Serve immediately, or store in a bottle in the fridge.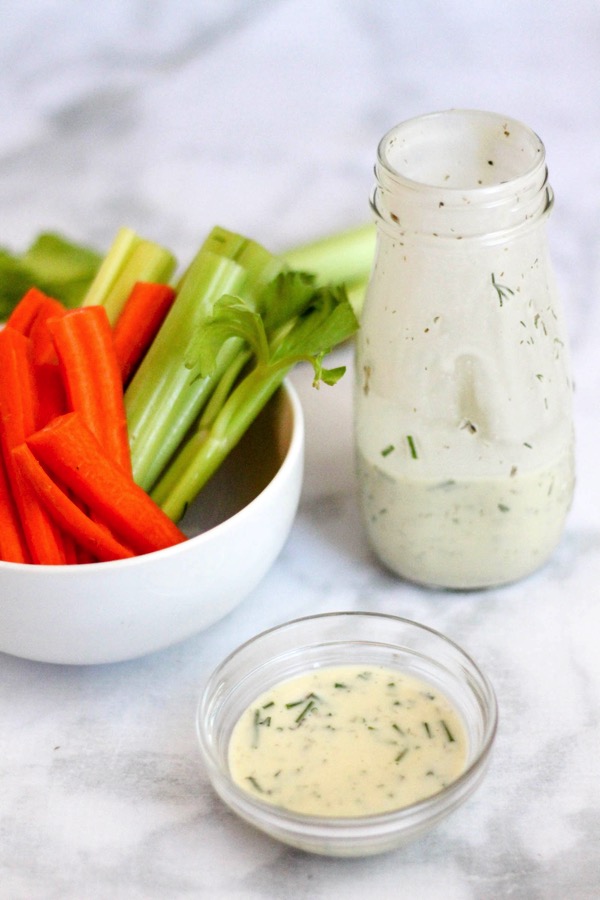 Healthy homemade Ranch
This dressing was born out of my Penelope pregnancy craving to have everything swimming in Ranch dressing. Cow's milk doesn't do well on my stomach or my skin, so I'm always playing around with dairy-free or goat/sheep dairy versions. Mayo (!) combines with herbs, oil, and seasonings. It tastes just like restaurant Ranch dressing, and is especially awesome with crudités.
1/4 cup mayonnaise or vegan mayo
1/4 cup olive oil
1/4 cup almond milk
1 heaping tablespoon dill
1 heaping tablespoon chives
splash of apple cider vinegar
1/2 teaspoon garlic powder
1/2 teaspoon onion powder
salt and pepper to taste
1. Whisk all ingredients until smooth. Serve immediately, or store in a bottle in the fridge.
So there ya go!
Do you buy or make your salad dressings? What's your fave??
I recently tried the Primal Kitchen ranch (picked up through Thrive Market) and LOVED it.
xoxo
Gina