5 books I've read lately and loved
Hi hi friends! How's the day going? I hope you're having a lovely morning so far. I'm hopping on the Peloton and recording a podcast interview. The podcast will be back tomorrow! (Be sure you're subscribed so you can see when I update. One of my new year's goals is to be more consistent with the podcast.)
For today's post, I thought I'd share a handful of books I've read recently (some I read this month and others are from last summer/fall) that I genuinely enjoyed. I always love your book suggestions, so please let me know if you have any favorites from the past year!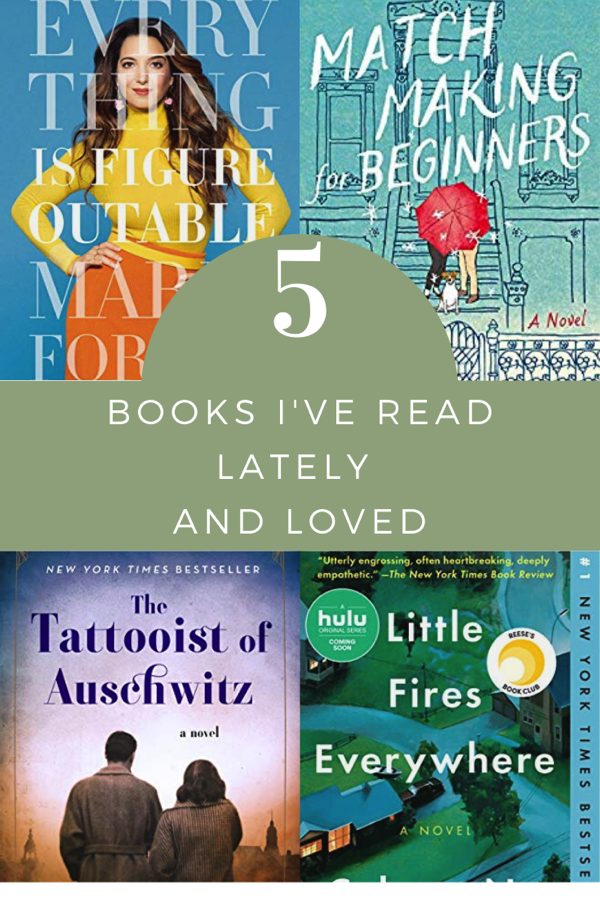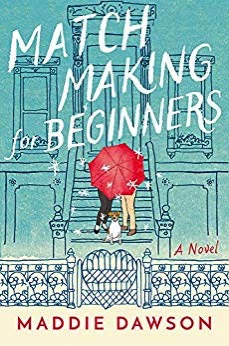 1) Matchmaking for Beginners. This book was in my Kindle app forever, and I finally decided to give it a go. I've ended up flying through the pages and really enjoyed it for a lighthearted, captivating read before bed. My friend Danielle describes books like this as "cupcake books" : perfect, sweet, and meant to be indulged.
Here's the synopsis:
Marnie MacGraw wants an ordinary life—a husband, kids, and a minivan in the suburbs. Now that she's marrying the man of her dreams, she's sure this is the life she'll get. Then Marnie meets Blix Holliday, her fiancé's irascible matchmaking great-aunt who's dying, and everything changes—just as Blix told her it would.
This is a great story about how the unexpected can turn out in the most positive way, and that those who turn away love are often the ones who need it most.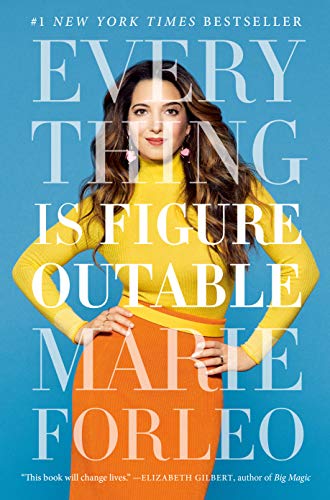 2) Everything is Figureoutable. I'm only halfway through this one, but can already tell that it's going to stick with me. Marie Forleo is one of my very favorites, and I always appreciate how generous she is with her knowledge while keeping it real. I did B-school many years ago and dramatically changed my online business. Her background is fascinating – she led hip hop DVDs after learning to dance in her 30s and worked with Tony Robbins – and I'm always happy to support her and spread the word. It's a powerful read with inspiration to follow your dreams and take action.
Here's what her book is about:
While most self-help books offer quick fixes, Everything is Figureoutable will retrain your brain to think more creatively and positively in the face of setbacks. In the words of Cheryl Strayed, it's "a must-read for anyone who wants to face their fears, fulfill their dreams, and find a better way forward."
If you're having trouble solving a problem or reaching a dream, the problem isn't you. It's that you haven't yet installed the one belief that changes everything.
Marie's mom once told her, "Nothing in life is that complicated. You can do whatever you set your mind to if you roll up your sleeves. Everything is figureoutable."
Whether you want to leave a dead end job, break an addiction, learn to dance, heal a relationship, or grow a business, Everything is Figureoutable will show you how.
You'll learn:
• The habit that makes it 42% more likely you'll achieve your goals.
• How to overcome a lack of time and money.
• How to deal with criticism and imposter syndrome.
It's more than just a fun phrase to say. It's a philosophy of relentless optimism. A mindset. A mantra. A conviction.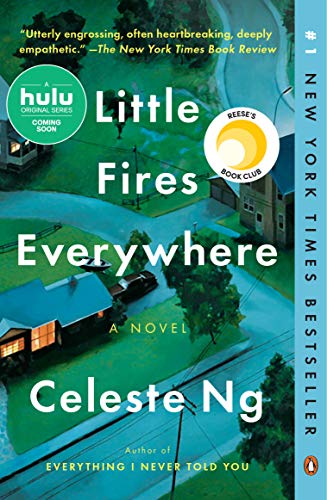 3) Little Fires Everywhere. I lurk reviews before I decide to commit to a book and the most recent reviews for this book are horrible. There wasn't really anything else I wanted to read so I decided to go for it. By the end of the first chapter, I couldn't wait to find out what happened. I'm not a big crime or who-done-it type fan – I like to read before bed so if it surges my adrenaline, I can't fall asleep – but this had just the right amount of mystery without being too intense.
In Shaker Heights, a placid, progressive suburb of Cleveland, everything is planned—from the layout of the winding roads, to the colors of the houses, to the successful lives its residents will go on to lead. And no one embodies this spirit more than Elena Richardson, whose guiding principle is playing by the rules.
Enter Mia Warren—an enigmatic artist and single mother—who arrives in this idyllic bubble with her teenaged daughter Pearl, and rents a house from the Richardsons. Soon Mia and Pearl become more than tenants: all four Richardson children are drawn to the mother-daughter pair. But Mia carries with her a mysterious past and a disregard for the status quo that threatens to upend this carefully ordered community.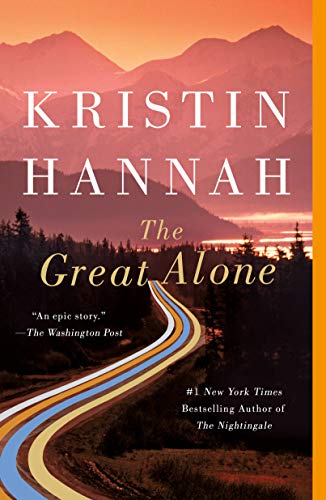 4) The Great Alone.
I'm a huge fan of Kristin Hannah – The Nightingale is likely in the top five of the best books I've ever read – and while I didn't love Firefly Lane, the synopsis for this one caught my eye. The story itself is riveting and I found myself emotional throughout a lot of it. Within her vivid descriptions of Alaska, it's a beautiful story about resilience and the will to survive.
Here's what it's about:
Alaska, 1974. Ernt Allbright came home from the Vietnam War a changed and volatile man. When he loses yet another job, he makes the impulsive decision to move his wife and daughter north where they will live off the grid in America's last true frontier.
Cora will do anything for the man she loves, even if means following him into the unknown. Thirteen-year-old Leni, caught in the riptide of her parents' passionate, stormy relationship, has little choice but to go along, daring to hope this new land promises her family a better future.
In a wild, remote corner of Alaska, the Allbrights find a fiercely independent community of strong men and even stronger women. The long, sunlit days and the generosity of the locals make up for the newcomers' lack of preparation and dwindling resources.
But as winter approaches and darkness descends, Ernt's fragile mental state deteriorates. Soon the perils outside pale in comparison to threats from within. In their small cabin, covered in snow, blanketed in eighteen hours of night, Leni and her mother learn the terrible truth: they are on their own.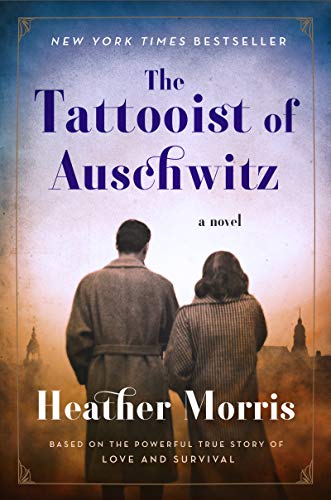 5) The Tattooist of Auschwitz.
The book alternated wrapping my heart in a warm embrace and smashing it into a thousand pieces. I rarely finish books quickly because life – I often pluck through them throughout the week- but finished this one in two days. I couldn't finish it fast enough. It's hard to believe that amidst the horrors of Auschwitz there was such a beautiful love story. This novel is based on true events and many of the characters are based on real people.
Here's the synopsis:
In April 1942, Lale Sokolov, a Slovakian Jew, is forcibly transported to the concentration camps at Auschwitz-Birkenau. When his captors discover that he speaks several languages, he is put to work as a Tätowierer (the German word for tattooist), tasked with permanently marking his fellow prisoners.
Imprisoned for over two and a half years, Lale witnesses horrific atrocities and barbarism—but also incredible acts of bravery and compassion. Risking his own life, he uses his privileged position to exchange jewels and money from murdered Jews for food to keep his fellow prisoners alive.
One day in July 1942, Lale, prisoner 32407, comforts a trembling young woman waiting in line to have the number 34902 tattooed onto her arm. Her name is Gita, and in that first encounter, Lale vows to somehow survive the camp and marry her.
A vivid, harrowing, and ultimately hopeful re-creation of Lale Sokolov's experiences as the man who tattooed the arms of thousands of prisoners with what would become one of the most potent symbols of the Holocaust, The Tattooist of Auschwitz is also a testament to the endurance of love and humanity under the darkest possible conditions.
So, tell me friends: what's the last incredible book you read? Favorite book of 2019? What are you reading right now?
xo
Gina