Hi 🙂 Happy almost-weekend! Hope you're having a great day so far <3
I'm off to teach, but wanted to post this Tabata Thursday video for those who are following the June calendar, or anyone who'd like to get an extra cardio blast in their day.
For more info on Tabata training, check out this post.
Here's how it works:
-20 seconds of hard work, 10 seconds of rest. Repeat 8 times for a total of 4 minutes. Tabata workouts are crazy effective workouts. The ones I post you'l be able to do anywhere, and it only takes 4 minutes out of your day. BOOM.
-For Tabata Thursdays, I'll be posting Tabata-style videos with different movements each week. I'll break down the movements and then we'll go for it together.
-Feel free to repeat the video 1-2 more times (max) throughout the day, with a decent amount of rest in between. Give yourself at least a few minutes so your heart rate can completely recover.
-Remember, Tabata training is an advanced style of interval training- not the best choice for beginning or intermediate exercisers as it works your heart to maximum capacity. If you're just getting started, try to incorporate interval training into your routine (maybe 2 minutes easy, 30 seconds hard and increase work/decrease speed from there)
-With any type of interval training, be sure to do it on nonconsecutive days, max 3 times per week. Your heart is a muscle, so just like you biceps, triceps, anything else, it needs rest too.
-As always, check with a doc before making any fitness or nutrition changes. Honor your body and your injuries- if it hurts, don't do it.
-This week's moves:
Vertical jump- remember to land with your knees slightly bent (no locked knees!) and push through your heels to spring up. Try to touch the ceiling!
Burpee–make sure to keep your body in a nice straight line when you jump back into a plank position. Ears to heels, one straight line. Take deep breaths and remember to keep your core tight.
Side jump- keep both legs working together and both knees slightly bent the entire time. Use the momentum of your arms and focus on jumping UP, as well as out.
Tuck jump-as high as you can! I like to do two little prep jumps and then a tuck jump, but do whatever you need to do. Try to get your knees to your belly button!
LOTS of jumping!
Here's the breakdown and workout video:
The actual workout starts around 4:30 so if you'd like to repeat (or mute my music and use your own) definitely feel free to! The only rule: I want to hear what you listened to 😉
Check in!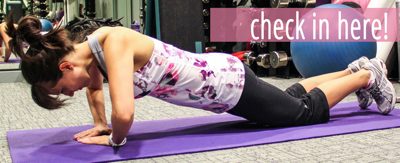 Leave a comment when you've finished the video (only 4 minutes for the workout portion) and let me know how it goes! Plus I'd love to hear your feedback on how to make these better in the future.
What's your favorite move that gets your heart rate up FAST?
I'm off!
Happy jumping 😉
xoxo,
Gina
Head's up: giveaway on the Fashion page!