Hey everyone! How's your Sunday going? Mine has been pretty glorious. I can enjoy the sun a little bit more when I don't have to run in it 😉
The pilot and I slept in, and when we woke up, I was hankering for some oat bran.
I made a hefty bowl with 1/3 C oat bran, 1 smashed banana, palmful of goji berries, 1/2 scoop Sun Warrior, 1/2 T maca, almond milk and a beautiful blob of almond butter: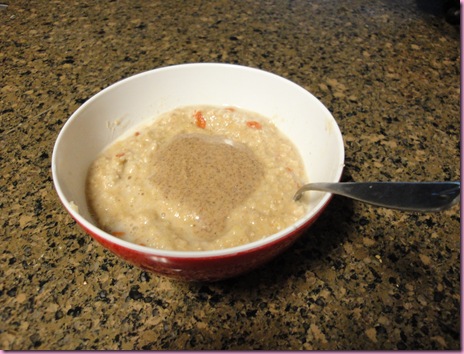 It was incredible, and SO filling.
The pilot had to go into work for a little while, so I took the puppies on a nice long walk to enjoy the weather.
Since it's been so cold lately, I've been slacking on my dog-walking duties, so when we got back, they were tuckered out.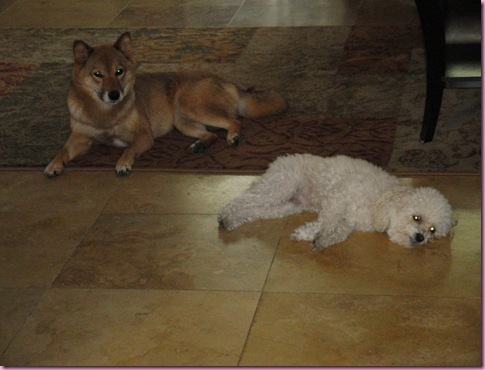 I planned our meals for the week, then went to Wizzle and Publizzle to get the goods. While I was shopping, I munched an organic apple, and then broke into these bad johnnies upon walking in the door: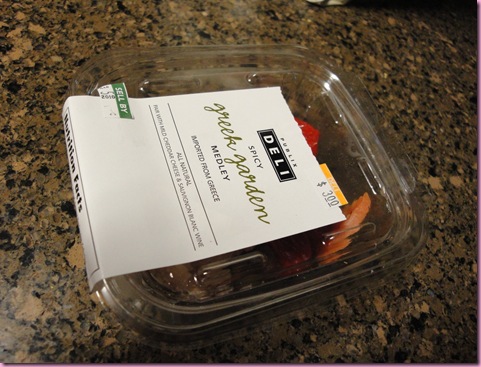 Olives, jalapenos, marinated cauliflower and carrot, and peppers. Everything I could ever wish for 🙂
After putting the groceries away, it was lunch time.
I've kind of been in a salad rut lately. I love my usual salad beasts so much, but haven't been eating them since I've been salad-ed out. After stepping out of the box with last week's Thai salad, it was time to do some salad experimentation again 😀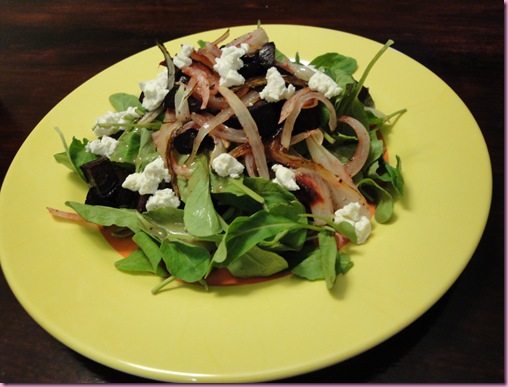 I roasted a beet with 1/2 sweet onion, olive oil, sea salt and pepper for 10 minutes at 450*. The beets were a little crunchy, so for softer ones I'd do 350* for 30-45 min… but I was on a time crunch and like a little bite to the beets anyway.
Then I topped some arugula with Organicville balsamic, the beet mixture and one serving of goat cheese.
I can't even described the foodgasms that occurred 😉
Expect to see this beast again in the near future.
The pilot and I are meeting some friends for dinner at Longhorn then going to see Valentine's Day.
Enjoy the rest of your Sunday and I'll see ya in the morning with the last Winter Shape Up workout and other shenanigans 😉
xoxo,
Gina
Something to talk about: What's your favorite salad combo?? I'd love new ideas to shake up the salad beast department 🙂 My favorite is pear, greens, green apple, goat cheese and balsamic, with candied raw nuts (which I usually make for dinner parties), but the one I had at Oregano's in Tucson was the best restaurant salad I've had.