Heyyyyy! Happy Monday 😀 Hope your morning is going well.
We met up with some friends for dinner at Longhorn and a movie last night.
I still snicker at the fact that my third favorite restaurant here –Indian is first and 306 North is second- has fake cow's heads on the walls :/
The usual nutritionally-devoid icebreg lettuce salad (no cheese, no croutons, balsamic on the side)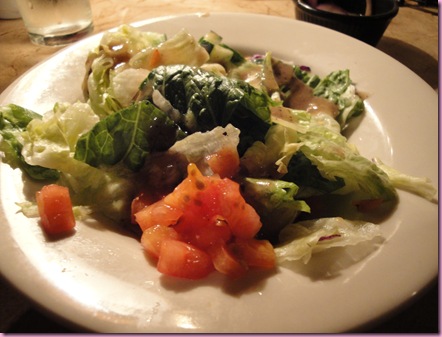 And the salmon with no butter sauce, a plain baked sweet potato and veggies.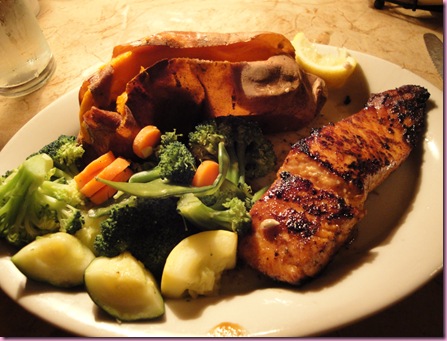 My so-called 7 oz salmon fillet was the size of a chicken finger. Not joking. Oh well, I devoured every bite 🙂
Valentine's Day was fabulous –Jeni and I enjoyed the eye candy- and then I came home to a night with the Kardashians. CRAZY season finale, no???
Well I'm off to get started on the day's to-dos, but before I go, here's the final week of the Winter Shape Up:

This week, we'll be repeating Week 4's workout. This is one of my favorites from the Shape Up and I definitely think it needs another week 😀 Try to kick up the intensity a little (if possible- BE SMART!) and challenge yourself. It's the LAST WEEK!!! Please send any Winter Shape Up success stories my way: fitnessista at gmail dot com  – I'd love to include them in next week's re-cap.
Enjoy your day and I'll see you this afternoon!
xoxo,
Gina
Questions and Answers: This is the last round from the Ask Me Anything page. It was fun while it lasted, but time to move on 🙂
Hey! What was your first job?
I was 13 years old and a junior camp counselor at a summer day camp in Tucson. I was with the pre-schoolers for the first half of the summer and the babies for the second half. I definitely learned a lot that summer! It was so much fun, though 🙂
how many calories do you eat in a day?
Enjoy to make me feel satisfied and able to conquer the day's activities. It really varies from day-to-day depending on what I'm doing and what my teaching and exercise schedule looks like.
How often does the Pilot read your blog?
He's read every post 😀
what do you think about insanity and p 90x workouts?
It's hard for me to say because I've never tried them. From what I hear though, they can offer great results but are a little unnecessary. There's no reason to go balls to the wall every.single.day. You can get excellent results from eating well and moderate exercise, so why go crazy if you don't need to?? Another thing is that once they're over, that intensity level will be impossible to maintain, thus less calories burned and the chance that lost weight could be gained back. I don't know many people who would want to exercise at that intensity on a daily basis for a consistent amount of time.
That being said, I could be totally wrong. I'd love to try a couple of the workouts and see what I think.
have you ever done a detox?
No, but I have considered doing one because I've heard great things. The only problemo is that I'm always teaching, training and on-the-go and from my understanding, while doing a detox, one must take it suuuuuper easy. In the future, I would try one to give digestion a break – detoxes should not be done for weight loss purposes.
Which of your favorite cookbooks would you recommend for someone interested in trying more raw/vegan dishes?
Everyday Raw by Matthew Kenney (Everyday Raw Desserts is coming out very soon and I can't wait)
Ani's Raw Food Kitchen –she has a new book coming out in April!- by Ani Phyo
Eat, Drink and Be Vegan by Dreena Burton
Living Raw Food by Sarma Melngailis
do you and the pilot ever have jealousy towards one another? With regards to other men and women??
Nahhh. We're confident enough with each other and ourselves that we can joke around about it. He knows about my love for Patrick Dempsey and Gerard Butler and I share his appreciation for Jessica Biel's awesome bod.