Morning friends <3 Happy Indian Food Wednesday 😀 Hope your day is going well so far!
I started mine off with a bowl of goodness…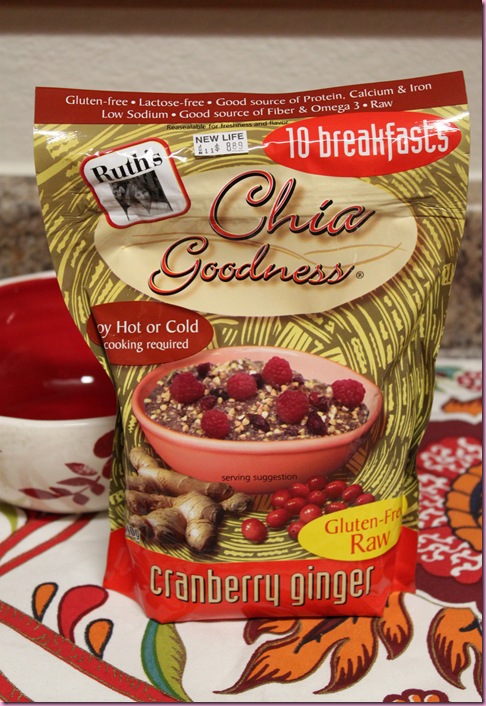 I went crazy for this stuff pretty much all last summer, so I was excited to pick up a bag at the health food store. Instead of just being chia (which is excellent for Omega 3s, hydrating, and assists with joint and eye lubrication), this has a mix of other things too, such as hemp seeds, pumpkin seeds, buckwheat groats, dates and dried fruit, etc.
I'd never tried the cranberry ginger flavor (always roll with chocolate), and made some overnight chia protein oats to be waiting for me in the morning.
Last night, I combined:
-2 T chia goodness

-1/4 C gluten-free oats

-1 T protein powder

-some frozen organic berries

-1 C almond milk and a sprinkle of cinnamon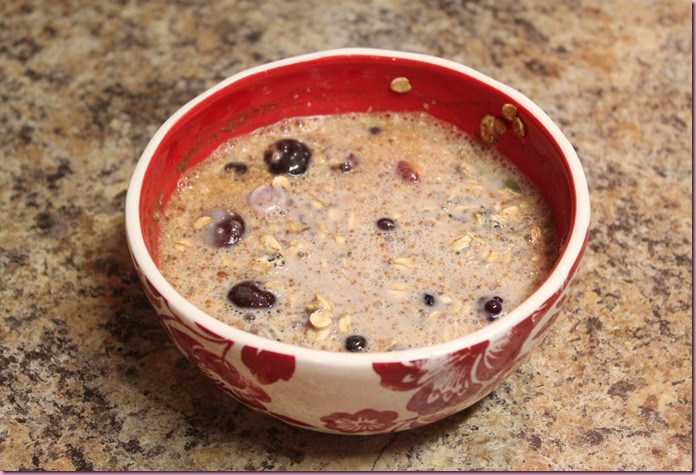 Set it in the fridge overnight, and here's what it looked like this morning: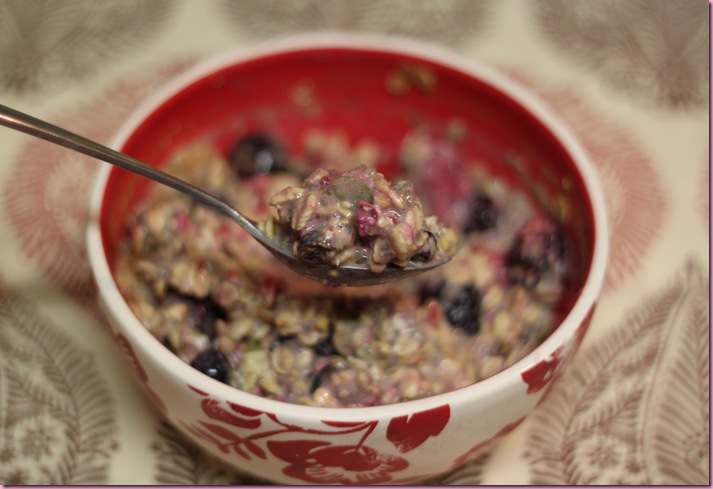 Creamy oaty chia perfection 😀
I have to do the work thang today and keep going to the madre's house to check the mail. I ordered a new heart rate monitor and it should be here any second- I'm like a little kid waiting for it to get here 🙂
I used to have the Polar F6 (in pink!!) but I left the watch part in Orlando (insert major sad face) and have had such an impossible time ordering a new one. Amazon and quite a few other websites are sold out.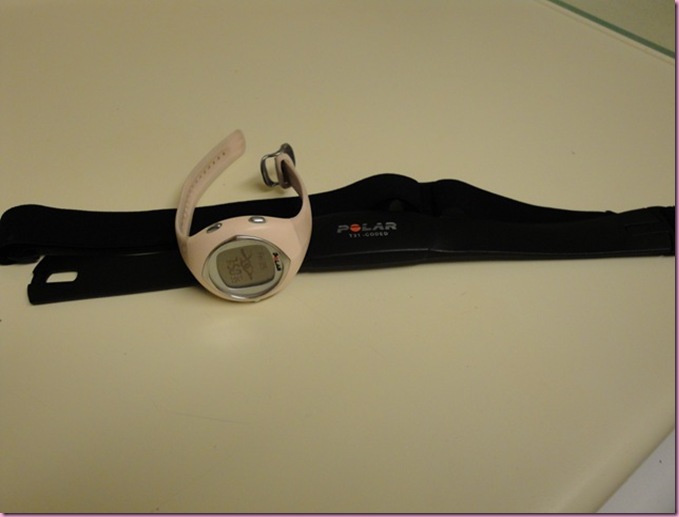 I also have the Garmin 305, but since it's super bulky, I didn't think it would be the best choice for teaching. I could see a lot of the guests asking why I have a giant gadget on my arm:
So I ordered the new version of the Polar women's heart rate monitor: FT40 in white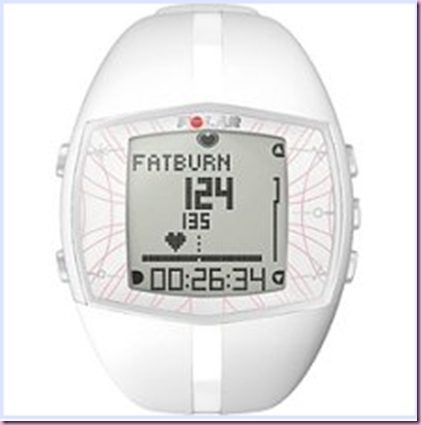 Source
It kind of looks like a funny egg.
Since I have a gluten-free bun in the oven, I thought it would be a good idea to start using a heart rate monitor again to make sure my heart rate stays in a good (not too cray cray) zone and that I'm also getting enough fuel for my teaching and assisting at work. Up until now, I've been going by the talk test –can I say "I have a gluten-free bun in the oven" without gasping? Ok good- but think it would be a helpful tool to bust out again.
Benefits of using a heart rate monitor:
1. It's a great way to know how hard you're pushing yourself and if you can push harder. The first time I used my Polar F6 (about 3 years ago), I was surprised to find out that I wasn't recovering completely in between my HIIT intervals, and that I could take my cardio to the next notch.
2. It tracks calories burned (for the entire week, too!), which can help with assessing fuel. On my teaching days, it let me know how many additional calories I was burning so I could plan my fuel accordingly.
3. It's customizable to YOU. Heart rate monitors will usually let you input your age and weight, and will adjust your target heart rates according to what activity you're doing. It will be able to tell you where you should be each training zone, or you can preset these numbers if you know which percentage of your maximum heart rate that you'd like to train at.
4. They're fantastic for races. Having a heart rate monitor helped me gauge my exertion from the beginning, so I could keep from pushing too hard too quickly and burning out. I also liked the fact that it has a timer on the watch for when you start the activity level, so you know how long you've been going for.
There are a TON of different brands and types out there. Some are pretty techie fancy and can be transmitted to your computer too 🙂
Do you train with a heart rate monitor? What are some of the benefits you've noticed?
Off to bring home the eggplant bacon 🙂 See ya this afternoon with a family post <3
xoxo
Gina