An Entirely Different Beast
Hey everyone! Finally in jammies and settled down from the day. How was your Wednesday?
Mine started off with protein chia pudding: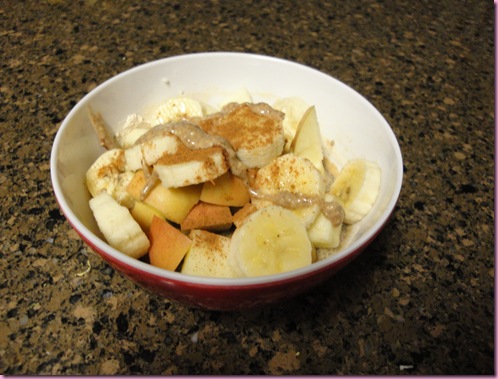 -1/4 C chia seeds
-3/4 C almond milk
-1/2 scoop Sun Warrior (off to Amazon to order more.. I'm running low)
-cinnamon
-maca
-Stevia
-vanilla
-small nanner
-small apple
-dib dab of almond butter for my face garnish
and a killerrrrr back and abs weights sesh. T'was heart thumping for sure 🙂 Speaking of weights, thank you so much for keeping me updated with the Winter Shape Up– I'm so glad ya'll are liking it and feeling the burn so far. New workouts will be posted Monday! Are any of you doing the Intro to Iron plan I designed for Caitlin? Hope that's going bueno, too!
Some of today's eats: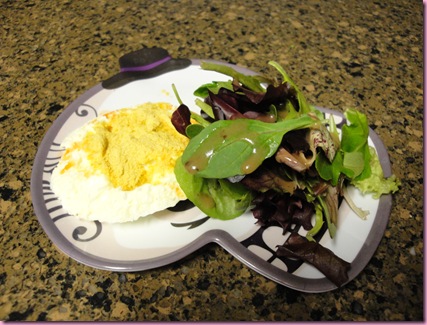 Egg white puff and salad for protein after my weights sesh.
Lots o' nutritional yeast: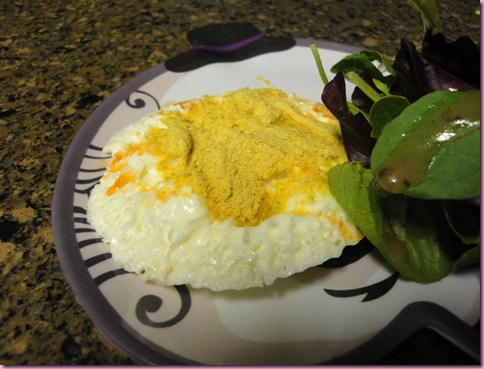 Raw croutons: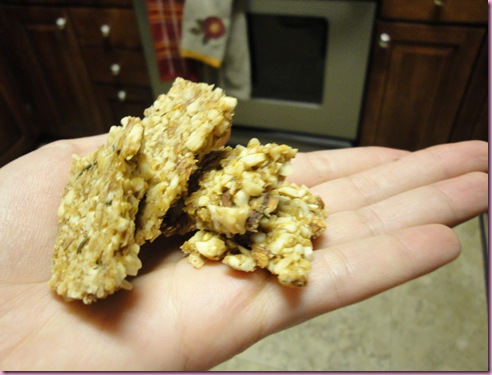 2 smoothies throughout the day and some millet bread.
And a salmon dinner after Zumba at Longhorn with my pilot,  Jeni and her pilot.
Nutritionally-devoid iceberg lettuce with some balsamic drizzled on- otherwise known as the "house salad with no cheese or croutons with balsamic on the side"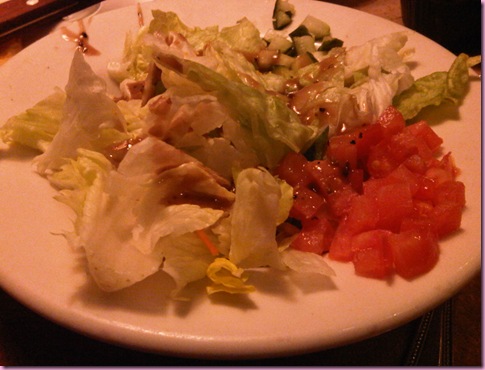 (Sorry for the dark pics! I took them with the crackberry)
And salmon with double veggies, no butter sauce, thank you.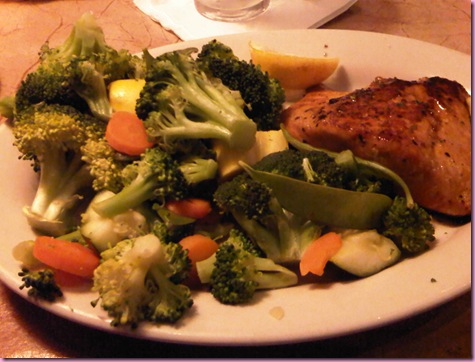 It was pretty glorious.
Zumba was outta control tonight. SO. MUCH. FUN. It's amazing how you can feed energy off of other people, and with a packed house, I was ready to shake my booty. I love teaching Zumba.
Yoga, however, I'm not the biggest fan of teaching. I didn't write about this too much on the blog yet, but I taught a yoga class at the base gym a couple of weeks ago and it was a disaster. I had two challenging flows planned out that I figured we would do slowly (after warm up and sun salutations) and then repeat a couple of times on the right side and left side. I thought it would take about 45 minutes….then we'd do some cool down stretches and savasana and peace out. Um, we finished the flows and I looked down and it had been 22 minutes. Apparently, I'm a yoga speed demon, so I ended up winging the rest of the class. Disaster.  I think it's just one of those things I'm better at participating in than doing. I can teach spin, step or Zumba all the livelong day, but yoga is an entirely different beast.
Well I'm off to prep my clients' raw lunches for tomorrow (PIZZA!) and hit the hay.
Hasta pasta, bloggies.
<3
G$
Today's Zumba playlist: