An amazing trip with two of my absolute favorite people <3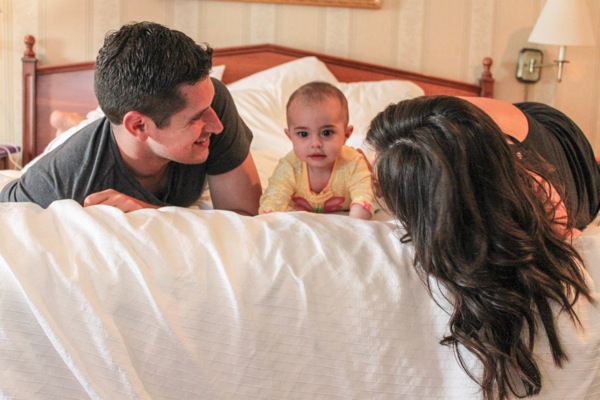 When we went to San Diego for our babymoon, we knew we wanted to come back as a family of three and stay in La Jolla. There are so many cute shops and restaurants along the beach (plus the seals!!)- everything is walking distance. We only ended up using the car once to drive downtown, and other than that, we pushed Livi around in the jogging stroller or wore her in the men tai.
We left Saturday afternoon when I got off work, and got to our hotel around 2am. The awesome thing about doing it that way was that Liv slept almost the entire time, and when we woke up Sunday morning, we were already at our destination, ready for adventures.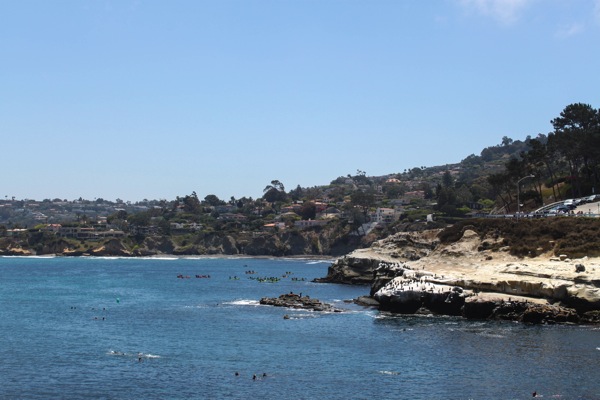 Here are some of the things we did while we were there:
-Seal watching! This is probably my absolute favorite part of La Jolla- I could watch the seals swim and sunbathe all day. Little loves: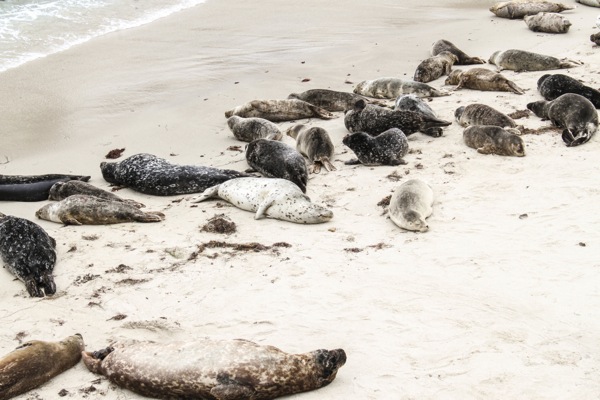 -Eat. I think we successfully ate our way through La Jolla. Some of the delights:
Breakfast:
-The Cottage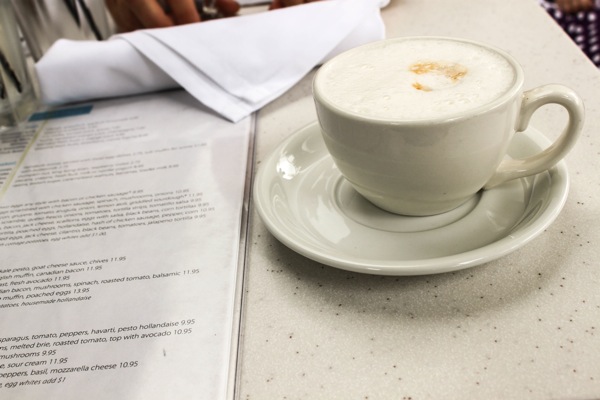 This is our favorite. I love it because they have gluten-free toast and chicken sausage, and the Pilot loves their French toast. It was tempting to eat there everyday, but we decided to try a couple of other places since there were so many options to choose from. 
-The Coffee Cup
A quaint, funky little diner, and had FANTASTIC breakfast tamales. 2 tamales, eggs and black beans- I was a happy girl.
-Brockton Villa
It was built in the late 1800s by a San Diego physician (he bought the property for $165- I learned that from the story on the menu, haha) and overlooks the beach. The atmosphere was incredible and we both loved the coffee and omelets.
Lunch:
–Lean and Green. This is brilliantly close to La Jolla Sports Club, and has pretty much everything I could wish for on a menu. Gluten-free wraps and sandwiches, smoothies, juices, rice and quinoa bowls, yogurt/granola bowls, gloriousness and happiness. The Pilot had an awesome turkey wrap and juice, and I enjoyed a green juice and kale power bowl.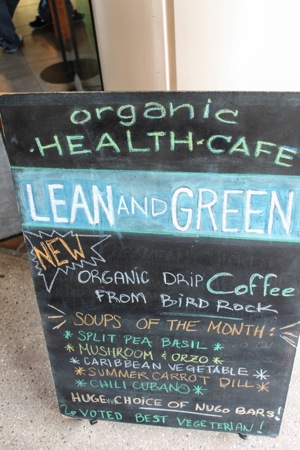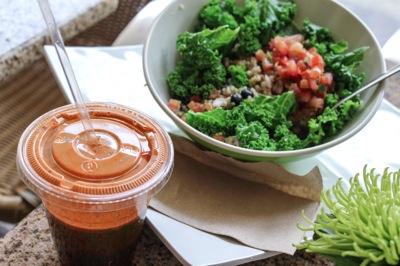 -Xtreme Pizza. We were actually in line to eat at Lean and Green (the next day) and the Pilot said, "I could really go for pizza." I looked him in the eye and we knew. We walked out together (embarrassing) and got insane pizza from Xtreme Pizza. He got some slices to go, and I ordered a small Pandora's box gluten-free pizza (half cheese, half no cheese) and it was, hands down, the best gluten-free dough I've ever tried. The Pilot had a couple of slices and couldn't believe the dough was gluten-free- not the least bit chewy or weird.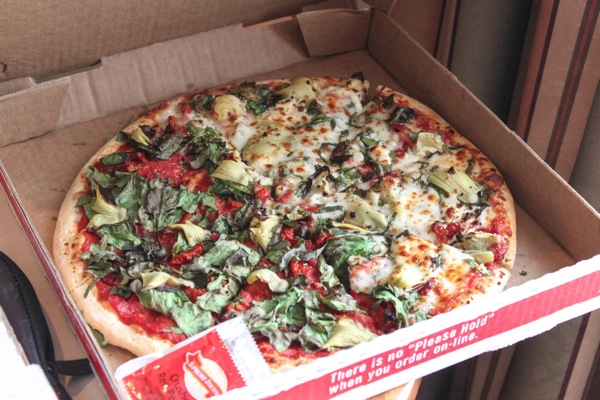 -Cody's. This was lunch/dinner the first night we were there, and chose Cody's because of the eclectic menu- lots of Mexican twists on traditional dishes, healthy options, and burgers. We shared the ceviche, and I had a lemon-thyme champagne spritzer: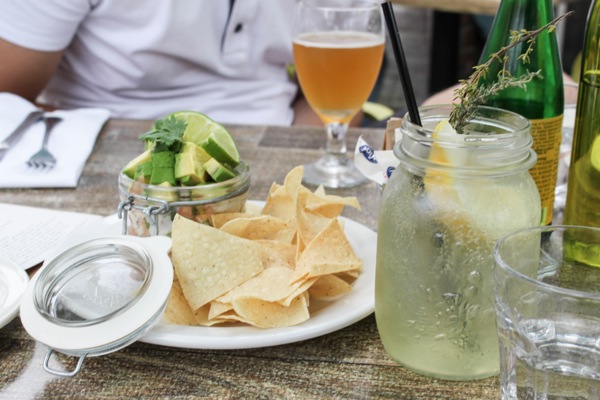 and for my entree, I rolled with the salmon salad.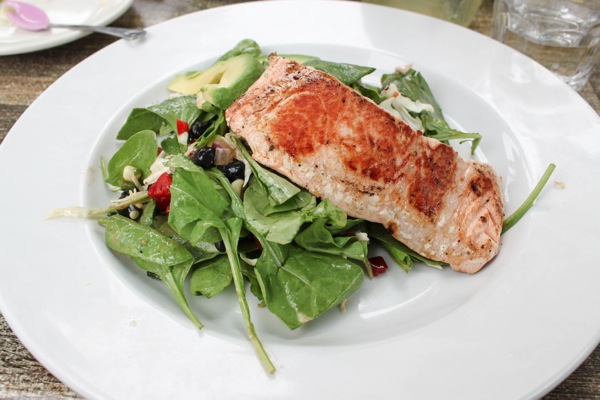 Dinner:
-The Fish Market, The Pilot told me that this place had wonderful seafood -he ate there while he was in SD for work a couple of weeks ago- and they have pretty much any seafood option you could want: grilled, sushi, smoked, soup, the list goes on. The view is breathtaking, too- overlooking the bay: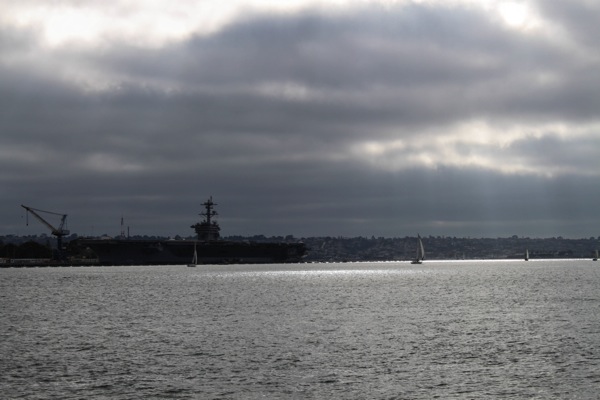 Here's what our table looked like: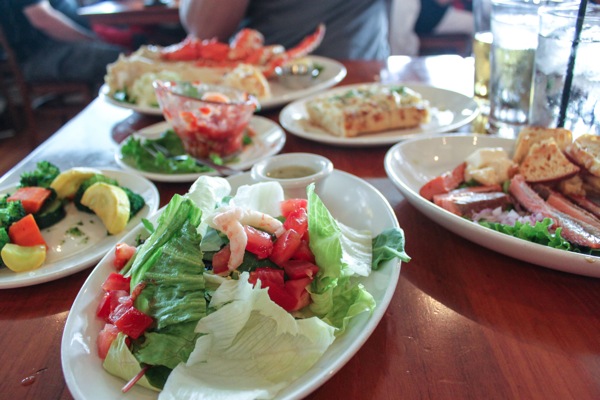 Crab legs, shrimp cocktail, side of veggies for Liv, cheesy bread, shrimp salad, the BEST, freshly-smoked Alaskan salmon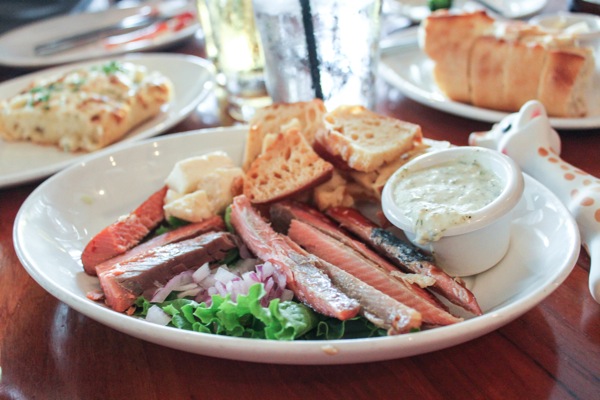 (I salivate looking at that photo)
and a man who takes his seafood very seriously.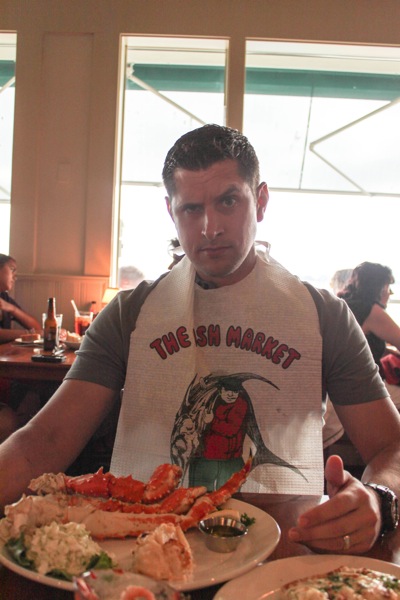 Bahaha.
The entire time he was putting his bib on, I was cracking up and asking him if he was for real. No, he was joking, but it was about 10 seconds of pure awesomeness. 
-PrepKitchen. No pics from this meal, as I was enjoying the company (which included the lovely Whitney)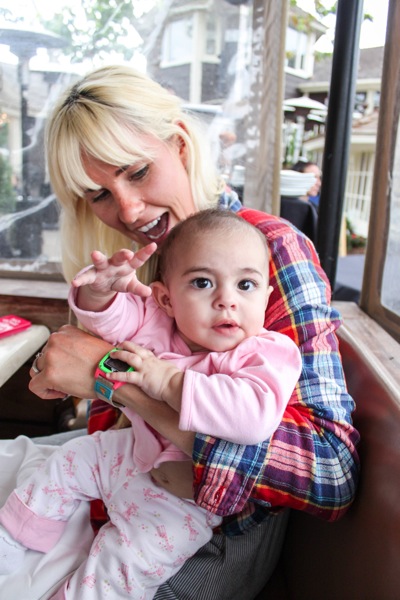 but there is a salad I'll be re-creating ASAP 🙂
Everything else:
Cups. All you need is Cups.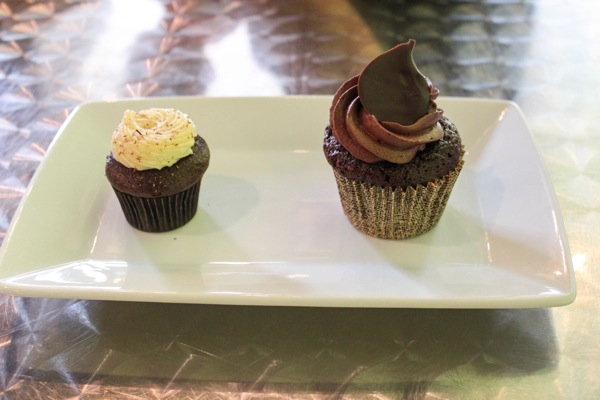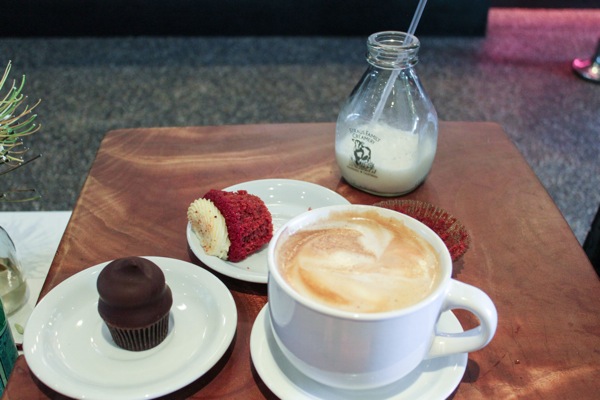 Gluten-free cupcakes and almond milk lattes. It's a beautiful thing. 
So we ate at incredible restaurants, walked around, shopped, caught up with friends, had the chance to take a couple of new-to-me workout classes (I'll write about those later tonight) and were able to just enjoy each other and relax.
The Pilot always works long and intense hours, so I'm always glad when he gets the chance to chill. We took naps together as a family, and even Liv was on vacay mode- she slept in until 7 or 8 each morning and napped like a champ. While I didn't feel like I needed a "break" per se, I was pretty exhausted before we left. Usually for vacations, I'll get stressed out about packing (because we all know about my history of last-minute packing and missed flights), and don't really wind down until I'm at the destination. This time, the second we were in the car, I felt my body sigh with relief.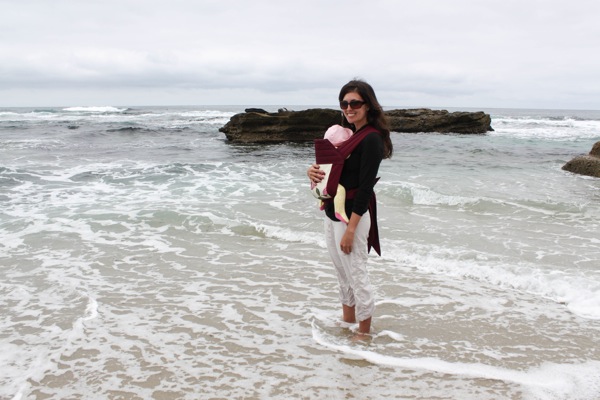 My days are very full, but I'm fortunate that they're all things I choose to do and enjoy. At the same time, the 2 solid months of sleep deprivation after Liv was born… well, almost every night since then I've felt pretty worn down- definitely ready for some relaxation and sleep catch-up. I feel rejuvenated and refreshed, and grateful I got some quality time in with the people I love so much.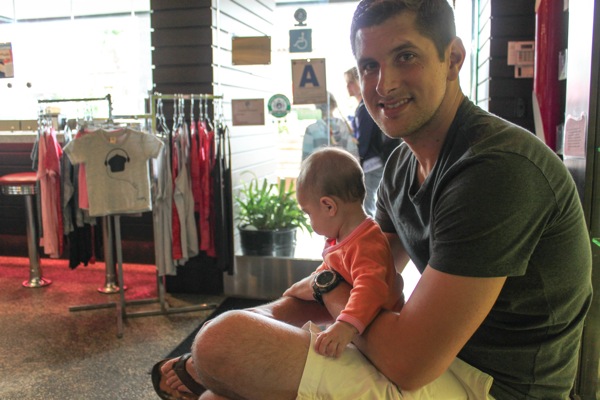 It's back to work (and Zumba!) for me over here, but I hope your day is this kinda happy: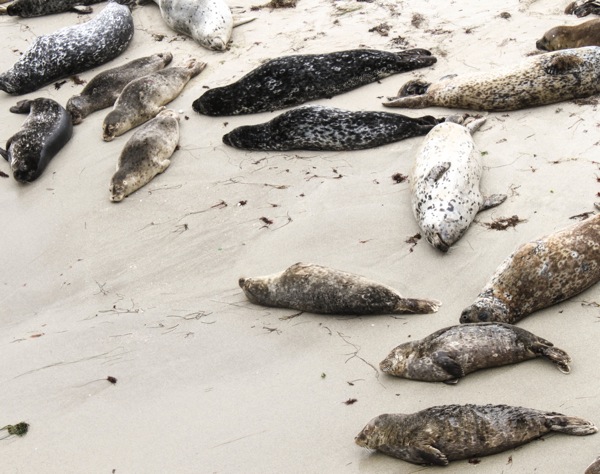 xoxo,
Gina
*Thank you again to these fabulous ladies for guest posting while I was away! <3
-Later today:
Fashion Post from Meg
My vacay workouts
Summer Shape Up: It's Tabata Thursday! Choose one of the last two videos for today's 12-minute max cardio blitz. Leave a comment to check in with how many rounds you did and how triumphant you feel! 🙂 Check out the July calendar if you'd like to join in with this month's workouts <3