Beauty and skincare faves
Helloooooo. How are ya? How's the week going so far? We have a busy day ahead -the girls have lessons and I train my first client back in Valdosta- and I'm looking forward to enjoying some time outside with the fam.
For this morning's post, I thought I'd share the latest and greatest beauty product roundup. I get a lot of questions about my favorite makeup products and hair routine, and I always love reading posts like this to get some new ideas.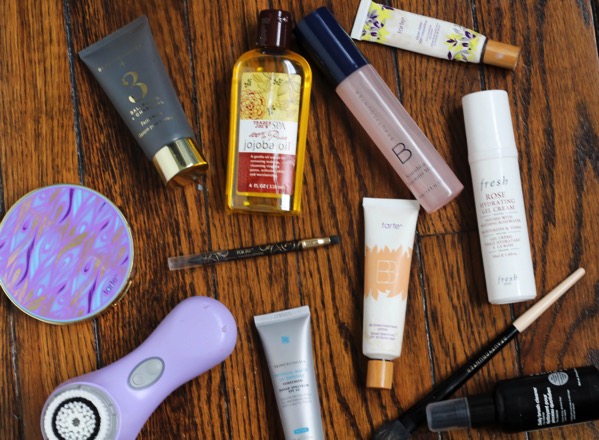 It changes every now and again, but here's what the staples have been like for the past few months:
To cleanse:
I like these products because they make my face feel really clean, and they're super gentle. I had sensitive skin -aka if I get a facial I have to tell them to avoid any harsh products or peels because my face feels like it's on fire- and have to be careful with what I use. Thankfully my skin isn't super prone to breakouts, so I'm not too worried about having to use intense stuff on my face.
To moisturize:
Fresh Rose hydrating gel cream or
Beautycounter Nighttime moisturizer mixed with a couple drops of Face Oil
These are both extremely nourishing and moisturize without feeling heavy or greasy. I LOVE how light the rose moisturizer is, and also using a couple of drops of this mix of plant-based oils. (Way better than just using Argan or rose hip oil, IMO, and it smells lovely.)
I change up my eye cream every so often, and right now I like this one. Sometimes nothing can help the bags though haha.
Every other day or so:
Fresh Rose Face Mask (it smells BEAUTIFUL)
Weekly: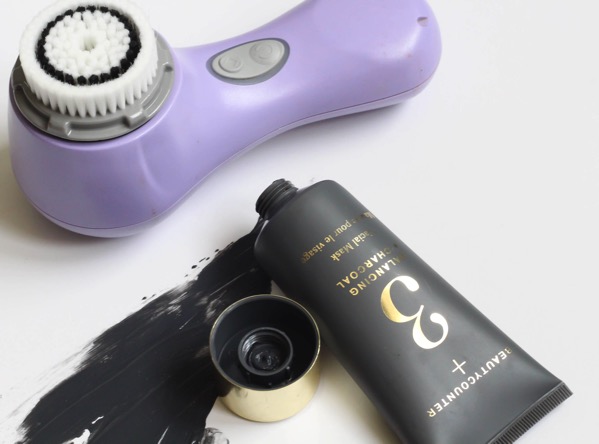 There's a visible difference when I skip out on exfoliating. My skin tone looks dull and lackluster (paired with hit-or-miss sleep, and you've got a winning combo haha), and I feel like I need more makeup. When I make it a regular part of my routine, I notice a huge difference in the texture and tone of my skin. Also, it's fun to use the Clarisonic, and also trying to convince the Pilot to let me do a charcoal mask on him.
Makeup:
Skinceuticals Tinted Sunscreen
Tarte BB cream or a concealer to cover freckles or bags under my eyes
Anastasia wax crayon, brow pencil or brow shadow, clear brow mascara
Tarte primer (<—necessary if you want eyeshadow to look more like its true color and actually last)
I rotate between a few different eyeshadows, but I always go back to my Naked 2 palette and this Tarte Palette
This blush, which reminds me so much of the Nars orgasm blush (with better ingredients)
Lip gloss. Here are my current faves:
and this one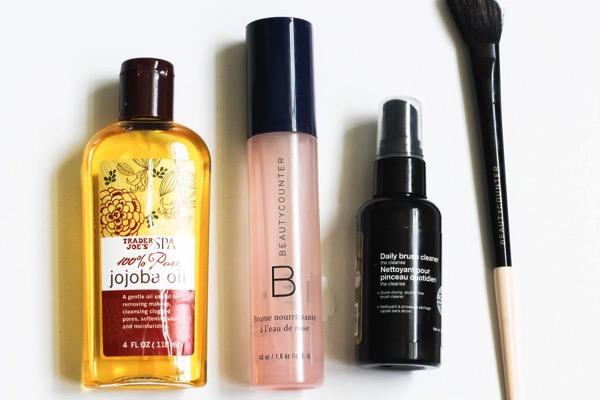 Lotion, self-tanner and extras:
I love the scent of this lotion, and it's super moisturizing. I'm also a huge fan of plain ol' coconut oil as lotion.
For self tanner, this one is my latest obsession. These gloves help prevent giant streaks and blend it in so there are no streaks, and it has a perfect brown hue (no Oompa Loompa orange).
To take the makeup off: jojoba oil on a cotton round will do the trick. It's gentle on eyes and works extremely well. You can find it at Trader Joe's or health food stores.
Little pick-me-up: rosewater spray (or you can make your own)
Awesome brushes, and something to clean them
It's funny because I think my routine is so *simple* but once I write everything down, it's kind of a lot. This is a huge reason why I've made a switch to safer skin care options, because it adds up quickly when you consider all of the ingredients that go into making a single product. I also still love homemade beauty and skin care options (here are some of my faves) and I'd love to hear any that you're enjoying lately.
What's your current "can't live without" beauty or skincare products?? I always love trying new things. 🙂
xoxo
Gina