Hey heyyyy. Happy Wednesday! How's the week going?? Ours has been a good one. I trained a client yesterday, took the girls to their lessons, and we had family dinner at the country club. The food was really good and since it was family night, there were lots of boisterous kiddos. (P has recently decided she hates restaurants, and the high chair, but did awesome last night. So, it was actually kind of… peaceful. haha.) This morning, I'm getting in a barre bootcamp workout and we're going to run some errands.
Today, I have an all-new workout for ya, using something we all have on hand: kitchen towels!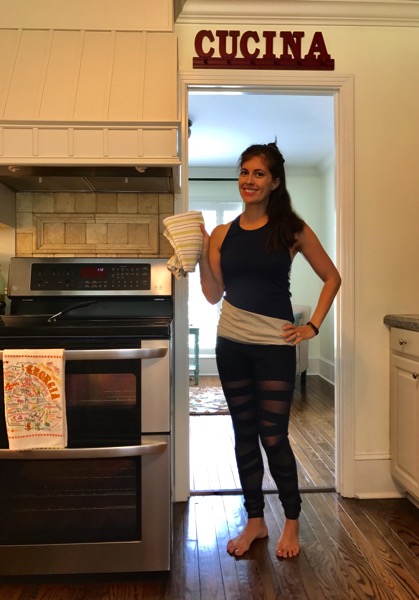 (Wearing a Split59 top and Electric Yoga leggings c/o GILT)
I like using these as impromptu gliding disks. A lot of us don't have gliders at home, but towels on wood floor or tile will glide the same way. (You can also use paper plates if you're on carpet!) I LOVE gliding moments because they help you to go through the full range of movement for an exercise. Instead of just stepping from starting point the end point, you move fluidly through it, which works your muscles in an entirely different way. I particularly like this for core and leg work.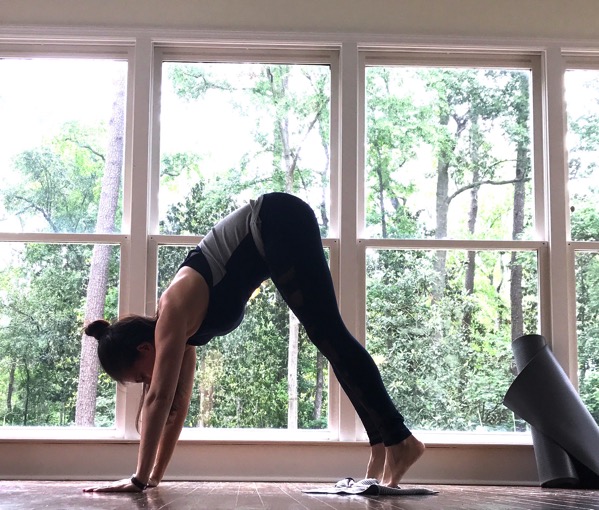 A tip for using any type of gliding tool: make sure to keep something OFF the glider to use as your brake. For example, when you do lunges, push through your toe to glide, but leave your heel off the glider so it can quickly stop you.
Here's a little total-body towel workout that's perfect for an at-home workout!

Exercise tips and form cues:
Sliding skaters
Start with one leg forward, and toes angled out 45 degrees. Slide your other foot totally back behind the front, so that your foot is behind the opposite shoulder. Sink low into a curtsy lunge, rise, and then slide to repeat on the opposite side.
Reverse lunge to side lunge
Slide a big step back to come into a lunge position. Watch your alignment and make sure your front knee is stacked over your front ankle, and your chest is lifted with a tight core. Focus on sinking DOWN, instead of forward. Slide that foot back to center (keeping a slight bend in your opposite leg), and then slide out to the side so your foot angles out 45 degrees. (Your opposite leg stays straight and strong; toes point forward.) Think about sinking your hips down and back into your lateral lunge as you keep your core tight and your chest lifted. Slide back to start. That's one rep.
Wide to narrow push-ups
You can do these on your knees or toes. (It's a challenging one so I suggest starting on your knees with your hips down.) Slide one arm out so your hands are wider than your shoulders. Complete one push-up, then slide that arm back to center and complete a narrow push-up. Keep your hips down in line with your spine, and exhale, squeezing your chest, to rise. Do all of your reps on one side before switching to the opposite side.
Towel superman raises
Start on your stomach with arms extended, holding onto the ends of one towel. Inhale to lift your arms and legs off the floor, and exhale to bend your arms back, squeezing your back muscles. Extend the arms again (inhale) and exhale to lower down and repeat. (Pregnancy modification: do spinal balance on hands and knees, 10 times each side, then cat/cow stretches for 30 seconds.)
Pikes to knee tucks
Place the towels under your toes and slide into a plank position, with you hands under your shoulders and a neutral spine. Make sure that your hands are wide and you're pressing through your entire hand. . Inhale, and as you exhale, lift your hips up towards the ceiling, keeping your legs as straight as possible. If the pike is too much, do a knee tuck instead. Bend your knees to bring them towards your chest, then extend back out to a plank position. Challenge option: alternate pikes and knee tucks. Modify: mountain climbers.
Twisted planks
Start in a plank position with the towels under your toes. ake sure to keep your hips in line with your torso (no butts in the air or sagging in the middle) and your hands planted firmly into the surface. Slide one leg through your plank, lifting up your bottom oblique. Rotate back to center and slide the other leg through. Alternate sides for 45 seconds.
Heel slides
Start on your back with feet flat on the floor and knees bent, towels under your heels. Exhale to squeeze your glutes and lift your hips off the floor. Keep everything still and stable, slide one leg out, keeping your toes pointed towards the ceiling and hips lifted. Breathe, and slide back to center to repeat on the opposite side.
Have a wonderful day and I'll see ya soon with a lunch recipe I've been going crazy over.
Have you used gliding discs in your training? What's your favorite exercise? I love doing inchworms with them.
xoxo
Gina