Hi friends 🙂 How are ya? Hope you're having a great morning so far <3
As y'all know, I'm kind of an anti-resolution girl. If I want to change something, I change it. There's so reason to wait, or have the added pressure of an ambiguous date (ie New Years).
I am however, an inspiration board kinda girl 🙂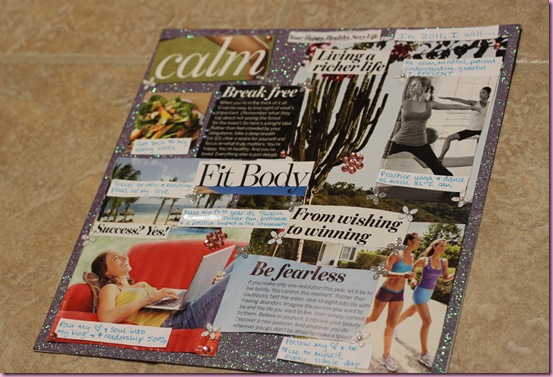 Every year around New Years, I like to put together a little sumthin' sumthin' to post in a place where I'll see it everyday (usually in the closet). It provides general mindset and motivational ideas, reminds of my big picture goals and keeps me on track throughout the year.
It's also a fun little arts and crafts project 😉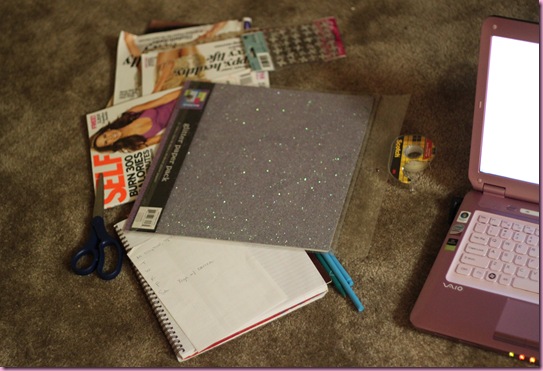 I'm a huge believer that if you call it out the universe, it will happen. When I was in college and met the Pilot, I was in the interview process for a job I really wanted, and had also landed a job with a Fortune 5 company. I was ready to climb the corporate ladder and my world was flipped upside down. I married the love of my life and from then on, I'd be at the whims of the military. As a total Type A and control freak, I had a hard time dealing with the fact that I'd have no control over where we'd be living or how long we would be there.

Something lit a fire under my booty while we were at dinner with my parents and one of their friends. During dinner conversation, we were talking about the friend's job, who worked as a military pilot. The pilot said "I get to fly around and have a great time while my wife has to work worthless low-paying jobs wherever we go." I was enraged. His his wife followed him around, took care of their family and there he was, mocking the fact that she was unable to find a meaningful job wherever they were sent. I knew from that moment on that I would refuse to settle for mediocrity and push myself to do what I truly wanted to do, no matter what obstacles the military lifestyle threw at us. I called it out to the universe to help me find my path, even though I had no idea what it would be.

It took a lot of soul-searching, working painful jobs that I knew weren't for me, tears and research to discover what I wanted to do with my life, and it's still a huge work in progress. If we wouldn't have moved to Valdosta, I wouldn't have started the blog, which ended up being the most rewarding hobby and best job I've ever had. Everything happens for a reason.
While I only have a small glimpse into what this year will bring, I have a good feeling it's going to be amazing 🙂
Here's what this year's inspiration board looks like: (2010's can be found *here* and *here*)
In 2011, I will…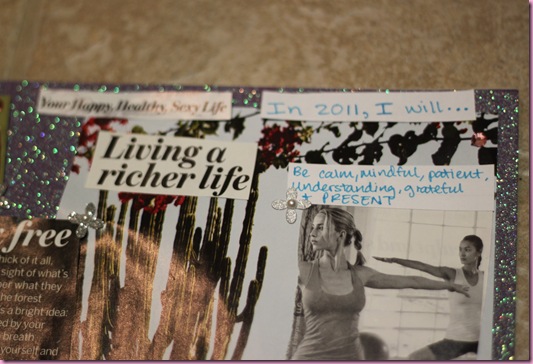 -Live a richer life, by getting the most that I can out of each day. At the end of each day, I'll write down something I learned or took away from it, no matter the magnitude. Every day can teach us something.
–Be calm, mindful, patient, understanding and PRESENT. This is a huge one for me because I'm such a busy body and am always thinking about what's next.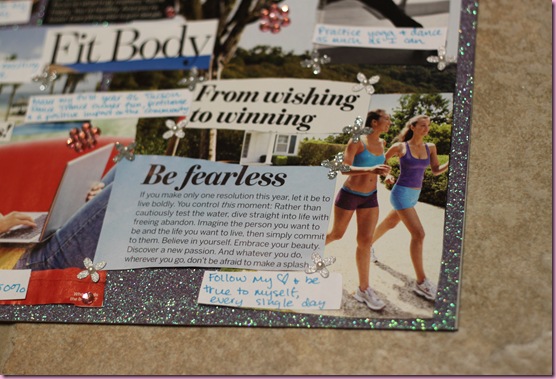 –Follow my heart and be true to myself
–Be fearless
–Practice yoga and dance as often as I can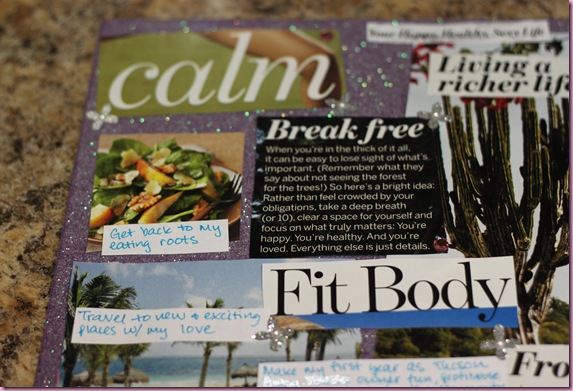 –Get back to my eating roots. My eating has changed dramatically since I started the blog. The most awesome thing about this is that I'm eating way less processed foods than I used to back in the day, but the kicker is that my macronutrient balance is off. I've lost a lot of muscle definition since I stopped eating chicken, and am going to try to make protein more of a focus in my life by still rolling with whole, unprocessed foods. You can get enough protein by eating plant-based foods, but it doesn't seem like I'm doing it correctly.
–Travel to exciting places with my love. Literally and metaphorically 😉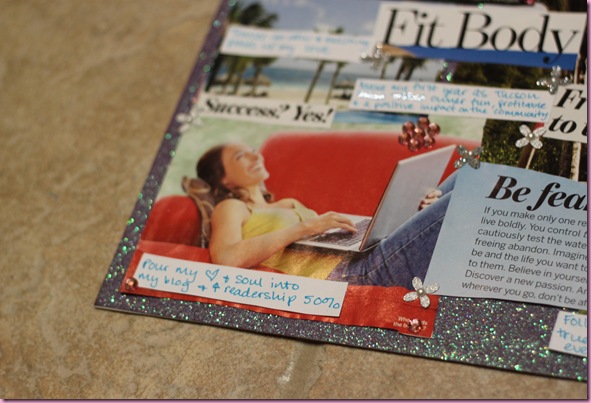 –Continue to pour my heart and soul into the blog and increase readership by 50%. Last month was the best month ever for my little blog (she was very excited about it!) so expect a "Thank you" macaroon giveaway this week <3
–Make my first year as [insert fitness franchise here] owner fun, profitable and a positive impact on the community. I mentioned in my New Year's post that the Pilot and I bought a business last week. I am over the moon excited about it and am waiting until he gets home to spill the beans. I will say that it is something that I'm insanely passionate about 😀
I'm off to spin, but before I go, here are some pics of the beautiful inspiration boards that you sent me:
Since I received so many, and they're all amazing, I'll be posting some each morning for the rest of the week <3
Thank you to all of YOU for inspiring me on a daily basis 🙂
Something to talk about: What's your Big Hairy Audacious Goal (BHAG) for 2011? The kind of goal that scares you, it's so important and exciting. Run a marathon, open a business, adopt a pet, travel to another country? I love hearing what you're up to 🙂