Hiiiii 😀 HAPPY NEW YEAR!! Hope everyone had fun celebrations last night! We certainly did, but I was a bum and didn't take a single picture :/ We had a lovely dinner with some friends at Liz and her pilot's house (spinach and salmon salad, brownies with ice cream and peppermint bark) and then came back to the casa a little before 12 to ring in the año nuevo.
The puppies have been resting all day.. apparently 2009 was a tough year for them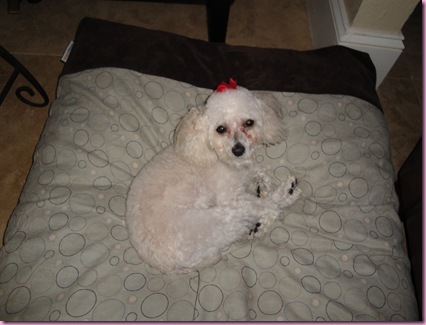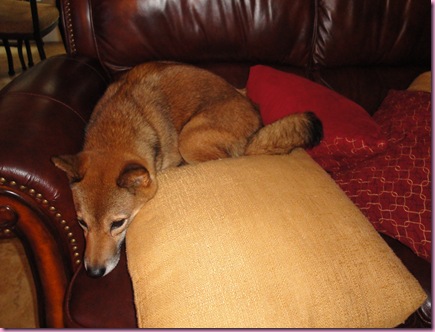 I slept in, crawled out of bed, and after taking a morning dip into the almond butter jar, I made an unconventional bfast.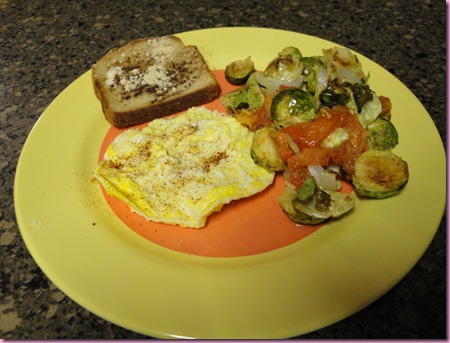 Millet bread with maca and cinnamon, an egg with cayenne and roasted veggies (zucchini, onion, tomato and brussel sprouts with sea salt, pepper and garlic powder).
It was everything I could ever wish for 😀
Next, I hit up the gym for some leg action, which was a little tricky since the pilot and I ran 6 fast miles before our dinner party last night. By the end of today's workout, my legs felt great.
I did some supersets:
Elliptical
5 minutes
Crossramp 10, level 5
Superset 1:
Stability ball hamstring curl alternated with stability ball overhead pass
Body weight
4 sets of 15 of each exercise
Superset 2:
Standing lunges alternated with 45 second planks
Body weight
4 sets of 15 on each side for the lunges; 4 sets of 45 second planks
Superset 3:
Calf raises on a step alternated with side crunches
Body weight
4 sets of 15 on each side, for each exercise
Superset 4: Leg press with feet positioned higher to target glutes alternated with leg extension
120 lbs for the leg press; 35 lbs for the leg extension
4 sets of 15 of each exercise
Lots of stretching!
 
 
Total time: 50 minutes
 
 
This workout was KILLERRRRRRRRR. Supersets are an awesome way to train more effectively, since you're using an entirely different muscle while the other one rests.This enables you to train the entire time without taking rests in between sets. Ideally for supersets, you want to train antagonist muscles on the same day (which are muscles that oppose the actions of another- like biceps and triceps).
After my legs and abs extravaganza, I was ready for a smoothie!
I had a tropical superfood smoothie with vanilla Sun Warrior protein and spirulina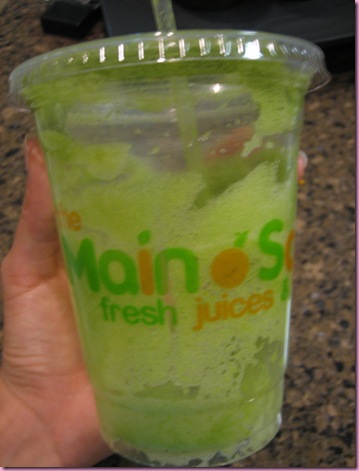 It was face-rocking amazing 😀
I went to TJ Maxx to look at their yoga clothes –got a shirt and a sports bra- then came back to the casa to make some bloomin' onion bread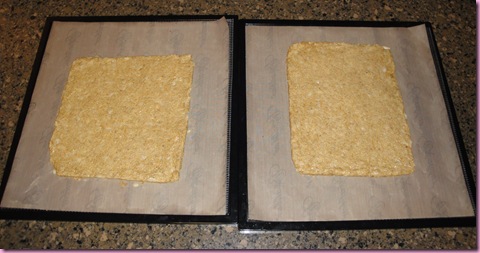 1 cup raw sunflower seeds, 1 cup ground flax, 1.5 sweet onions, coconut aminos (!) and a splash of olive oil. They're un-cooking away in the dehydrator, and once again, my house smells like onion 🙂
Snacked on two of the incredible vegan power cookies: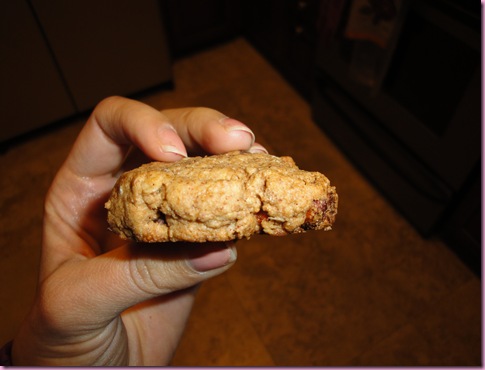 (gah! I need to paint my nails! Don't judge me, haha)
I'm about to do some laundry and then back to the gym for cardio and a training appointment. Tonight we're having INDIAN with Jeni and her pilot. I can taste the naan already 😀
Have a wonderful day!
xoxo,
Gina
Something to do: Make a vision board of all of the things you want to accomplish in the New Year! I'm going to work on mine this weekend and post it on Monday 🙂