Hiiii 😀 How are you? Late night blogging tonight! It was the kind of night where I just needed to take a minute to let my brain defrost,
and cozy up on the couch with some chips and dip
(aka hummus and raw sweet potato chips) 😉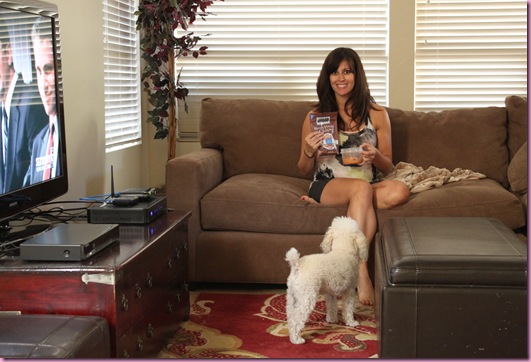 [+ a creeper smile and a begging maltipoo]
Today was bueno, full of productivity and craziness.. just the way I like it, but it definitely feels good to be chillin' in my jammies.
I got put on the employee Buff Booty class during lunch, so I kicked all of our bootays. It will hurt to walk tomorrow 😉
A snippet of what we did:

-Squats, squat pulses and tempo squats (down slow up fast, and reverse)

-Lunges (stationary, pulses, walking lunges, lunge and lift)

-Lateral lunges

-plie squats (hold, and pulse with right heel up, left heel up, both heels up)

-Bar work (including *this move*, Core Fusion style thigh burners, calf raises, side leg raises and leg circles)

-Mat work (bridges, pulsing bridges, Pilates style side laying leg series)
Um yeah.
I came home to pack up snacks and a quick lunch before heading back: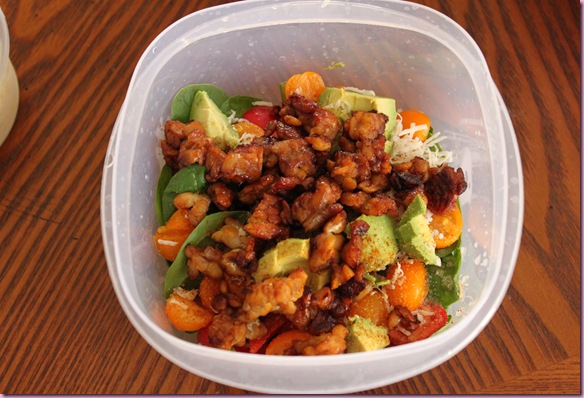 Beast with
-spinach
-red bell pepper
-local orange tomatoes
-1/2 avocado
-shredded goat gouda
-garlic, sea salt, cayenne, lemon juice
-BBQ tempeh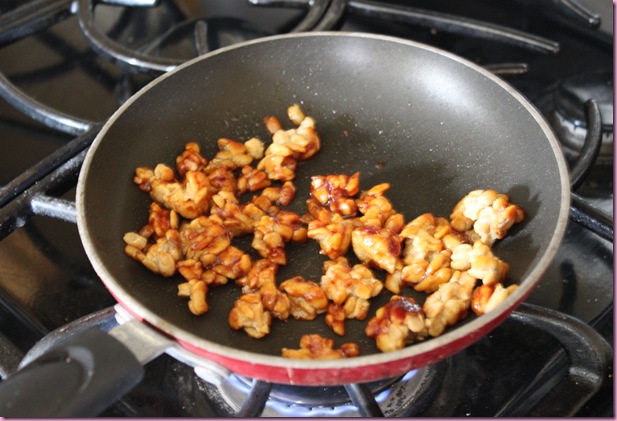 For the tempeh, I just cooked it up in a little BBQ sauce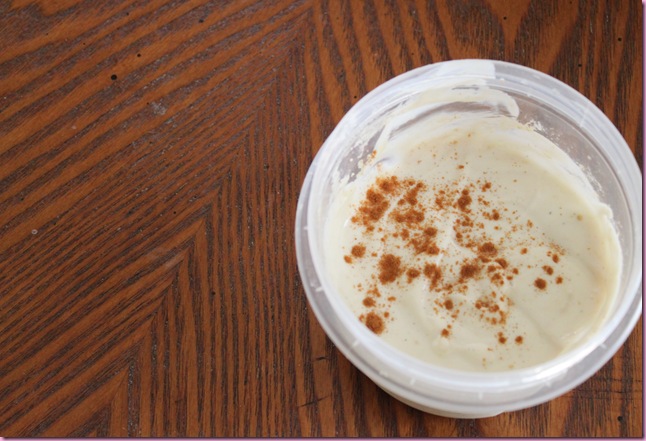 + sheep's milk yogurt with Sun Warrior and cinnamon for a snack 🙂
When I got home from the rest of the day, I was so tempted to grab my computer and spend the rest of the night getting work done, but instead I took this little thing for a long walk.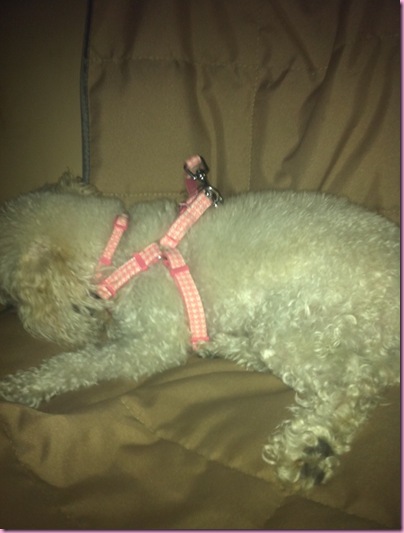 I felt bad because she was stuck at home while the Pilot and I were at work all day, and I could tell she was ready to shake her legs out and get some fresh air. She definitely used the excess energy- she's crashed now 😉
Time for me to grab a snack and crank out some computer stuff.
See ya in the morning!
xoxo
Gina
Congrats to the Facebook Manduka mat giveaway winner!!!

Send me an email (fitnessista at gmail dot com) and I'll get your mat on the way!!
Something to read:
–10 biggest mistakes you're making at the gym
–HCG Diet: junk science that just won't go away [which I 100% agree with. The HCG diet is a boatload of crapola]