So last night, we had our first Bradley Method class. Per usual, we were frantically running around trying to leave the house on time (we're late for everything… and if our daughter is anything like her parents, she'll be late too) but I remembered to grab our two pillows and notebook + pen we were asked to bring.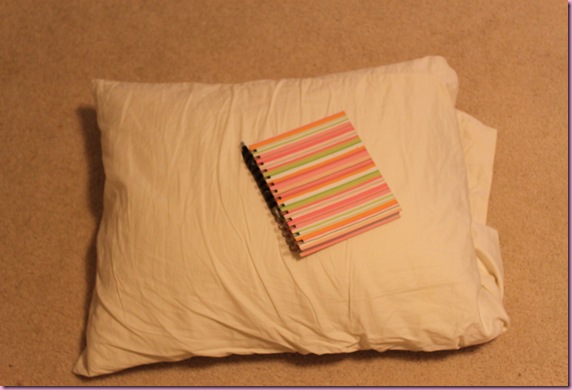 [Side note: Tempurpedic pillows are life-changing]
So what was the verdict?
We both loved it, I scored a free massage –that always makes it a good day- and Tom said he learned a lot, too. I was really worried that he was going to be bored out of his mind, but he was all about it. The instructor even thanked him for bringing some life into the room, since he was asking questions, joking around, and being the charmer that I love, while the rest of us were quiet and shy 😉
[In *this post* I go over more of what the Bradley Method is, as well as why we chose this method]
What we did:
-Introductions
-The instructor spoke about her history with the Bradley method. She was a midwife apprentice, works as a certified doula, and had 3 childbirths, all at home using Bradley techniques, with remarkably short labors. She said while she wishes that rubbing elbows with her would give us short labors, too, it may not be the case. The best thing you can do is be prepared for a really long labor and get happily surprised with a short one if that happens.
-We went over the concept of pain, since she wanted to discuss that first. Many women fear labor because of the pain associated with it, and the dramatization on movies and TV. She said in a study, they found out that a huge majority of women said that labor is extremely hard work. A very small percentage said that labor is pain. Of course, labor obviously isn't supposed to feel great, but the pain has a purpose and chances are that you'll remember it as hard work instead of only the pain you felt during it.
-Pain remedies. We talked about different things we each do to deal with pain (like crying, playing music, swearing, aromatherapy, hot or cold water, massage, etc) and that we can obviously take medication to deal with pain. However, with the enormous list of remedies we came up with, they all had zero negative side effects, except for medication, which always has the potential for side effects. This was really interesting to me.
-Pregnancy exercises. We went over great exercises for pregnant women to do –one of my favorite parts of the classes are the fact that we focus on exercise, nutrition, and actually taking care of the baby instead of just the labor/delivery process- including pelvic tilts, sitting cross-legged, including hip abductor exercises. We talked about the importance of walking and our instructor invited us on a walking challenge using an app on our phones to see who can walk the most over the next week. Of course, I have to win 😉 I love a good challenge.
-Relaxation exercise. [This was my favorite part] We laid on the floor, supported by the pillows we brought, and took turns flexing each of our muscles. It was our coaches job to realize what we were tensing, and help massage and relax the part that was tensed up. Tom was a pro at this 😉
-Our instructor has a fabulous collection of books to borrow (many of which I've read), but here's a new one that I checked out from her, along with our workbook.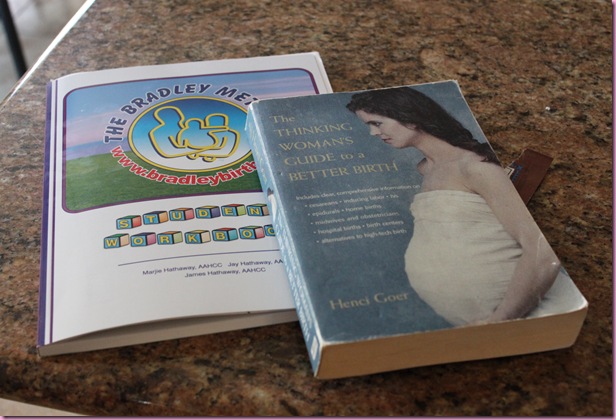 We even have homework each week. This week's homework is to write down all of our meals with the protein content for each day, for her to review. She's extremely health-conscious and accepting of vegetarian/vegan/quasitarian diets, so it will be refreshing to not have to fight with someone for not wanting to eat 4 chicken breasts a day 😉
Amazing things about two of our classmates [there are a handful of couples]: one woman is being coached by her mom and her brother. The fact that her brother was so into it and willing to do that for his sister is enough to bring me to tears of mushiness. It's pretty incredible. Another woman in our group already had a home birth 4 years ago, but is now a doula in training and has attended many births. She said she's seen a lot of beautiful births and wants her own to be more graceful next time. More graceful? You already had an unmedicated birth, in your house. I'm pretty sure that's rockstar status right there. Of course, any woman who has a baby is a rockstar, no matter what it takes, but the fact that she wanted a "more graceful birth" astounded me.
Another thing that I love about this class is that we'll be going over all of the types of birth options there are and what to expect if our birth needs to go a different route. My plan for all of this is just to be as educated as possible and go with the flow when game day arrives.
The thing that I'm really enjoying about this process is that now Tom truly understands why I would like to have a natural childbirth. When I first told him that's what I wanted (in spring 2010) after reading Ina May's book, he was skeptical. I'm pretty sure pictured me in a kiddie pool in our living room (which would be awesome, but he's never allow it) and something disastrous happening. After getting all of the facts about childbirth and that it really is possible to have a natural childbirth sans complications, it's starting to click with him and he's all about it. Of course, I have no idea how it's going to go down, and I'm not writing down a birth plan. I know in my heart what I want, and so does my team, and if it happens: fantastic. If things need to go another way, that's great too, as long as nuggette and I come out of it safely <3