This morning was a miracle of happiness when the girls slept in until 8am this morning. I woke up and was like, "Where am I? What just happened?!" and it was probably the most beautiful thing ever. Needless to say, I think we were all a little zonked after our whirlwind trip to Disney. I started cleaning up around the house, and since the weather is perfection -the quintessential San Diego day- we skipped the Children's Museum in favor of the park. It was a wise choice.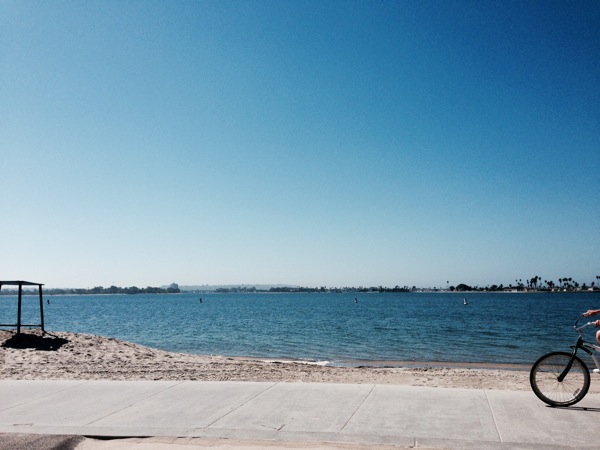 Another wise choice? These chocolate protein donuts.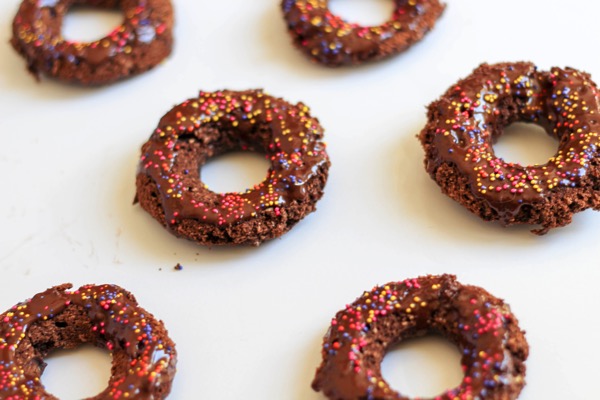 A week or so ago, I saw that Flavor God released their chocolate donut flavor, and I knew I wanted to try it.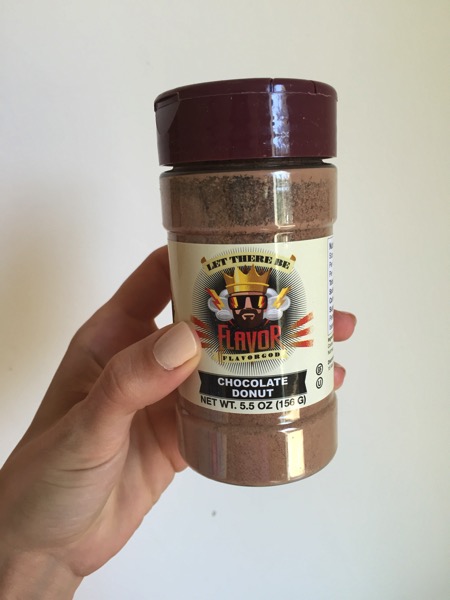 It was my first time ordering from Flavor God, and their seasonings are low in calories (< 5 per serving) without added sweeteners or funky ingredients. I'll definitely be ordering again. Also, it really gave these little treats that authentic chocolate donut taste.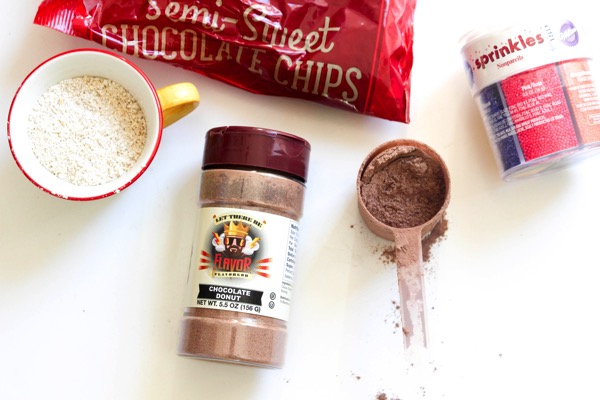 When my chocolate donut flavor arrived, I had one mission for it.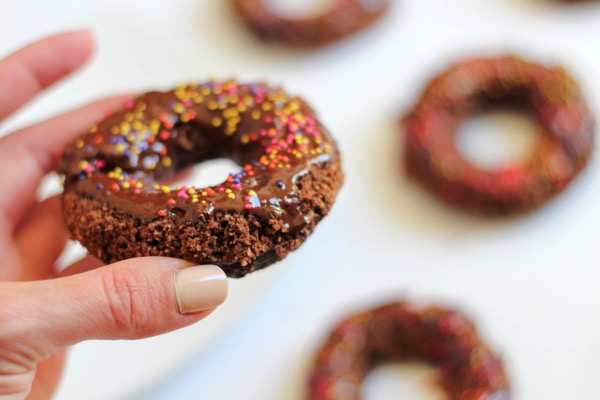 Well, duh.
It's funny because my mom and nana sent us a fryer -the Pilot was ridiculously happy haha- so I could have REALLY donut-ed up. Instead, because fitness blog and everything, I healthified the Pilot's all-time favorite food. Surprisingly, he didn't mind.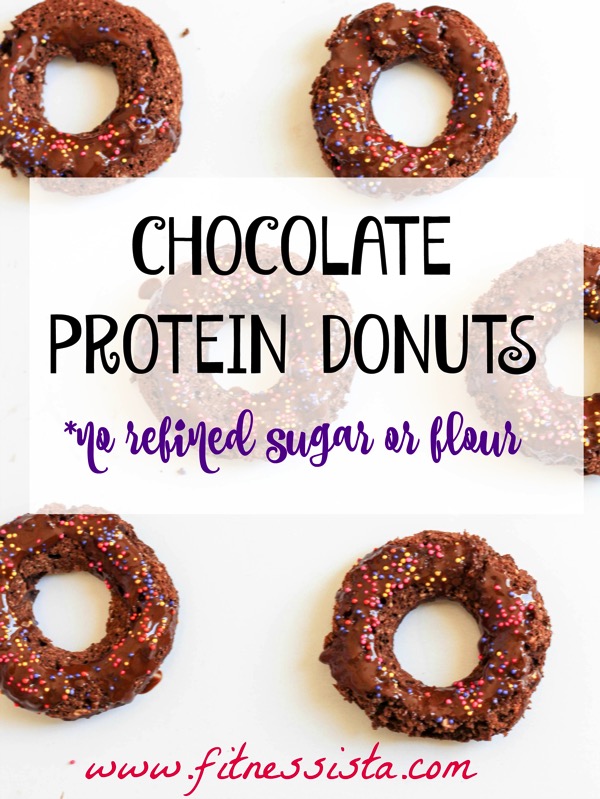 These donuts are made without refined sugar or flour -just some oat flour and maple syrup- and are absolutely perfect with some dark chocolate ganache and rainbow sprinkles. We'll definitely be making these again.
Here's the recipe if you'd like to give them a try!
Chocolate Protein Donuts
For the Donuts
1/2 cup

oats, ground into flour

1 1/2

scoops (about 65g) chocolate protein powder (Note: do NOT use egg white protein. I used chocolate vegan shakeology)

1

egg

1/4 teaspoon

baking powder

1/2 teaspoon

Flavor God chocolate donut flavoring (if you don't have it, No worries. Just add

1teaspoon

cocoa powder, a pinch of cinnamon, a pinch of coriander and a pinch of nutmeg)

1/4 cup

almond milk

1/4 cup

maple syrup
For the Topping
2 tablespoons

chocolate chips

1 tablespoon

coconut oil
Sprinkles
Instructions
1. Preheat the oven to 350 and spray a donut pan with olive oil or nonstick spray.
2. In a large bowl, combine all of the donut ingredients (minus the chocolate chips, coconut oil and sprinkles) and mix until smooth. Pour into your donut pan and bake for about 10 minutes, until set.
3. Let the donuts cool for a couple of minutes before removing from the pan to cool completely.
4. In a glass bowl, heat the chocolate chips and coconut oil in the microwave for 30 seconds. Stir, and heat again for another 10-20 seconds until melted and easy to stir. Stir until smooth. Pour the ganache onto the donuts and top with sprinkles! (<-- do not skip this part. You need these.)
Feast. 🙂
*Nutrition stats with the chocolate ganache can be found here
Hope you have an amazing day and I'll see ya in the morning! Don't forget to check in with today's workout here.
xoxo
Gina