daily eats + KeVita giveaway
This post is sponsored by KeVita and includes an awesome giveaway opportunity!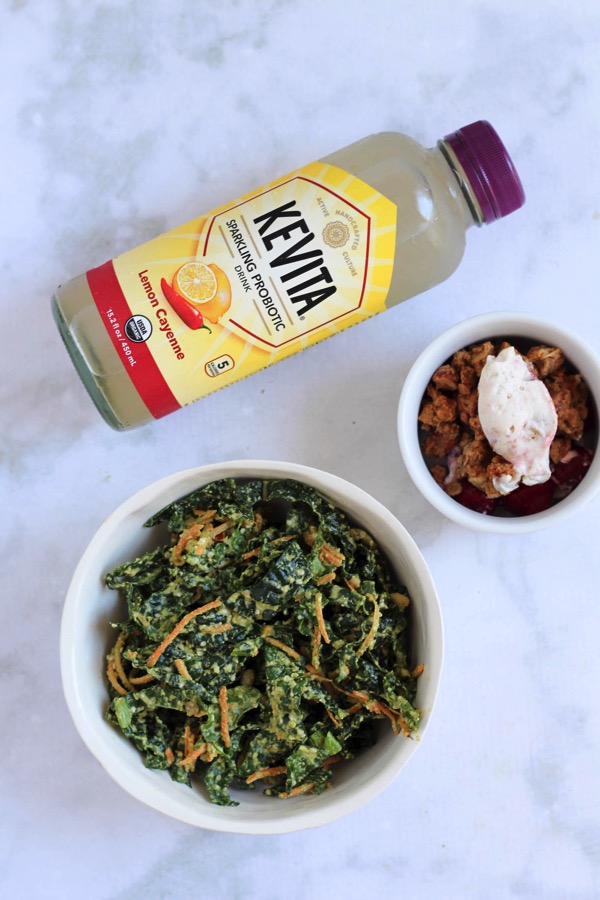 I mentioned in a previous post that even though we don't get as much sleep as we would like, I try to get creative and maximize the sleep time I do have. I try to add little energy blasts into my day that keep me going, even though sometimes I'd prefer to HGTV and chill. I find that by taking the time to make meals at home and add physical activities throughout the day, it naturally energizes me to power through busy weekdays. It revitalizes my routine with things I enjoy.
Each day, I have a *real* breakfast. Even if it's something I made the night before (like a breakfast cookie!), I try to have something substantial so I'm not starving and pouring chocolate chips down my throat later.
Sometimes I'll eat breakfast while the girls eat theirs,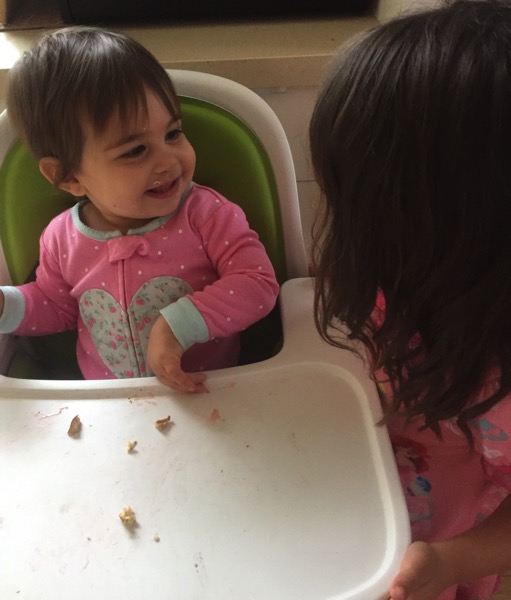 (Livi had finished her pancakes and P was in the process of throwing her remaining food to Bella)
or I'll wait until we're home from preschool drop-off.
This morning was scrambled eggs (1 egg + 3 egg whites), gluten-free toast and coffee (while P played drums on the pots and pans).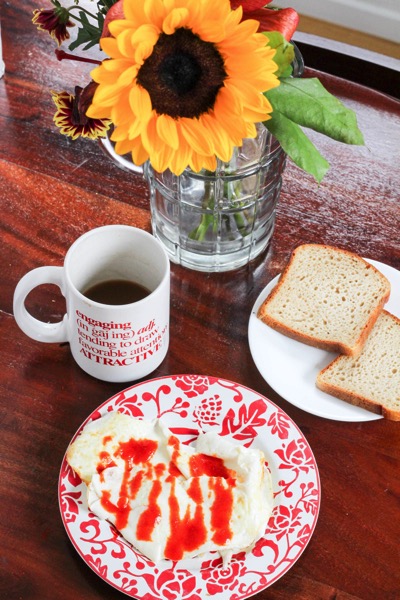 After breakfast, we took the dogs for a neighborhood walk. It's been so much easier to walk them consistently now that the weather has cooled down and the fresh air always helps to fully wake me up. I use our morning walks as a chance to plan out work priorities for the day, brainstorm content ideas, and take turns making funny sounds with P.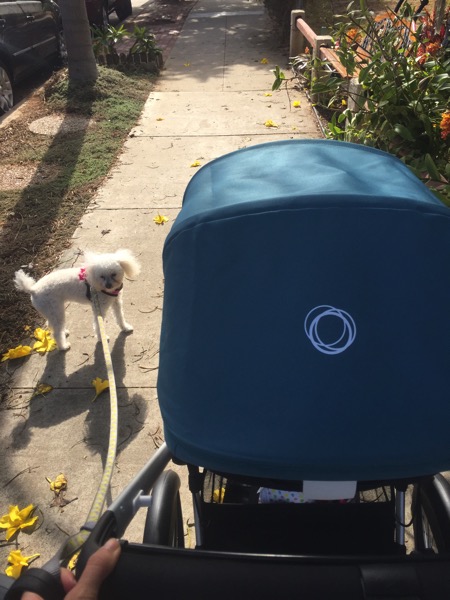 After P's nap and my morning work + clean up the house blitz, it's lunchtime! P enjoyed some fresh fruit, garbanzo beans, sweet potato, and a pouch, while I enjoy a delicious meal with components from our co-op. I picked up some of their amazing massaged kale salad with a vegan strawberry crumble, plus a bottle of KeVita's sparkling probiotic drink.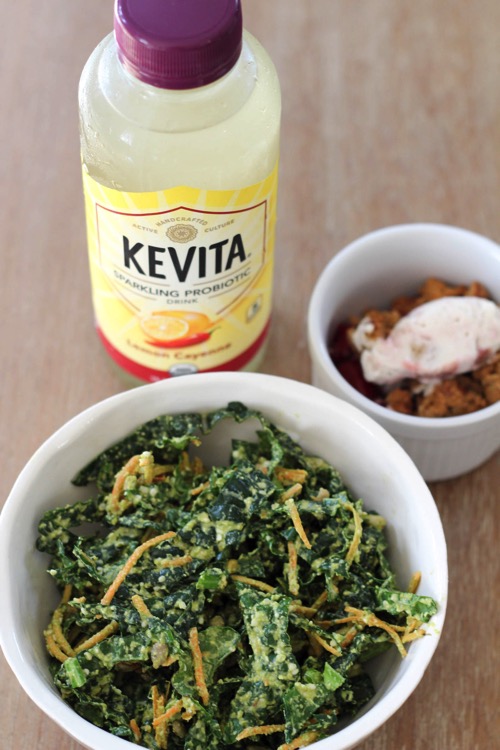 I've been a huge fan of the KeVita sparkling probiotic drinks for years. They taste fruity and delicious, are slightly sweet and still very low in calories. They're perfect when I want a sweet and bubbly drink, and are packed with probiotics. Each bottle contains 4 strands of live probiotics and 4 billion CFUs that support digestion and immune health.
After lunch, we headed to P's first swimming class! She LOVED IT. She's always been a fan of the water, and she splashed and giggled the entire time. It was the cutest thing ever. After swim, we picked Livi up from preschool and headed home for snacks.
Here's the pumpkin protein yogurt I enjoyed: (1 cup goat Greek yogurt, 1 scoop goat whey, 1/3 cup pumpkin puree, pumpkin pie spice, and grain-free granola)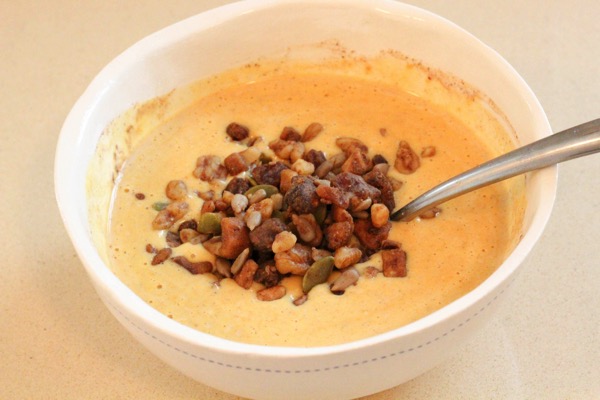 and headed to teach a sweaty spin class. On my way out the door, I chugged half of a KeVita ginger Master Brew Kombucha. I love all of their flavors, but the ginger is my favorite. It has a nice kick of spice.
Sorry Bell, no kombucha for you.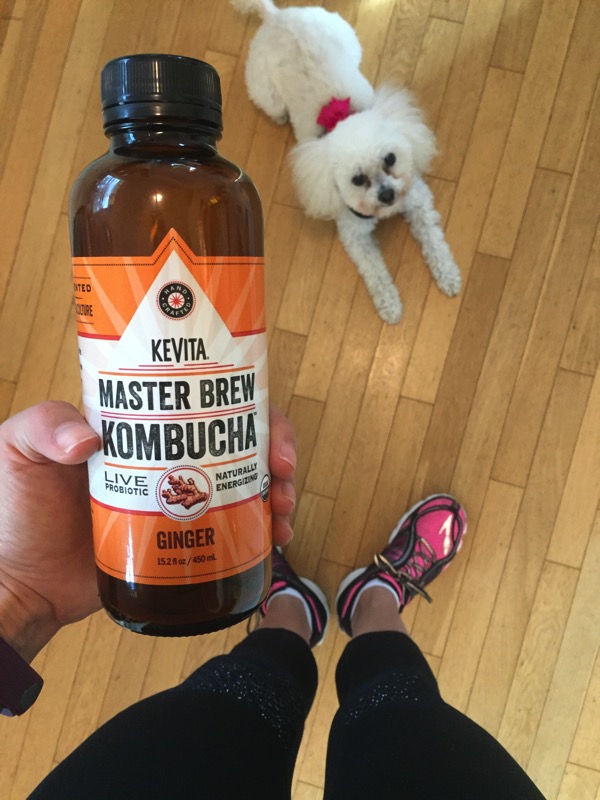 Sometimes I'll drink coffee in the afternoon, but find that it leaves me a little jittery. Kombucha gives me energy from the caffeine in the tea, without it being *too much.*
-the green and black tea culture yield a high amount of beneficial organic acids. These feed the beneficial bacteria in your gut to improve absorption of the probiotics.
-includes live probiotics and are fortified with B vitamins
-they're certified organic, non-GMO, gluten free and vegan.
Spin class was AWESOME. I find that teaching during the prime time spots gives me so much energy for the rest of the night. I come home riding the exercise endorphins while the Pilot and I make dinner, pack lunches for the next day, clean up around the house, put the girls to bed, and catch up on work at night. After class, I made one of those quick dinners that came together really well: salmon with Mediterranean salsa and roasted potatoes.
This was inspired by a recipe I saw on Pinterest, and loved changing up the usual salmon rotation.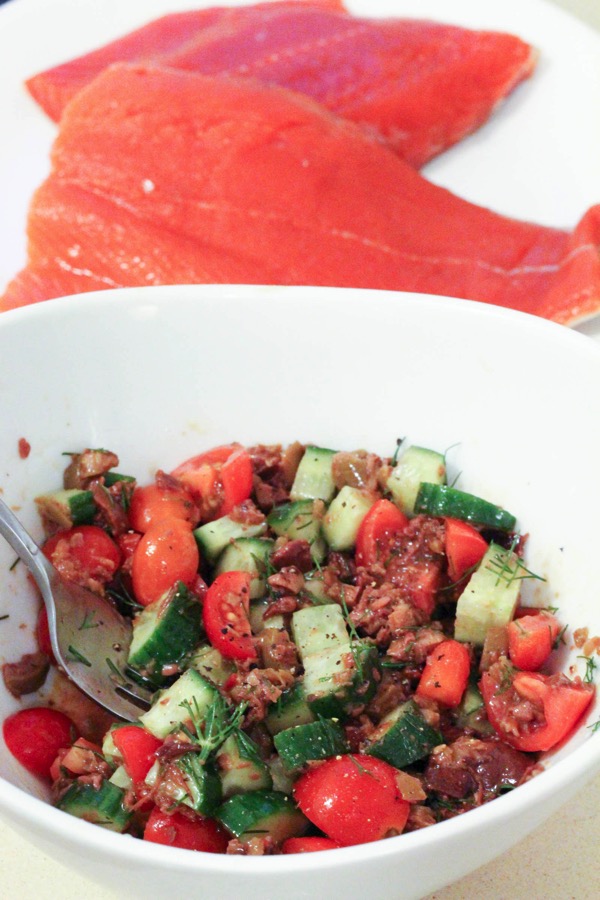 To top the salmon, I mixed olive tapenade, chopped cucumbers, cherry tomatoes, lemon juice, fresh dill and pepper.
I pan-seared the salmon (seasoned with salt and pepper) and baked it in the oven while I prepped the potatoes. For the potatoes, I boiled them in water, drained them, and the pan-fried in butter with fresh rosemary, lots of fresh minced garlic and sea salt.
We had the salmon with the "salsa" on top, spinach on the side (to top with dressing of choice) and the roasted potatoes.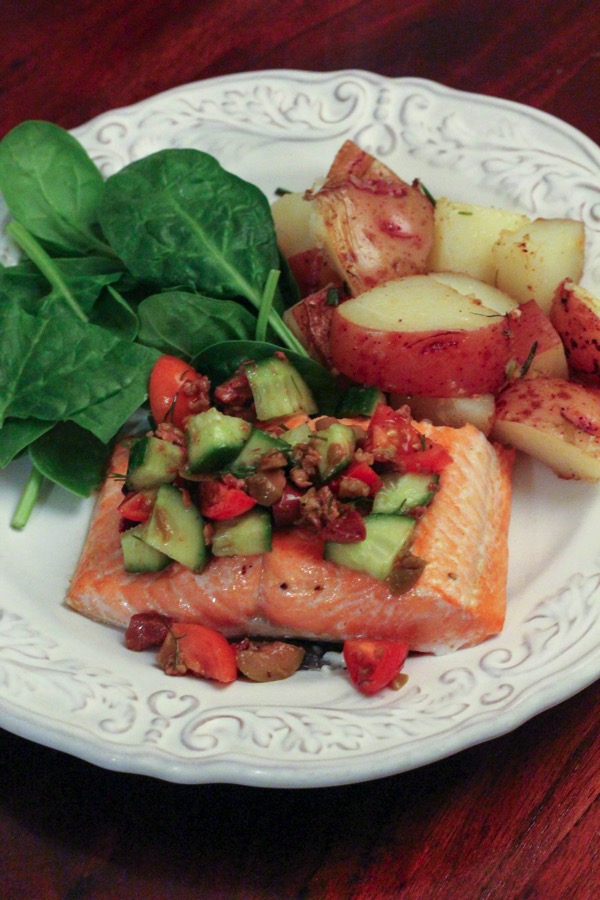 We ended the evening catching up on work and watching Stranger Things. I'm still trying to get into it.
And now: it's giveaway time, courtesy of my friends at KeVita!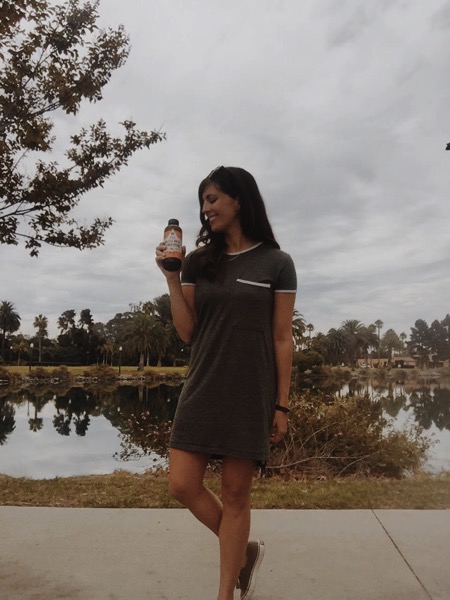 Before we get this party started, I wanted to give you a heads up that if you make your own #InnerSelfie photo using their app, they will donate $1 to the Gastric Cancer Foundation. It's a fun way to spread the word and support this cause. <3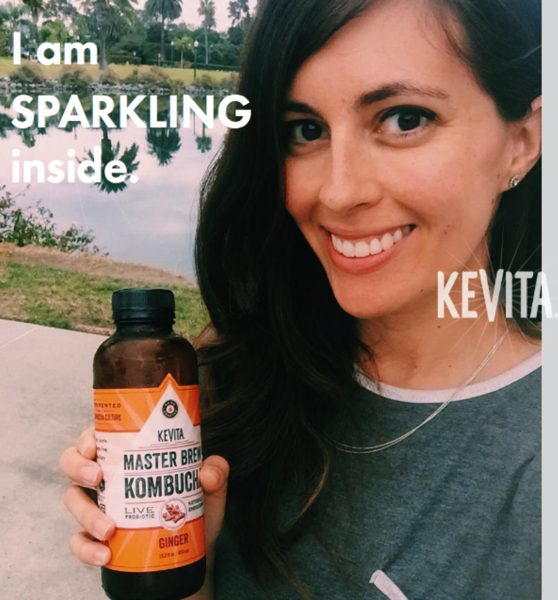 KeVita Giveaway
And now, the giveaway!
One lucky reader friend will win 3 MONTHS OF KEVITA. Whaaaaaaat. I guess I'm not allowed to enter? haha.
Simple enter via the widget below!
Ready, set, go.
Cheers,
Gina