Disney Wonder Alaska Cruise recap
Sharing our thoughts on our Disney cruise experience to Alaska! We took the Disney Wonder from Vancouver to Glacier Bay, Skagway, Juneau and Ketchikan. I'll share our full packing list in an upcoming post if you're planning an Alaskan cruise!
Hi friends! Happy Monday. Hope your week is off to a great start! I'm finally sitting down and taking the time to write out our thoughts on the cruise. I have so much to say! I hope you're ok with a super long post, but the TLDR version is that we absolutely loved our Disney cruise… and already booked another one. 😉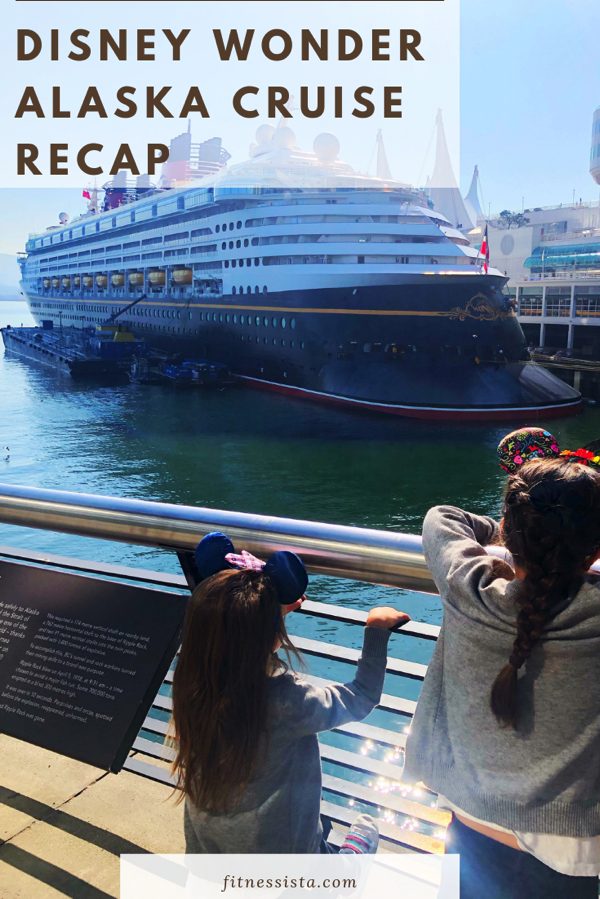 When we initially booked our cruise, I have to admit that Alaska wasn't my #1 choice. I've never been on a cruise before, and I figured that my first one should be somewhere tropical or European. We booked our trip with my friend Betsy and her family, and she mentioned that so many people say Alaska is breathtaking and we should give it a try. Plus, it would give us the chance to be a little cold since Tucson would likely be scorching hot. So, we went for it!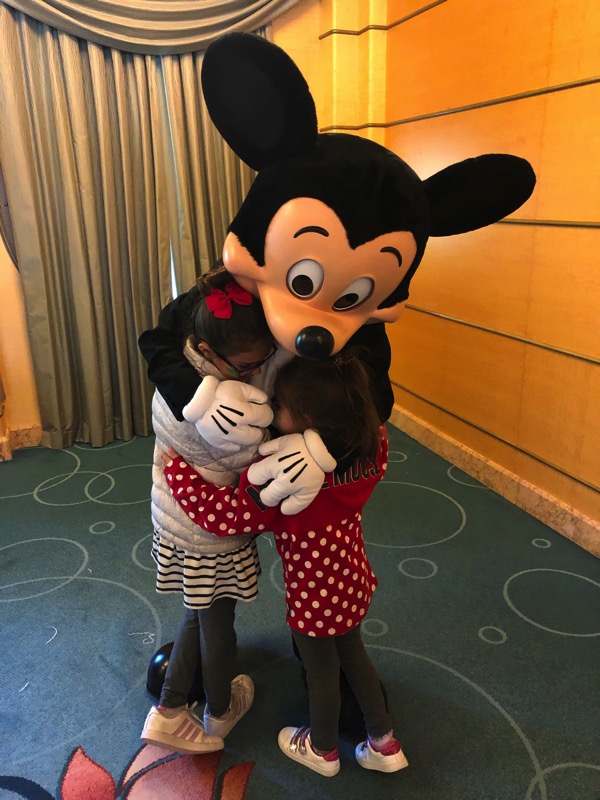 We traveled to Vancouver and arrived a couple of days early just in case we got stuck on the way. (I highly recommend doing this, so you don't miss the boat!) We had a blast in Vancouver, and then Monday afternoon, we boarded the ship to spend seven incredible days sightseeing, relaxing, enjoying family activities and eating so many delicious foods. We traveled with Betsy and her family, and had the best time with them! While the boat was sailing away from the dock, they had a party on the top deck with frozen cocktails, live performers and ice cream for the kiddos.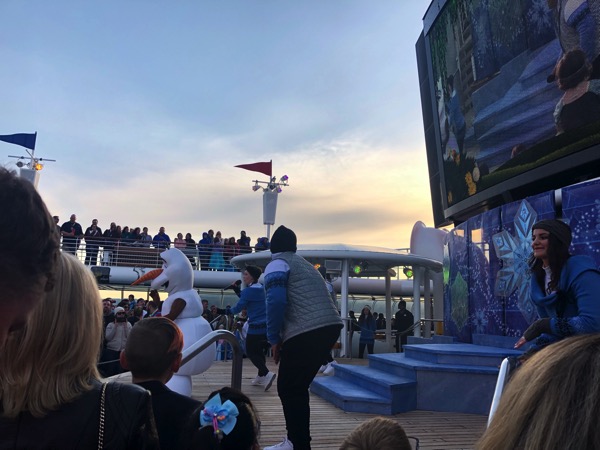 In pure Disney fashion, everything was over the top: the dining, the performances, the activities, excursions, etc. I know Disney does it right and many people have told us once they did a Disney cruise, they never wanted to cruise with any other cruise lines. After experiencing it ourselves, I can completely see how that happens.
I tried to segment this post into blocks, so it wasn't just one rambling Disney cruise rave, so here are some of the things that stood out:
Alaskan scenery:
The scenery was absolutely stunning. On either side of the boat, we could see vast forests, glaciers, bald eagles flying (!), whales, and icebergs. Titanic taught me that icebergs are bad, but we sailed through an entire garden of them, so there ya go. We had the opportunity to see landscape and wildlife that we'd otherwise never experience. Now that I've been able to experience the true beauty of Alaska, I'd love to visit again some day.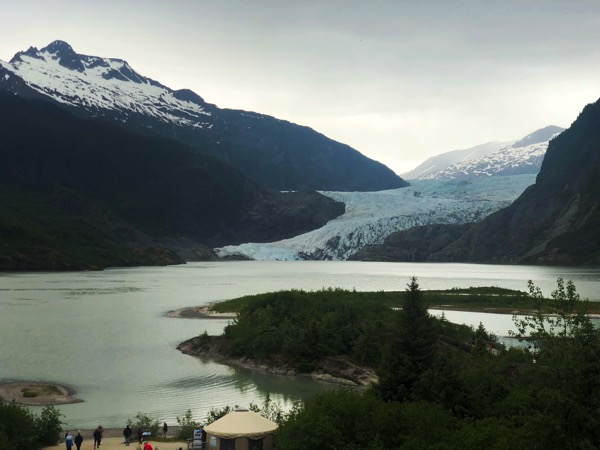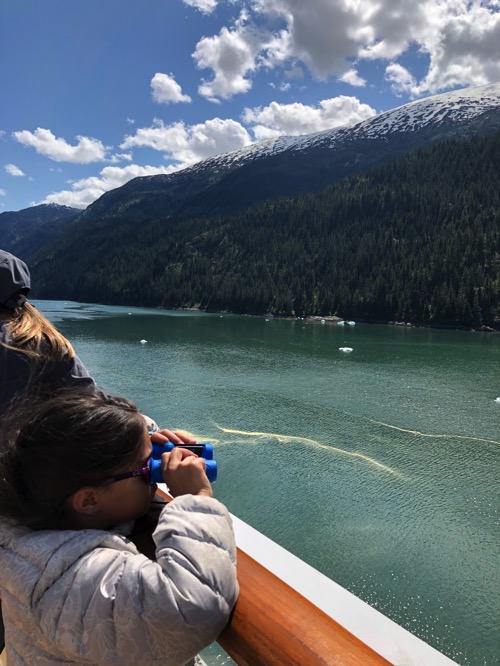 One of my favorite stops was the Mendenhall Glacier. It lightly drizzled as we hiked down to a beach, and the girls played with sticks and splashed in puddles while we watched herons fly overhead.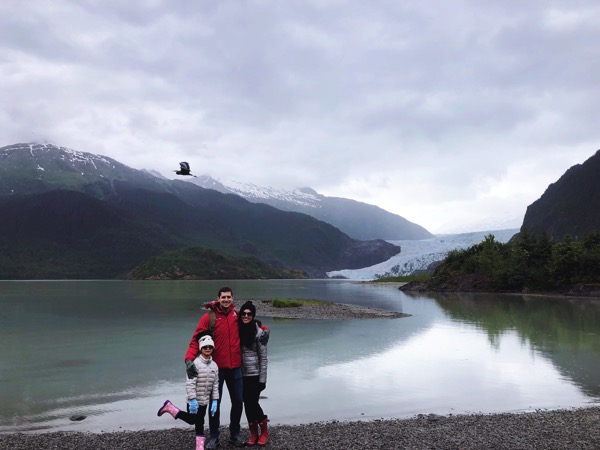 (P refused to be in this photo because she was very busy gathering rocks)
The Disney Cruise dining experience:
For Disney cruises, here's how the dining works: you have reservations (either first seating at 5:45 or second seating, closer to 8) at the main restaurants each night. We sailed on the Wonder, so the main restaurants are Tiana's, Triton's, and Animator's Palace. They have you on a rotation, so you can experience each of the restaurants, and you have the same server the entire time. We really got to know our main server, Pipa (the girls LOVED her) and she always knew what we wanted to drink and got the kiddos' food served extremely fast. (I could always count on her for dinner recommendations, too, so many times I asked her what I should order and she chose the best stuff for me!)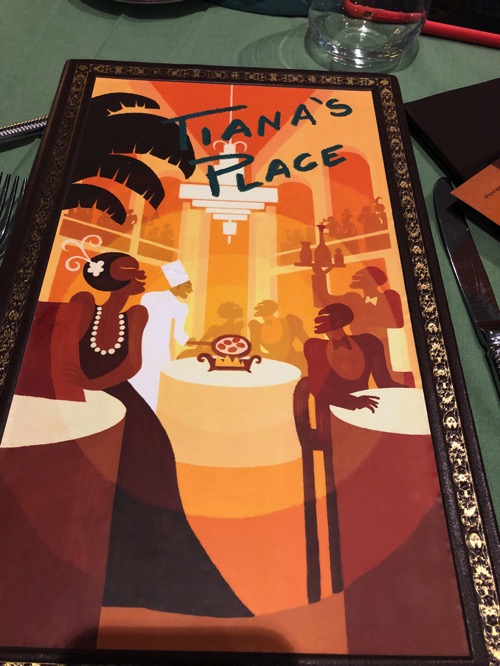 At each restaurant, they had a different theme each night (a Mardi Gras night, Frozen-inspired menu, lobster night, etc.) and you could choose from various appetizers, salads, soups, entrees, and desserts. I was blown away by the variety they offered! On our specific cruise, they served over 10,000 meals per day, and the quality was outstanding.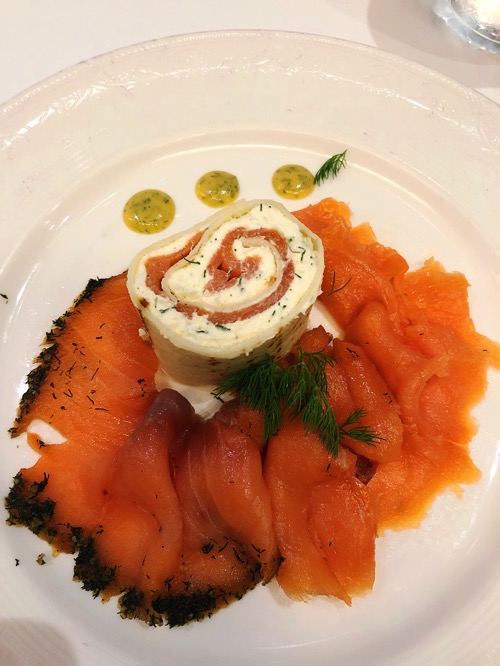 (Smoked salmon in some form in every single meal. YOLO)
You also don't have to eat at the sit-down restaurants if you don't want to! You can dine at one of the quick spots (Daisy's De-lites serves salads, sandwiches, build-your-own bowls, fresh chopped fruit, and soups), Boiler Bites (hot dogs, mac n' cheese, chicken tenders, fries, etc.), and Pinocchio's (different types of pizza!), eat at the buffet (Cabana's is open for breakfast, lunch, and dinner, and they have EVERYTHING) or you can get room service. All of this is included. They also had a "fancy" coffee shop on board for specialty drinks, called Cove Coffee, and a quick coffee shop where you could also get super healthy smoothies. A couple of times, I ordered a smoothie with almond milk, vegan chocolate protein, kale, spinach, cinnamon, and ice. The specialty drinks and coffees are extra (so is alcohol), but I didn't find it to be super overpriced. My smoothies were $5 when they'd usually be around $9 at Whole Foods.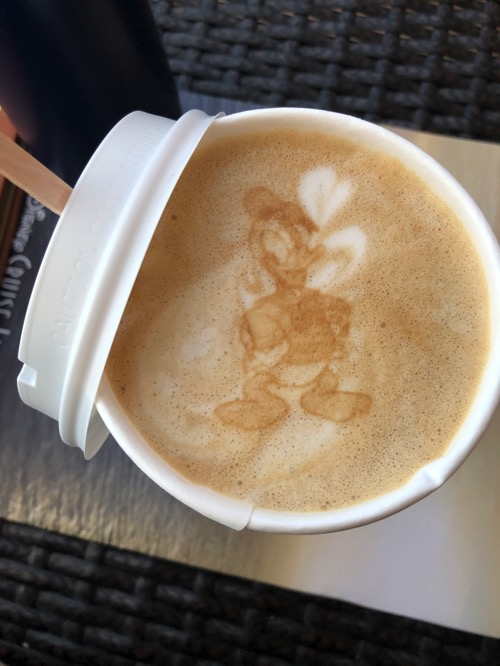 (Yes they totally put a Donald Duck on my decaf almond milk latte)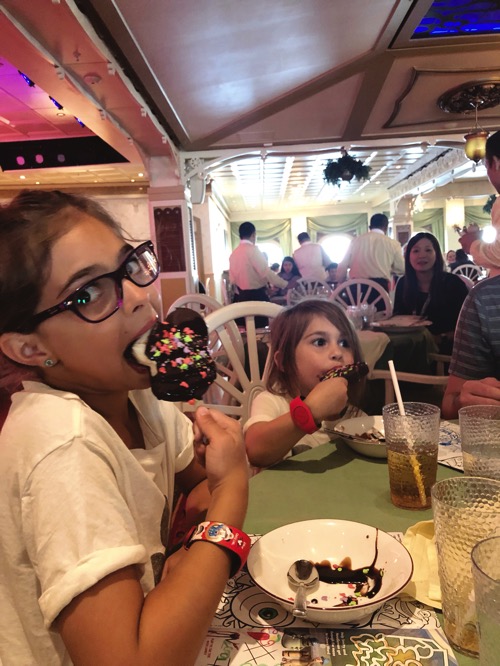 (Living the Mickey bar life)
For most of the days we were there, we did breakfast at Cabana's – it was so nice to wake up and eat without having to order anything or wait for food to be cooked – lunch at Daisy's (the girls would usually get sandwiches, or pizza from Pinocchio's, and a giant fruit platter) and dinner at the sit-down restaurant.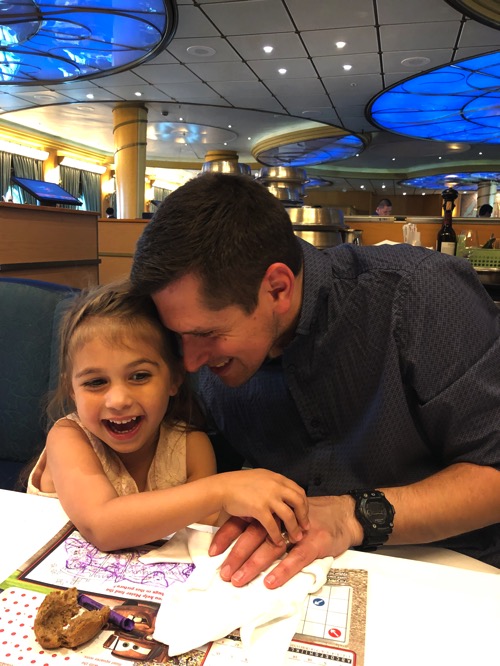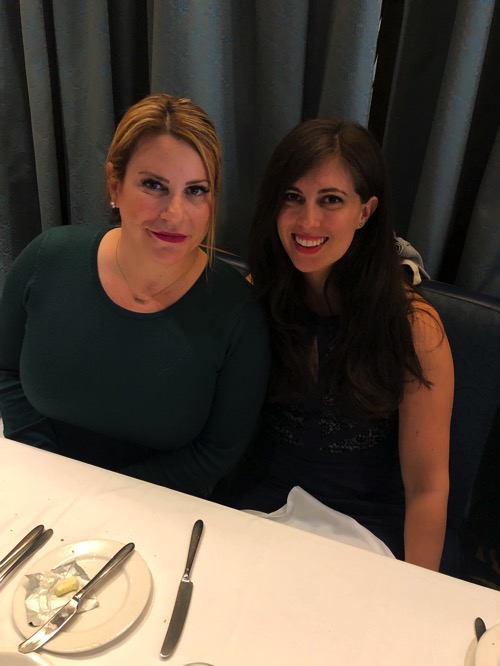 Each of the sit-down restaurants had something magical about them. At Tiana's, Tiana herself was actually there walking around (and the girl spoke exactly like her! She was wonderful) and live music, complete with a Louis crocodile playing the saxophone. Triton's felt like the fanciest among the three (but you could still go in leggings and a Disney tee), and Animator's Palace had Sorcerer Mickey one of the nights. They also gave us special placemats that we could draw people on, and they took the placemats from the entire restaurant and ANIMATED our drawings and had them dancing to a song on one of the many screens in the restaurant. It was so incredibly cool!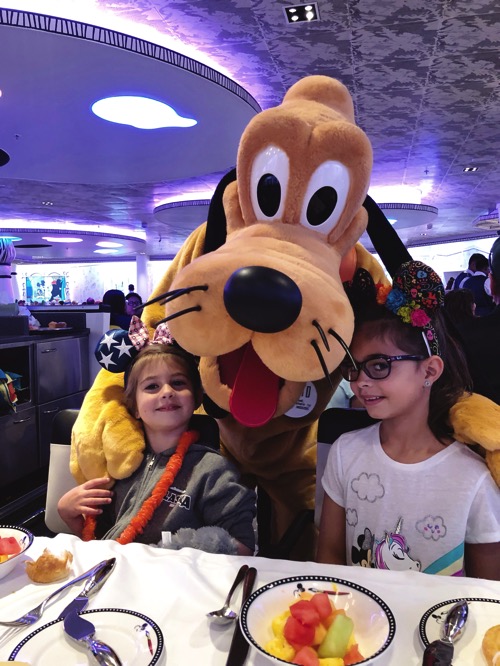 Entertainment on board:
They have full Broadway-style shows on board, including musicals, comedians, and musicians. We saw three live Disney shows on the ship, including the Golden Mickeys (my personal fave), Frozen, and Disney Dreams.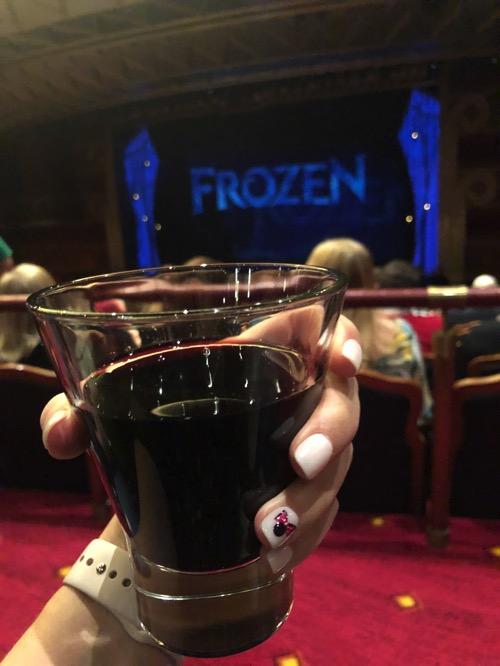 They also have two movie theaters playing different movies (including new releases!) all day. The Pilot and Liv saw Captain Marvel, the Pilot saw a late show of Avengers: Endgame one evening, and we all saw the new Aladdin movie as a family. They also have a movie screen on the top deck, where you can lounge on chairs with blankets and eat soft serve ice cream while you watch a show. The ice cream machine was a HUGE hit with the girls. You can literally walk up and make yourself a cone at any point during the day.
We may or may not have played every single Bingo round on the ship. We didn't get the 7k prize but did win a Disney cruise picnic blanket in one of the raffles. 😉
We went to the gym pretty much every day! It was such a treat to work out together since that can rarely happen at home. We waited until after breakfast, so it wasn't crowded, dropped the kiddos off at Kids Club, and got in a workout.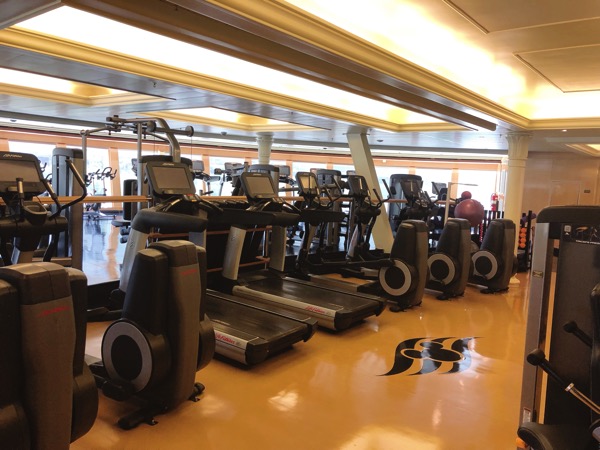 Kids' Club:
Kids Club was a game-changing experience. The girls absolutely loved it, and many nights after dinner, Liv was begging to go back! I felt like it was a perfect balance. The Pilot and I had a couple of hours together each day, and we still spent a ton of time together as a family. The girls usually went to Kids Club after breakfast while we worked out, and again in the late afternoon for an hour or so before dinner (usually while we played Bingo haha).
They have three Kids Clubs on the Wonder: the nursery (for babies and toddlers who aren't potty trained), and for older kids + potty trained over 3: the Oceaneer Lab, and the Oceaneer Club (which has a play structure inside). They also have a special area for teenagers (I think it's called Edge). The kids can go from the Lab to the Club via a hallway, and they wear GPS Disney bands the entire trip. When they scanned our card to pick them up (you use one card for everything: to get into your room, to pay, to pick kids up), they can see on their screen exactly where your kids are. "Olivia and Penelope are in the Animator's room on my left playing with hula hoops." It was brilliant.
Characters often visited the Kids Club to play games and do activities with the kids. The girls saw Anna, Elsa, Stitch, the GI Joe guy from Toy Story, Captain Hook, and Belle, all in Kids Club. They baked cookies, did a Friendship Rocks show with Minnie and Mickey, had a luau party, and played so many fun games. We didn't take advantage of this, but they'll also feed your kids if they're there during a meal!
Room:
We went with the Deluxe Oceanview room, but for our next cruise, we're getting a verandah since the difference is only a couple hundred dollars. This way, we can sit on the patio and drink wine after the girls are asleep.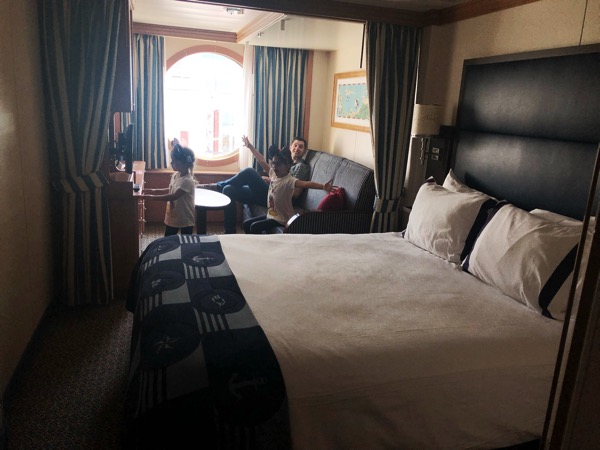 We thought the couch was a regular pull-out bed for the girls to share, but turns out, it's a bunk bed! Our Stateroom Host, Anissa, would transform it from couch to bunk beds every single day.
Extra Disney touches:
There were definitely special Disney touches during the trip. Each night, we'd come back to the room, and during turndown service, Anissa would create towel animals and leave chocolates. One night, she completely changed the girls' bedding to princess bedding, and they were STOKED.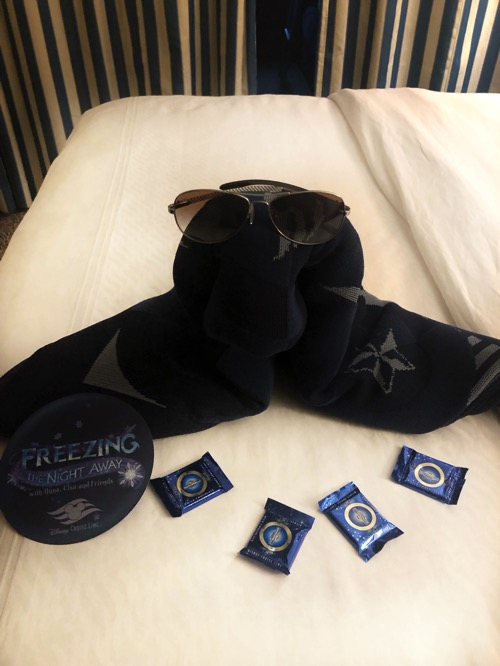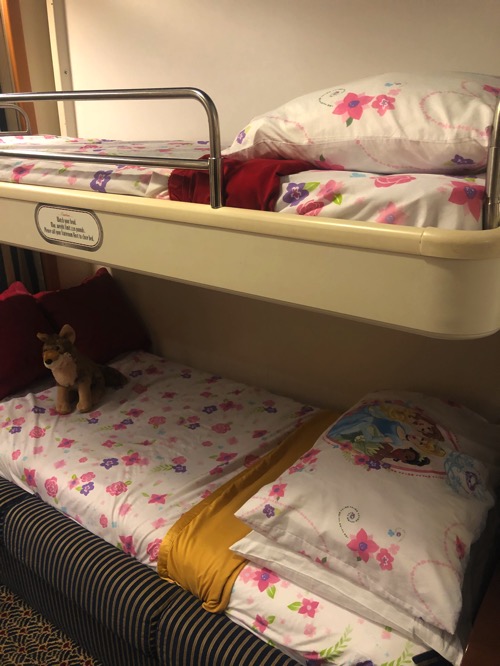 The app was also fantastic. You can only connect to it when you're on the ship's Wifi, and it enables you to see exactly what's going on all day, receive messages and updates (like your child can asked to be picked up from Kid's Club and they'll send you a message), and texting with others on the ship, complete with Disney emojis. It was extremely helpful, especially as first-timers. I always knew what shows and entertainment were available and could scope out dinner menus in advance. They also had full deck layouts and the weather in each of our stops available in the app.
One night, I lost a diamond earring. I was getting dressed and dropped it, and heard it clank around the room. I spent about 20 minutes searching but couldn't find it. I let guest services know, just so they would make sure no one went in and vacuumed. When we went back to the room after dinner, I saw Anissa in the hallway and she said, "Your earring is on the glass tray by the closet." She totally went in and found it for me!
One of the guest service team members chose us as their "special family" during the trip. (I'm not quite sure how this works but I think they each randomly select a family to surprise with goodies). Each afternoon, we'd come into the room from the day's adventures or excursions and treats would be waiting for us. There were muffins, cheese boards, and cupcakes. It was amazing.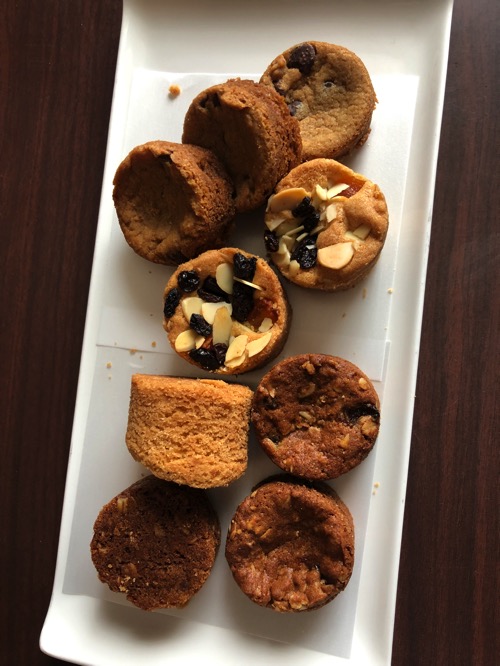 I was blown away by how many character greetings and events they had on the ship. The girls got to see maybe 4x the characters we see at the parks, with way shorter lines.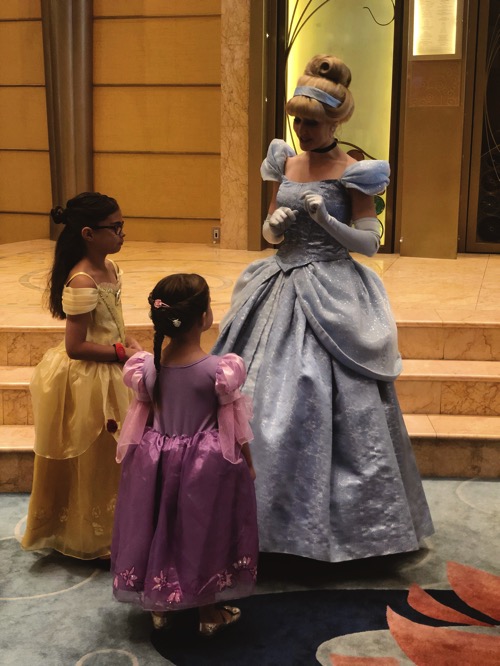 They also had dance parties (like the Pixar Pals party) in the atrium that were a blast.
Gratuities:
This was something I didn't know a lot about, so I'm posting it here in case anyone is taking a Disney cruise! While you're on the ship, you don't pay many gratuities. (I would just pay an extra couple bucks here and there for specialty drinks.) At the end of your trip, they charge your account around $13.50 per person per day. They split this amount between the different people who take care of you and scale it accordingly. (Like our head server got more of this amount that the assistant server who only got our drinks.) They also leave little envelopes if you want to tip extra. This way, you can be sure to tip an additional amount to the people who went above and beyond (and found earrings for you, etc.).
I'll do another post with the excursions we chose + my packing list in case anyone is planning a similar cruise!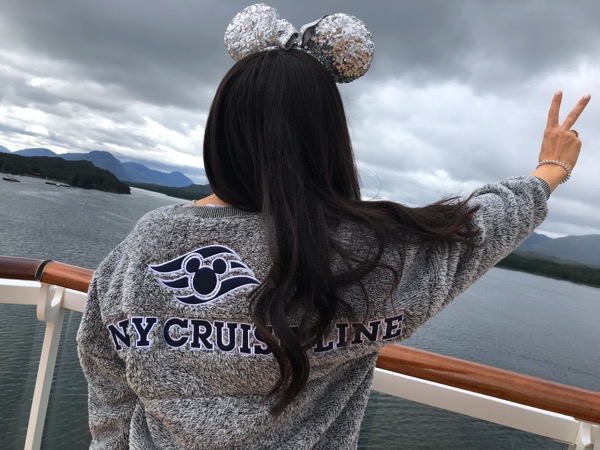 So, tell me friends: have you been on a cruise? What's the #1 spot on your travel list?
xoxo
Gina
*This post isn't sponsored in any way and we paid for all travel and accommodations. We used Costco Travel and highly recommend it! <3