Easy on the butter, heavy on the cheesecake
Hey guys! How's your morning going?? Mine has been pretty bueno- trying to keep the dogs from rough-housing. We used to let them play like that, but after Vies tried to make a snack out of Bella, they aren't allowed to touch each other.
Last night was such a blasty 🙂
It was a friend's birthday, so a group of us went out to dinner at Creekside Tavern– a pretty new place in Valdosta, and it was BUMPIN'.
I started with a Riesling: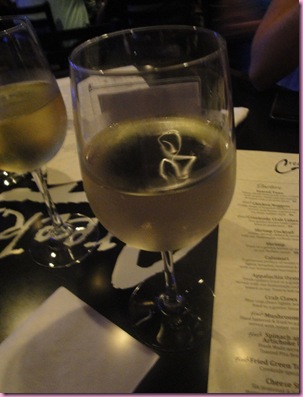 and before our entrees, the server brought out a fabulous family-style salad (kinda like Olive Garden).
This one had greens, carrots, sunflower seeds, mandarin oranges, dried golden raisins and cranberries, and a sweet vinaigrette.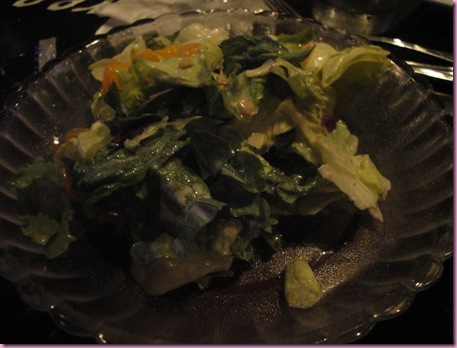 I had two hefty plates full– since I still haven't made it to the grocery store, I've been salad hankering like you wouldn't believe.
For my entree, I chose the sautéed shrimp with asparagus, and asked them to go easy on the butter.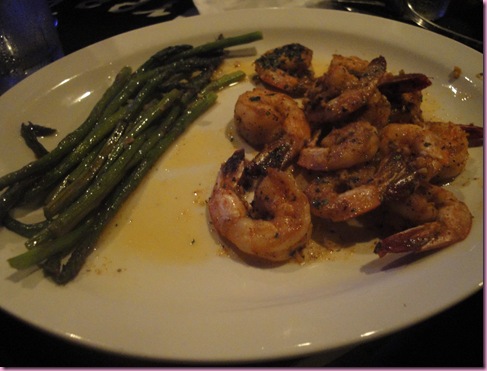 It was lovely 🙂
Jeni brought a cheesecake for the birthday girl: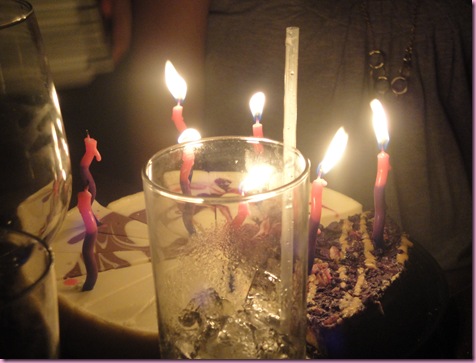 (sorry my cup is in the way!)
I usually don't splurge on store-bought treats, particularly those with dairy, but last night I made an exception because:
1) It was a birthday – I always feel rude turning down dessert on a birthday or special occasion
2) It looked really, really good.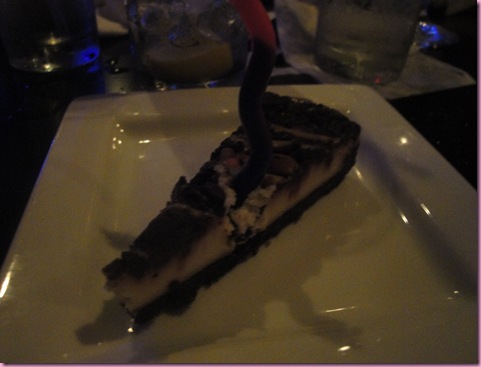 And it was… really, really good 🙂
I came back to the casa, took the puppers out, read The Help in bed (I can't wait to finish it! What an awesome book), and crashed out.
I woke up to some Core Fusion pilates.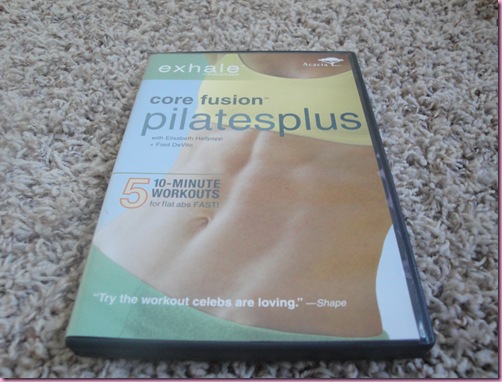 Viesa was mesmerized by the beautiful abbies on the screen.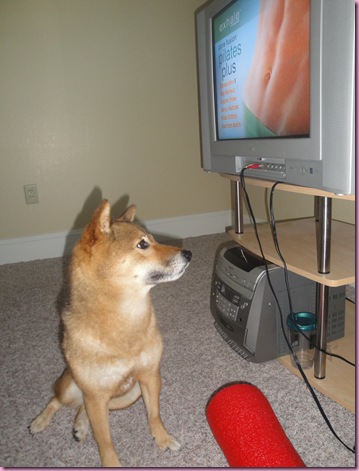 Vies is a supermodel, though, so she already knows how to keep her abs in shape 😉
Honestly, I wasn't impressed with this DVD.
– The warm-ups in the beginning of each segment were awkward and unnecessary.
– The voiceovers during the exercises are very monotone, which makes it difficult to feel motivated.
-While it was semi-challenging, I felt like it repeated a lot of the same movements and I prefer to switch things up pretty often.
– It wasn't really Pilates. I was craving the traditional Pilates exercises, so after 20 minutes, I switched it to a Winsor Pilates advanced DVD and did that instead
– Grade: C-
I probably won't do this DVD again. I do like the total body Core Fusion DVD, but wasn't a huge fan of this one.
Well I'm off to make some bfast and get to work!
Have a great day <3
G$