Hi friends! How are you? How was the weekend??
It was our first *real* weekend in Valdosta. It's weird because in some ways, it feels like we just got here. (Ok, in a lot of ways. Like the moving boxes that we're still drowning in, which never seem to empty and mysteriously keep multiplying.) In other ways, it feels like we've been here a long time. We've been able to jump back into our old Valdosta life (plus the kiddos, of course), catch up with old friends, meet some new friends, and start to get settled in our new temporary home.
Friday started off with a bang. Mallory -we have a few mutual friends here in town- invited me to join in on a girls' night to Thomasville, which is about an hour away. One of the trainers at the gym is leaving, so it was her going-away party. We met up at one of the girls' houses, and rode there in a limo, while drinking champagne, chatting, and dancing to music.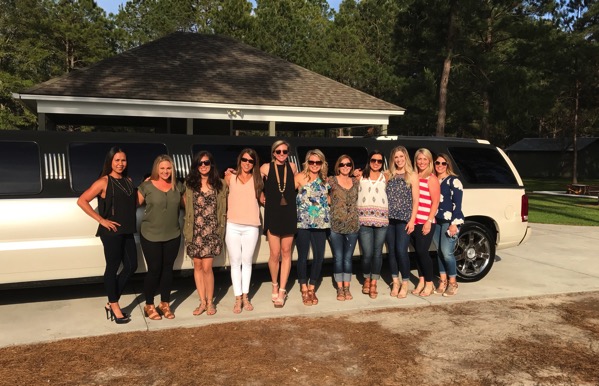 Dinner was at Sweet Grass Dairy, which is a CUTE and trendy little spot. Sweet Grass produces all of the dairy on the menu, so we shared a cheese board and some appetizers, and I had a glass of Malbec and a chicken + quinoa salad. It was so good. Driving through, I noticed all of the little boutiques and fun restaurants so I have a feeling we'll be back with the fam.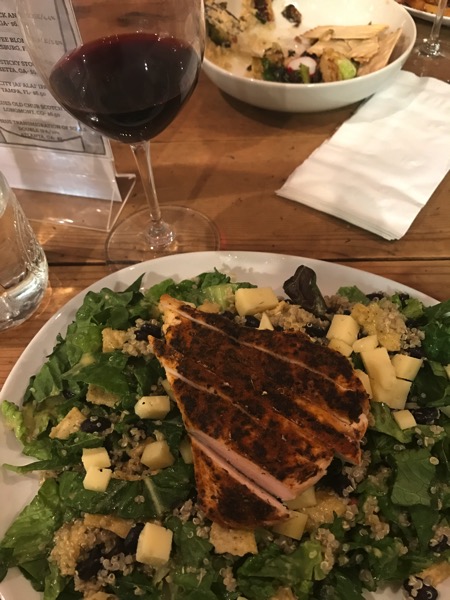 The ride back was similar to the ride there, with louder music and more dance moves. 😉
It was such a blast, and even though it's not like me to go out with a group of girls I didn't know well (#introvertforlife), I'm so glad I decided to go for it. I was just thankful they invited me, and figured the only way to meet new people is to not be lame and do things haha. They were so fun, kind, and welcoming. I'd forgotten how awesome and friendly the people are here, and it's been really cool to be back in that environment.
Saturday was lots of unpacking -I tackled most of my closet- then headed to the gym for a leg workout, then Publix for groceries. I LOVE Publix, but it's been years since I've shopped at a *real* grocery store for everything we need. (Usually we'd just Whole Foods or Trader Joe's it, and maybe pop into a full grocery store for 1-2 things.)
Why are grocery stores so enormous?? Why are there 18 different types of garlic powder?
Me after completing the great grocery scavenger hunt: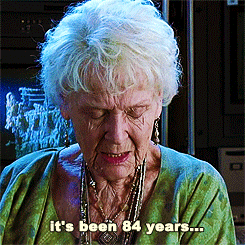 Saturday night, we went to dinner at a friend's house. He and the Pilot work together, and his wife was the one who checked out the house for us and also helped with the movers when our flight was delayed. They have 3 kids, so all of the kiddos loved running around and playing together. We had an awesome healthy feast of grilled chicken, sweet potatoes, sautéed mushrooms, and brussels sprouts, and home cooking was even more delicious after a week of a LOT of restaurant dining and takeout.
The highlight of the night: when we got home, there were DEER IN OUR BACKYARD. I thought they were dogs at first, and then they stepped into the porch light and we were all shocked. They were so cute, and had little white tails. It was pretty majestic, and I was so excited to see another one last night. I grabbed the camera to snap a quick pic.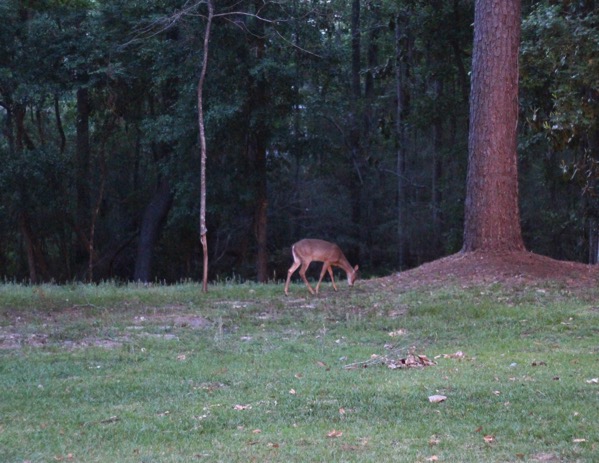 Sunday, we celebrated Easter! We ended up sleeping in a bit, and then heading to the living room for Easter baskets.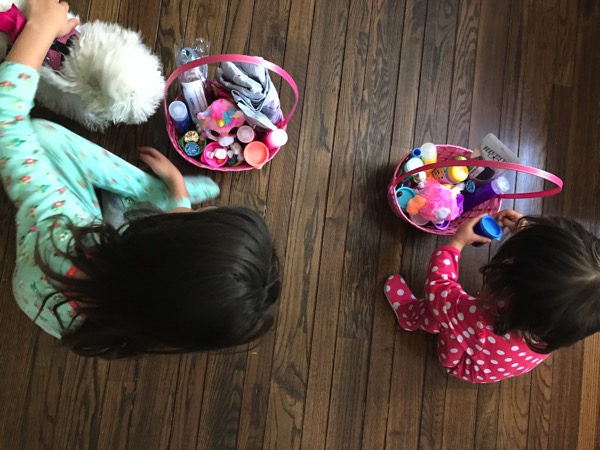 Next, it was time for brunch. We had fruit salad, I made some French toast with sweet egg bread, topped with strawberry compote: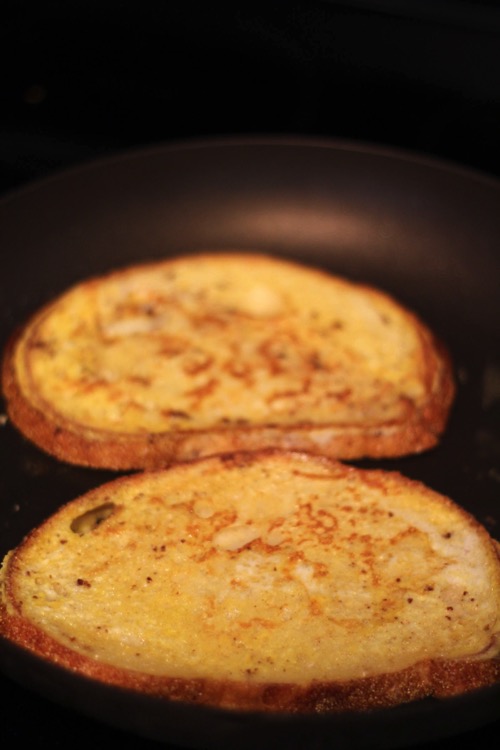 and it's not really Easter without Nana's egg dish.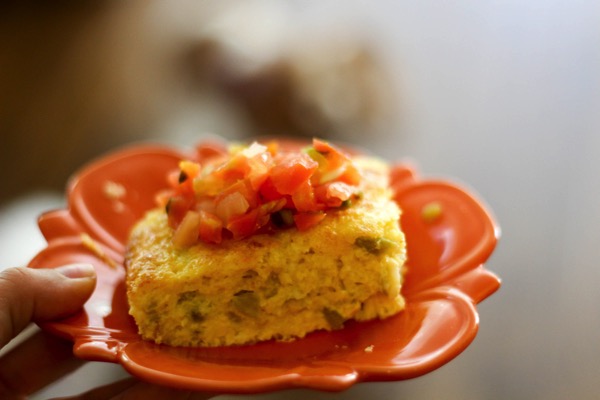 (She makes it better because it has her special Nana touch, but it was still delicious. Also, hooray for leftovers for breakfast today.)
Our little Easter bunnies: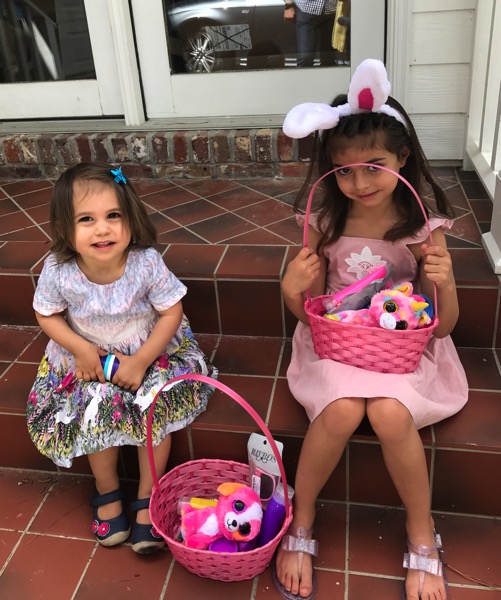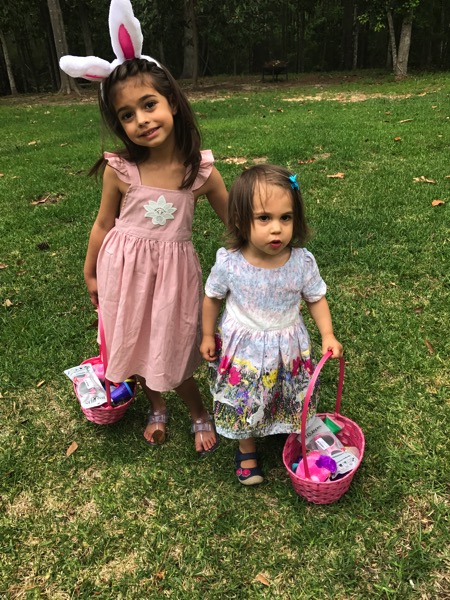 Later on, we had adult fruit salad aka sangria with some more friends from the Pilots' work. We hadn't seen them in years, and it was so great to catch up.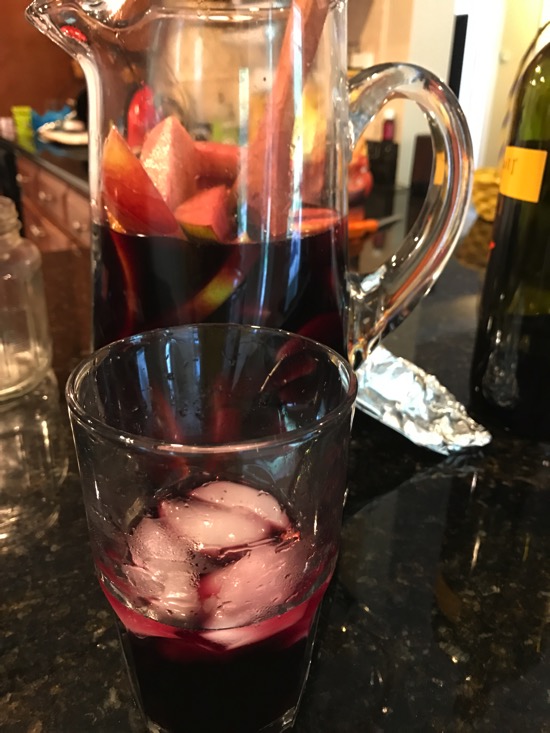 The kids ran around and hunted for Easter eggs, and then we went inside for snacks. It was perfect.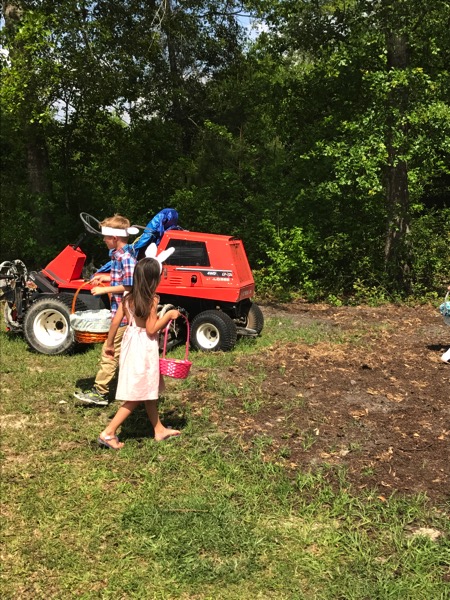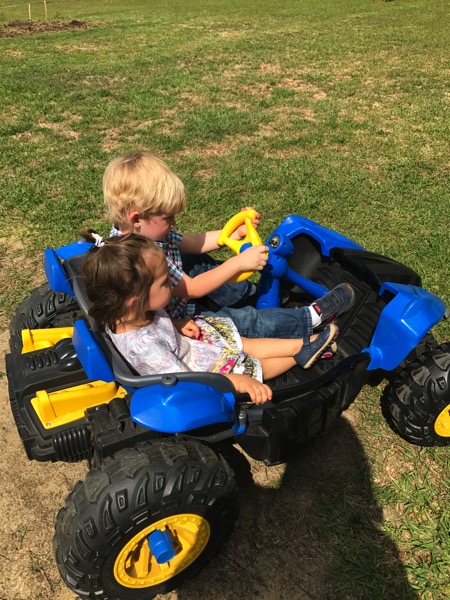 (That picture makes me laugh every time. So casual; ankles crossed, and chillin. She was obsessed with riding around in the car.)
The weekend was filled with so much awesome friend and family time, + lots of chocolate Reese's eggs. I'd definitely call it a success. 🙂
Our [blurry] self-timer pic. Womp womp. haha.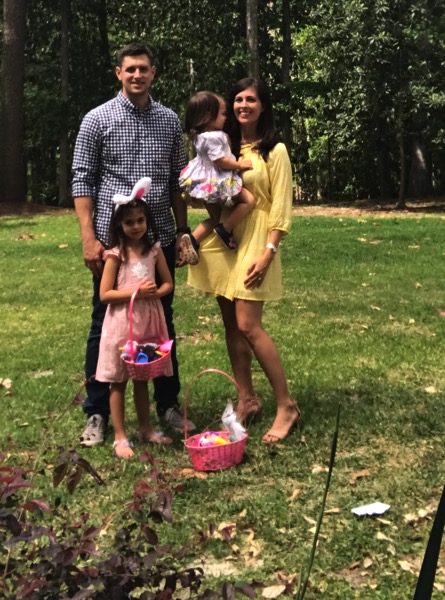 This week, we're getting into a groove and routine around here, and Barre Bootcamp began this morning!! All of the videos are live on Gumroad if you'd like to add a new barre workout to your routine, too. You'll get the link to download/stream the video and it's yours to keep and use whenever you'd like.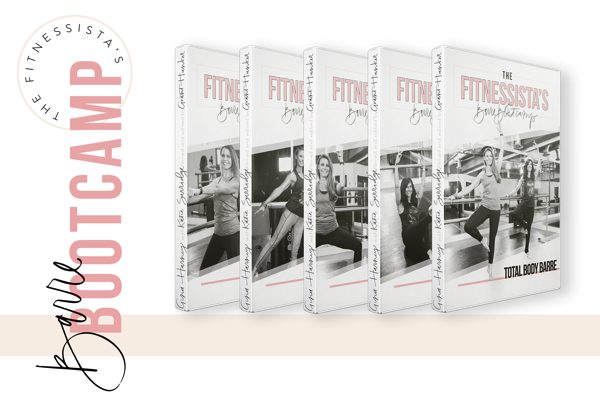 (All are $9, but price will go up to $12 tonight at midnight.)
Have a happy Monday!
xoxo
Gina