Eggs in a Basket – Veggie Style
(Paleo and Whole 30 style eggs in a basket, that is! Recipe at the bottom.)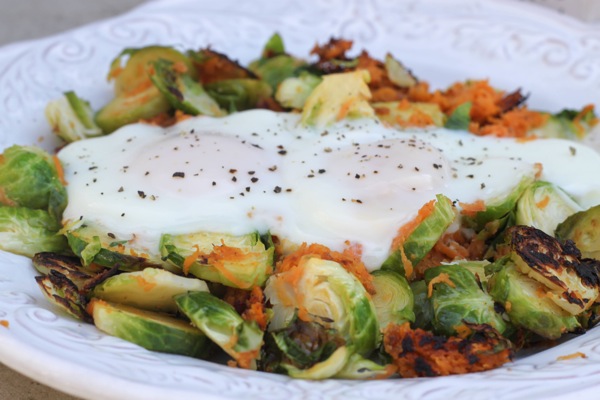 Hi guys. How's your day been? First of all, I am BLOWN AWAY by your amazing entries to today's Fair Trade giveaway. It's a great one, and I'm so thrilled you guys are as excited as I am 🙂
Something else fun on the horizon: this Thursday (October 23rd) is the PACt fitness event with Ocean Spray! If you're a SoCal local and want to join in the fun, register here. It will be a day packed with fitness classes and goodies, and there will also be a 60 ft. inflatable cranberry. 😉 Cassey is leading two POP Pilates classes, I'll be teaching Zumba and barre, and Ashley will be instructing two yoga sessions. All of the classes are free, and Maria Menounos will be there, too. It should be an awesome beach bash!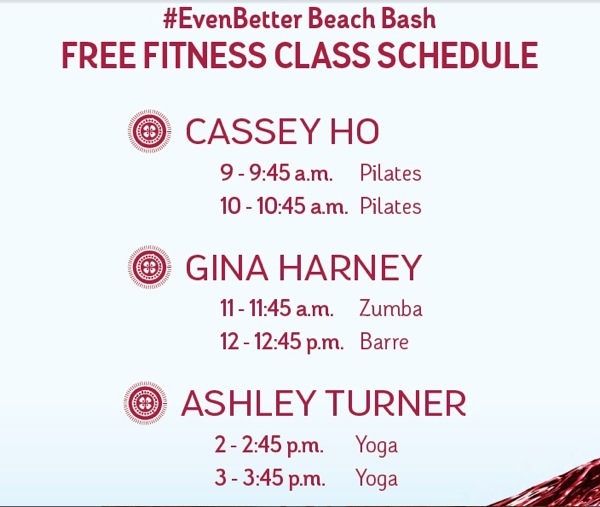 So I've been hit with a little bit of the funk. I think my immune system was down from traveling -and I somehow managed to stay healthy while Tom and Liv were sick a couple of weeks ago- and it finally got me. I woke up yesterday feeling like I had a golf ball in my throat, and had two classes to teach. During the classes I felt GREAT (from the sweat + endorphins), but have been laying low over here for the most part. Nothing like being sick to unleash the inner hypochondriac. During spin, I was thinking, "OMG a red blur is clouding my vision!"
It was my mic ball (the red fuzzy ball covering the end of the microphone) in my peripheral vision. Hahahaha.
Lately, I've been enjoying lots of green juice (so much ginger, it burns on the way down)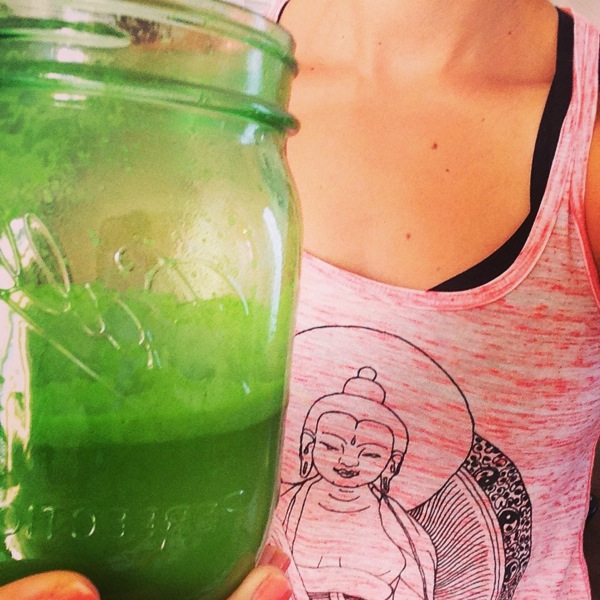 tea,
soup,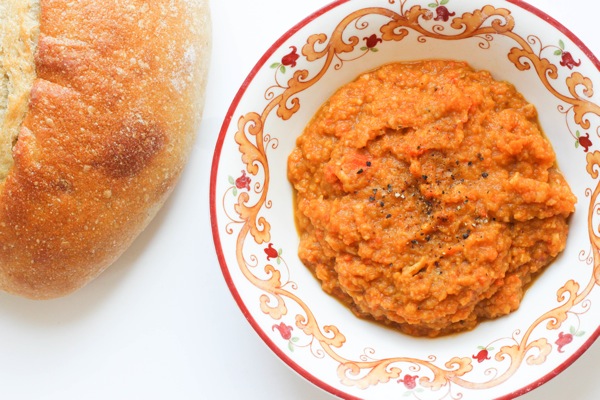 (this is an amazing recipe for roasted vegetable soup)
and greens.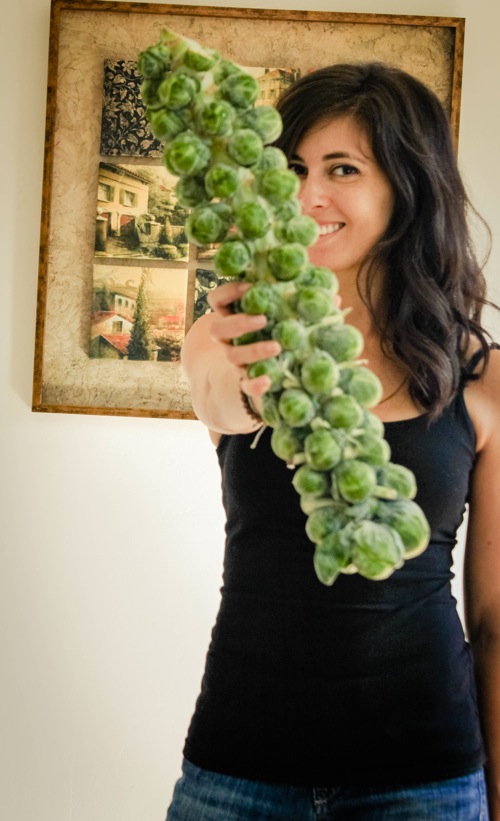 Check out the size of that brussels sprout branch!! $2.99. Thanks, Joe the Trader. This purchase led me to the creation of this favorite new breakfast recipe.
Eggs in a Basket Paleo and Whole 30 Style
This is a new favorite breakfast, and it was introduced to me by Meg! She made it this weekend, it was everything I could wish for.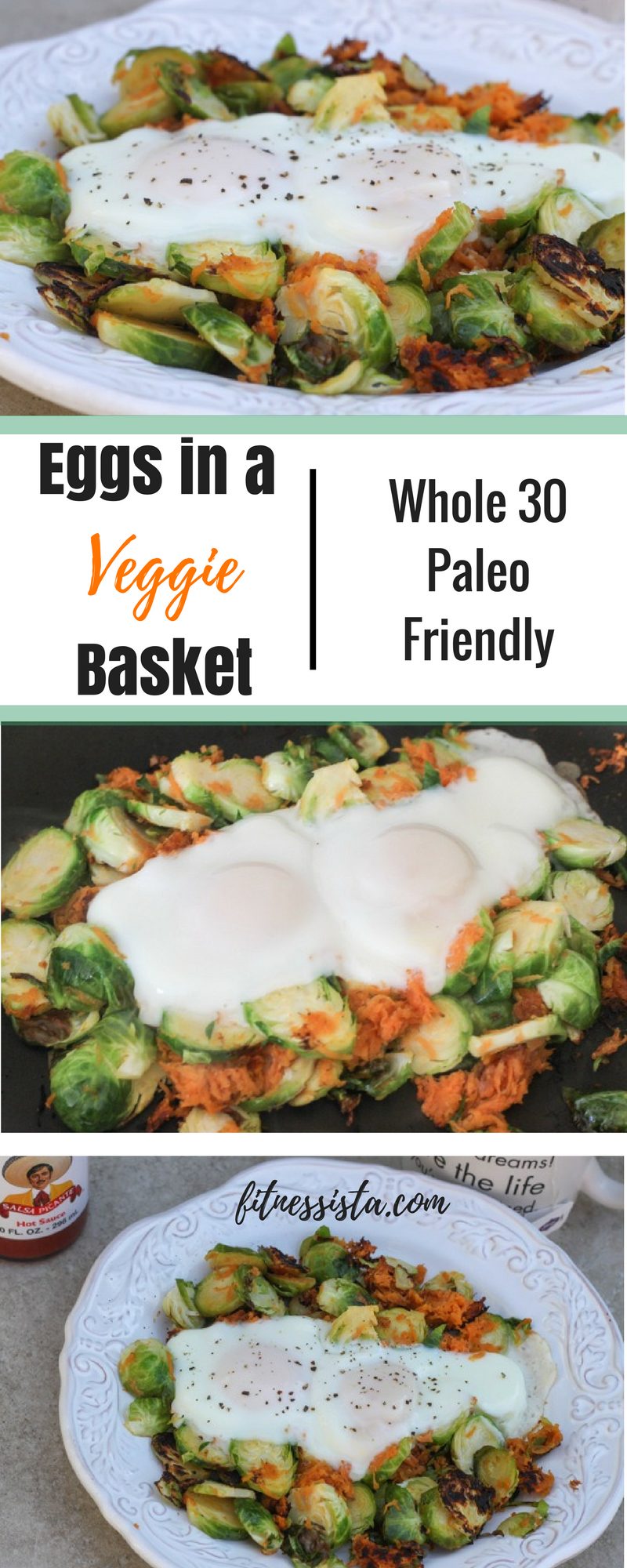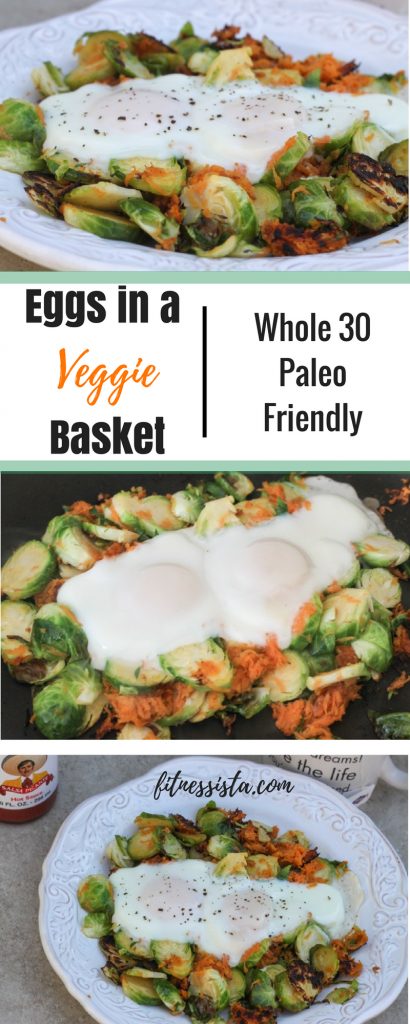 Even though I have quite a few beloved breakfast recipes, I tend to stick to the same easy things on a daily basis (mostly egg burritos, banana-egg pancakes, smoothies or breakfast cookies). I was so excited to have something new to add to the mix. Meg recently completed the Whole 30 challenge (no grains, dairy, alcohol, or refined sugar/flours) and felt amazing afterwards. This was one of her breakfast staples during the challenge: eggs in a basket of sweet potato and brussels sprouts.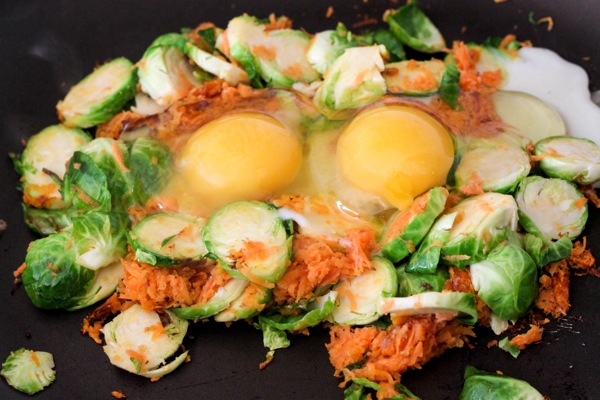 This is the amazing thing: the steam from the veggies cooks the top of the eggs!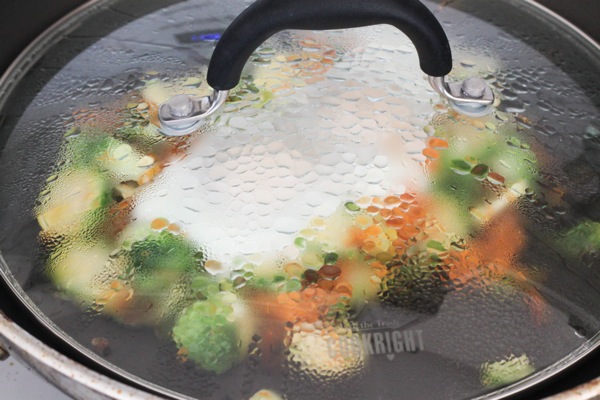 (note: I don't have the right size lid for this pan. This is probably some sort of hazard, but it still worked.)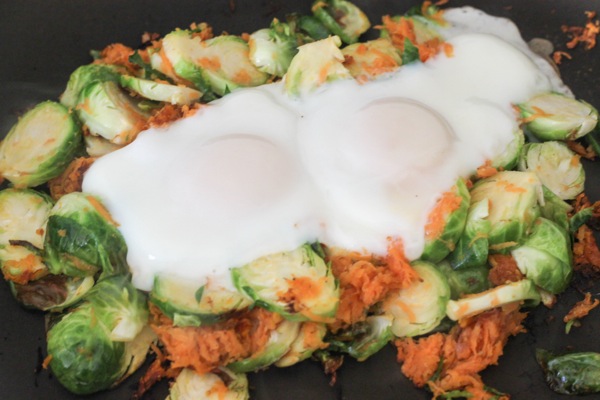 Here's the recipe if you want to give it a try!
Eggs in a Basket Paleo and Whole 30 Style
A delicious and healthy take on traditional eggs in a basket that uses veggies instead of bread.
1 tsp

coconut oil

10

brussels sprouts

1

sweet potato

2

eggs
salt & pepper to taste
garlic powder (optional)
hot sauce (optional)
Instructions
Wash and thinly slice about 10 brussels sprouts.
Grate one sweet potato using a grater or food processor.
Heat coconut oil in a medium pan.
Saute veggies over medium heat until soft–bout 3-5 minutes.
Season with salt, pepper and garlic powder.
Reduce heat to low and a make a nest for the veggies.
Crack the two eggs in the nest.
Cover the pan and cook until eggs have reached their desired texture (3-5 minutes).
What's left: drippy eggs atop savory brussels sprouts and lightly sweet potato. With hot sauce on top and a side of hot tea, it is an amazing (and filling!) breakfast.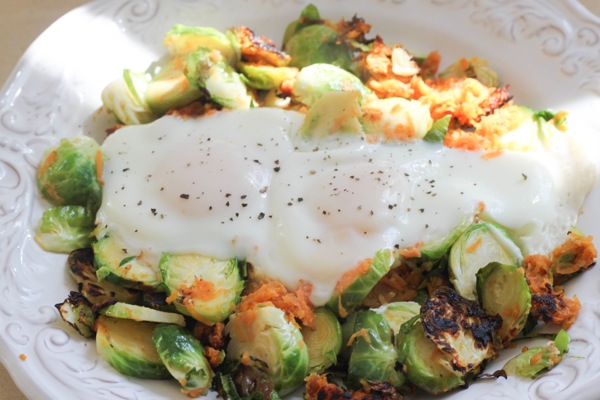 Let me know if you give it a try! What's your favorite breakfast these days??
xoxo
Gina