Grain-Free and Dairy-Free Almond Butter Lava Cakes
These paleo molten chocolate cakes with almond butter are a grain-free, dairy-free, refined sugar-free take on the classic lava cake. They're sure to be a crowd-pleaser, even for those without dietary restrictions!
Hiiii 🙂 How's the morning going? Thank you so much for all of your amazing giveaway entries and "feel better" wishes. Thankfully, I'm on the mends today.
I credit it to this…..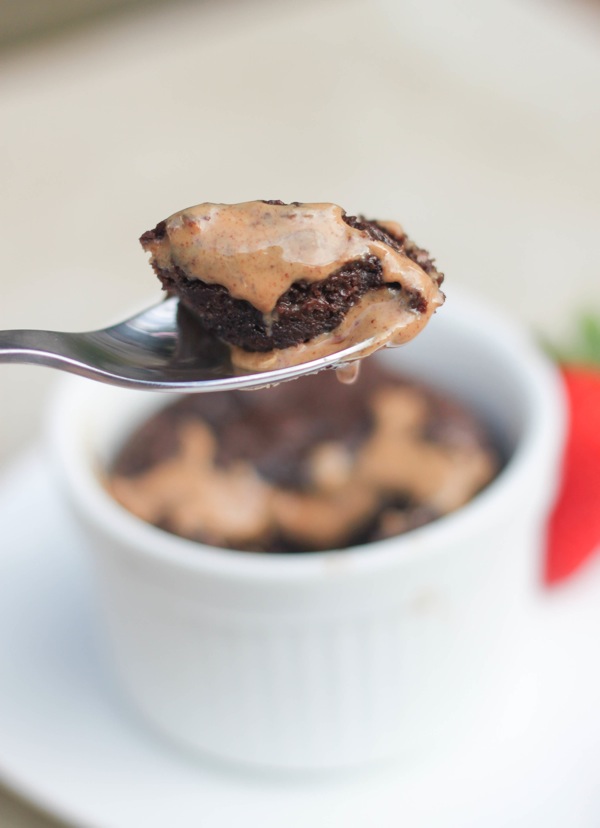 Chocolate makes everything better.
Have you seen the movie Chef? If you haven't, I'm not going to spoil it for you. All I'm going to tell you about the movie is that they call out the molten chocolate cake for being the most cliche dessert on restaurant menus.
I kind of resent that.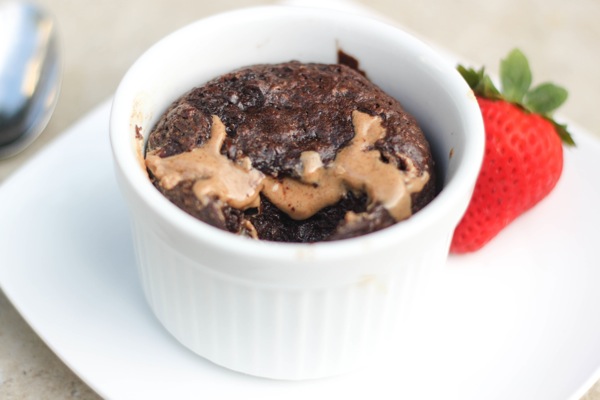 Ok, so I totally get where they're coming from. It's a "people pleaser." You put it on a menu, and people will eat it in total silence and crazy faces of pure chocolate ecstasy. It will likely be a top seller, making it a safe move for dessert menus. Another bonus: it's easily made in advance. You prep the batter, store in the fridge, and bake to order.
Paleo Molten Chocolate Cake
In an effort to make this lava cake entirely different, I got rid of the refined flour, refined sugar and butter.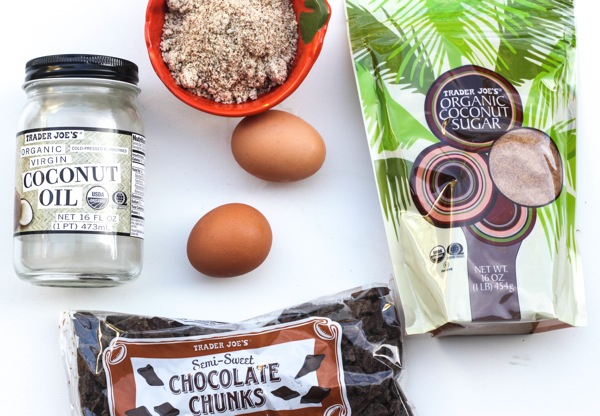 Instead, this lava cake is made using coconut oil, dark chocolate, coconut sugar and almond meal.
And when I thought to myself, "Cliche dessert. Harrrummmph," I threw a blob of almond butter into each ramekin 😉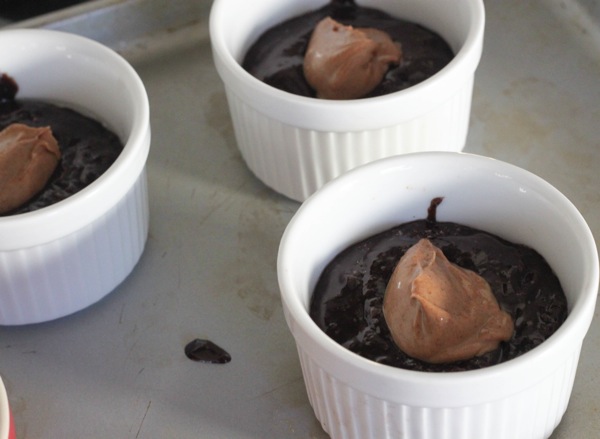 It was a wise decision, indeed.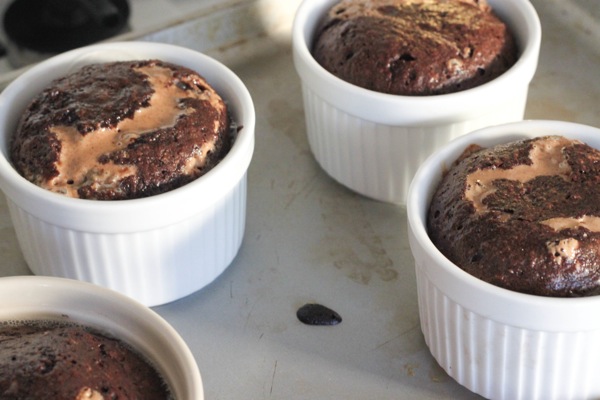 Here's the recipe if you'd like to give it a try! I promise that even though it's dairy and grain-free, it's still a people pleaser. My little taste tester said "Mmmm. Yummy!" at least 27 times in between bites.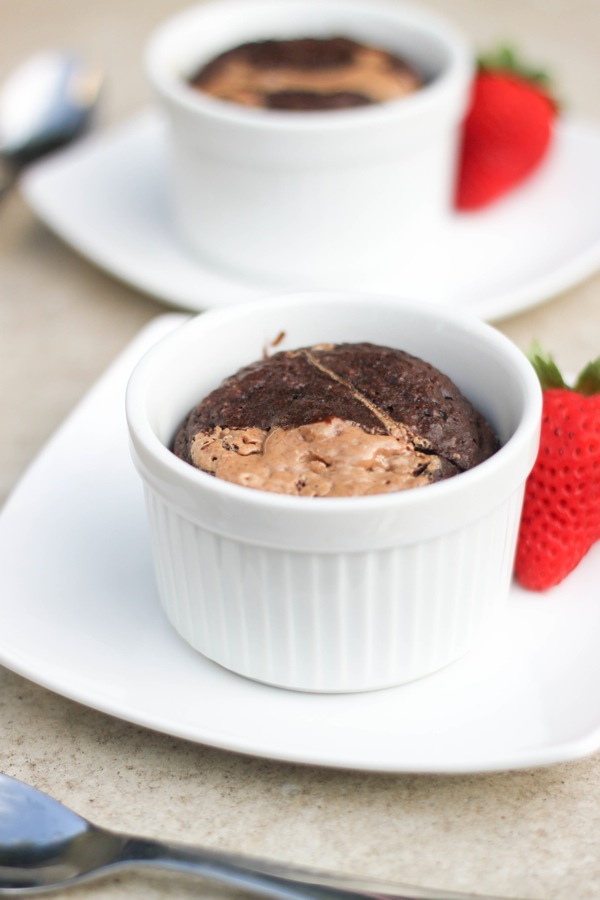 This is a fantastic recipe to make in advance for a dinner party or holiday, too. You can prepare the batter, pour into the ramekins, and cover in the fridge until you're ready to bake.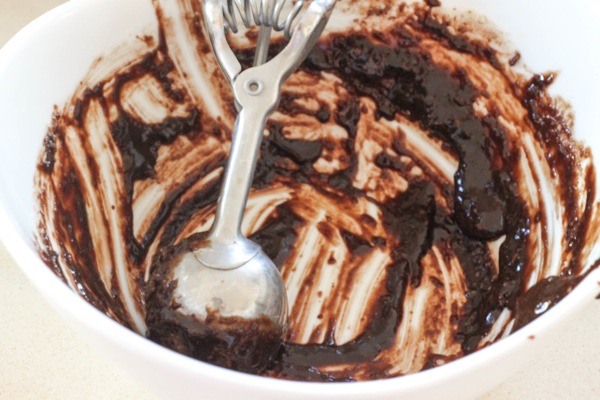 Grain-free and dairy-free molten chocolate cakes
A decadent dessert minus the refined sugars and flour commonly found in molten chocolate cake. Make ahead and store covered in the fridge for a dinner party or holiday gathering!
Prep Time:

10

Cook Time:

14

Total Time:

25

Yield:

4

1

x
1/2 cup

almond meal

1/2 cup

coconut oil (+ more to grease the ramekins)

1 cup

dark chocolate chips (for dairy-free, opt for a dairy-free chocolate chip like the Enjoy Life brand)

3

eggs

4 teaspoons

almond butter, separated

1/3 cup

coconut sugar

1 teaspoon

vanilla
Pinch of sea salt
Instructions
1. Preheat the oven to 425 degrees Fahrenheit. Grease 4 ramekins using coconut oil.
2. In a glass bowl, melt the chocolate chips and coconut oil, either in a double-boiler or the microwave (in intervals of 10 seconds in the microwave). Whisk until smooth.
3. Stir in the sugar until combined, and then whisk in the eggs.
4. Stir in the vanilla, pinch of sea salt and almond meal. Lightly stir until just combined.
5. Divide the batter among the 4 ramekins.
6. Top each serving with 1 teaspoon of almond butter. Using a spoon, spoon some of the chocolate batter on top of the almond butter to lightly cover.
7. Bake for 13-14 minutes, until just set.
8. Allow to cool slightly, and invert onto a serving plate, or serve in the ramekin.
Notes
Serving suggestions: with your favorite coconut milk ice cream, fresh berries, mint, or dairy-free whipped topping.


Hope you enjoy! <3I'll see ya this afternoon with a new workout.
xoxo
Gina