Fancy feet {+ a new Zumba video}
Hiiiii 🙂 Hope you're enjoying the week so far! Livi and I had a great day yesterday and last night, I met some friends for yoga. It had been forever since I've taken a class, and mannnn, did I need it. My tight hips and quads were crying a little, but some namaste time has them feeling so much better today. Plus, girls' night is always a good idea 🙂
So, I can't get Sunday night's flamenco performance out of my brain.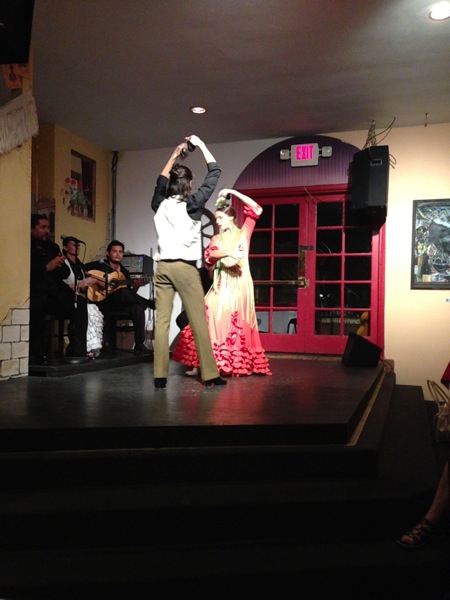 For starters, the food at Casa Vicente was out.of.this.world. Like I said, it gave me hope that food can still taste good after Italy. So we were all very happy campers eating until the performance started, and it only got better from there. Going out to eat has become easy again with my Oliv -she loves to dine out and is usually fantastic, but went through a thing where she hated the high chair– and I wasn't sure if the show would hold her attention for longer than a few minutes. Also, we were on the side in the very front, so if she decided to throw a tantrum, we'd get the stink eye from about a hundred people around us. Thankfully, she loved it as much as I hoped she would. She watched intently, clapped and cheered in between bites of her food. We didn't stay for the entire two-hour show, but made it for over an hour, which in toddler land = an eternity.
And the dancers….
Oh em geeeeeee.
I'm not sure if I've talked about this much on the blog, but I grew up dancing folklorico, which is the traditional dance of Mexico.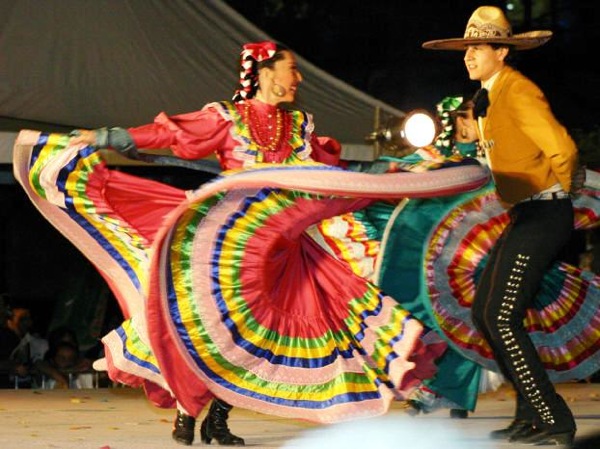 (Yep, I had the dresses, fake braids, the whole enchilada. It was so much fun.)
The amount of differences and similarities between flamenco and folklorico are fairly equal. In folklorico, we used our skirts often and would perform dances from different regions of Mexico. In flamenco, there are more aspects to the art: the singing, the dancing and the clapping. I did folklorico from when I was 4 until I was 13, when the gears switched over to primarily jazz, tap, hip hop, Irish step, and later, a little ballet sprinkled in. As you can see, I've always been a little all over the place 😉
While watching the flamenco performance, I couldn't help but think "I want to do that!"
It's in my before-30 bucket list, so maybe I'll try out a class or two when it works with my schedule– maybe after the half marathon?
In the meantime, I'll keep dance cardio-ing and Zumba-ing.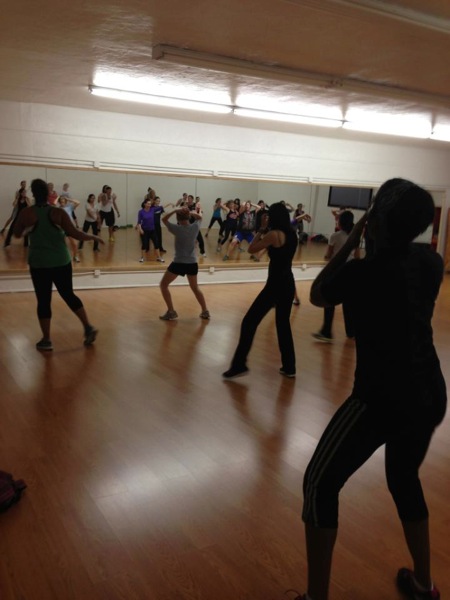 Speaking of Zumba, here's a new video I filmed in our garage. We're trying to transform one of the car areas into a clean, workout-friendly space so I can easily take pics and videos to share. As you can see, it still needs some work, but I was too excited to get started.
This is one of my current favorite songs, mostly because Marc Anthony's voice sets my soul free.
This salsa has more complex footwork, so I tried to show some options to make it more challenging, play with direction changes, or simplify based on your needs.
Hope you enjoy!
xoxo
Gina