Hi, how's your day going? I'm so happy you like the breakfast casserole recipe. Let me know if any of you give it a try! It was fantastic this morning topped with salsa and wrapped in a tortilla. Mmm.
Some things to tell you this lovely afternoon:
1) Sriracha, olive oil and tamari may be my newest favorite salad dressing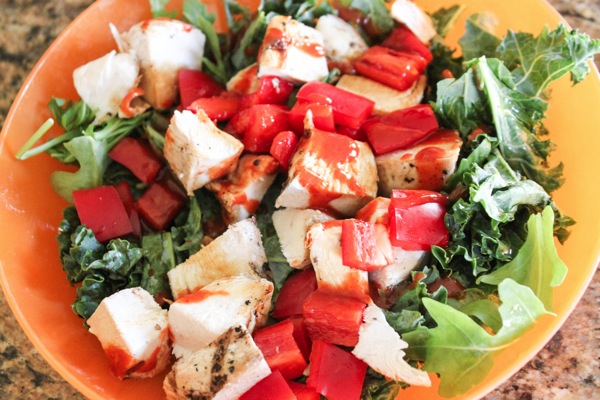 and
2) these Paleo granola bars rock my world. I made them yesterday and the pan is now halfway gone. It was mostly Liv, I swear… 😉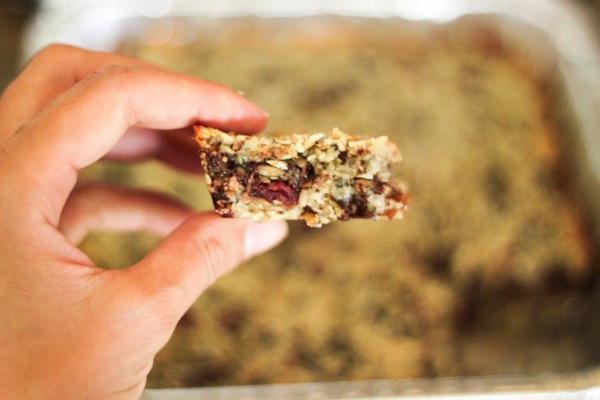 The recipe was extremely easy (just chop the ingredients and combine)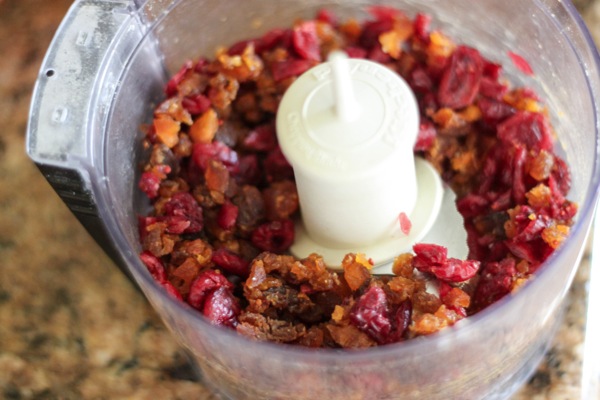 and Liv helped me mix everything in the bowl. I'm pretty sure they taste better because she helped 🙂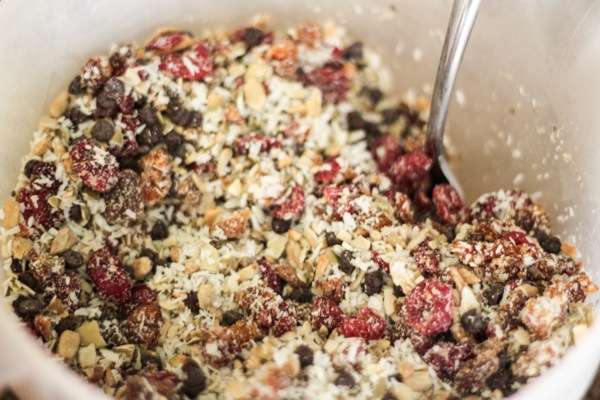 We used chia seeds instead of sesame -didn't have any- and a little extra chocolate chips. (Who measures chocolate chips, really?) I especially love a bar with a cup of coffee: the perfect afternoon pick-me-up.
Since I chose sleep over my am workout since we were out late last night, I was able to get in a short cardio session this afternoon. Today was my "tempo run" day, but I just wasn't feeling it since the weather was starting to warm up. Instead, I did one of my favorite row and run workouts.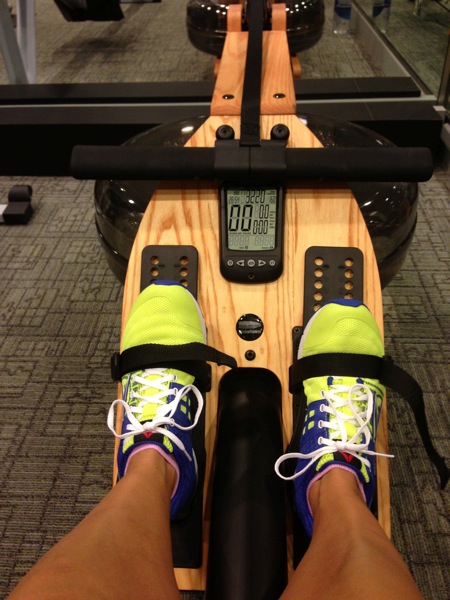 I alternated between running and rowing for 30 minutes, and was drenched in sweat afterwards.
While I was going back and forth between the treadmill and the rower, I was thinking to myself how much I prefer intervals over steady state. I like going fast, taking a rest and then doing it again. It makes the workout fly by, and keeps me from getting bored. I also feel like intervals are easier for me than long, steady state workouts, but know that there are benefits to both types of training.
Some interval perks:
-Increased EPOC and mitochondrial density, which means your metabolism is elevated after the workout. Usually this occurs the most within 60 minutes following your interval session.
-Increased speed and fitness performance. You are training your body to work harder and faster.
-Increased recovery time. The amount of time for your heart rate to return to resting and the frequency of interval training are negatively correlated.
-Heart health from getting into your anaerobic zone.
-You can do it anywhere!
-More bang for your buck. If you don't have a lot of time to work out, interval training is the way to go. You'll burn around the same amount of calories as a longer, less-internse workout, and amazing endorphins. Something to keep in mind: you don't want to interval train every day. Your heart is a muscle and needs rest, just like your other muscles in order to allow adequate recovery. Remember: results occur during rest.
Why we need steady state:
-It's a great option for beginners. The best way to begin a cardio fitness program is with small bouts of steady state cardio, adding in time and intensity as you become more comfortable.
-It's a great calorie-burning and fat-torching option.
-Heart health and increased endurance.
-Can help defend the body against insulin resistance by increasing insulin sensitivity.
BOTH HIIT and steady state improve cardiovascular, metabolic and skeletal muscle function in the body. The best type of cardio is the one you love and you know you'll do! Of course, remember to alternate intensities and give yourself enough rest and recovery to see the proverbial fruits of your labor.
Are you more of an interval fan or do you like long, steady state cardio? I think it depends on the mode of cardio, too; Zumba, I could go forever, but I would be miserable on a bike.
New Zumba video coming in the am!
xoxo
Gina
More: HIIT vs. steady state and my favorite research-based HIIT methods