Hi!  Thank you again to Garmin for the fantastic giveaway opportunity and to all of you for the wonderful entries. So many of them touched my heart, and a few brought me to tears. You all have amazing stories to tell, and I was so inspired to read of your reasons to be active. Even on my toughest days and most challenging workouts, I'm thankful to be healthy enough to get out there and try.
Did you win? Find out here. (bottom of the post)
Stay tuned for more fun giveaways in the future <3
_______________________________________________________________________
So, I tried CrossFit last night.
I didn't really want to like it. I'd seen videos and wasn't impressed with the form for many of the movements, had been kinda blah about the whole "drink the Kool Aid" kinda atmosphere. I wasn't sure how I felt about it.
Well, I tasted the Kool Aid….
And it was pretty good 😉
I got a GREAT workout, had a lot of fun, and was surrounded by motivating people who pushed each other and were kind enough to take me under their wings.
Of course, there's no way to make a full assessment after only taking one class, but here's a little bit about my experience, my initial thoughts and how they compare to my previous perception of the workout.
I got to the gym (or "box" as they like to call it) and I knew what to expect from seeing pictures online: a no-frills atmosphere with rings, blocks, kettle bells, barbells, rowing stations and pull-up bars. Everyone was already grabbing supplies and getting set up, and I stood at the small desk awkwardly waiting to talk to someone and sign a waiver form. It was the longest 3 minutes… I felt really out of place and not sure what to do.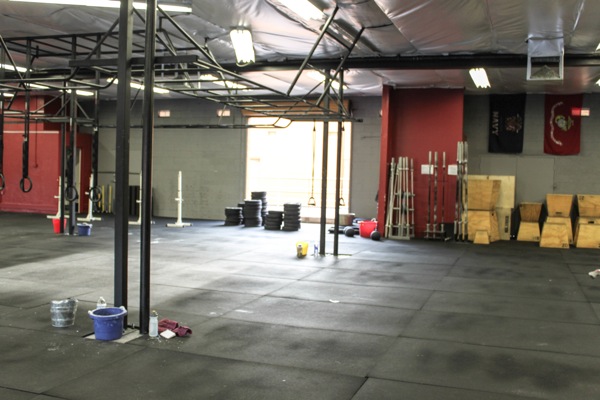 Thankfully, Aly, one of the coaches, came up and was so helpful and kind- she made me feel welcome. Another coach went over the warm-up, which consisted of moves I'd never seen before, like walking across the gym with kettlebells, some pull-up jumpy thing and a couple of other things (can you tell I skipped most of it?). He went over everything SO fast, and everyone just got started doing the movements on their own time. I was kind of waiting for him to say "Ok, team! Let's go!" turn on the music and instruct us along, but nope, that's not how it works. You do everything at your own pace during the allotted time and however many you finish, you finish.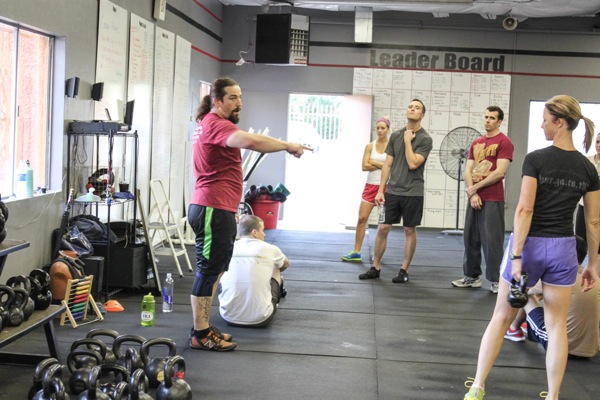 (I took a couple of pics following the class I took – there was no way I was going to be walking around snapping pics during a class)
I hesitantly did a few of the only moves I knew, the Turkish get-ups, and then went to the powder room as I felt my eyes sting. I knew I should have gone to a beginners' class, but I messed up looking at the schedule (beginners is TODAY, not yesterday) but they kindly let me take the class anyway. Tom was home watching Liv and I told myself I had to try it at least one and stick it out, even if I was wayyyy out of my comfort zone.
When I came out, I did a couple half-hearted burpees, and then a girl from class came up and told me she read my blog. She was awesome, and helped me with the rest of the workout. We did some barbells squats (adding weight each time) in a team -everyone cheered each other on and the girls introduced themselves to me- and then as many rounds as possible in 12 minutes of the following:
-200m run
-5 pull-ups
-10 push-ups
-15 air squats
I knew how to do all of those, thank goodness, and made it through 5 rounds. I also felt like my body was going to explode. It looks easy when you write it down, but going for time was INTENSE.
Afterwards, we stretched, I thanked Kirsten for helping me push through the workout, and I felt like a million bucks when it was over.
I now have a better -and slightly different- opinion of CrossFit.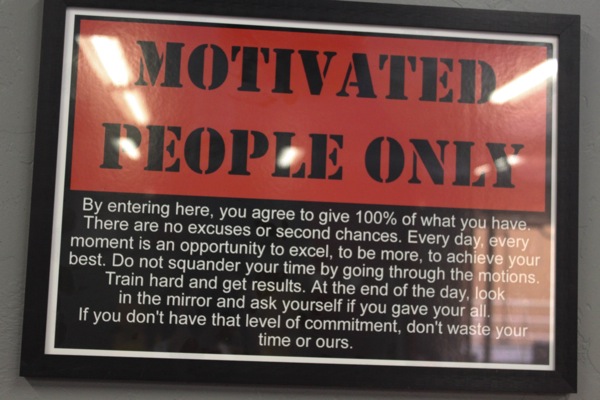 Benefits:
-Functional training. I love the fact that the exercises are designed to replicate actions that you would normally do. If you think about it, traditional strength training can be awkward (or frilly) and many of the movements have no real life application. The hardcore CrossFit workouts can help build strength to increase power in everyday tasks. 
-Every day is different. Change creates change, and CrossFit reduces the likelihood of plateaus by constantly changing and evolving workouts. The fact that your scores are recorded can also provide inspiration to improve performance the next time, and encourages your muscles to keep guessing and changing instead of kicking into cruise control. This can also help reduce boredom since you know you have a new and exciting workout to look forward to. 
-Team environment and encouragement. There's an amazing camaraderie between CrossFitters and I can definitely see why that would be inspiring to stick with it. It's a huge reason why I love group fitness so much- I thrive off the energy from training in a large group. This in itself was enough for me to really enjoy the class. 
-Physical gains– but I can't help but wonder if they're more closely related to the specific type of training, or the diet they suggest? I'm a believer that working out is critical and helps to shape your physique, but fat loss is largely attributed to changes in diet. CrossFit devotees follow a Paleo style of eating, and if you make drastic dietary changes (including ones that eliminate entire food groups, as Paleo does) chances are that your body will respond. 
-It's marketed as a lifestyle. Anything that has the potential to become something you stick with over the long term is a good thing. I don't feel like CrossFit preaches unrealistic results, and I appreciate the fact that it gives participants measurable goals to achieve. I firmly believe that we shouldn't be punishing ourselves at the gym doing things we hate -so if CrossFit is something that you really love and want to make a part of your lifestyle, I'm cheering for you the entire way. It's just not going to be a part of mine. 
Why I'll be adding CrossFit into my life, but not on a regular basis:
-I love the fact that CrossFit encourages lifting and strength training, especially since women don't strength train nearly enough to protect and promote bone health. That being said, and please don't get mad, but I have no desire to do Olympic-style lifting. Like my good buddy Ron has said (he's also known as Mr. Georgia), it doesn't matter if you lift 50 lbs or if you're trying to lift 500 and about to hurt yourself. It's about following a quality training plan with good form and awareness of your personal limits. While I do think it's important to push yourself, and I like to lift heavy weights, I think it can get a little ridiculous. There are diminishing returns after a certain point, and instead of continuing to pile on weight, I recommend changing the exercises you're doing (different variation, alternating tempo, static holds, pulses) instead of putting more strain on your joints with insanely high weight. 
-I'm not a huge fan of barbell training, and prefer dumbbells, pulley systems or kettle bells. With barbells, I can easily "cheat" by using my stronger side to perform most of the movement. I find that I like the results of dumbbell training and pulley training, especially since I have muscle imbalances that I'm working to correct, not encourage.
-I feel like there's a focus on quantity over quality since the workouts are timed. This, in addition to the form that's allowed-I don't think you should have to "snake" into a pull-up or up from a pushup- can possibly lead to injury. While I know what my personal limits are and how to safely execute the movements, looking around, the trainer in my brain was having a panic attack. But, after I was shown how to properly do the movements, they felt fine (challenging but not like I was hurting myself).
I also see how it can be beneficial to have timed workouts, too, because it encourages you to really push yourself. Both sides make sense to me for this one, especially because I believe that if you're healthy and are taught proper form, your chance of injury is far less likely. It's also worth noting that "proper form" is different across the board: you'll see different cueing methods and techniques in BodyPump, TRX and CrossFit. 
-Time and financial commitment. CrossFit is expensive, but I think it's one of those things where if it's really enjoyable to you and you see positive results, you're more likely to pay the higher cost because you're making it a priority. It's not really worth the long-term investment for me, especially since I have a gym membership with awesome childcare and can also work out at work. 
-Different body types will have various responses to all of the training styles out there. It's up to each of us to experiment and find the best method for our bodies. For me, a combo of everything I enjoy gives me the best results, mentally and physically, since they challenge me and I love the variety: yoga, spin, running, HIIT, strength training and ZUMBA!
For CrossFit, I enjoyed pushing myself in a different way, and definitely think I'll be back to take another class.
All in all, I think a clean diet (whole, unprocessed foods, with lots of lean protein, produce and healthy fats) has the most impact on physical results- it's just a matter of finding your best training style, that you enjoy, to go along with it. 
Have you tried CrossFit? Love it, or decide it's not for you?
I'm excited to hear what you think!
xoxo
Gina
Interested in more info? Check out this CrossFit Focus On post, from a CrossFit regular