Exploring, crawling, trying-to-walk, little lovebug.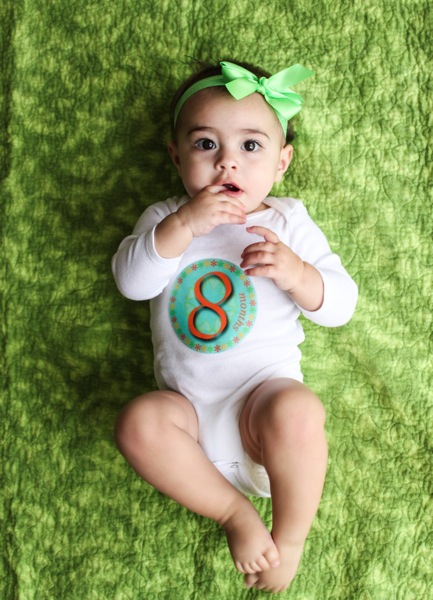 It's definitely much more challenging to take the monthly pictures now!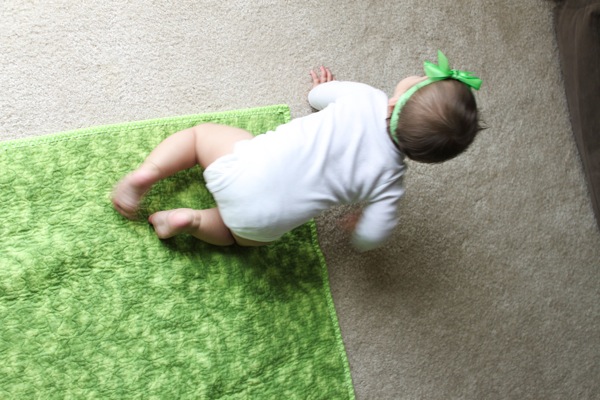 Here are 8 things about 8 months:
1) Liv figured out how mobile she can be, and rarely wants to be held while we're at home. I wrote about how I've become a little bit of a helicopter and am trying to relax, but the thought of her bonking her head on the tile -which has actually happened a couple of times now- scares the bejeezus out of me. We moved the pack n' play back downstairs, so after she's eaten, I can get about 10 minutes of her playing in there while I frantically run around the house, cleaning up or putting away dishes. 
It's a lot of fun to see how much she's learned and to watch her see and explore for the first time, but whew! It's also exhausting. I knew it was coming, but for our at least one daily outing -it's good to plan one adventure a day to get out of the house- it's a nice break to wear her in the BabyHawk instead of chasing her around. Do moms with walking kids do this, too?
She's been scaling the couch, her crib and pack n' play for the past couple of weeks, and will take a big step away when she's feeling brave. She's still trying to figure out the balance aspect, but once that happens, watch out! I'm so happy we baby-proofed as early as we did.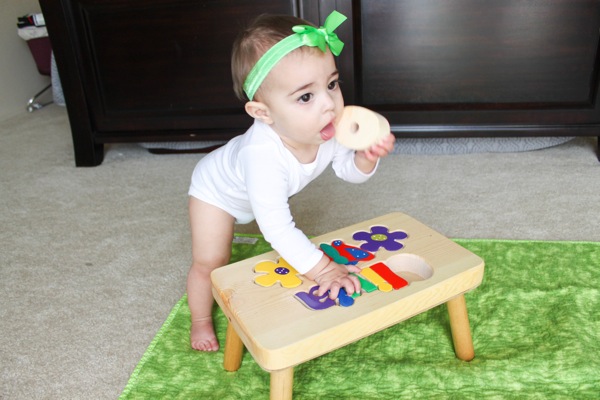 2) Eating! She continues to love to eat solid foods and I still love making and sharing food with her. 
Some new favorites:
-Pinching up bites of avocado, banana or puffs
-potatoes (especially nana's breakfast potatoes.. I'm obsessed with them, too)
-raspberries 
-blueberries
-salmon (!)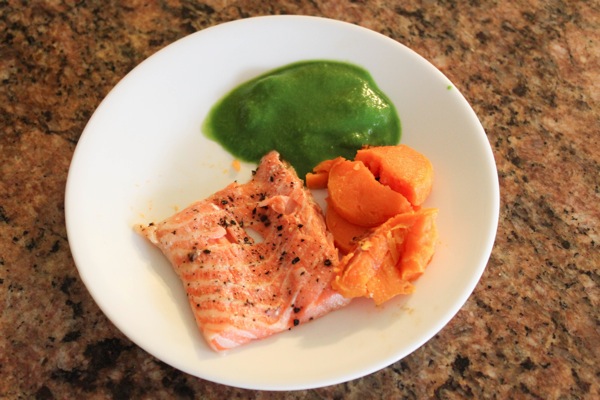 (it was part of my dinner salmon, so I just scraped the pepper off for her)
She's a "green" girl like her mama- if it's green, chances are that she'll love it. She still goes crazy for the broccoli, spinach, apple combo and the green bean, peas and pears mix, as well as the other combos I regularly make for her. (<– since that post was such a hit, I'll be doing another one with totally different recipes soon)
One thing I'd love to try this month: baby pancakes. Please let me know if you have any awesome baby pancake recipes. Breakfast is one of my favorite meals with her, because we'll eat together. This month was also her first time trying a restaurant high chair, and she's great in it, eating puffs and playing until the meal arrives. We look forward to our Friday Chipotle dates with her Uncle Kyle.
3) Lately, she's been extremely clear of her likes and dislikes (she'll shake her head "no" or blow raspberries, and points at something when she wants it), 
and her little personality shows more and more each day. When I take her somewhere with me, I feel like I have a little friend with me and like she understands what I'm saying to her. She can wave "hi" and "bye" now, and can play "peekaboo"- all I have to say is "where's Livi? Where did she go?" and she'll crouch down and hide behind something. When she's ready, she'll pop out and I'll say "peekaboo!" and she'll get a kick out of it. Her belly laughs are my favorite thing in the world.  
4) Baths. Liv loves taking baths-  we play with the rubber duckies and I sing the only bath song I know ("Splish Splash, I Was Taking a Bath") and we'll splash and kick, but are there any fun bath time toys? I think siblings make bath time way more fun- Kyle and I used to crack each other up making bubble beards when we were really little. I'm trying to figure out if this month is when to retire the baby tub and let her take baths in the regular tub. Any mamas have advice?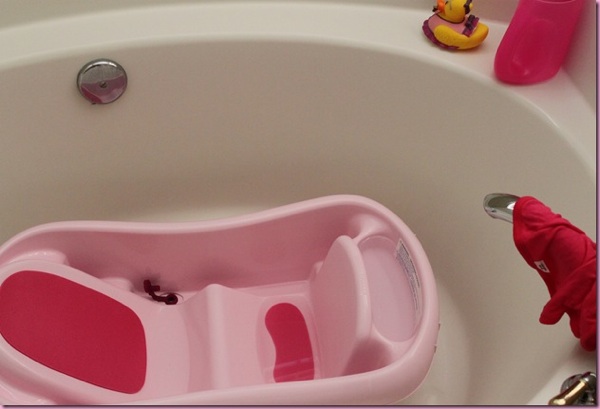 5) She's still making noises like crazy- my favorite thing is to see my mom whistle at her and Liv makes a high-pitched pterodactyl sound in response. She's been saying "mama," "dada," "nana," and "baba" for a couple of months, but just last week, she looked right at Tom and said "dada." He wins. Sad trombone, haha.
6) I'm finally starting to get into some baby projects I had been neglecting. I finally donated a huge box of formula and newborn diapers to teen pregnancy outreach, put pictures in the frames I had set up in her room, and booked her 6-month photos… two months late. Better late than never, eh? 
7) Separation anxiety is in full effect. Every time someone holds Oliv after I've been holding her, she looks at me, opens her arms and cries. I know it's good for her to have other people hold her, but my heart soars little to know that she wants her mama. I'm happy for any snuggle sesh I can get, especially since she's so active now. 
8)
Likes: anything that makes noise, the doorstop (which is probably some kind of safety hazard- she loves the "boing!")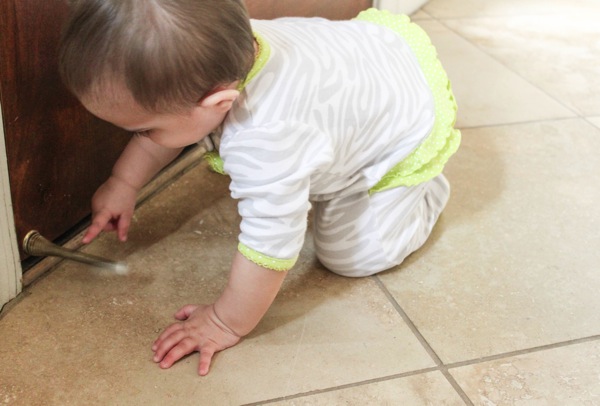 books, walking (while someone holds her arms and she takes huge steps),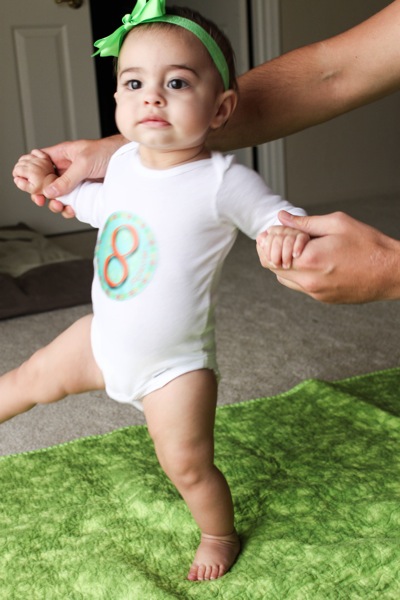 dogs, being outside, drinking from my water bottle, art (if there's art on the walls and I say "Liv, look at the art!" she smiles and puts her hand out to touch it), beans, chasing Bell,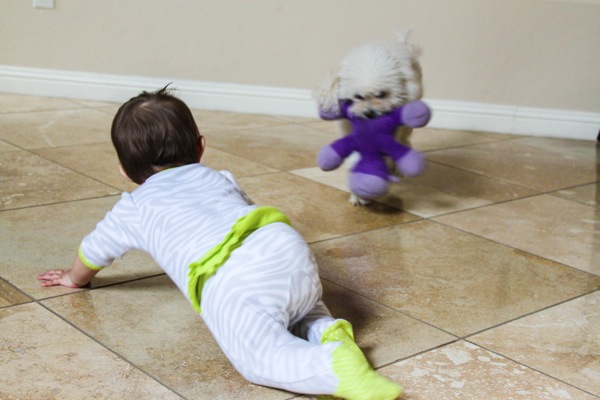 having her hair brushed, the TV remote
Dislikes: diaper changes (she rolls over and crawls away if I don't do it fast enough), getting dressed, wearing sunscreen, getting her face cleaned, Jillian Michaels podcasts- I tried to listen to one in the car and she screamed bloody murder. I switched back to Zumba music and she was fine… 😉
More monthly updates: