Fitbloggin': Conference recap
[Warning: long photo bomb of a post ahead]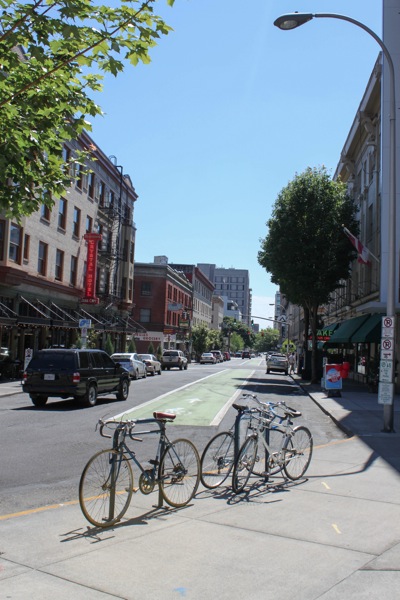 I haven't been to a ton of blog conferences in my 5 years of blogging, but of those I've attended, Fitbloggin' was by far my favorite. It made me wish I would have gone sooner! Roni, who founded Fitbloggin' and coordinates everything herself, does an incredible jobs of providing informative sessions, fun events and a variety of workout options during the 3-day event.
There were no official events on Thursday -just a welcome and registration- so I spent the entire day and evening with friends.
I was so excited to see Anne's lovely face: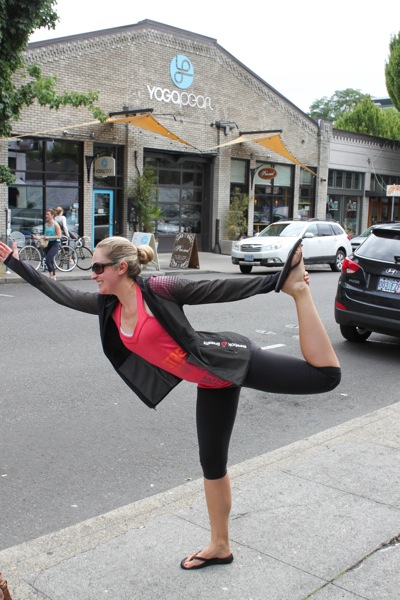 We caught up over breakfast -I'm going to post all of the restaurant recaps later, since they were legendary- and then took a vinyasa yoga class at Yoga Pearl. It wasn't quite as hot as my usual yoga class, and was also longer (90 minutes instead of my usual 30). We held each chatarunga for 3 long, painful breaths, and also practiced inversions and handstands. My arms were on FIYAH.
I loved the vibe of the studio: clean, open, serene.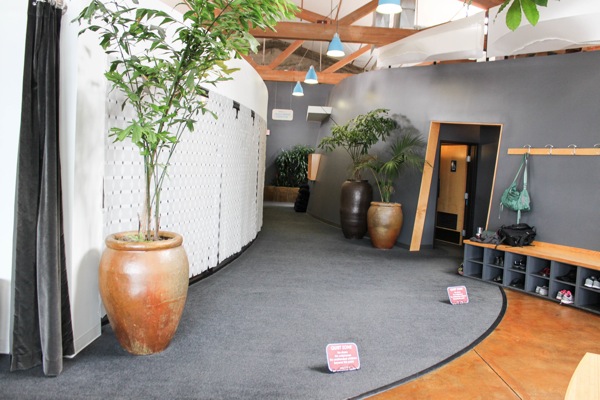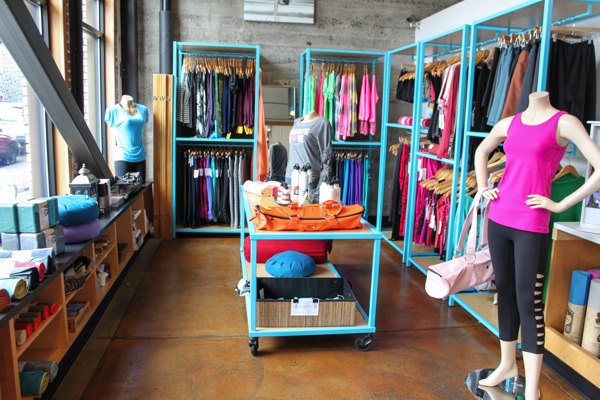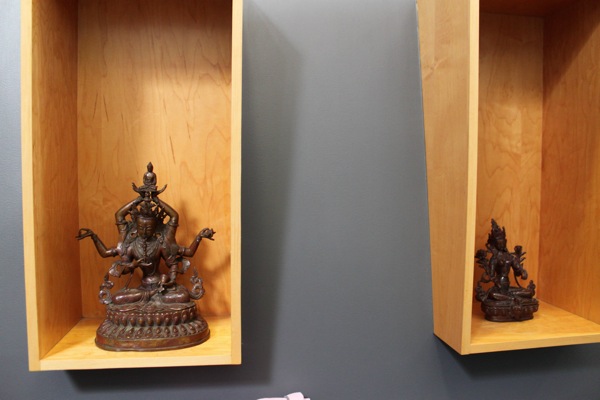 They also have a small cafe with lots of vegan/vegetarian options: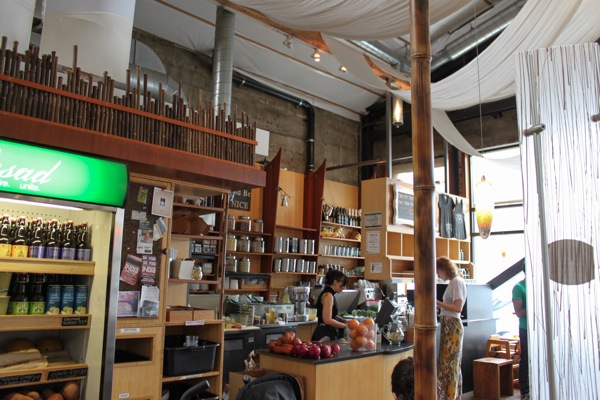 We met up with some friends for lunch, exploring,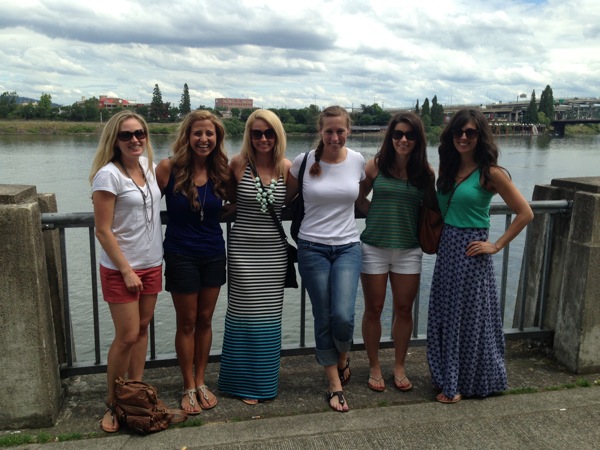 dinner and cocktails that night before heading back to the hotel to get ready for Friday's events.
The entire conference was located at The Nines in downtown Portland, which is a stunning boutique hotel. The rooms were absolutely gorgeous: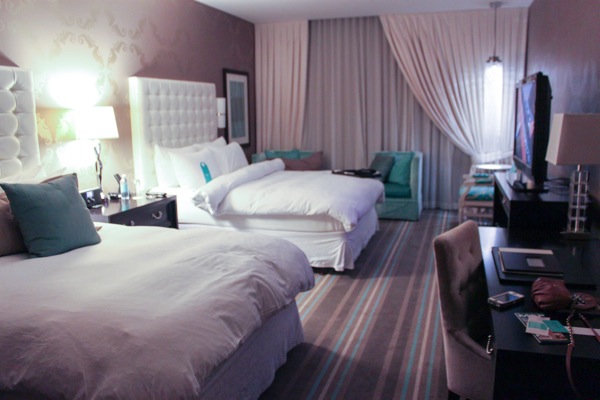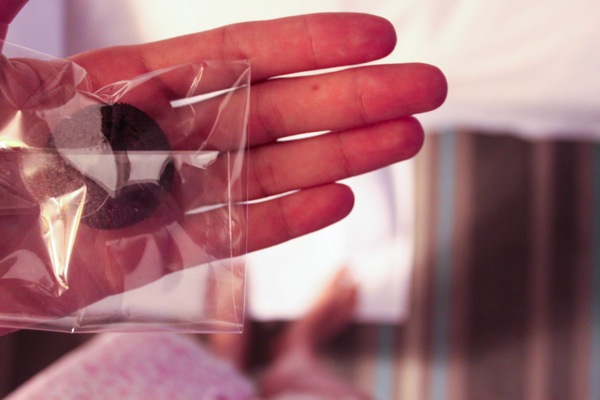 (the color scheme reminds me of our beloved One Ocean in Jacksonville) and it was walking distance from a ton of shops and restaurants. We only had to take a cab once to head to a couple of places over the river.
We also walked a ton during our trip, and by the water a couple of times. The scenery was breathtaking.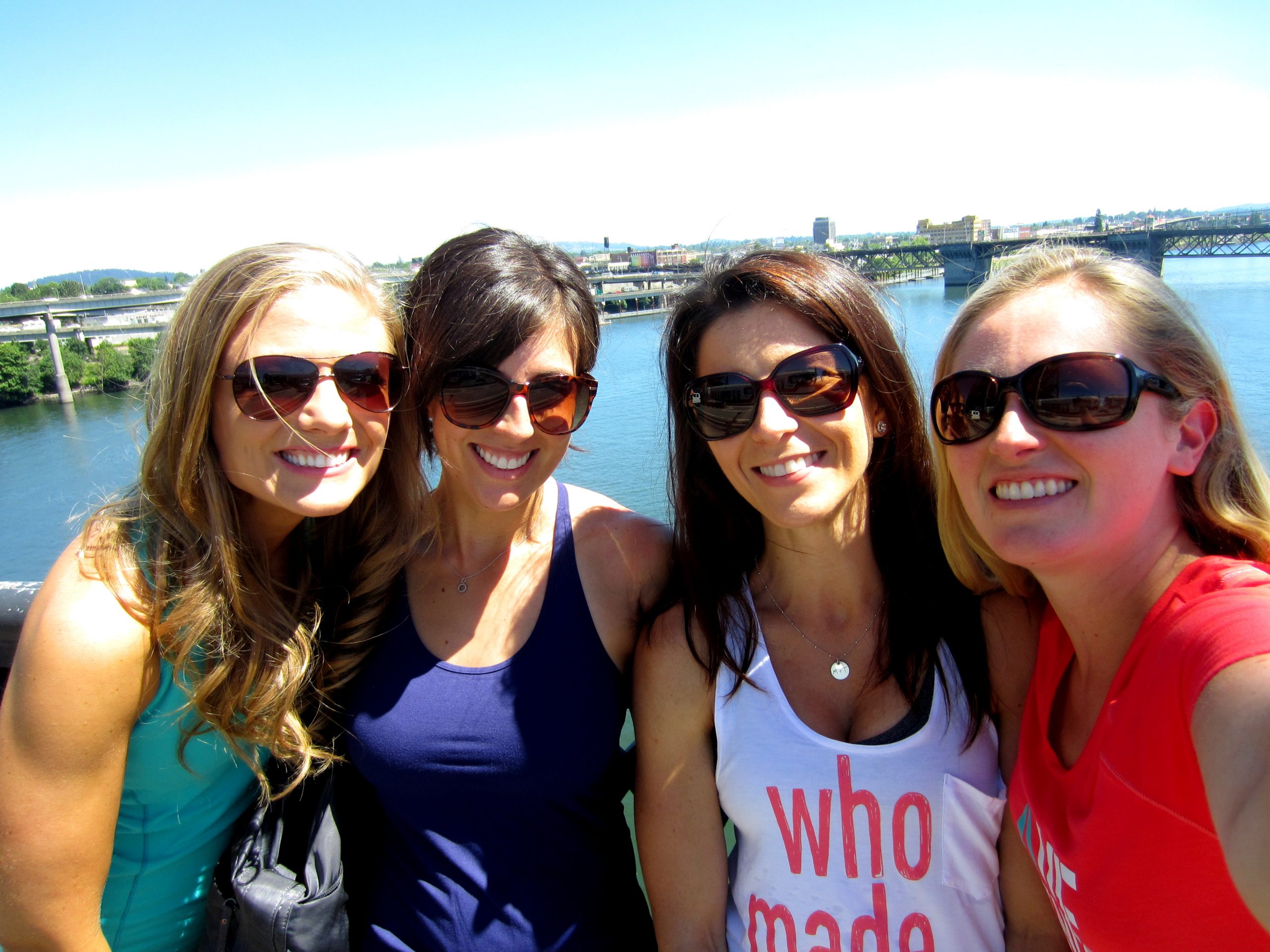 Friday and Saturday workouts:
The day started off bright and early with an IntenSati class taught by Patricia Moreno. Since it was called "cardio dance," I was expecting the type of dance combos I teach at work. When she said she'd be leading an IntenSati class, I was thrilled. I had a guest Focus On post for the blog about it and have always wanted to take a class. The class consisted of powerful combo movements (lots of punching, reaching and pushing) in addition to what Patricia called "Miracle-Causing Mantras." It's a technique to drown out negative thoughts and energy, while manifesting positive thoughts and actions. In addition to being an insanely talented dancer, Patricia was so inspirational. She spoke about her history with weight issues, eating disorders and negative body image, and how her thoughts used to control her, making her unhealthy habits even worse. After she spoke, we started to get into the routine, loudly affirming the miracle-causing mantras which included phrases like:
"I am powerful beyond measure."
"I am stronger than I seem."
"I have enough. I AM enough."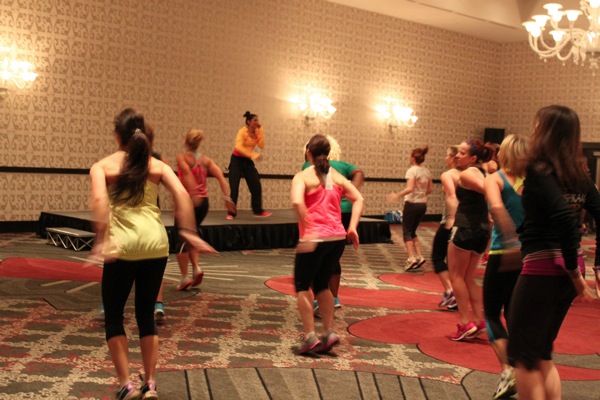 There was something truly inspirational about being in a group of women (and some dudes!), proclaiming their strength and confidence. I'm a huge believer that thoughts become actions, and by changing your thoughts, you change who you are. After we finished, and I was drenched in sweat and ready to CONQUER something, it was time for Zumba 😉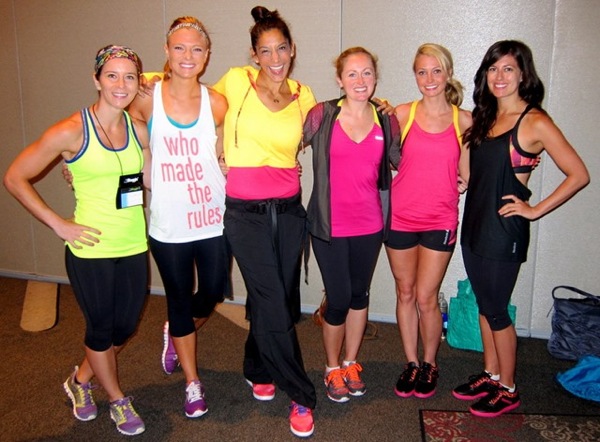 Zumba was led by the very talented and fun Sue and Sam. They've taught the Zumba class at Fitbloggin' the past couple of years, and I was so excited when they offered to let me lead a song, along with some fellow ZIN blogging friends. I did "Don Juan," which is one of my favorites, and even though I was pretty nervous, we had a blast. I found a guy in the front row (Alan!) — he body-pumped with me, and it was so cool to look around and see my fellow blog friends smiling and dancing. Sue and Sam did an incredible job leading the class, and it was over way too quickly!
We also took a JumpSport trampoline class, which was led by the energetic and awesome Jeff McMullan. We did a lot of things I had no idea to could do with a trampoline (loved the jump squat combos, sprints and stability work), and it ended up being a killer cardio workout. We have some of the trampolines at work, so I'm going to see if maybe we could dust them off and bring the class back now that I have some ideas.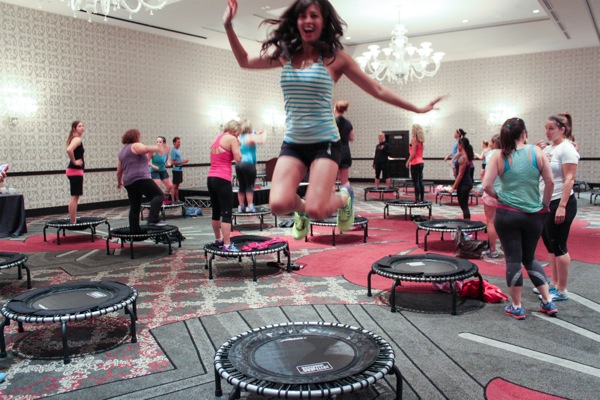 After trampoline, we did a CrossFit workout, courtesy of our Reebok friends. It was led by Joe Masley (a Reebok CrossFitONE coach and competitor), and supported by local CrossFit coaches. I thought it was brilliant that they had the coaches walking around the room to give form cues/help and individual attention during the workout. The workout itself was fairly basic (4 minutes, as many rounds as possible of 5 pushups, 7 sit-ups and 9 air squats), but the session included a thorough explanation of CrossFit and how to scale it for you. I used to be extremely intimated by it -and honestly, didn't really want to like it- but I love the fact that the movements are functional, intense, and anyone can modify to accommodate their personal needs.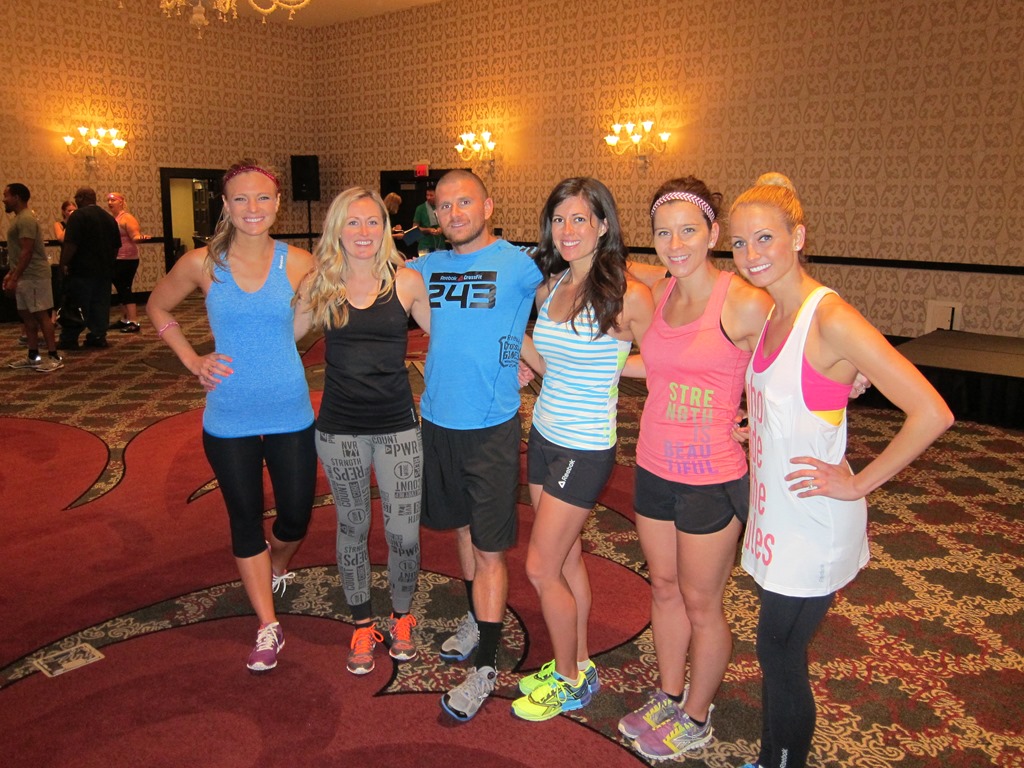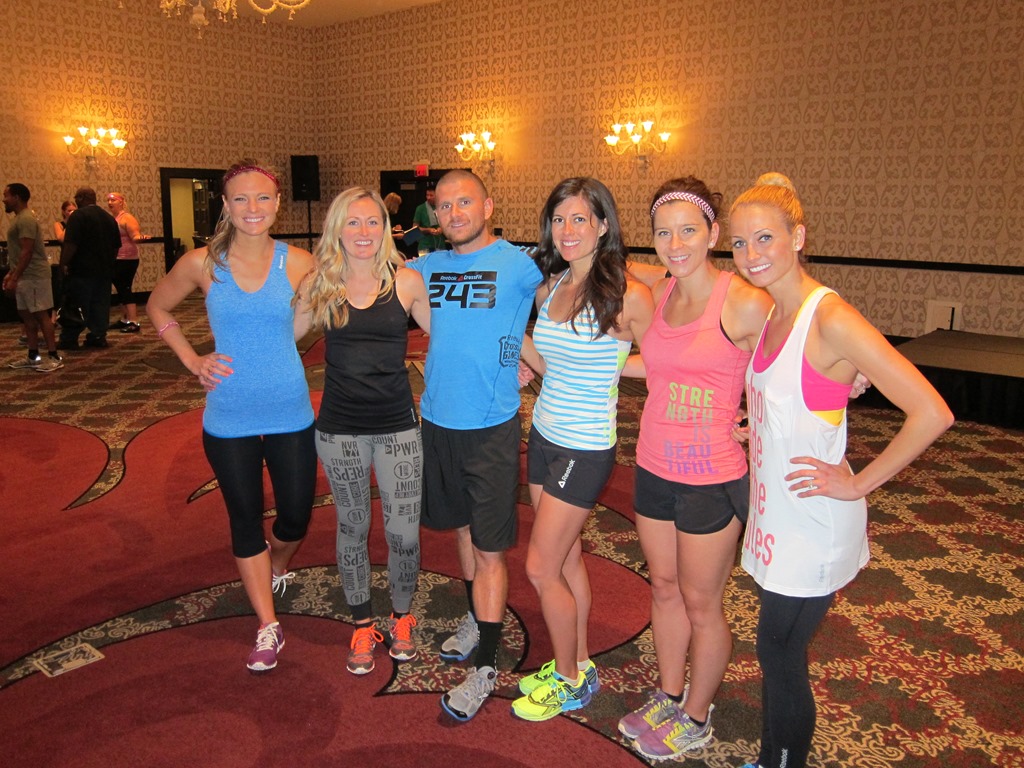 Some panel highlights:
Finding the perfect shoe for you, by Reebok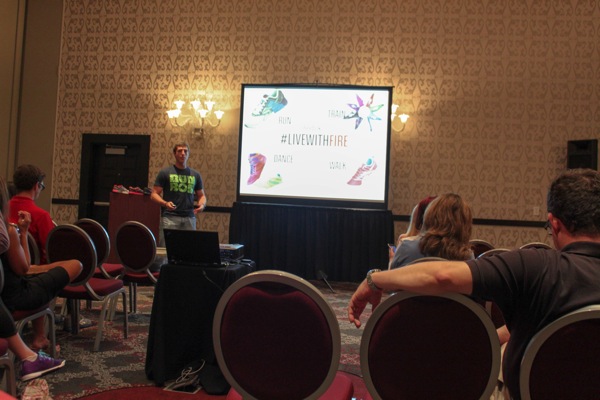 The panel emphasized the differences between common workout shoes (cushion positioning and support) and ideas on how to find the best shoe for your workout. As part of the conference swag, we received the new CrossFit nanos… and I'm pretty much obsessed with them. They're extremely light while being supportive, so I'm definitely going to be wearing them for my cross training workouts. I was also stoked when they talked about their dance shoe line, since I use them for all of my Zumba and dance cardio workouts. It was interesting to hear about how the shoes were constructed to support lateral and frontal movements, with pivot points for turns and spins.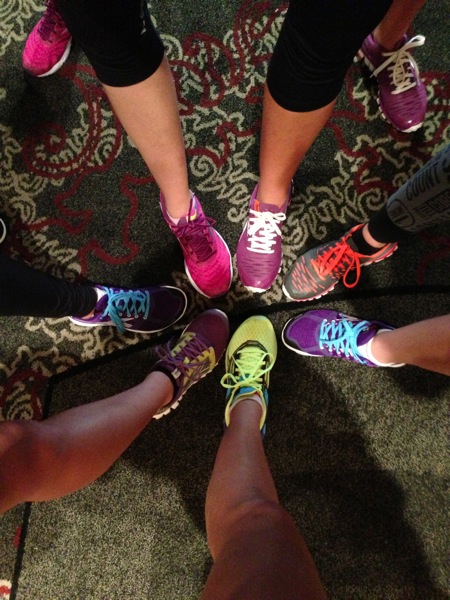 Snacking ideas from Tenley
Tenley was extremely laid-back and sweet. She gave a lot of great gluten-free snack and dining options.. and we could also ask questions about The Bachelor. It was cool to find out that she used to be a dancer and also loves barre classes 🙂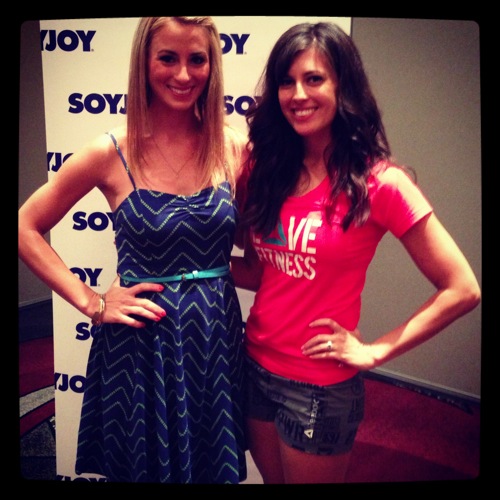 The difference between paying your dues and getting paid, with Leah
This was one of my favorite sessions. I was really excited to meet Leah, and she was so transparent and casual while discussing the financial and brand relationship aspects of blogging. It reiterated the fact that all bloggers are different -some accept paid posts, while other don't- and the importance of being kind to everyone you work with. We're all in this together, and it's great to support blog friends and companies you believe in along the way.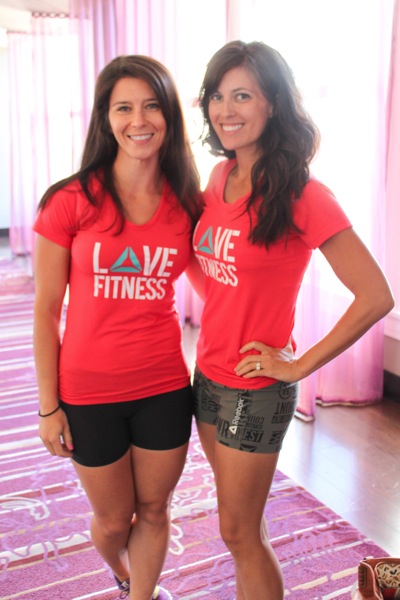 Speaking of companies, I wanted to give one last shout out to Reebok for sponsoring me to Fitbloggin'. While I was there, I wore their awesome clothes and sneaks, and got to meet and hang out with some of my favorite blogging people. It was an inspirational atmosphere, and many components of the conference have given me new ideas and methods to improve my own blog. I loved being able to meet so many people, including (but definitely not limited to) Brittany, Alicia, Rach, Charissa, Kasy, Katie, Ericka, Heather, Giselle, Stephanie, Danielle, Kelly Olexa (the queen of Fitfluential- just as awesome as I thought she'd be), all of the bloggers I met in the ladies' room (strange meeting place, but we still got to chat for a second!) and getting to hang out with Anne, Julie, Tina and Bobbi again.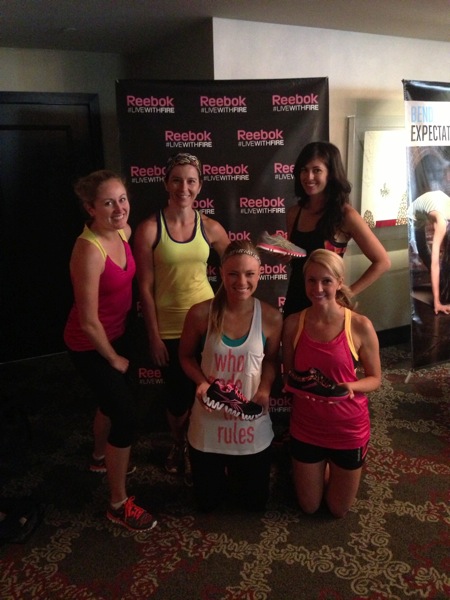 We spent a lot of time just walking around Portland, exploring, and snacking 😉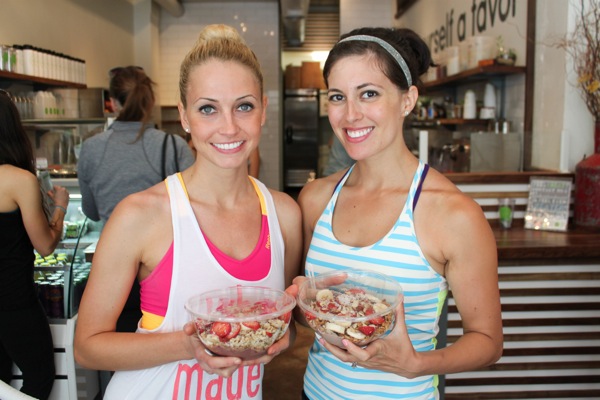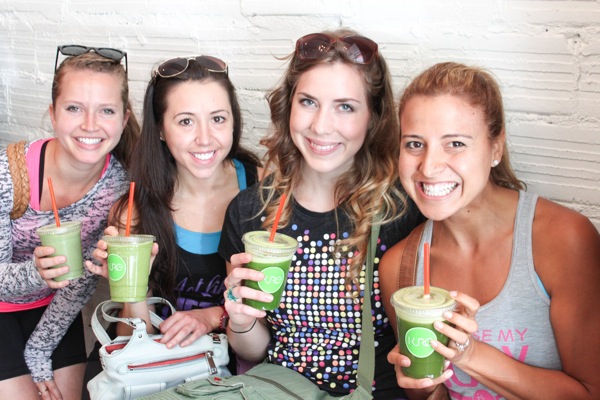 As an introvert, conferences can be kind of overwhelming for me -I would never go up to people I don't know in the *real* world to introduce myself- but being around such a kind and like-minded group of people makes it much more fun and way less awkward 🙂
The next Fitbloggin' recap will be all about the glorious Portland food!
Have you been to a blog conference (or work conference) before? What was your favorite?? If you're interested in finding out more about the Fitbloggin' sessions, there are full recaps on their website, too!
Hope you have a great night <3
xoxo
Gina