Focus On: Les Mills On Demand
Hiiiii 🙂 Happy Wednesday! We're at the hump! I always like to tell myself it's all downhill from here. 😉 I'm so glad you're as excited as I am about the Lorna Jane giveaway! Keep those entries coming! Today let's delve into at-home workouts with Les Mills On Demand.
At-Home Workouts
I've always had an appreciation for at-home workouts. There are many situations where it's the most feasible option, whether you're traveling, at home with a new baby, in a time crunch, or don't have an accessible gym or classes near you. I really fell in love with at-home workouts while we were living in Valdosta. I'm sure the town has grown a ton since then, but when we were living there, they didn't have a yoga studio, and class schedules were pretty sparse. I ended up teaching the classes I liked to take most at that time, but longed for the motivation, coaching and fitness magic from another instructor. This is also when I really got into power and hot yoga, and we didn't have a studio for two hours. Enter the home workout.
I did yoga DVDs, Beachbody (here are my reviews for Insanity and Turbofire), podcasts, FitTV (anyone else miss that channel?!), and it was before the On Demand-type services really started to gain traction. Since then, I've used online and video workouts for when I'm traveling, when I want to get in a quick workout minus the gym travel time, or to try something new. I also anticipate using at-home workouts a lot later this fall, as I work to get back into my regular workout and teaching schedule.
On Demand Les Mills Workouts
I really like the new On Demand online channels, and am so stoked to do some of my favorite Beachbody (<— coach link. If you need help with any of the programs, please let me know!), Crunch Live, or barre (Physique 57 and barre3) workouts here at home.
Needless to say, I was STOKED when I found out Les Mills started offering On Demand workouts. I teach and love BODYPUMP, but usually don't have time in my teaching schedule to play around with extra classes. Since I'm on a bit of a break right now -only teaching barre from now until the beeb is here- I'm using it as a chance to bring back some beloved workouts or try new things (while modifying appropriately).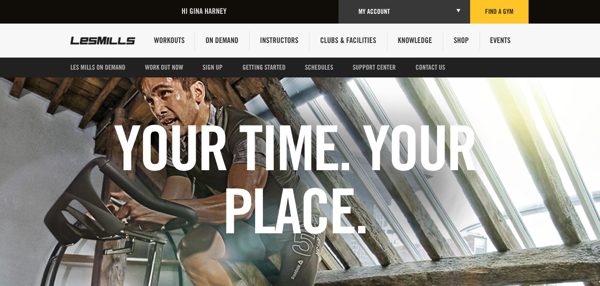 Details of Les Mills On Demand
Cost: It's $12.99/month with a 10-day free trial (They're also very clear about when payment will kick in, which I like. You do have to enter credit card info to sign up)
Offerings: They offer a full mix of Les Mills classes to choose from-
BODYPUMP
CXWORX
RPM
SH'BAM
GRIT
BODYBALANCE/BODYFLOW
BODYCOMBAT
The Pros of Les Mills On Demand
-You get a Les Mills workout from their master trainers (<— top notch). I'm only certified in BODYPUMP, so I can't speak on all of the formats, but the workout for BODYPUMP is the exact same master class that we received for our training. In other words, these workouts are taught and scripted according to Les Mills' high standards for safe, effective, and motivational coaching. I'm analytical when I watch other instructors, and sometimes when I watch videos or On Demand-type workouts, I think to myself, "Wait. That isn't right. Or why did they say that?" Cheesy jokes don't bother me as much -they're totally harmless and I sometimes laugh the first time- but when it comes to safety, I think it's SO, so important. With Les Mills' workouts, you can trust that they are going to teach safe form and avoid exercises that aren't safe for the general population. I have huge respect for them as a company, and appreciate that they take so much care in the science and safety behind their formats.
-There are so many to choose from! I had a hard time deciding for my first workout, but ended up rolling with BODYCOMBAT. As always, the moves perfectly sync with the music, and it was such a blast.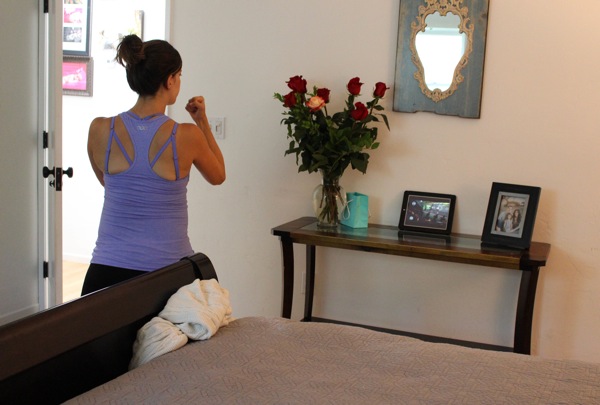 (And I felt like a hardcore ninja afterwards. You know, the 8 months pregnant kind of hardcore ninja.)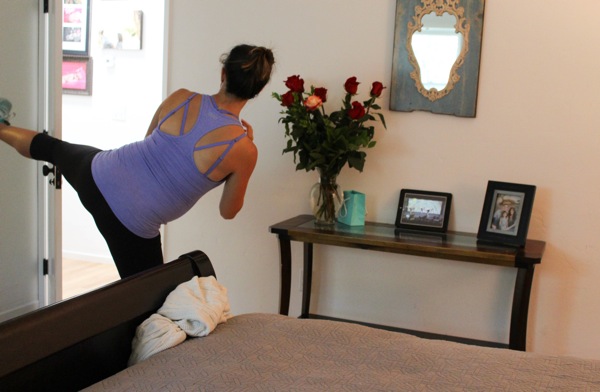 -If you click the workout, it provides info on the equipment you need, the duration, a description, help resources and a full track list. This way, if you really like a song, you can download it later. 🙂
The Cons of Les Mills On Demand
-The workouts are shorter. I'm not sure if this is for copyright reasons (they don't want to full releases accessible online?) or what, but most are 30 minutes instead of the full hour. You can always combine two workouts if you want the full hour.
-They don't contain the most recent release. For BODYPUMP, I get the latest releases as part of my training (so I can practice to teach them on time!), but there is a bit of a delay with the On Demand selection. This is no big deal for the most part, but music-wise I think it can be kind of a bummer. Les Mills picks songs that are super fresh and new when they're creating the workouts and filming, but sometimes by the time they're released, they're a bit overplayed. This means that for some of the options, there will be some older ear worms on there.
-Some of the workouts require additional equipment. Check and see what you need to have, but for BODYPUMP you'll want a set of resistance (at home, I use dumbbells. We have a squat rack, but not happening for this haha), for RPM, you need a stationary bike. I'm excited to try an RPM workout with the iPad propped on the spin bike.
The Verdict
Love it. It's another convenient and portable workout option, with so many formats to choose from: If you feel like cardio, you can try BODYCOMBAT; for boot camp and HIIT, go with GRIT; if you want to dance, there's SH'BAM, and the list goes on. There are some awesome workouts depending on how you feel that day!
Have you tried Les Mills On Demand or anything similar? Are there any yoga subscription sites that you really love??
xoxo
Gina