Hey friends! Hope you're having a lovely morning 🙂 For today's Focus On post, I chose BodyPump since it was a workout I was ALL OVER when I first moved back to Tucson. It's an incredible workout and even though I've taken quite a few classes, I thought I'd turn it over to a certified BodyPump instructor to give ya the downlow.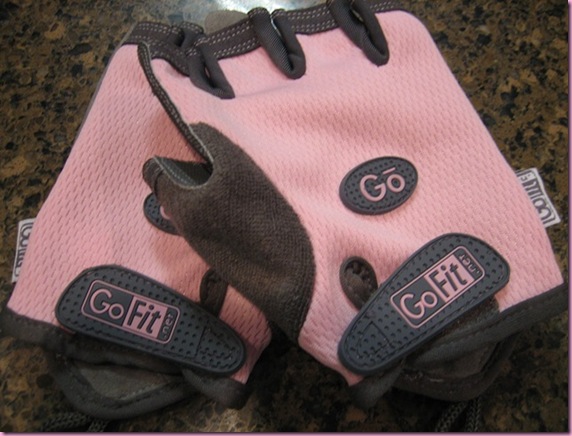 So here's Chandra with all of the deets on BodyPump, a crazyawesome muscular endurance class 😀
_________________________________________________________________________________
Hello, Fitnessista readers! This is Chandra from the blog Chandra's Shenanigans. I am honored to be writing a Focus On post for Gina about a class that is becoming overwhelming popular across the blogsphere and gyms all around the world – BodyPump!
I became a certified Les Mills BodyPump instructor in May of 2010. BodyPump not only made me fall in love with teaching, it also changed the way I thought about group fitness classes and instructors. Training is no joke, and instructors have a lot to learn, remember, and think about while teaching! Oh yeah, and BodyPump gave me some awesome strength & muscles too. 😉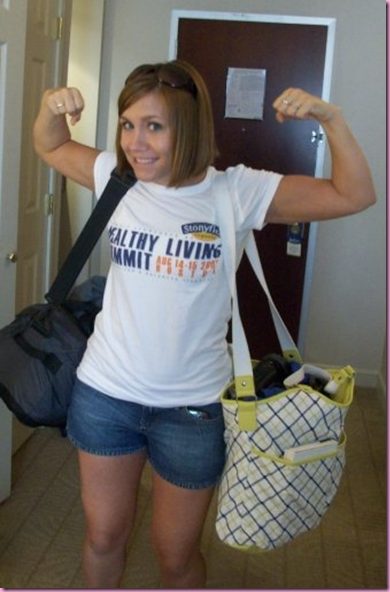 What is BodyPump?
Basically, BodyPump is a pre-choreographed group weightlifting class. But don't worry! This isn't one of those "you don't get as good of a workout when you don't know the moves" type class. BodyPump uses many common weight-room moves, so chances are, you already know the basics!
Straight from the Les Mills website: "BODYPUMP™ is the original barbell class that strengthens your entire body. This 60-minute workout challenges all your major muscle groups by using the best weight-room exercises like squats, presses, lifts and curls. Great music, awesome instructors and your choice of weight inspire you to get the results you came for – and fast!"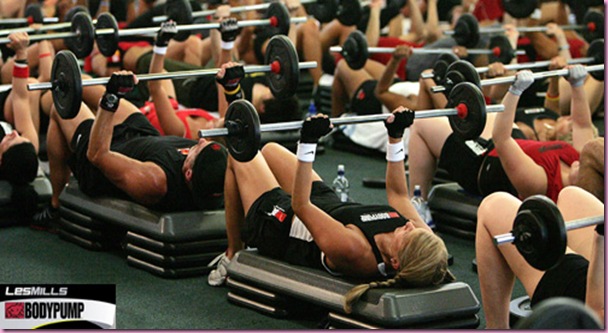 What to Expect – Class Basics
There are actually three class options gyms can teach, the full 60 minute class, a 45 minute "Express" format, and a 30 minute "technique" class. Most gyms stick to the standard 60 minute format.
The 60 minute class is broken up into 10 "tracks". Each section is a different song and typically lasts 5-6 minutes. (You stop briefly between tracks to switch your weight selection.)
Warm-up
Legs/Squats
Chest
Back/Hamstrings/Glutes
Triceps
Biceps
Shoulders
Abdominals
Cooldown/Stretch
Throughout each track, the moves are performed at different tempos, based on a 4 count. i.e. two counts down/two counts up, one count down/three counts up, etc… The instructor should give cues for tempo and exercise change throughout each section, so it's easy to stay on track with the class! They will also give you cues to make sure you're checking your body alignment and using proper form.
What to Expect – Class Results
BodyPump uses high repetitions, lower resistance, and different tempos. This format helps to ensure you will burn mega calories (both during and after class!), build lean muscle, and gain both muscle and cardiovascular endurance. You will not bulk up as a result of BodyPump! Also remember, you get out of it what you put in. If you stick with the 2 pound plates, you're not likely to see much change. Challenge yourself and you'll start seeing positive gains in strength and endurance in no time!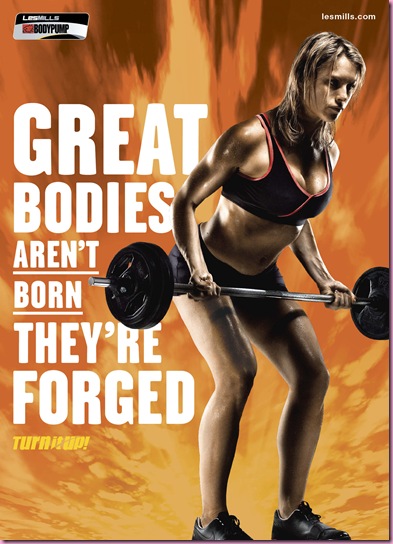 What to wear?
The "dress code" for BodyPump is simple – comfortable exercise clothes and good sneakers. You want to make sure you wear clothes that allow you to move freely since you will be doing moves like squats, lunges, barbell row, etc… You will sweat too – so feel free to bring a towel. 😉
Pros:
Great for beginners, people who can't push themselves on their own during weightlifting, or those who enjoy working out in a group setting.
It's an hour and you're done!
The music is (typically) really fun and a mix of different genres.
It's the same everywhere you go!
The moves are fairly basic, so chances are you already know most of them.
New releases (songs/choreography) come out every 3 months. After a couple weeks of teaching a new release, instructors typically can mix & match tracks from multiple releases to keep things interesting.
Les Mills has very professional, intense training – certified instructors know their stuff!
Cons:
It can get repetitive if the instructor isn't good at keeping the class mixed up (or the gym doesn't allow it).
The moves don't change often. Sometimes they'll throw in a "new" concept, but overall they stick with their basic moves. (However, as stated above, the choreography does change.)
There are no single-leg/arm/etc exercises, which leaves a chance for muscle imbalances if BodyPump is the only weightlifting you do. As an instructor who is also a certified personal trainer, this bugs me.
If you aren't focused on learning proper form, and the instructor isn't good at correcting, there is a chance for injury.
Extra: My Tips
Come early to your first class to let the instructor know you're new. They can help you get set up, show you some of the moves, and give you suggestions for weight selection.
With your first few classes, start a little lighter than you think and focus on form. You don't want to risk getting injured in your first class, or be too sore to ever want to come back. Focus on learning form – then bump up those weights!
Bring a towel. Bring water. HAVE FUN!
To learn more about BodyPump, check out the moves, the music, or find a class near you, head to the Les Mills BodyPump website!
Have you taken a BodyPump class? What did you like/dislike?