Focus On: Stability Balls
We've already talked about medicine balls and resistance bands, so today I thought it would be fun to focus on another gym staple: stability balls.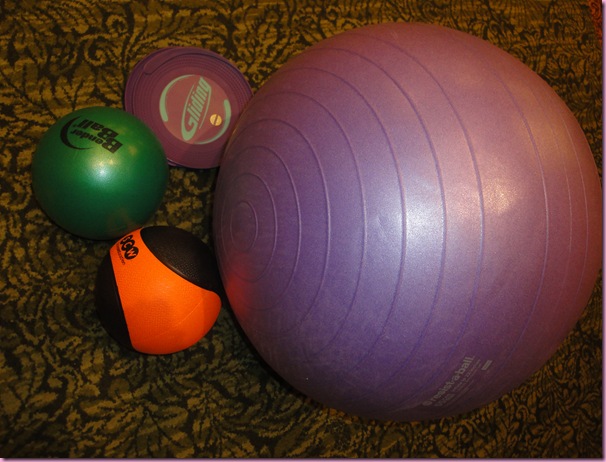 They look so nice and innocent, huh?
Not only are they inexpensive and easy to find, but you can get in a killer total-body workout, particularly challenging your core, using one of these things.
So what is a stability ball aka balance ball, fitness ball, Swiss ball, birth ball (!), physioball and sports ball?
It's a large elastic ball, filled with air, and the size can vary (more on that in a second). The major benefit of using a ball is that it challenges core muscles to keep your body stabilized, and is a great way to add extra resistance to exercises without being too heavy. Many people use stability balls in lieu of desk chairs to challenge their back and abdominals, and the ball can also be used in the labor process. The ball can be used to modify traditional strength training moves and also as a stretching tool (arching your back over a stability ball to stretch your abs is one of the most glorious feelings ever).
Does size matter?
For the most part, yes. The most common sizes are 55, 65 and 75cm, and here is a general sizing chart*:
4'11" to 5'3": 55cm
5'4" to 5'10": 65cm
5'11" and up: 75cm
What are some exercises I can do with an exercise ball?
Here are some of my favorites for a total-body workout. As always, check with a doc before making any fitness changes, honor your body and your injuries.
If you'd like to complete these moves as a circuit, try for 2-3 total sets of 12-15 reps for each exercise.
Chest, triceps, shoulders: Push-ups
Tip: the closer the ball is to your thighs, the easier the exercise will be. Want to challenge yourself? Add in a pike. Push-up, pike, push-up, pike. Whew!
Back: Back extension
More challenging: add a gentle twist at the top of the motion. Hands are on your head (like you're doing a crunch), come up and twist to one side. Lower and repeat.
Biceps: Preacher curl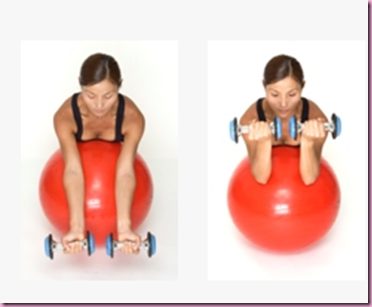 Source
Hamstrings: Hamstring curl. My all-time favorite stability ball exercise
Abs:  Ball pass
Don't speed through this exercise- take long deep breaths and count and you raise the ball and lower it.
Oblique twist: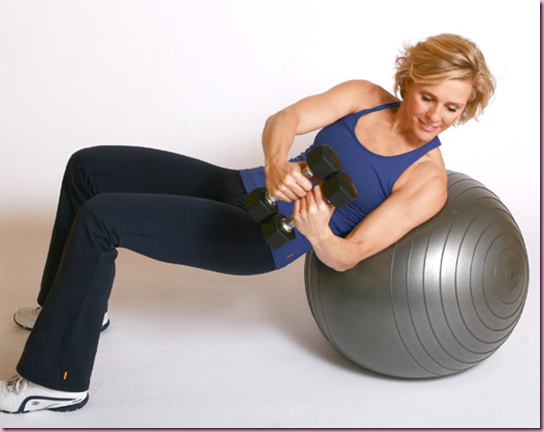 Source
Quads: Split squat
Tip: Watch your front knee and make sure it doesn't extend past your toes. Need help with balance? Hold onto a wall, weight training bench or ballet bar.
Calves: Wall calf raise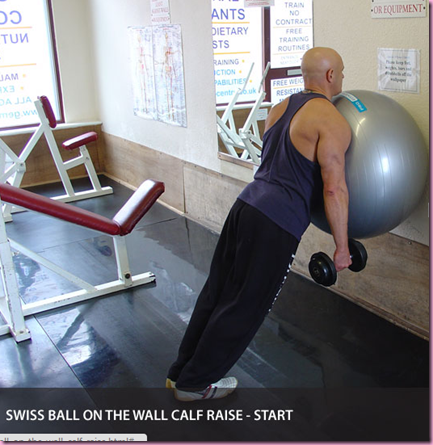 Source
Fire it up: Add weights (like pic above), or try one leg at a time
How often do you use stability balls in your training? It's an excellent tool to have in your home gym to add in a couple of workout moves (or bounce around for fun), whenever you'd like.
Want one of your own?
Leave a comment with your favorite stability ball exercise, and a lucky reader will win a Go Fit stability ball in their preferred size. (You'll need a hand pump or something to pump it up- a local gym will do this for you, too)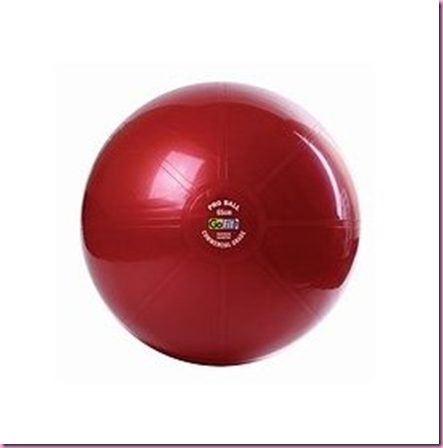 I'll announce the winner around midnight EST tonight.
[This giveaway was sponsored by Bella. She's so generous]
xoxo
Gina