Last night when the Pilot got home from work, I had showered and was wearing real, non-workout clothes
(a feat when you're fighting fatigue)
and tonight, dinner was ready and waiting.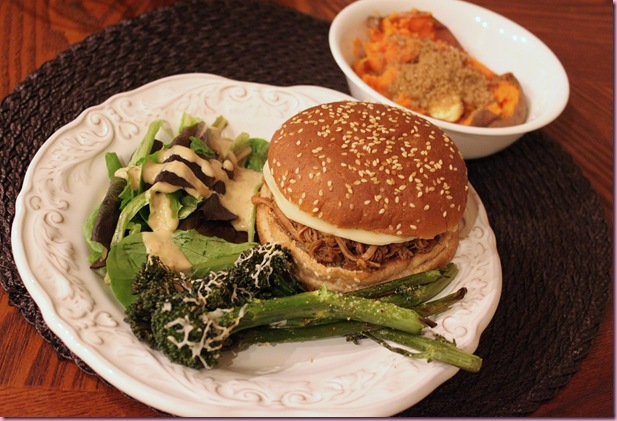 I'm on a roll, friends 😉
The Pilot LOVES pulled pork, but it's one of those things that I don't think to make until it's too late, and it needs all day to cook. Since I planned out some dinners for this week and did a big grocery shop, I was prepared. Bonus: the slow cooker does all the work.
-1 pork tenderloin
-1/2 chopped sweet onion
-1.5 C veggie broth –Coke is actually best, which sounds weird, but we didn't have any on hand
-BBQ sauce
-Cooked on low for 7 hours, shred the meat and add the BBQ sauce. Super easy, he loves it, and there's always some leftover for him to take for lunch the next day.
He enjoyed his pulled pork sandwich with salad, broccolini (with garlic, sea salt, pepper, and grated goat gouda), and a sweet potato
and I munched the same sides, with a BBQ Sunshine burger.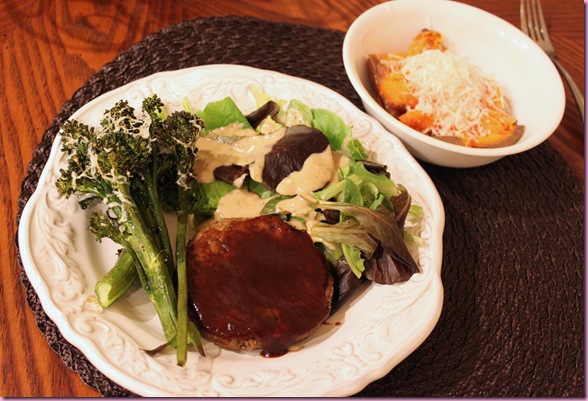 Miss Bell even got her own sweet potato.. she was very happy.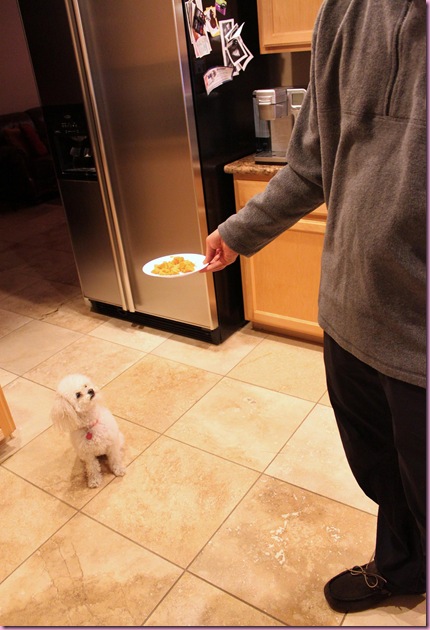 The Pilot has been cooking a lot of our dinners lately, which I appreciate so much. The other night we had an awesome chicken meal, courtesy of his mad grill skillz.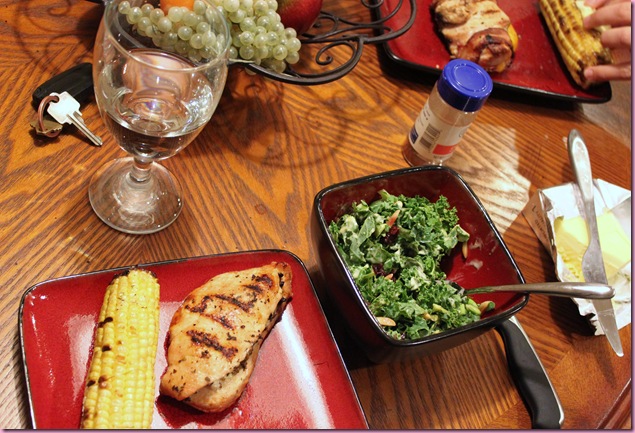 Mine was stuffed with goat cheese and pesto, his was stuffed with cheddar and wrapped in bacon.
+ kale salads and grilled corn
It's funny how I used to not like corn.. and then we got a grill. With butter, chili powder, garlic, lime juice and sea salt, it's pretty much the best thing ever.
We just got home from class and are going to call it an early night <3
Hope your week is going well so far and I'll see ya in the morning!
xoxo
Gina
****I loved reading your goals for this month and thank you for the awesome feedback on the gift guides. Coming up: A Focus On post (it's been a couple of weeks!) with new workout moves + a new workout quickie
Something to think:
"Learning to let go of expectations is a ticket to peace. It allows us to ride over every crisis—small or large, brother-in-law or end-of-quarter office lockdown—like a beach ball on water. The next time a problem arises in your life, take a deep breath, let out a sigh, and replace the thought Oh no! with the thought Okay."
? Martha N. Beck