Focus On: Video Game Fitness
For a while, the only video game action our house saw was Call of Duty- the Pilot is a fan 😉 And then, the lovely representatives from Microsoft were so kind to send a couple of fitness video games that I might enjoy, along with an Xbox Kinect.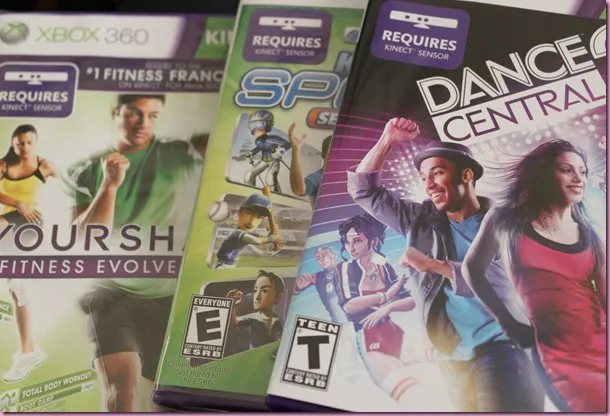 I very rarely accept products from companies but figured that since I was going to be home more often, it would be awesome to have another at-home workout option in the mix.
I was excited to have our own Kinect because there's one at my mom's house, and we've had quite a few family Fruit Ninja battles. The first time I played, I couldn't believe how SORE my arms and shoulders were. More sore than they had been from lifting weights in quite a while, and I was surprised that during Dance Central, I actually worked up a sweat. Each song has a dance solo in the middle and you get the chance to freestyle. The best thing ever was watching my brother bust out to Lady Gaga and the Pilot's freestyle moves. I have photos, but I'm not allowed to share them 😉
I played Dance Central at the madre's the night before I went into labor: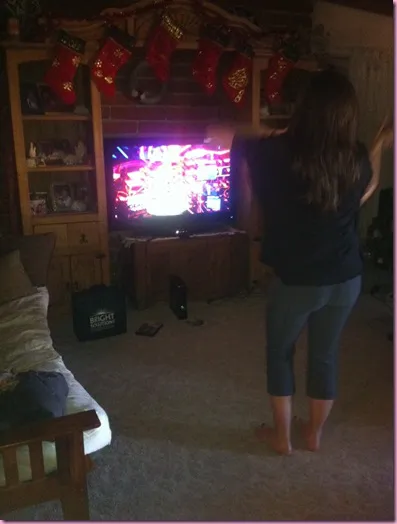 With the Kinect, it was something fun to do when friends or family came over to see the baby and she was sleeping. Even though I wasn't cleared to workout yet, it was great entertainment 🙂 Since then, the Pilot and I have played a handful of times, and the Dance Central games are my favorite. They're actual choreographed dances –not the typical video game "dance moves" where you plug your nose and pretend like you're swimming and circle your arms overhead- and the hard level dances are surprisingly challenging for a video game. The music selections are also fantastic.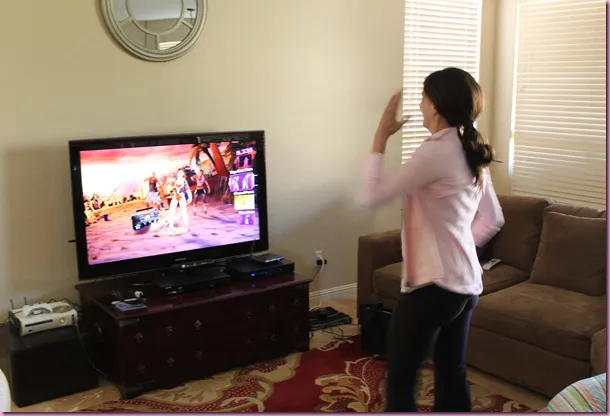 Daddy Yankee and Nicki Minaj? Yes, please.
The Kinect Sports game includes football, skiing, baseball, darts, golf and tennis, and for someone who isn't athletically coordinated in the least, the video game versions are a lot of fun. My legs definitely felt the skiing the next day.
The Your Shape game gives options to customize your workout using strength training, dance and floor exercises. You can also participate in boot camp, cardio boxing and jump rope. The dance moves were kind of cheesy, but I really liked how the sensor picked up the strength moves. With the Wii that we have, it was always kind of a hassle to hold the controller and complete the movements.
Video game workouts are a great option for at-home workouts. Here are some of the benefits I've noticed:
1. You decide how long or short you want the workout to be. There have been times when Livi's napping and I'll do a couple of dances on the Kinect. If she wakes up after 2 or 3, it's NBD. With full workout DVDs, I never know if I'm going to make it through the entire thing.

2. You compete against yourself. It's kind of fun to get to different levels in your workout and be able to see how you've advanced. Many fitness video games will keep track of your stats, award you medals as little tokens of motivation, and give you the opportunity to move up in intensity as you improve.

3. Mode customization. The great thing about mix-and-match programs is that you can choose what types of workouts you'd like to do, along with cardio breaks, muscle groups to target, etc. It does the rest for you by putting it all together. It's kind of nice if you know you want to do a little cardio and work out your legs, but you don't have to come up with the specific exercises yourself.

4. You can do it at home, in your jammies if you'd like. No need to put on gym clothes or leave the comfort of your home. This is also convenient if you just want to do a short little workout in between watching your favorite TV shows at night.

5. Great to get in extra activity, instead of sedentary video games. I love the Wii and Kinect have taken over as far as video games go, because when my brother and I were younger, we'd spend hours sitting playing Sonic the Hedgehog. It makes me happy to see kids (and adults) playing active video games, especially after spending most of the day sitting.
Potential downsides:
1. Motivation. Sometimes it's challenging to workout at home, especially after a long day. For many people, going to the gym is motivating to complete a full workout and it's harder to sweat at home. It's a preference kinda thing 😉 I thrive taking classes in a group environment and feed off energy from other people.

2. Range of motion. You don't need a ton of space to get in a great workout, but I do think that there are benefits to being able to REALLY move while you workout. In the gym, you burn extra calories moving from weight room, to cardio room, machine to machine, etc. and you'll use different muscles dancing around in an aerobics room than you will in a 4×4 foot space.
What are your thoughts on video game fitness? Any faves? 🙂
Hope you're having a great day <3
xoxo
Gina
More Focus On posts: