Come over to my house and I will greet you with the finest culinary creations.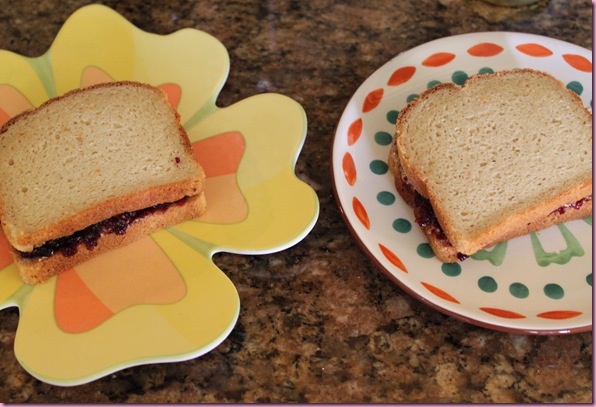 Marisa came over to hang out for a little while yesterday, and since I still hadn't done a grocery haul, we made almond butter and jelly for a snack. It was delicious 😉
Nana came over later in the afternoon and while she was here, I went to replenish our food stash. Maybe it's the fact that my cart was packed to the brim, but the cashier said, "You're shopping hungry, huh?'
"How'd you guess?"
"It's the bars. Usually hungry people buy a lot of bars."
He also told me not to swing the bag over my head so the kombucha wouldn't explode. What a character 🙂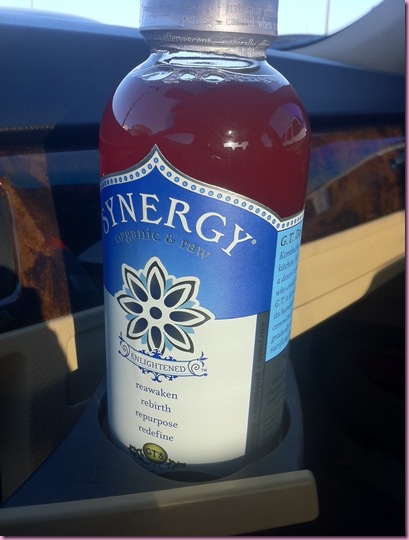 Part one of dinner included VEGETABLES! I missed them after being on the all-carb diet for the past couple of days.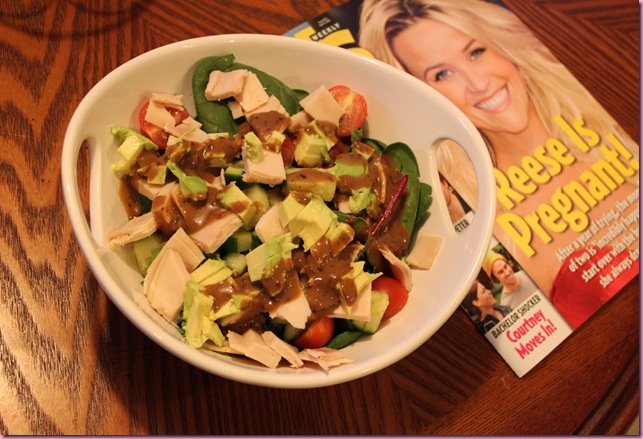 (salad beast with turkey, greens, tomato, cucumber, 1/2 avocado and Annie's Tuscan Italian dressing, + a side of deep, thought-provoking literature)
The Pilot flew late last night, so after putting Livi to bed, I decided to try out the Fire 60 workout: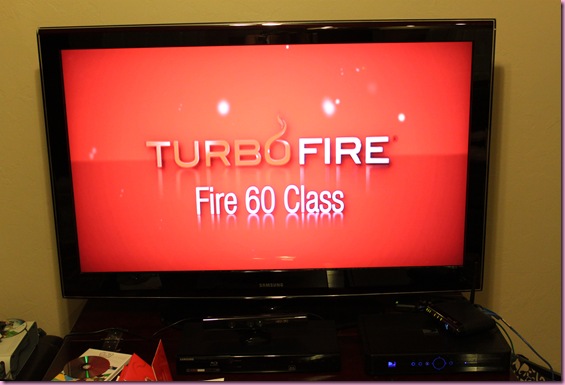 It's one of the additional advanced TurboFire DVDs that you purchase separately, and it was my first time trying any from the new set. (My Focus On TurboFire post is here)
To be honest, with the first combo, I found myself thinking "this advanced set was probably an afterthought and extra way for Beachbody to make money. It seems like the same stuff, but it will probably just last longer"
I ate my roundhouse-kicking foot about 6 minutes later.
*(@jklasjd93!)Nndkalndal&*@&*ENAK92839jadklDPWIDIOHDNAWNIo.
Insane.
It was the typical combo right and left side deal, with 4 Fire drills (1 minute 9 seconds seconds of HIIT) throughout. The HIIT drills were SO HARD, and I wore my heart rate monitor to keep dibs on my calorie burn (so I can eat accordingly with breastfeeding). I'm still a little out of shape endurance-wise, so my heart rate was up the entire time, and the workout burned a ton of calories.
There were a few times when I thought about quitting, but leave it to Chalene and here amazing motivational ways. Towards the end, she says "We're been through WAR together! The finish line is in sight! Finish strong." So I huffed and puffed my way through it, and when I was done, I felt triumphant. It was a fantastic workout.
The Pilot got home just in time to see my sweaty face finishing up 😉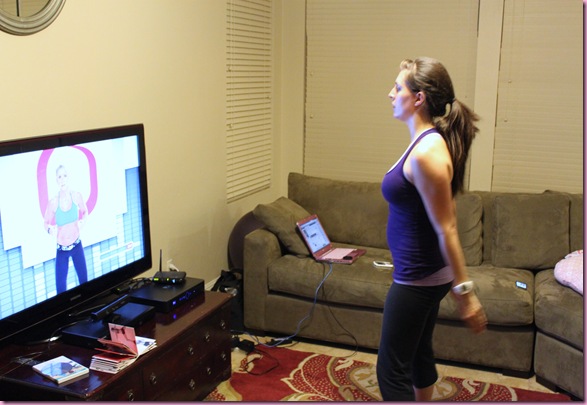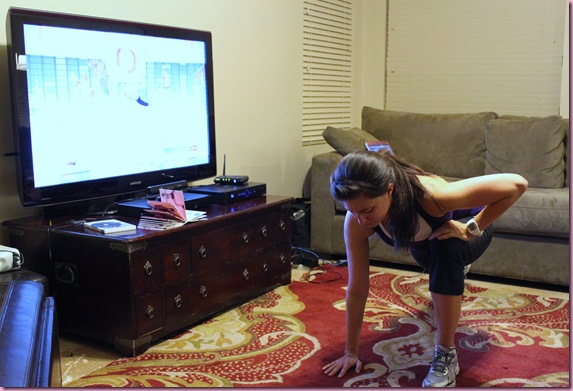 I originally had a circuit workout for you guys today, but since I'm in a HIIT kind of mood, here's a new HIIT set to add into your rotation. Remember, the key with High Intensity Interval Training is to go all out during the intervals to spike your heart rate up, and fully recover in between. You'll know when you're ready to go again, so make sure to adjust the interval times according to your heart rate. If you're "supposed" to go for another hard interval, and you're still recovering, wait until you're heart rate is back down to a comfortable pace before spiking it back up again.
*As always, check with a doc before making any fitness changes
You're heart is a muscle –probably the most important one- so let it rest and recover like any other muscle. 2-3 times a week on non-consecutive days is a great way to incorporate HIIT into your cardio routine.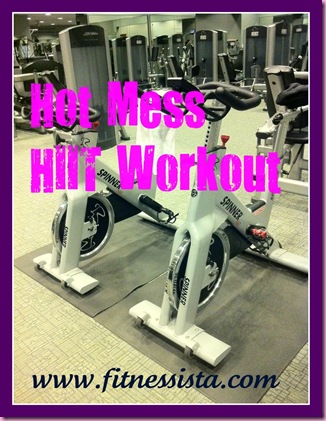 1. Warm up 5 minutes, any cardio of choice (spin bike, treadmill, elliptical, jump rope, etc)

2. Set 1: Alternate 2 minutes easy, 1 minute hard for 6 minutes

3. Set 2: Alternate 1 minute easy, 1 minute hard for 6 minutes

4. Set 3: Alternate 30 seconds easy, 30 seconds hard for 4 minutes

*Repeat any of the sets if you'd like, but I don't recommend more than 20 minutes of intervals

5. Cool down for 5 minutes

Total time: 21 minutes
Let me know what you think! Maybe add some HIIT into your humpday?
See ya soon <3
xoxo
Gina
Something to think: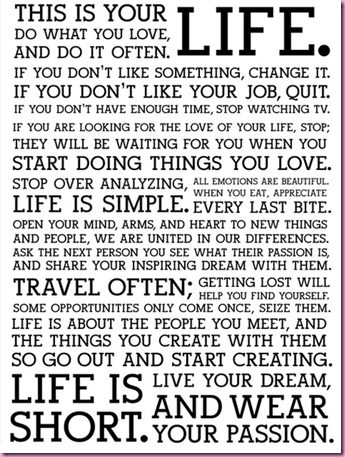 source