Hi friends! Happy Friday and hope that those of you who celebrated Christmas had a very merry one. Ours started off on a high note with an amazing dinner at my dad's house. We had a Mexican food feast (tamales, rice, beans, enchiladas, the works) and it was so much fun watching all of the kids together.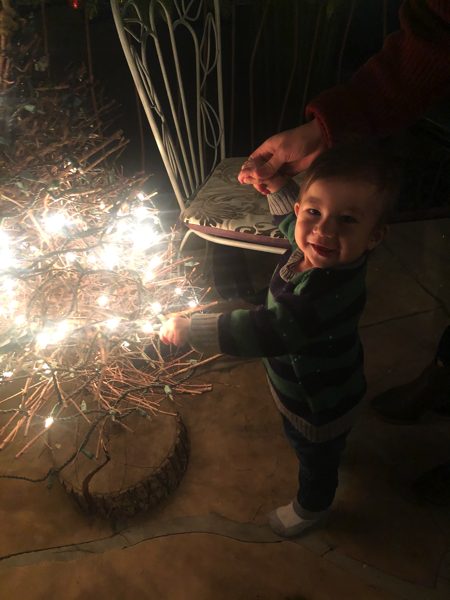 Little Augs is getting so big!
Later that night, I started crying like a giant weirdo and couldn't stop. It turns out that it was my immune system crashing and burning. It took about 45 minutes for me to will myself to fill and roll the cinnamon rolls, and I went to bed with the chills, convinced that I was just exhausted from non-stop activity since October.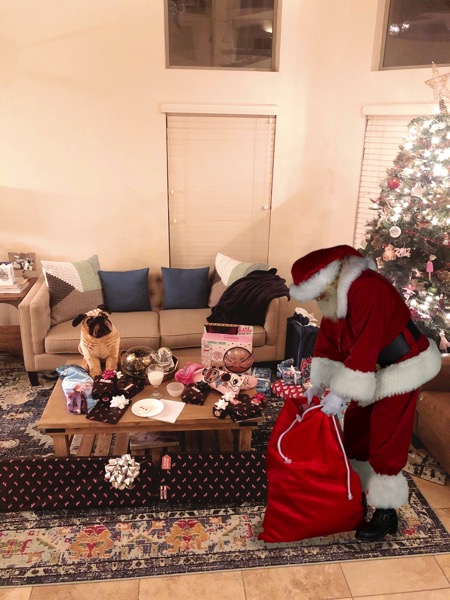 The girls were PUMPED with all of the goodies that Santa brought! They tested out their new pogo sticks while I put nana's egg casserole and the cinnamon rolls into the oven, and then the rest of the family came over for brunch and to exchange gifts.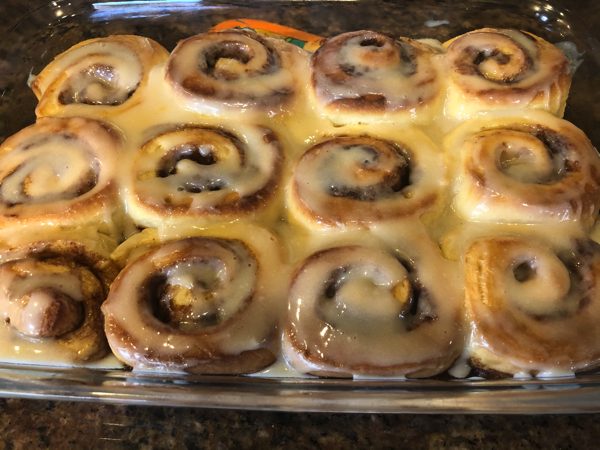 Madre brought over grammies and Christmas coffee cake,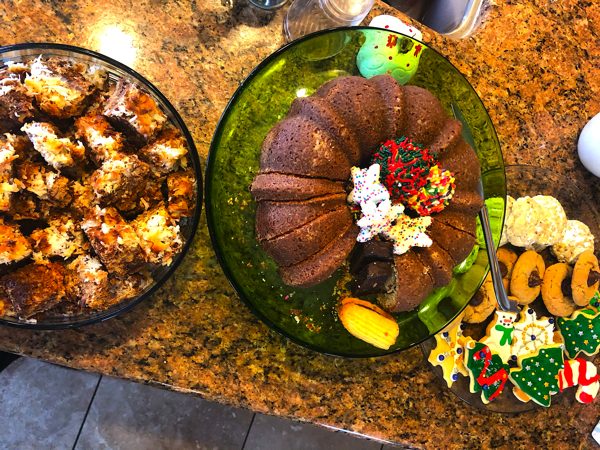 plus a ham and fresh tamales.
We all ate together and sat in the living room in pure Christmas chaos.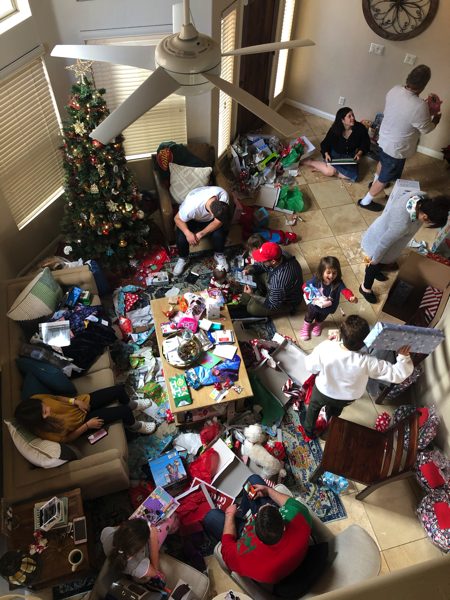 While we were opening gifts, I still had the chills and got slammed with an awful headache that made my eyes hurt, and my mom told me to go lie down. I ended up sleeping for two hours and spent the rest of the day in bed. 🙁 It was reassuring to know that the girls were cared for and enjoying playing with the cousins, but I was super bummed to essentially miss Christmas. The family ended up heading out around 5pm, when P and Liv both crashed out (Liv came down with a fever, too) and we all ended up sleeping throughout the rest of the day and into the night. The Pilot was gone this year which was a bit of a bummer, too. He spent his Christmas in Puerto Rico so we did stockings before he left.
Two of my very favorites in one pic. <3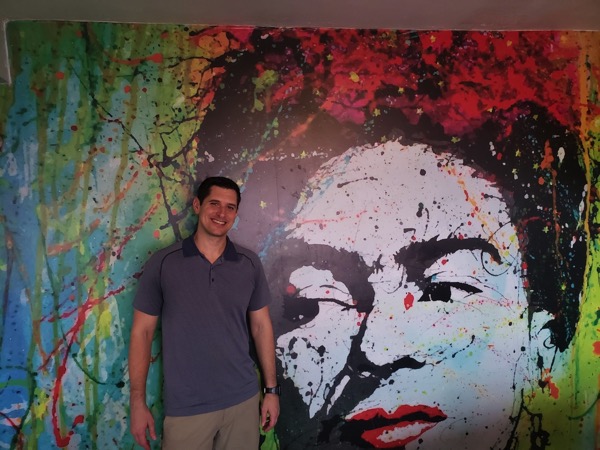 (He's cute, right?!)
The good news is that Liv's fever broke overnight and she was doing great, and I was feeling way better by yesterday morning. I'm probably 95% better today, but am still going to take it easy. I definitely think all of the sleep and constant water helped, along with the usual wellness shots 2x a day, this cold + flu magic, oscillococcinum, and elderberry.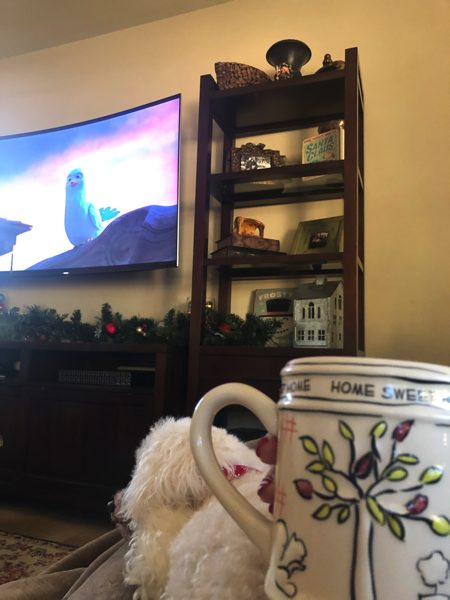 So… Christmas was not exactly as expected, but it's still been a magical and wonderful time of year. I told Kyle I was bummed that I missed most of Christmas day, but he reminded me that our family gets together ALL the time, so missing out on one morning isn't that big of a deal. It made me feel better. <3
Before we head into Friday Faves, I have an extra exciting giveaway winner to announce. Thank you so much to all of you who entered the Favorite Things giveaway + helped me out with this year's survey. I have so much content to prepare for 2020 and I'm so thankful to those of you who spent the time to send ideas and feedback. The lucky winner of the huge giveaway is comment #598: Marina!
*The lucky winner has been emailed*
Stay tuned for a sneaky giveaway 😉
Here are some of my favorite things from the week and around the web:
Read, watch, listen:
Hilarious tweets about white elephant, yankee swap, and dirty Santa gift exchanges.
The most real children's clothing ad I've ever seen.
I agree with this wholeheartedly.
News anchors losing it over their co-worker's horrible artichoke dip.
Fitness + nutrition:
How to create New Year's resolutions that actually stick.
30-minute full body HIIT workout.
Interesting article regarding HIIT timing.
My latest post for WebMD with things to consider before you join a gym.
Don't forget to sign up for your free 21 days of Les Mills on Demand! Perfect if you're looking to shake up your routine as we head into 2020.
5 things to keep in mind as you set your goals for 2020.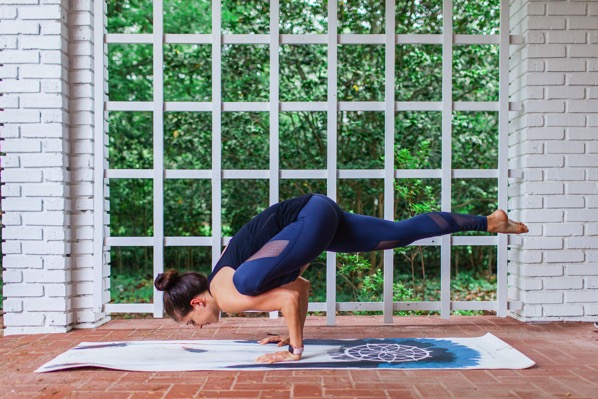 Beauty + fashion:
Purple shampoo. I got highlights for the first time in 80 years, and she recommended a purple shampoo to keep the highlights from turning red and brassy, which often happens to me. I only have to use it every couple of weeks and the highlights are still a pure, ashy blonde color. It's very drying, so I wouldn't recommend using this regularly, but is perfect for protecting color and highlights.
All of the post-Christmas sales!
Here are some of my favorites:
Everlane choose what you pay. I ordered this cute dress, another one of these shirts, and this wrap dress.
Thinx is 20% off. I haven't blogged much about this, but I switched to Thinx over a year ago and have been extremely happy with this option. It's another way to be earth-friendly if you don't like the cup. (I don't use a cup because it has uses suction and pressure to be held in place.)
Banana Republic 60% off sale styles and 40% off regular price. This sweater is so cute for Valentine's Day, which is bananas that it will be here before we know it.
Nordstrom half-yearly sale! Love these flannel pajamas, these booties, my fave leggings ever, these glittery kids' Uggs, this polar bear backpack, and this men's half-zip.
Happy Friday, friends!
xoxo
G