HALO Bassinest Swivel Sleeper giveaway!
Hi friends! How's the day going? Hope you're having a great morning and looking forward to the weekend.
Today, I have a really exciting giveaway to share, valued at $250 and thanks to my friends at HALO.
When they offered to send me one of their Bassinest Swivel Sleepers to try out for P, I was really excited to check it out. We had another bassinet we used for Liv, but she quickly outgrew it. This one looked a lot more spacious with some awesome bonus features.
The HALO Bassinet has a clean and bright design, and I thought it looked super comfy. In other words, if I could sleep in this thing, I totally would. 😉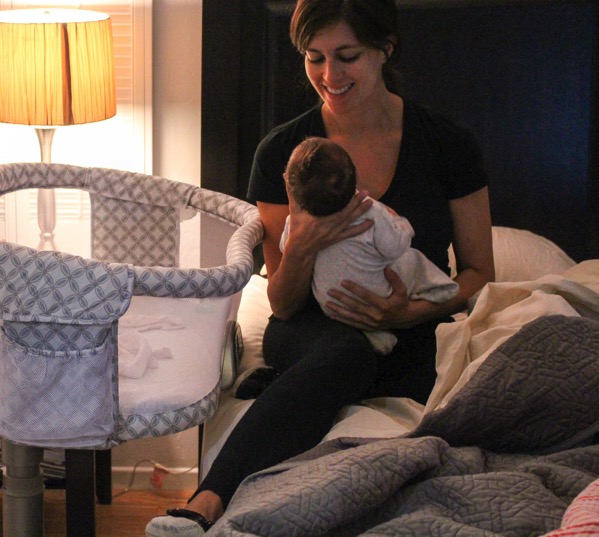 Here's why we're loving it:
-It rotates 360 degrees. No matter where you are, it makes it easy to reach and access baby. For example, if she wakes up and is ready to eat, I'll reach to support her head first. If I'm changing her diaper, I can swivel the Bassinest around to change her.
-The side folds down, and locks into place. The bassinet is next to our bed, and you can even overlap it to be IN your bed, but baby is still in their own contained space. You can firmly press down on the side, to bring baby into bed for a feeding, change or snuggle.
-Mesh sides! Miss P is already moving all over the place, so it's nice to know the mesh is there if she ends up with her face against the sides.
-The extra features on the front panel. There are a few options: soothing sounds (nature and womb), music, vibration, a nursing timer, and a nightlight. The light has been a game changer! I'll turn on the soft light to peek and see how she's doing, or I'll use it to see what I'm doing during nighttime feeds and changes. Each time I put her into the Bassinest to sleep, I'll start the soft lullabies. I love that the music isn't overly loud or obnoxious; it's very sweet and calming.
P seems to be enjoying her sleeping space very much, and it gives her some room to grow, too.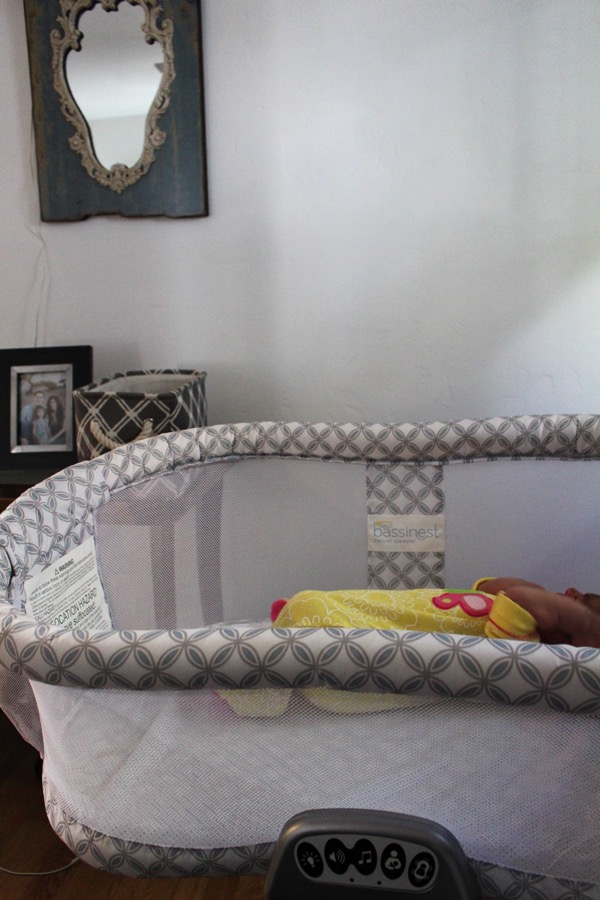 (She sleeps with her little arms up by her face, or elbows out!)
Here's a video that goes over all of the amazing features:
Now here's the fun part: one lucky reader will get their very own HALO Bassinest Swivel Sleeper.
Here's how to enter:
Enter for yourself or to surprise an expecting friend or family member this holiday season. <3
I'll randomly choose a winner Sunday night at midnight EST and will announce in Monday morning's post.
Ready, set, go!
xoxo
Gina
This post is not sponsored. I was provided a HALO Swivel Sleeper to review + was really excited for the opportunity to share one with a lucky readerfriend.