Hi friends! Hope you're having a wonderful day. The first part of P's birth story is up here!
I'm excited for today's post topic because fall is the perfect time to change up your skincare and beauty routine. As the temps cool down, I usually find myself needing a thicker moisturizer, and I change my usual color palette for warmer, deeper colors. I'm especially loving the plum lip tones, bold eyeliner, and blush for this season. I thought I'd share some of my new and old faves as we head into the fall, in case you're looking to switch up the rotation, too. 🙂 ALSO the Sephora VIB sale is coming, so I'm already making my list and checking it twice. 😉 (it starts November 13th, the day after my birthday. Thanks for the gift, Sephora! haha)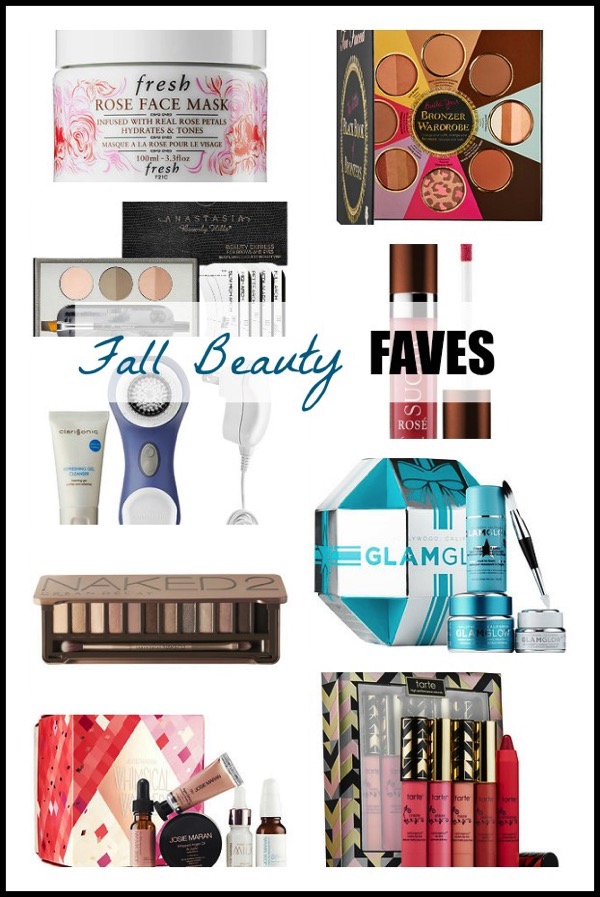 Facial washes, cleansers and masks
Sugar face polish. This gently exfoliates and smells great.
Rose floral toner, to brighten and clean skin with a light rose aroma.
Clarisonic Mia. I got this last year to replace the one that had died, and I couldn't believe I'd lived without it for so long. I notice a huge difference in my skin when I use it, and less people ask me if I'm tired. 😉
Cocoa body exfoliant. (New!)
GLAMGLOW set. This is hyped up for a reason; it makes my skin bright and smooth. The best part is that you can put it on before bed and sleep with it on.
Moisturizers
Light Argan oil. During the fall, I'l probably switch to the Milk version. It's a little bit thicker and more nourishing. I put this on my face and ends of my hair before bed each night.
Korres wild rose. My all-time favorite nighttime moisturizer. It's hydrating and smells heavenly.
Tarte tinted primer with SPF. This is a great daytime moisturizer because the SPF is a little bit higher. It's a little bit more matte than I'd like it to be, but it covers well enough to double as a foundation.
Lips
Fresh Sugar Shine lip treatment. I can't get enough of these. They are moisturizing and shiny, without being over-the-top. They yield just the right amount of color.
My favorite Tarte lip set. The holiday season is when to get it, too! You can try out multiple colors and see what you love.
Eyes
Anastasia Brow Powder. I'm being dramatic here, but it's true: getting my brows done at Anastasia changed my life. (They have one in the Nordstrom at Fashion Valley here in SD.) Before, I was guilty of over tweezing my brows (my eyelash tech calls them tadpole brows haha), and even after I let them grow in and started filling them in for a bolder look last year, I didn't really know what I was doing. The major hack: stencils!! At Anastasia salons, they use these stencils to frame your brows for your face. This is a foolproof method for filling them in, too. I use a little wax crayon, fill in with powder using the stencils and finish off with clear gel. So easy!
Naked 2 palette. The classic never dies. I've tried the other palettes and this one is definitely my fave. The 1st was too dark for my skin tone, and the 3rd was too pink.
Here are some of the new things and holiday gift sets I have my eye on!
This brush set. I've been needing a new one, and this is a sweet deal.
This rose face mask looks amazing.
Love this little book of bronzers.
What are your go-to beauty products for fall? What are you stocking up on during the Sephora sale?
xoxo
Gina