Do you like Bella's new haircut?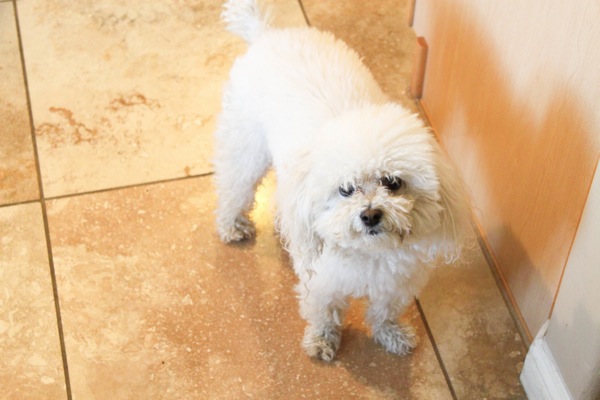 Wait, it doesn't look like she got a haircut?
That's because it wasn't professional.. I did it after she got stuck in a scorpion glue trap this afternoon.
I had to cut some superfluous hair to get the sticky paper off the side of her right paw- poor girl, she was so confused. Yes, any type of trap is cruel, but there was no way I was going to chance a scorpion getting into Liv's nursery. I put the sticky glue paper by the entrance to the nursery in the corner, and Bella has never messed with it, until today.
I knew I should have waited to write that "TDY misadventures" post until later 😉
Work was good today.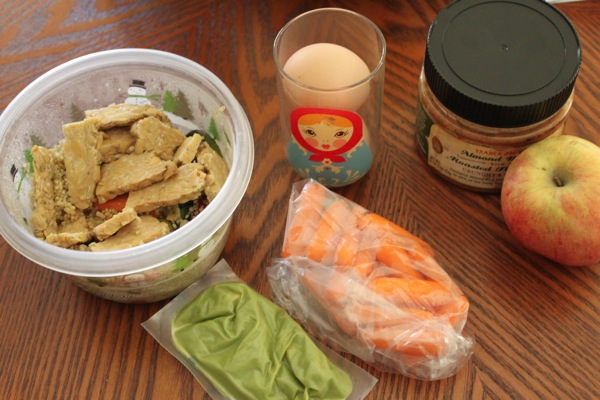 (Tempeh, quinoa and veggies, steamed eggs, carrots, guacamole, almond butter jar + apple)
My last hour was stretch and I taught a slow, relaxing stretch class. I've mentioned it before, but I tend to go the "airy fairy" route and give meditation cues while stretching. Today I focused a little bit on healing and the body's amazing ability to repair itself if we treat it right, etc. etc. and at the end of class a woman came up to me- a victim of a media-publicized tragedy. When she came up to introduce herself, I started crying… and she told me I could hug her. When she said I shouldn't be sad, I explained that they were half tears of sadness for what she went through, and the rest were happy tears because she's ok. 
As much as I love my jobs and everything I have the opportunity to do, it's easy to feel like I'm being pulled in many directions. Talking with her brought me back down to the core of everything I enjoy, even though many of them don't seem to have much in common, they have one key focus: I love people. I feel fortunate that I had the chance to meet and talk with this woman, and left work with puffy eyes and a huge dose of inspiration.
Away from the mushy stuff and onto the snack I enjoyed waiting for the Pilot to get home: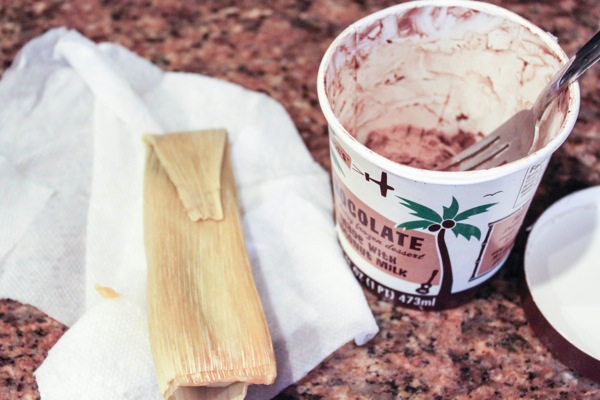 A few bites of chocolate coconut milk ice cream and a tamale- both eaten with a fork to save a dish 😉
Going to enjoy some vino and dinner, while catching up with the mister.. he just called to say he's pulling into the neighborhood.
Hope you're having a great day <3
xoxo
Gina
Something to talk about: When was the last time you had a huge dose of motivation or met someone inspiring? If you could meet or talk or anyone, who would you choose?