One of my favorite things about Halloween weekend is lurking Facebook for all of the costume and party pics. Some of my favorite costumes were from friends that live far away (like my college-days downstairs apartment neighbor who was Honey Boo Boo). With Liv, our weekend was pretty low key (even though we had a lot of fun at the zoo event), but even pre-parenting days, our Halloweens were still pretty relaxed. I've mentioned this before, but the Pilot is usually deployed over Halloween, so I'd spend it drinking wine around a bonfire with friends, or watching movies and passing out candy at home. Things are much more fun this year since the Pilot (and Oliv!) are here. 
I'm pretty sure the last time I actually dressed up for Halloween, I was a "sexy devil" (inventive, right?) but even though I haven't been huge into dressing up lately, I'm ALWAYS into Halloween candy.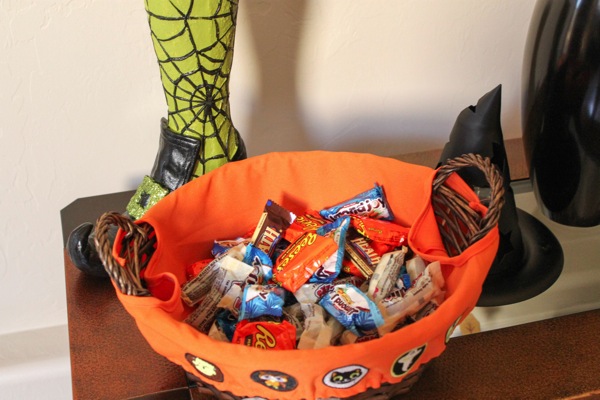 The little treat-sized packs are perfect portion control, and I don't even mess around with the fruity treats: it's all-chocolate over here 😉
The little M&M packs remind me of a totally random, yet kinda funny story:
When the Pilot and I were unpacking in our first apartment (some pics are here!), I found a huge pair of ski goggles in one of the drawers, along with a treat pack of M&Ms. I put on the goggles, ate the M&Ms and put the wrapper in the pocket of my hoodie. Of course, I had to show the Pilot how awesome the ski goggles were, and he laughed and gave me a kiss. Then he said,"Wait a second, those goggles smell like chocolate!" I said,"Oh, that's weird!" and went back to unpacking.
He wouldn't.give.up.
"Come here, I want to see those goggles! I can't believe they smell like chocolate."
He seriously thought I was wearing chocolate-scented goggles and couldn't figure out how that happened. Since I knew I'd never hear the end of it, I threw the M&M wrapper at him and ran away. 
Anyway,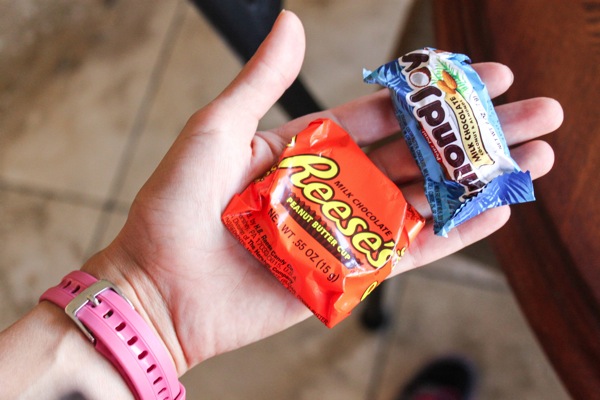 back to Halloween candy.
I'm a huge believer in moderation when it comes to these little things. I'll have 1 or 2 each day leading up to Halloween, then after that, I'm done with them until pie time (aka Thanksgiving).
In addition to having small amounts of the real stuff, I also think that at-home healthy versions of popular Halloween treats are a fun way to go. You can control what goes into them (no trans fat, artificial ingredients or preservatives), and I find the homemade versions even more satisfying than the packaged stuff. You can taste the love that goes into making the homemade stuff.
So here's a roundup of some delicious, homemade Halloween treat ideas: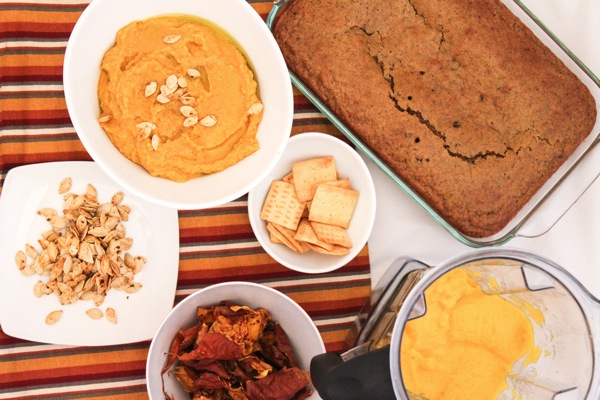 These delectable pumpkin treats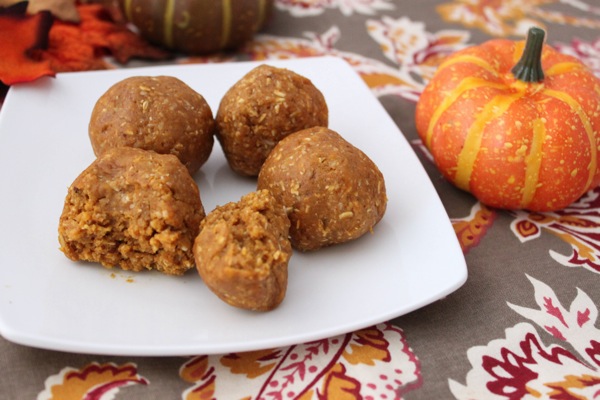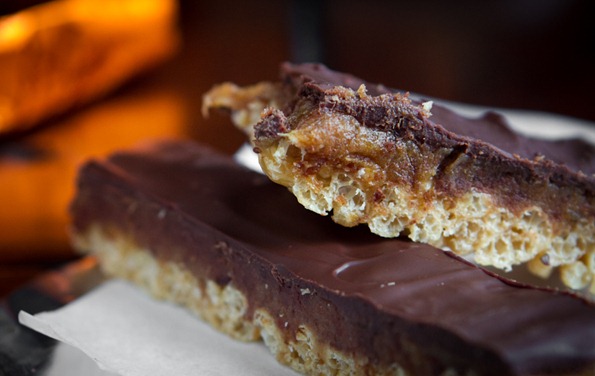 Source
Here are some more of my favorite tips to make it a healthy Halloween.
Bonus points: bust out the HallowLEAN hill workout the morning before going out to party. Enjoy an off day the next day to recover… from the workout and previous night's shenanigans. Word to the wise: if you're feeling a little sluggish from the festivities, coconut water will do the trick.
Here's to a healthy, happy and safe HalloLEAN week!
xoxo
Gina
Do you love Halloween candy? Are you making any fun healthy treats this week?
Sending lots of love to my east coast friends! Stay safe <3
 *After 3 years, I decided to finally update the About page 😉