When I first started breastfeeding/bottles, getting to feed Livi solid food sounded like a dream and the days of no bottles seemed so far ahead of us. Now, solid foods are a fun part of everyday life, and only 2 months left to go until no bottles!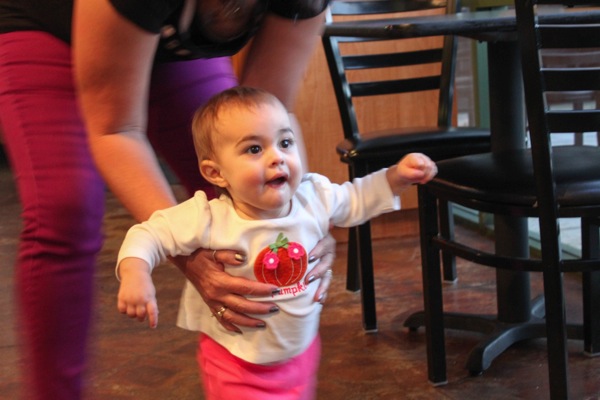 It's hard to believe that we're almost at the one year mark, when Livi will join us for regular meals and snacks, with milk as a supplement instead of the main source of nutrition. I still haven't decided what we're going to do as far as cow's milk goes -neither Tom nor I drink milk- but will have to talk to the pediatrician and along with our own research, make the best decision for our family. The good news is that we eat a lot of fresh produce, lean proteins and healthy fats, so hopefully cow's milk won't be necessary for her to get the nutrients she needs. I've really enjoyed reading the comments on this post, but am not quite sure what we'll do yet (was leaning the most towards unsweetened hemp milk).
When we feed Liv solid foods, here's how things usually go, even though this is super flexible and changes often: (she's almost 10 months right now- this is my own little method, if you have questions about feeding your baby, definitely talk to your ped)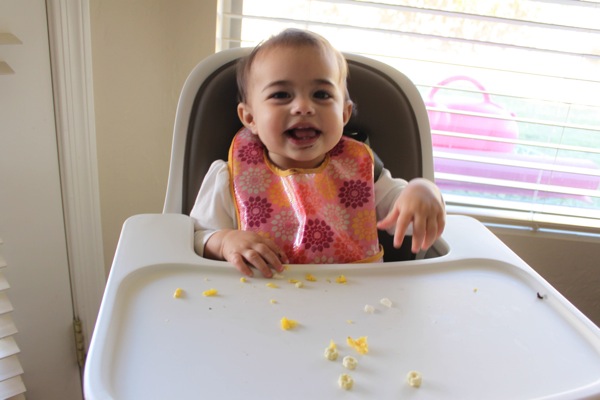 Breakfast: Oats or oat pancake, fruit (mixed in with the oats and/or pinched up), Puffs, egg yolk
Lunch: Fruit/veggie, avocado or another healthy fat, grains/Puffs
Dinner: Veggies, protein
She also still drinks 4-5 bottles each day.
What I like to keep in mind:
-Different colors. I like to make sure she has at least one green each day, and for the other fruits/veggies offering different colors with each meal.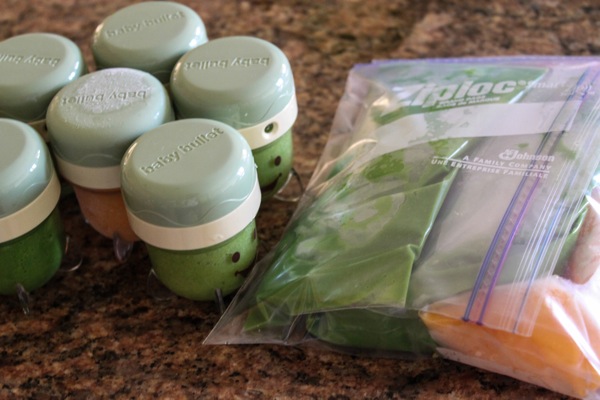 -Mix of purees and foods to pinch and eat. I'll always give her something to snack on while I make the rest of the meal, usually a mix of organic Puffs and any of the following, cut up into tiny bites:
Soft pears (peeled and microwaved in a little water)
Banana
Avocado
Blueberries (cut in half)
Grapes (peeled and cut into bites)
Sweet potato
White potato
"Little trees" (one floret of broccoli, steamed, and then tiny bites cut off)
Peas (she also likes these cold)
Steamed carrot bites (overly steamed so they're very smushy)
-Grains
Oatmeal blended with steamed pears, apples or blueberries is one of the standards over here (freezes well, too!), and Liv has also tried and enjoyed white rice, brown rice and quinoa. I'm excited to cook her some mushy brown rice pasta this week and put a little seasoning on it.
-Protein
On my previous baby foods posts, I didn't talk too much about protein, even though Liv gets a little bit with most meal. I haven't found a way to puree them and freeze so that they're still good -with the exception of her favorite soup- so I'll usually just cut them into tiny bites and let her pinch them up.
Some favorites:
Organic chicken
Wild salmon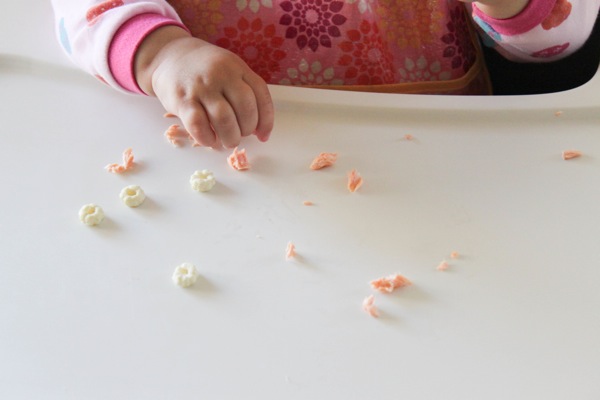 For both the chicken and the salmon, we'll cook hers plain and then give her tiny bites along with the meal. She loves them (especially the salmon) but I just have to give her a little at a time and make sure she actually swallows the bites instead of trying to "chipmunk" them for later. 
Beans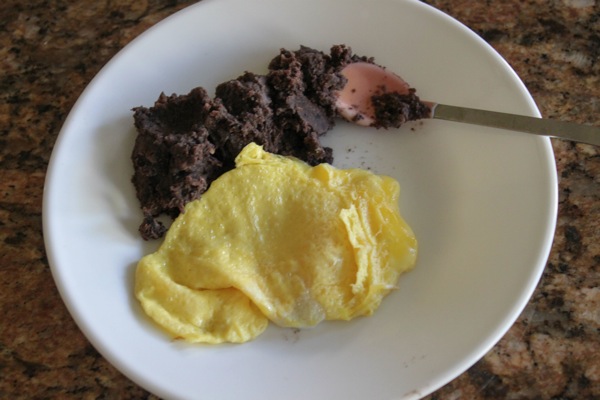 Trader Joe's cans are BPA-free (as are the Eden's Organic brand). I love to make my own beans (method is here) but find it to be a waste because we can ever finish off the amount I cook. I soak them overnight and cook them in the slow cooker for most of the day with herbs and an entire thing of garlic thrown in. While they're delicious, it's easier for Liv and myself to finish up a can of beans before they go bad than an entire homemade batch that might go to waste. If anyone has an idea of how to store larger amounts of beans, I'd love to hear your thoughts! In the meantime, canned works well for us. I'll rinse them well, peel a bean and mush it in half to give to Liv. She also likes baby hummus, pureed with a little veggie broth, oregano, garlic and cumin.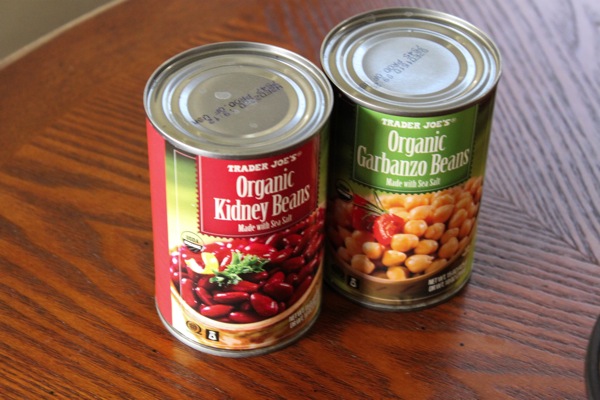 Egg yolk- for this, I'll make my eggs first (2 whole eggs and one white), then after my eggs have cooked, I'll scramble her yolk in the same pan. I pop the yolk, then flip it so it's like a little omelet and give her bites to pinch up. Bella gets very excited for this one, because whatever Liv doesn't eat, she gets to have in her bowl.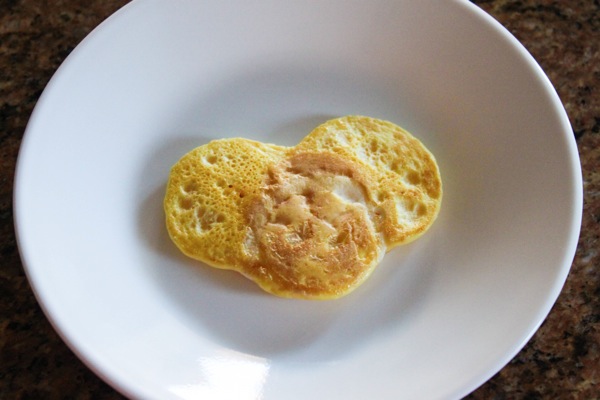 Cheese/yogurt
I've offered organic yogurt a few times to Liv, but she's gagged each time. She's had a few bites of cheese and seems to be a fan, but it's not a huge part of our family's diet.
Tips for going out to eat:
Steamed veggies, beans, baked plain or sweet potatoes, fish (she's had tilapia and salmon), guacamole or avocado, rice and fruit bowls are usually good options. I'll just taste it to make sure it isn't too salty and bring a homemade puree with us, too.
So tell me friends, did you follow any specific order when introducing food to your kiddos? Our pediatrician told me that the order does not affect allergies in kiddos, but suggested avoiding the most allergenic foods (egg whites, soy, nuts/seeds, shellfish, tomatoes, strawberries) until Liv is a year old. I was allergic to strawberries when I was younger, but I just broke out in hives and got an itchy throat. The foods with the scary effects (like um, anaphylactic shock….) freak me out just a little.
Any awesome baby protein options to share??