Hi guys! How's your day going??
This morning, I made a Chocolate Cherry Bomb smoothie to take to the doc's.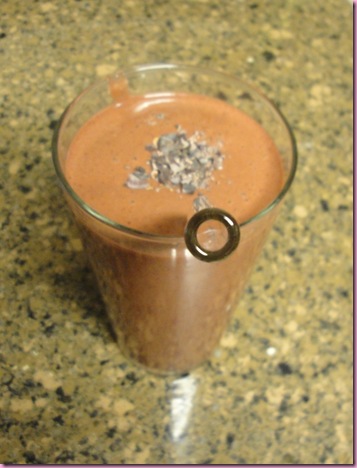 Even if they gave me bad news, at least I had chocolate beforehand. Chocolate makes everything better 😉
The verdict??
I CAN WORKOUT AGAIN!!!!! yahooooooooo!
Of course, I can't go balls to the wall in full Fitnessista splendor just yet, but the doc gave me the go-ahead to start getting back into my routine. She gave me a referral to an ortho, just to be 100% sure that my knee is good, but the fact that it didn't hurt while she moved my leg around and pressed on my knee was a good sign.
My sanity is rejoicing—hiatus is ovahhhhhhhhh 😀
To celebrate –and since I was already on base- I went into the gym and was reunited with an old friend.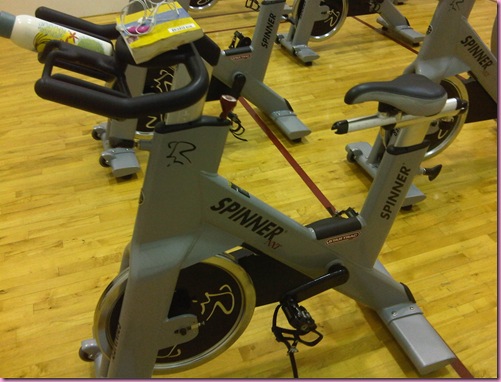 This wasn't the rinky dink slow pedaling on Sunday. I gave myself a moderate solo spin class, pumped up the iPizzle and read Chelsea Handler. No sprints, but I did some climbing, jumps, tempo work and crunches on the bike and it was an AWESOME workout. Sweating feels soooooooo good!! 🙂
After my mini-spin sesh, I met Jeni at the Main Squeeze for a snack.
Carrot Apple Beet Ginger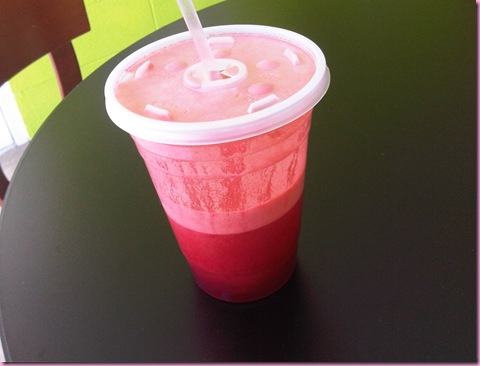 Amazing 🙂
After that, I went to Publizzle to get groceries for tonight's dinner. Today, the pilot had a really important flight and I have no idea if he passed or not. So I'm assuming he passed and decided to make a special dinner to celebrate- he's been working so hard.
He's having Engagement Chicken, named after the chicken in Glamour magazine that is supposed to make your boyfriend propose to you if you cook it for them (single ladies, take note!).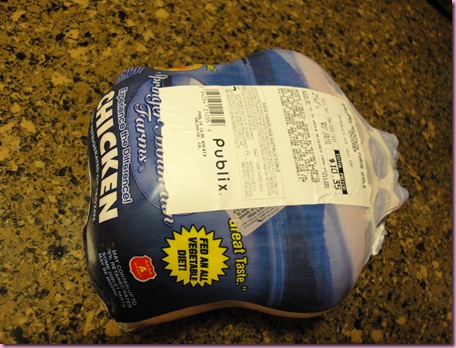 I decided to roll with Ina Garten's version (because she does no wrong) and made it in the slow cooker, since I have to go to work in a little while.
The chicken's bed: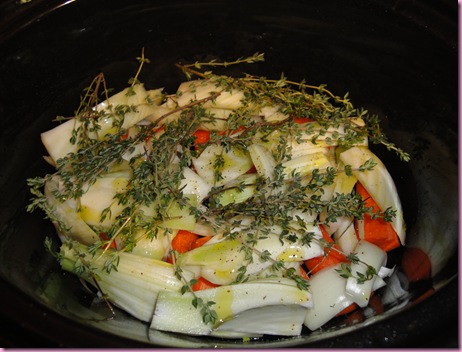 Carrots, onion, fennel, thyme, sea salt, pepper and olive oil.
Ya'll know I haven't had chicken in about 2 years, but I will say it smells glorious in here.
Maybe he'll propose to me again? 😉
I also made some saffron rice: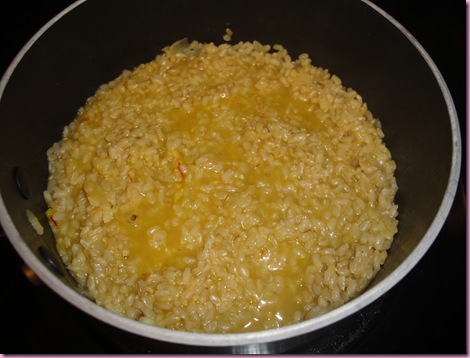 (Shallor, garlic, veggie broth, short-grain brown rice, saffron, sea salt)
All I have to do when I get home from work is bake the asparagus (20 min), make a salad or soup for my face, and get dessert in the oven 🙂
Well it's time to walk these puppers, practice some yoga upstairs, then head to work.
See ya tonight <3
xoxo,
Gina
Something to read:
Quite a few bloggies have drawn my attention to these articles:
–Agave Worse Than HFCS? (My thoughts: I don't usually consume much agave anyway, unless it's in an occasional raw dessert. Everything in moderation, my friends. if you're not drowning everything in agave, you're probably ok 😉 Of course, a preferable way to eat is unprocessed, whole, organic foods when possible, without adding sweetener- food tastes pretty amazing without it. For a great post on sweeteners, check out this one by Kristen)
–Claim Jumper Releases Nutrition Info (This one didn't surprise me one bit- their portions are enough to feed a family of four. I will say that their chocolate motherload cake rocks my face off…)