Hey everyone! Hope your morning is going well <3 Things are bueno up in herrre- just about to head to base. I LOVED reading about your careers and callings– very interesting stuff!
My dinner last night was a little…rough compared to the pilot's.
It was one of those nights where I was so starving when I walked in from work, dinner needed to be fast, furious, or would involve a long dip into the almond butter jar.
I opted for fast and furious 🙂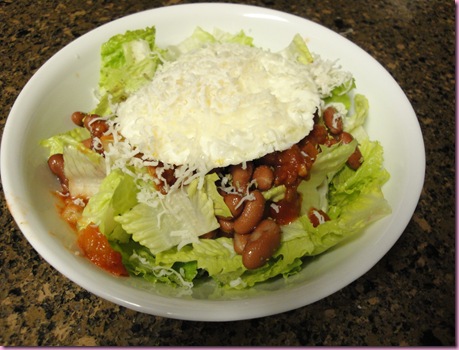 A beastly salad with romaine, organic kidney beans, salsa, a 2 egg-white puff, some goat cheddar, oregano, cumin..
and a yellow bell pepper I remembered was in the fridge.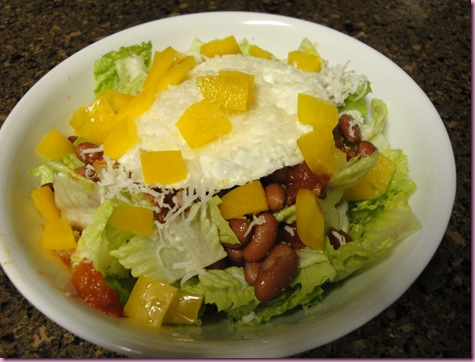 I happily scarfed it down and made a nice, leisurely meal for the pilot since he got home a little later.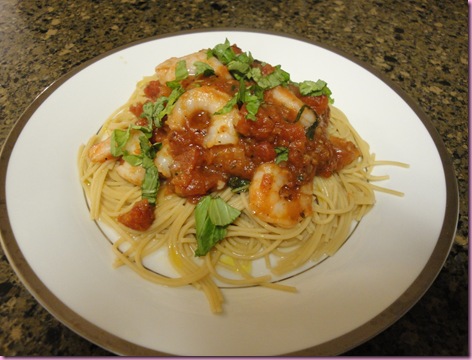 Shrimp pasta with organic tomatoes, basil, oregano, garlic, shallot, red chili flakes, sea salt, olive oil and pepper.
Told you our meals were a little different 😉
This post is a quickie because I'm off to flight medicine to see what they say about my knee.
They'll either:
A. Tell me I'm fine and that I can start exercising again (wahoo!! 5k this weekend- let's dooooo it! JK, LOL)
B. Refer me to a physical therapist (fine with me)
C. Take x-rays and tell me something is horribly wrong with me (gah!)
Wish me luck!
Gina
Today's tip: Rest and recover! Overtraining is a biotch.
Something to do: Get your OM on 😀 Today is the last day to get 30% off all of your YogaDownload.com purchases – just enter "Fitnessista" as the coupon code