Homemade-ish marinara sauce
Heyyyyy 😀 How's your day going? Mine has been cuhrazy busy, but bueno 🙂 I LOVED reading your food memories this morning <3 Keep 'em coming.. and I'll keep dreaming about fluffy cake and gooey cinnamon rolls from your stories.
I found some time to cook this afternoon 🙂
Kale chips: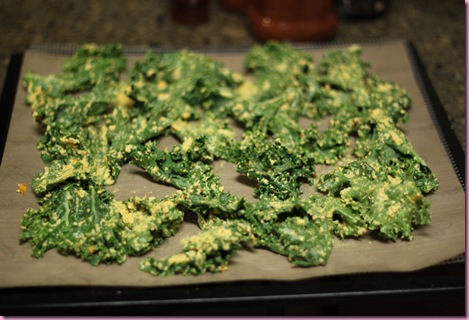 (Using *this recipe* –if ya don't have a dehydrator, just put the kale chips on cookie sheets in the oven on the lowest setting and the door slightly ajar)
Whenever we go to Whole Foods, I emerge from the produce section with giant bushels of organic kale and a goofy smile on my face- we don't have it in Valdosta!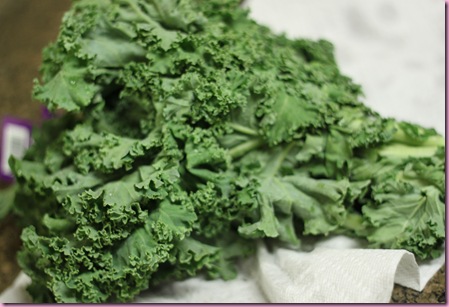 I looooove kale. It's so good massaged in salads, in chip form, just not in smoothies (I think kale smoothies are stanky).
Marinara sauce: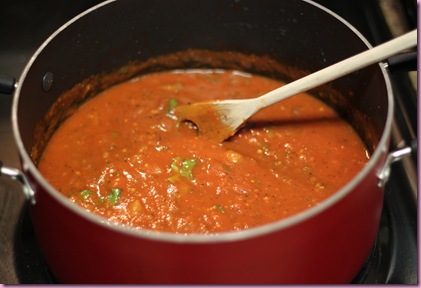 Is it homemade or a la jar??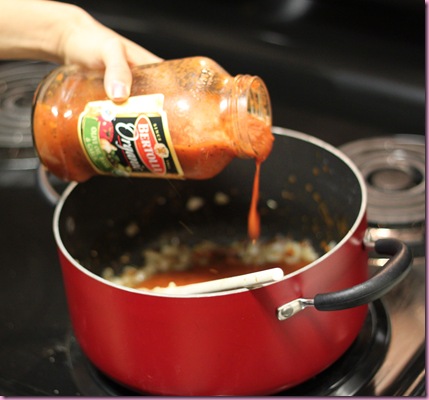 Shhhhh 😉
Usually I make my own marinara with San Marzano tomatoes. When time doesn't allow, I roll with this cheater sauce and promise, no one can tell the difference 🙂
All ya do is sweat out a sweet onion (small diced) and a few garlic cloves (or 5) in a little olive oil on medium heat for 5 minutes.

 

Add a splash of red wine or balsamic vinegar– this is the secret. A little acidity brightens up the sauce and takes away the jar taste 🙂

Season with sea salt, pepper, red chili flakes (optional) and dried oregano.

Next, add two jars of your favorite marinara sauce.

2 T (ish) each of chopped fresh basil and parsley

And a generous pinch of white sugar

Perfection:

Serve with pasta of choice- mung bean (or zucchini) pasta for me, and whole grain for the Pilot
I saved a cupful for my pasta tonight and put the rest in the slow cooker, along with these mozzarella-stuffed organic meatballs for that one guy I live with 😉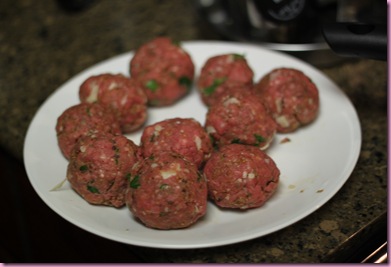 Snackage: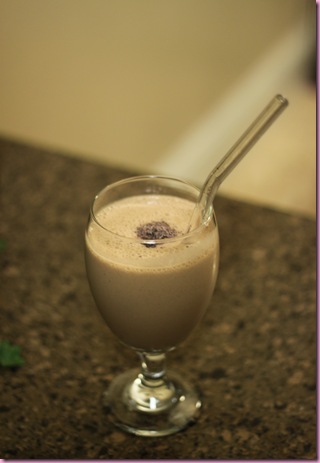 Because I'm a goober and made a typo this morning: for the glass straw promo you get FOUR straws– not two! It's an even better deal that I thought 🙂
*Click here* to get your own glass straws- if you order Tina's stainless steel straws too, coupon code "TinaGina" gets 10% off
I'm heading back to work and then pasta, stuffed mushroom and asparagus dinner when I get back.
Have a lovely night!
xoxo,
Gina
Something to read:10 Foods to Boost Brain Power
Something to watch: These videos from the Coalition of Angry Kids. Some of it's a little harsh but I thought it was really interesting because a lot of times, kids don't have a choice about what they're eating. They're given fast food to eat and their inactive parents set unhealthy examples for them… what do you guys think?