Hi guys! How's your day going?? Thanks for the sweet compliments on my recent purchases. I love pretty stuff, but I also love a good deal 😉
B-fast this morning was breakfast cookie dough cereal… can't get enough! 🙂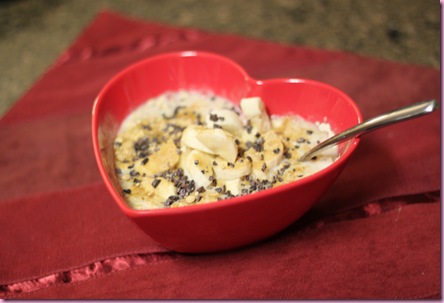 In the mix:
-1/2 C oats
-1 T almond butter (I recently saw a recipe calling for a teaspoon of almond butter. I don't even know what that is—it's like saying "1 chocolate chip", haha)
-1/2 scoop Sun Warrior
-1/2 banana
-1 T mesquite
-cinnamon, Stevia and cacao nibs
– ~ cup almond milk
+ some ginger and peppermint tea (1 bag of each)
While I was perusing through articles for "something to read", I came across *this one* about why Grandmas are always culinary rockstars.
From the article:
5 Reasons Our Grandmothers Are (and Always Will Be) Our Culinary Muses: Tony Maws


1. They intuitively know that Mother Nature knows best
"Grandmothers were and are the first 'locavores' around – especially my grandmother, Baba Hannah. She always used what was fresh and in season and stalked (no pun intended) the local farm stand for the freshest possible corn. She phoned home so my mom and uncle could get the water boiling and not a minute would be lost. She shopped in little butcher shops and brought home economical cuts that needed to be braised or otherwise 'enhanced.' Tongue and livers were staples in her household. She was the true inspiration for our Craigie On Main's 'nose to tail' style. Using all parts of the animal, fish, or veggie ensures that little if anything goes to waste and that our guests have a chance to try things they wouldn't know about if they are only used to mass-produced fare."

2. Grandmothers are not afraid of fat
"In baking they used Crisco or real butter – no wimp alternatives. Rendered chicken fat (schmaltz) was a staple in her kitchen. She knew that fat equals flavor. Yes, my Baba was all in favor of good health, but that was achieved through moderation, not by using a lesser ingredient where the real deal was called for – and definitely not by banning fat."

3. Grandmother food makes us feel better
"Every single one of us will attest to our grandmother's cooking – not only because it brings back memories, but because it literally lifted our spirits. My Baba always knew just the right thing to make for an occasion or your favorite food to lift you out of a funk."

4. Seasoning to taste – not per the recipe
"When have you ever seen a grandmother with a measuring spoon or cup? They know you have to season and re-season until it tastes right. More was always more when my Baba manned the stove (just as it is in our kitchen at Craigie On Main)."

5. Eating with grandmothers is the ultimate social networking activity
"Opening the door to Baba Hannah's house ensured one thing – there would be great conversation, lots of love, raised voices, strong opinions and candid criticism – all around a table with amazing energy, food and aromas. Whether joining her in the kitchen, or around the table with the whole family, Baba Hannah's food brought (and kept) us together."
So true, right??
I'm very lucky to have three nana culinary rockstars in my life.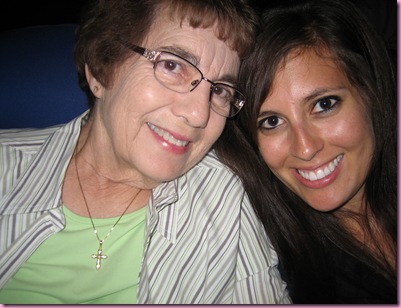 Among the many foods she makes that I LOVE, my nana makes the most perfect Bundt cake and spaghetti so good it will make you cry tears of happiness.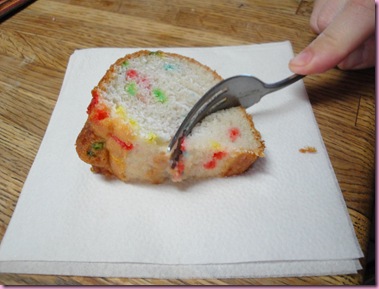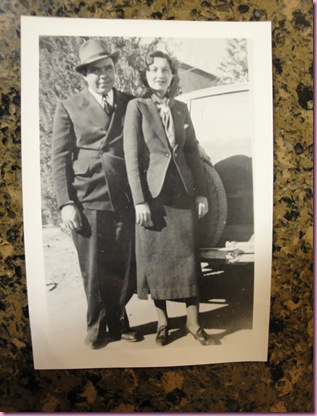 My great-grandmother makes the most beautiful frijoles and homemade tortillas… you could sit at her dining room table and along with Mexican pastries, eat and chat all day.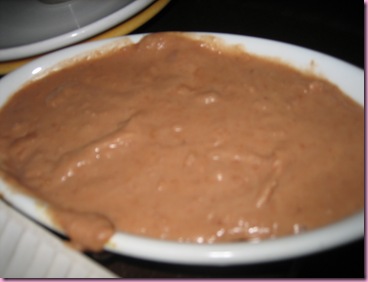 And my nana (on my dadoo's side), used to be a caterer, so every meal is a culinary journey to foodgasm city.
Why is your nana/grandmother famous for making??
Well I'm off to Turbofire, get started on the day's to-dos and grabbing some groceries so I can cook tonight 🙂
See ya later today with how to make jarred marinara sauce taste homemade when ya don't have time to do the scratch thang.
xoxo,
Gina
Something to do: If you've been wanting to pick up some glass straws, today's your lucky day 🙂
We're running a Glass Dharma promo for $25 (two glass straws and a cleaning brush.. I paid $16 for one straw when I bought mine!!)- they're so beautiful, can be cleaned in the dishwasher and pretty difficult to break (I've dropped mine many times). To hit up the deal *click here* – Tina and I are having a cross promo, so if you buy her stainless steel straws + my glass straws, enter the code "TinaGina" to get an extra 10% off 😀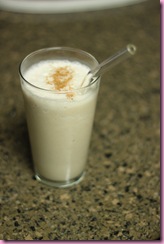 Something else to do: Please send some happy birthday wishes to my roomie and good friend, Sabrina! <3 Love you, friend