Rose-flavored and scented things?
Nope, not obsessed at all 😉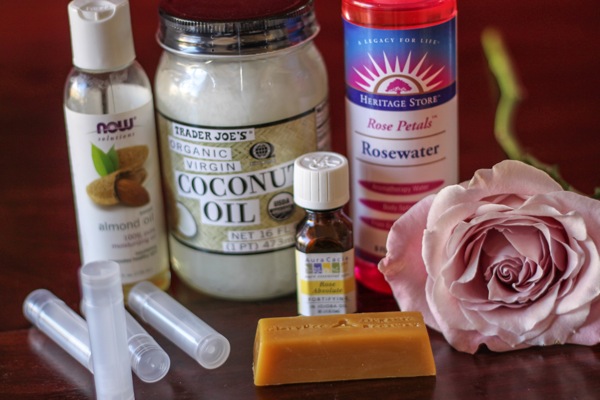 I'm not obsessed with lip glosses, either. (<– try telling that to my husband who just found one in his car… minus the lid… melting everywhere. Yikes.)
Ok, so I kind of have a problem with both of the aforementioned beauty pleasures. I stock up on lip gloss, leave them everywhere, and somehow always find myself gravitating towards the little bins at the checkout line near Sephora. Those impulse-buy marketing managers own me.
Here's the problem, though: Liv sees me put on lipgloss and wants to wear it. Since "wearing it" = "eating it" for the little lady, I don't always feel comfortable with her consuming the ingredients in my usual lip glosses. Even the "good ones" are still a little gross. As a fun remedy, I thought I'd experiment with making my own.
I ordered some of these cute chapstick tubes from Amazon: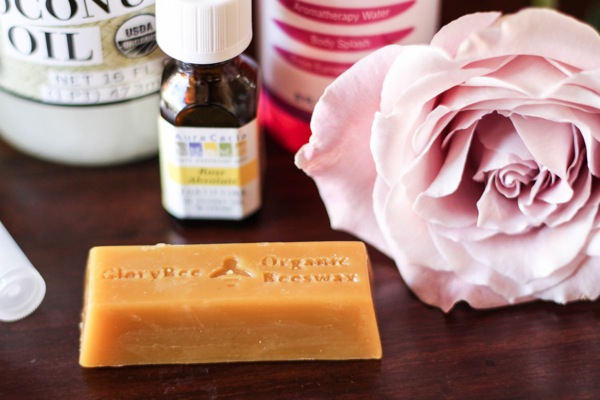 and the Pilot grabbed some beeswax for me at his last health food store stop. (I asked him for elderberry syrup when we were all fighting the seasonal sickness and thankfully, it helped a ton!
Gathered the rest of my ingredients:
almond oil, coconut oil, rose absolute essential oil and rosewater,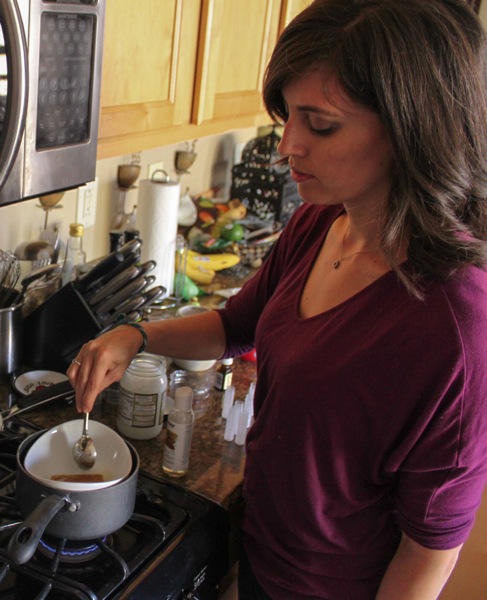 and got to work.
The most challenging part was figuring out how to melt the beeswax. I put the block in a double boiler, and when it did nothing, a quick Google search taught me that you need to cut the beeswax or shave it into small pieces for it to melt. I sliced it into thin squares, and since I'd also read that melting beeswax will likely ruining whatever cooking tools it touches, I used a washed can as the bowl portion of the double boiler. It worked perfectly!!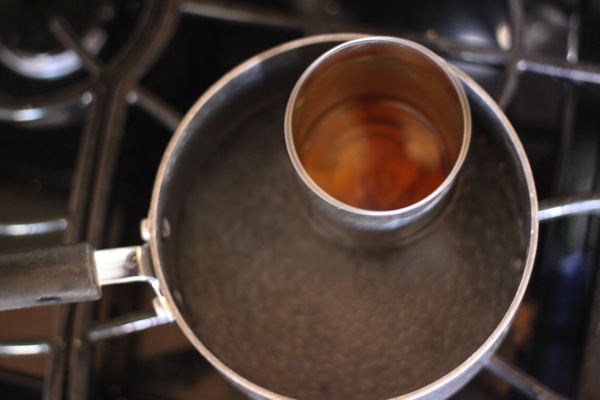 After everything was melted, I poured half of the mix into the chapstick tubes to harden (using one of our old medicine syringe/squirter things <– very high-tech over here). For the remaining half, I crushed a little Nars blush and some bronzer to create a lovely pink/brown shimmery color.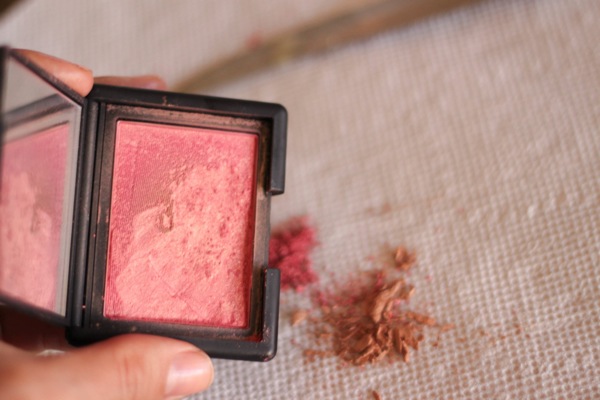 The verdict: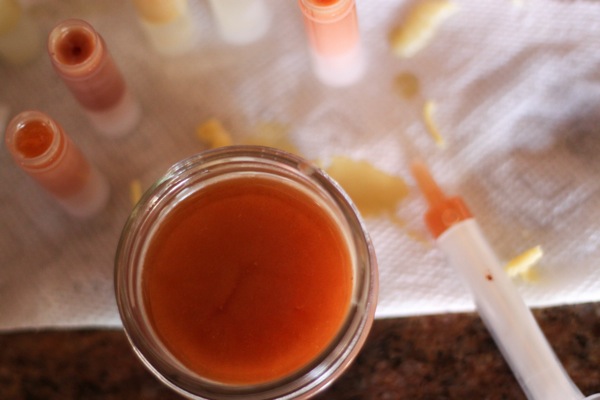 They came out beautifully! It made me wish I would have ordered more of the chapstick tubes, but instead, I found a smaller jar to store in my makeup drawer. 
Here are the exact ingredients:
1.25 ounces beeswax (one small block. It goes a long way!)
4 tablespoons coconut oil
2 tablespoons almond oil
14 drops rose essential oil (or any edible essential oil you like)
1 tablespoon rosewater
crushed blush and/or bronzer for color
Steps:
Grate or cut the beeswax and heat in a double boiler until smooth. Remember to use things that aren't super valuable in case beeswax hardens on it and ruins it.
Add your oils and scents next.
Then add your color (optional!).
Use a medicine dropper to pour into chapstick molds or check out some small lipgloss tins. 🙂
Hope you enjoy <3
I'll put two in my purse: a tinted one for me, and a regular one for Liv if she seeings me wearing it and wants some.
Let me know if you give these a try! They'd make an awesome gift, too 🙂
Any fun beauty DIYs lately??
xoxo
Gina
More of my favorite rose things are here!