The great block of cheese + your two words
Morning! Happy Humpday to ya 😉 It feels weird to be getting back in the swing of things on a Wednesday. Whenever we have company staying with us, I feel like I'm on vacation, too 😉 Today, it's back to the usual to-dos and the mountain of laundry I've neglected. 
In other news, I've also been trying to conquer this enormous block of manchego.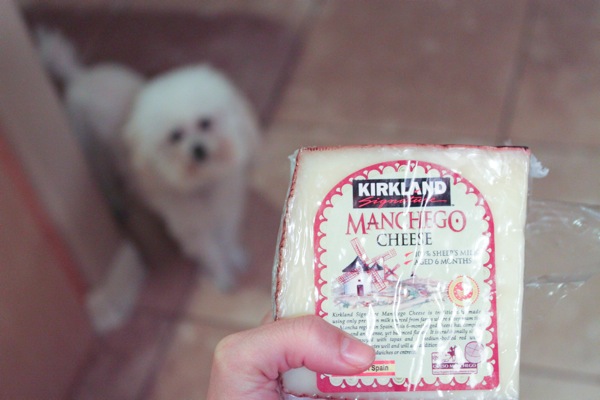 (Bella and Caro had a little, too.)
Even after using a generous amount for a party cheese plate, I still have my work cut out for me.
An easy tortilla pizza with marinara, chicken and said queso: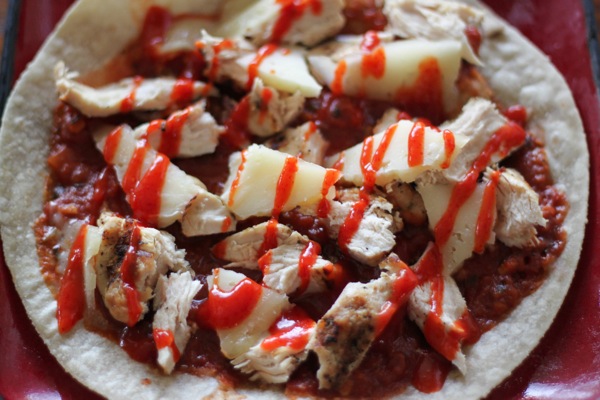 (tortilla pizzas are such a delicious, easy lunch!),
dinner was procured from our crazy amount of leftovers (it looks like an episode of Hoarders in our fridge)
and my workout was quick and dirty. I had a couple of minutes for strength, and was able to catch some of a Zumba class before heading to an appointment. Whenever I have a small amount of time for strength, I focus on compound movements that will elevate my heart rate and encourage strength gains. Last night, I alternated between a squat, bicep curl, overhead press combo, pushups (always kill me), assisted pull-ups, V-ups and planks for the 10 minutes. It's amazing how much you can do in a short amount of time if you really PUSH yourself! I didn't stop moving, got in a little cardio and was on my way.
Nighttime necessity: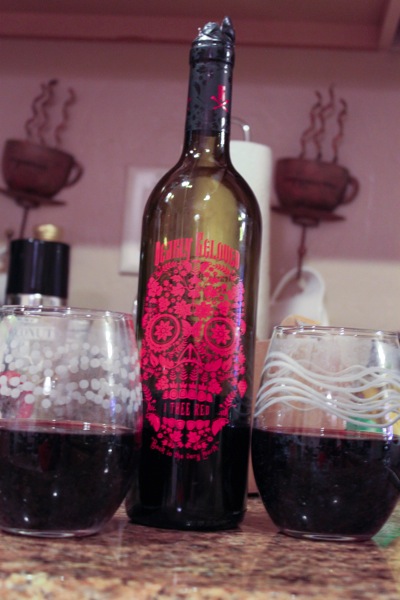 (I Thee Red is a fave right now, and still loving Apothic Red)
Today, it's casa-cleaning time, and Livi and I are going to make her Valentines. I remember when she was our little Valentine date last year!! 
I'm off to refresh the Zumba playlist -teaching again tonight! Wahoo!- and start breakfast.
Hope you have a wonderful day <3
See ya later on the Fashion page with a little rose lip balm DIY.
xoxo
Gina
Something to talk about: My friend Carla (aka MizFit aka mom-and-muscle-spiration) posted this on her Facebook last night. If you could tell your younger self two words, what would they be?? Mine would be "slow down." I was in such a frenzy during my college years, that most of my memories are a busy blur. I learned how to slow down a little later in my life, but am glad it finally happened. My second choice would be "more naps." 😉