Heyyyy 😀 Happy Sunday! Hope you're having a beautiful and relaxing morning 🙂 Thanks for the awesome feedback on my dinner party post! Voting starts tomorrow AM <3
So last night, I had a hot dinner date….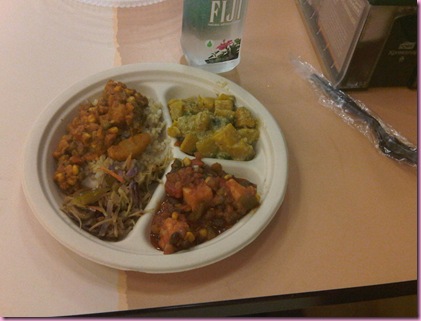 with myself and the Whole Foods hot bar. Haha.
I got off work kind of late and my stomach was yelling at me to feed it. Since the fam was finishing dinner with a family friend at Urban Flats, I stopped at Whole Paycheck, grabbed dinner, and ate it, solo, in the cafe.
For me, this is a pretty big deal. I've always been the type of girl who doesn't like to do things by myself. Even when I lived in a 1-bedroom apartment senior year of college, I had friends over after dance almost every night. I've only eaten in a restaurant once by myself –I was in Jax for work and had a quick lunch break so I stuffed Ruby Tuesday's salad bar in my face and stared at my phone the entire time- and have never been to a movie by myself.
Last night, I left the Blackberry in my purse (with the exception of taking a picture), and enjoyed my meal without being distracted by technology or a book. It was actually quite lovely.
When I had first arrived at Whole Foods, I kept thinking about a chocolate chip vegan cookie. I couldn't tell if it was my hunger talking or if I did indeed need a cookie in my life, so I ate all of my meal (brown rice, madras curry, butternut squash salad, Asian slaw, southwestern sweet potato and black beans), and then went back in for my cookie 🙂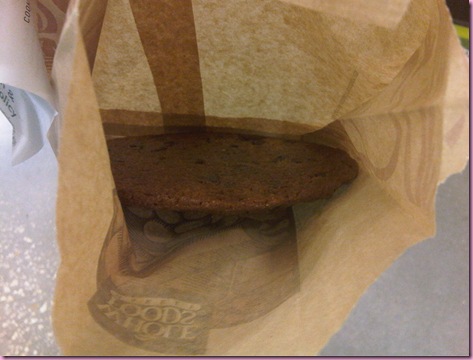 I met the fam at Pinkberry and then we all came back to the casa to watch movies and called it a night 🙂
This morning, I did a little quality control: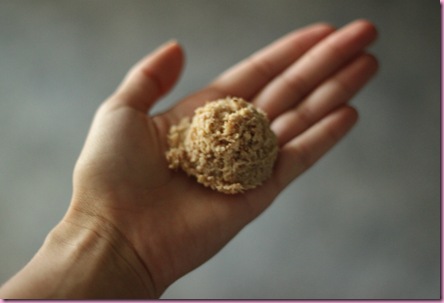 and then took a beautiful class at Orlando Power Yoga.
After hitting the snooze button on yoga yesterday, it felt SO good to twist, sun salute, balance and sweat my face off 🙂
Breakfast: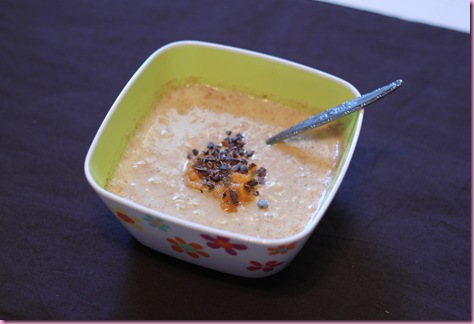 PUMPKIN breakfast cookie dough cereal 😀
The usual suspects with 1/3 C pumpkin puree mixed in, along with cinnamon and nutmeg.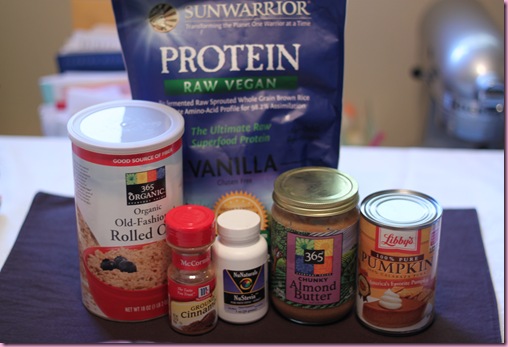 Perfect.
Well I'm off to do the work thang! Have a great day and I'll see ya from workie 🙂 The netbook *should* be ready to go (Live Writer is installed and set up), so fingers crossed that posting will be snafu-free.
xoxo,
Gina