Hey guys! How are you?? Hope you're having a wonderful weekend so far <3
Thanks again so mucho to those of you who voted for the Next Food Blog Star. Here's my entry for Challenge #3: Luxury Dinner Party 😀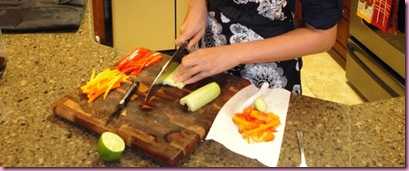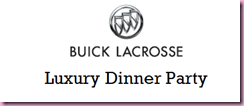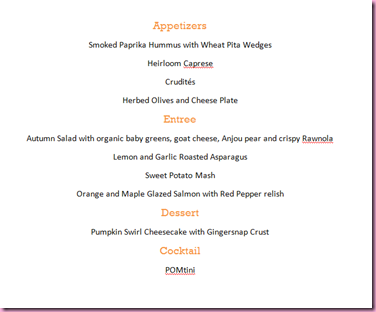 It's always the sign of a good night when you take your kitchen from this: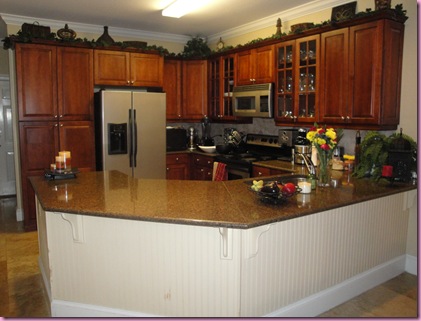 to THIS: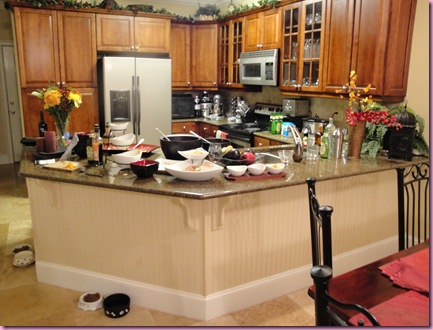 As you guys know, I love throwing dinner parties and prepared a special fall menu for this particular challenge, including many of my favorites.
Note: Because the Pilot is off doing the work thang, all of our stuff is in a POD (including my serving ware and life), and I'm temporarily homeless (and so thankful my aunt and cousins are letting me stay with them), this is a compilation of some of the highlights from recent dinner parties.
The standard Gina appetizers: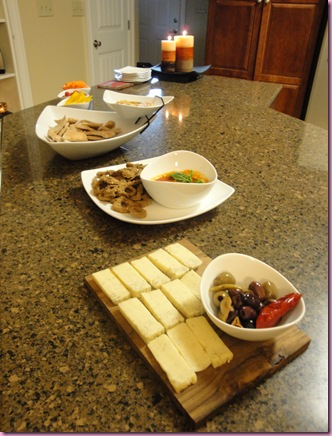 Cheese plate with olives: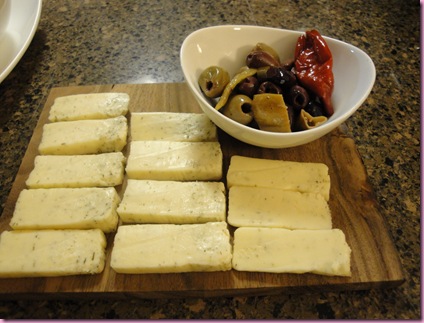 Heirloom tomato caprese: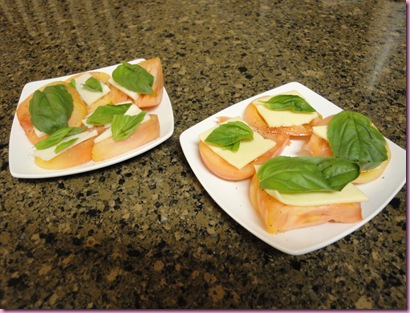 Pita with homemade hummus: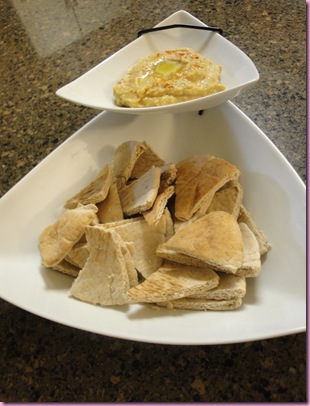 Crudités: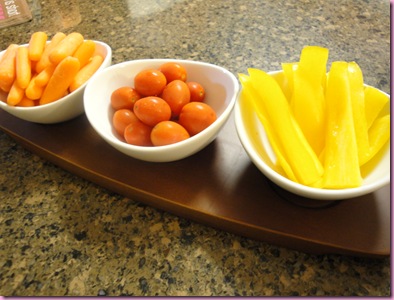 Lemon and garlic roasted asparagus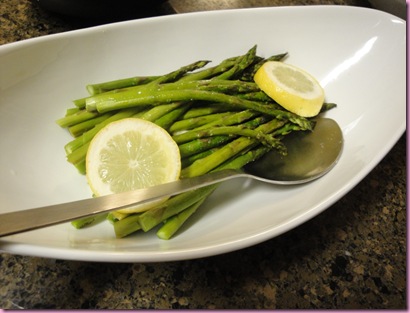 Sweet potato mash (with cinnamon and Earth Balance)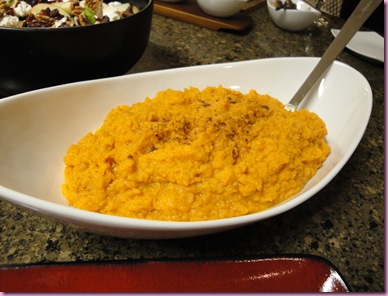 Green salad with balsamic, pears, goat cheese and rawnola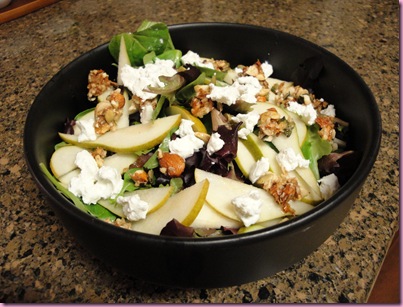 Orange and Maple Glazed Salmon topped with red peppers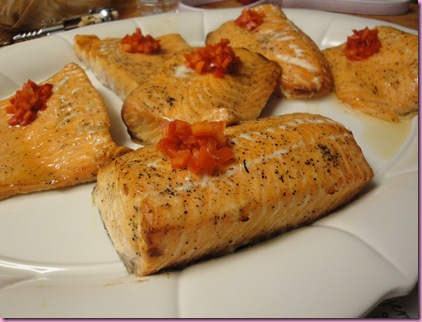 POMtinis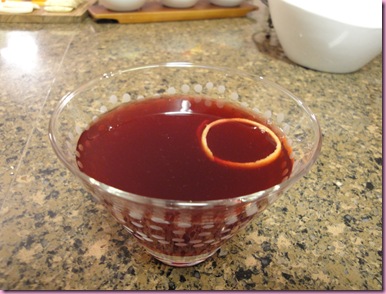 and….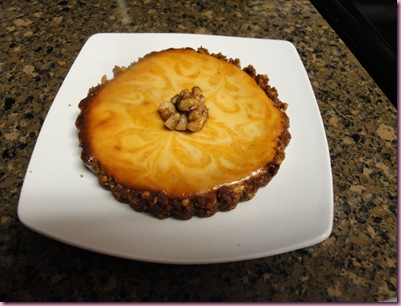 Pumpkin cheesecake with gingersnap crust.
I know, right? 🙂
To plan a menu for a dinner party, here's what usually goes into consideration:
–What's fresh and seasonal right now?? If it's the dead of winter and I want to use strawberries, that would kind of be a bum deal (and wouldn't taste too fabulous), so I always try to focus on what I know will be fresh at the market. Not only will it be less pricey, the flavors will be even more amazing

–What can I do to cut costs in the meal? Hosting dinner parties can be very expensive, and I usually like to have at least one big fiesta per month. I try to choose meals that I can either inexpensively feed a lot of people (Enchiladas and butternut squash lasagna are great choices for a crowd) and if we're having a smaller amount of people over, I'll splurge on more expensive items since I won't need as much. For this party, there were 6 of us (instead of 16) so I could get wild caught salmon for everyone without breaking the bank.

–Go for a theme. The goal is to have a menu that makes sense from start to finish. I try to pick flavor combinations that go well with each other and stick to the same type of cuisine for each meal. For example, it would be silly to do a Mediterranean-style side dish (say, stuffed grape leaves) with an Asian dish (stir fry). The flavor combos wouldn't go well together. I also like to do flavor themes that repeat themselves a coupon of times throughout the meal- for example, the orange infusion in the rawnola pairs beautifully with the orange zest in the salmon and POMtinis.

–Pick a stand-out ingredient. For this above meal, the standout ingredient (to me) was the rawnola in the salad. So much more exciting than store-bought candied nuts and adds extra pizzazz to what would otherwise be a standard salad.

–What can I make ahead? For a dinner party, I choose items that I can make before the party so that I can enjoy myself while company is over. Ideally, I like to have 75% of the prep work done the day before the party.

–Never try a new menu item the day of the party. Go for tried and true options that you've made before and know you can cook well. If you *really* want to try something new, experiment a couple of weeks beforehand, just to make sure there are no surprises.
Here's how I would get everything ready to go for this amazing soiree:
– 3 days prior (1.5 hrs): Create list and grocery shop

– 2 days prior (1.5 hrs): Make the balsamic dressing, cheesecakes (put in the freezer), and hummus.

– Day before (less than 1 hr): Make the rawnola and dehydrate overnight, bake the sweet potatoes for the sweet potato mash and whip (keep in a plastic container in the fridge), last-minute clean, set the table and set out serving ware.

-Morning of (1 hr): Prepare salmon marinade and allow fish to marinate all day. Thaw cheesecakes in the fridge. Chop the veggies and put into plastic baggies in the fridge (including the chopped red pepper garnish for the salmon), prepare the caprese (minus the basil on top), prepare the cheese plate and cover with plastic wrap in the fridge, make orange zest strands for the POMtinis. Put salad together (minus dressing) and cover with plastic wrap and chill.

-30 minutes before guests arrive: set out drink supplies and all appetizers. Garnish cheese plate and caprese. Preheat oven to 375 and heat sweet potatoes.

-15 minutes before guests arrive: Pan-sear salmon and bake off in the oven.

-Grab a POMtini and enjoy the party 🙂
I hope you guys liked this dinner party post! Voting starts tomorrow AM if you'd like to do the voting thang.
I'm off to yogaaaaa 😀
xoxo,
Gina
Something to talk about: Are there any party prep tips that I missed? What's your fall entertaining dish of choice?