How to build the perfect salad
Lately, especially since we're doing March Greens, I've received quite a few requests for a salad posts. To be totally honest, a lot of the salads I consume (and I eat a whole lotta ensalada) have no rhyme or reason whatsoever. Leftover black bean burger, swirl of ketchup, sweet potato fries and greens? Totally awesome, but probably not what you're thinking of when you say "salad." Basically, I'll take any meal and throw it on top of salad greens to get some extra veggies. The special salads have a little more thought put into them 😉
Here are my necessary salad components: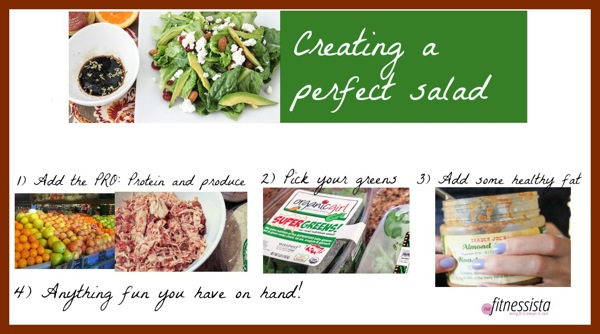 The PRO (protein + produce), fats, greens and fun stuff.
PRO: Protein and produce. These are the building blocks for any salad. If I'm lacking in either and just have greens with a couple of veggies, it's sad trombone. I like to have at least 2 veggies/fruits to choose form and a good quality protein. Sometimes it's lighter like some quinoa and/or beans, but I also love marinated chicken, steamed egg, deli turkey, fish and tempeh.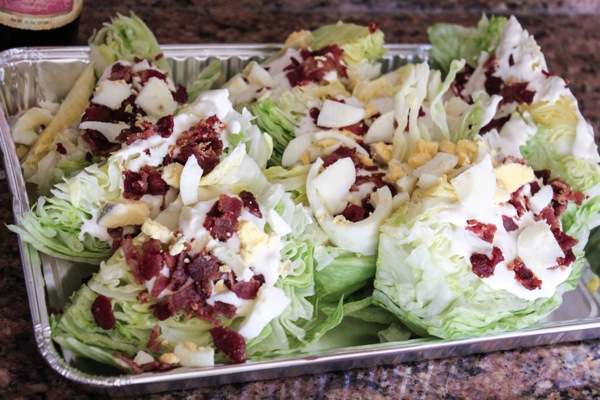 Fats: You can choose any fat you love, whether it's a drizzle of your favorite oil (I've recently fallen in love with Meyer lemon and garlic infused olive oils), a palmful of nuts, nut butter in a creamy nut butter dressing, avocado, cheese, or any combo that you enjoy. For fats, I just try to be mindful of how many components I use. For example, if I include half an avocado or a mountain of goat cheese, my dressing is a squeeze of lemon juice, or plenty of seasonings and a splash of balsamic. I've found that if you use quality, fresh ingredients, the dressing is an accessory, not the star of the show.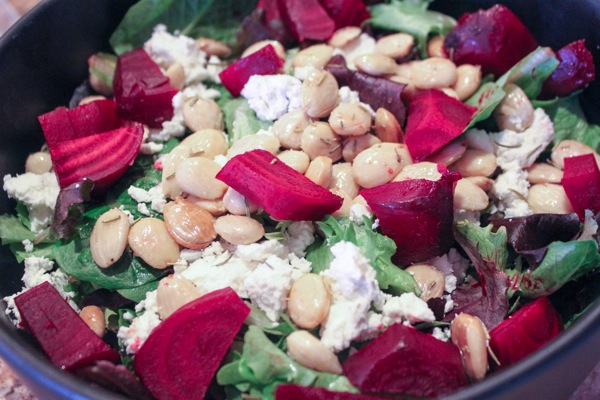 Greens: The leafier, the better. One of my favorite tips is to rotate salad greens. It's so easy to get stuck in a rut and buy the same greens week after week. Experiment with a few different types and you may find a new fave! Bonus: you'll get in some different nutrients, too. I especially love romaine, chard, kale, spinach and the Super Greens mix that you can find in many grocery stores (Trader Joe's has their own organize version, too).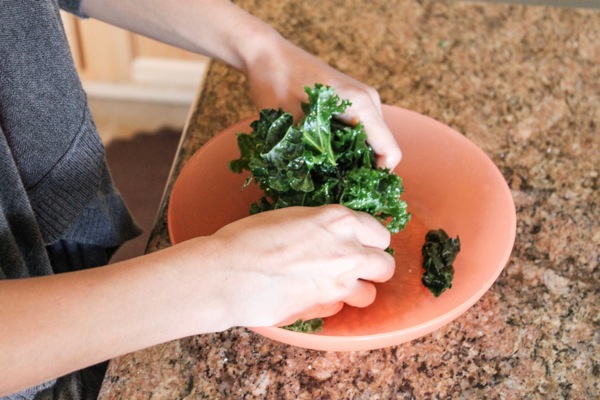 Fun stuff: This is where you can add anything you've been craving. Dried fruit, citrus zest or juice, roasted veggies, fresh herbs, spices, vinegar, croutons, wasabi peas.. endless options!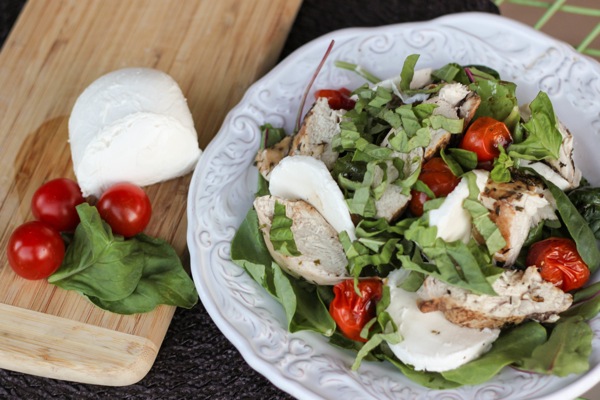 Some of my salad tips:
-Make the various components equal amounts. I used to get really heavy-handed with the greens and just ended up fishing out the "good stuff."
-Try a theme! This Thai-inspired salad is a fave, and I also love Mexican salads (salsa, guacamole, black beans and/or shredded chicken, brown rice, greens) and lettuce wraps.
-My no-fail combo: protein, greens, 1/2 cheese + 1/2 nuts, basil, balsamic dressing, berries or dried fruit.
-Experiment with temp. In the colder months, warm salads can be an awesome comfort food. Roast some winter vegetables and protein, then sauté with your favorite salad greens and dressing. Honey mustard is a lovely choice for warm salads.
-Make your own dressing. Since I've been making my own for quite a while, I don't enjoy the bottled stuff quite as much. A splash of balsamic, citrus juice and some fresh herbs are usually good enough for me (I usually prefer to get salad fat intake from fat through avocado, cheese or nuts)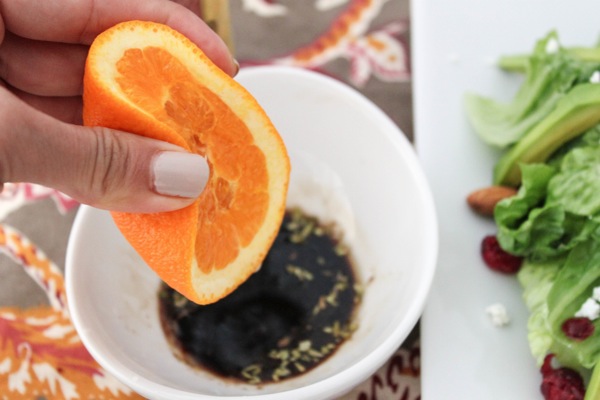 -Add a starch. I'm always more satisfied when my salads have an high amount of protein and some kind of starch (some faves: homemade croutons, sweet potato rounds or roasted potato, brown rice, beans). Even if I don't add the starch directly to the salad, a piece of toast on the side will do the trick.
My favorite salads of all time:
Red and green quinoa lentil salad
Dressings:
Are you participating in March Greens? What's the last salad you ate? Remember, if you're not in the salad mood, a green juice or smoothie counts, too 🙂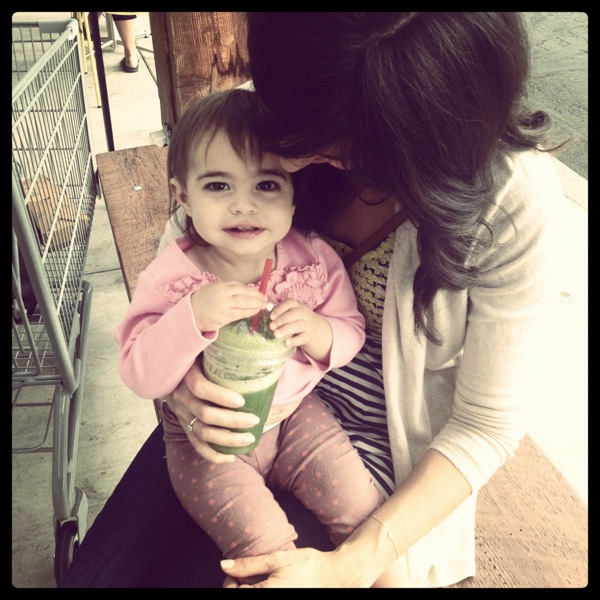 This is where I say "cheers" and clank my fork against yours.
xoxo
Gina
 NEW on the Family page: Livi's fave French toast